The 25 Xbox One games that every collection needs
UPDATED: Gears 5, FIFA 20, and more make the list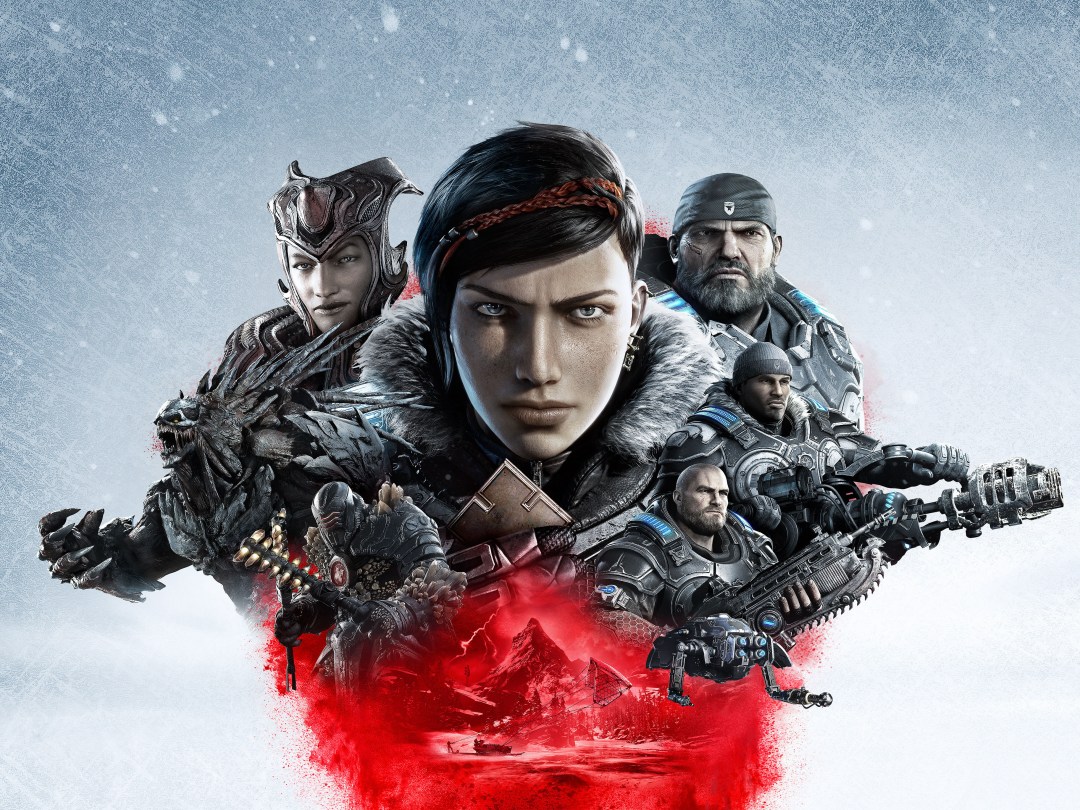 Whether you have the ultra-powerful Xbox One X, the updated Xbox One S, or the original Xbox One, one thing is for sure: you'll want to play the best of the best games around right now. Right?
Of course. And we're here to help with that endeavour, with our newly-updated list of the 25 best Xbox One games to play today. You'll find a broad selection of titles within, from big-budget shooters to mesmerising indie charmers – and everything in between.
And, while our list does tend towards newer releases, since we refresh the selection regularly and replace older picks with comparable recent selections, you'll also find some older Xbox One favourites you might've missed the first time around.
Gears 5
The "of War" might be gone, but the battle rages on anew in Gears 5 – a bolder offering than Gears of War 4 before it, and arguably the most compelling entry since the original.
It's strong in all regards: the campaign takes on a new tone with heroine Kate Diaz and some open-area exploration, the new Escape mode is a blast, and it's an absolute showcase for the Xbox One X running at 4K and 60 frames per second. If you haven't yet been sold on the Xbox Game Pass subscription service, Gears 5 might do the trick. And even if not, it's well worth the £50 pop for action fans.
Forza Horizon 4
The best racing game ever made? That's our take on Forza Horizon 4, and while those are strong words, they're also well-considered – and Microsoft's latest open-road racer absolutely deserves then.
Forza Horizon 4 continues building on the brilliant premise from past entries (exemplified in the also-wonderful Horizon 3), this time letting you careen across the English countryside in hundreds of ultra-realistic rides. Unlike the mainline Forza series, however, Horizon is all about raucous fun more than simulation precision, and here you'll find that fun in thrilling online races, stunt trials, and whipping your ride through icy roads and autumn backdrops alike. If you have an Xbox One, you need this game.
Sekiro: Shadows Die Twice
Between Dark Souls and Bloodborne, FromSoftware has essentially mastered the insanely-tough-yet-rewarding action experience – but Sekiro: Shadows Die Twice thankfully manages to stand apart from those gems while still delivering on that tricky balance.
It's a totally unique kind of shinobi experience, challenging you to use a combination of stealth, well-timed strikes, and other techniques to survive the immensely difficult battles. You will undoubtedly die more than twice here, but if you can tolerate the pain, the resulting sensation is well worth the struggle.
Apex Legends
EA's Apex Legends may not have put a big dent into Fortnite, but it's still an incredibly fun take on the battle royale genre that's a lot more enticing than the methodical PUBG.
Created by the team behind Titanfall, the free-to-play Apex Legends has distinctive hero characters with unique abilities, and drops you into the world in three-player teams with a cap of 60 players. The resulting matches are thrilling and frenetic – and it just keeps getting better with new seasons, characters, and content.
FIFA 20
FIFA 20 is largely the same FIFA that we've largely loved in recent years, but the latest entry makes some appreciated changes and additions while preserving the vast, beautiful, and utterly familiar football sim.
The biggest addition is Volta Football, essentially a throwback to FIFA Street from back when. It's a whole new kind of challenge with much speedier play, and it's a welcome shift away from the usual full-pitch experience. That said, the standard play feels a bit more organic, even if defense is still underemphasized. If you're seeking a footie game to dig into right now, FIFA 20 is your best pick.
Assassin's Creed Odyssey
Assassin's Creed Origins gave Ubisoft's open-world historical actions series a welcome shot in the arm – and while we were worried about Odyssey reviving the franchise's annualised approach, it only builds upon the fun.
Assassin's Creed Odyssey shifts the action to Ancient Greece as you control one of two heroes with newly-extensive character progression alongside the fantastic combat. It also adds role-playing elements and sees the compelling return of sailing alongside the stealth climbing and killing. It's a little grindy in spots, but overall Odyssey is a vast journey worth taking.
Red Dead Redemption 2
In thankfully typical Rockstar Games fashion, Red Dead Redemption 2 is a truly epic experience, and one of the most impressively executed games we've ever played.
Like Grand Theft Auto 5 before it, Red Dead 2 delivers an immaculately detailed world that you'll want to explore again and again, this time with a dazzling recreation of the Wild West at the turn of the 20th century. The characters' performances are utterly believable, the action is entertaining, and even the slow-paced wandering delights. Some of the complexities might frustrate players, but this is undoubtedly one of the greatest open worlds ever created.
Cuphead
Brilliantly, infuriatingly, delightfully difficult – not a combination you'd normally expect, but this fantastic retro throwback manages it. Cuphead is part boss rush, part run-and-gun side scrolling shooter, a love letter to both 16-bit classics like Gunstar Heroes, and the hand-drawn animation style of the 1930s.
Think Steamboat Mickey meets Dynamite Heddy, where every creature has wide eyes and can't stay in one place without bopping along to a vaudeville tune – anthropomorphic dinner sets included. The music, art and animation create something truly special, but it's the way learn patterns and adapt your play style to progress past increasingly tougher bosses that gives that warm fuzzy feeling every time you pick up the controller.
Resident Evil 2
The first-person, VR-enhanced Resident Evil 7: Biohazard might've signaled a shift for future entries, but Capcom's latest survival horror gem is actually a backwards-facing mash-up – and that's a very, very good thing.
Resident Evil 2 mines the material from one of the series' absolute best entries, keeping Leon and Claire and the Raccoon City Police Department, but then brings in the over-the-shoulder, action-packed gameplay from Resident Evil 4. Add in a heap of modern flourishes and the end result is one of the best-ever examples of a remake done right.
Overwatch
Sure, everyone's talking about Fortnite now, but Overwatch remains a must-play multiplayer smash – and Blizzard's shooter shows no signs of slowing down. With continual tweaks, gradual new hero additions and a huge esports component, now's the time to climb aboard.
Even with a colourful and cartoonish look, Overwatch delivers some of the most satisfyingly intense combat available today, with the team-based battles finding the sweet spot between frantic blasting and smart, strategic team play.
Monster Hunter World
Monster Hunter fans are a hardcore collective of sorts, and the series never really found a wide following outside of Japan – until now, that is. Capcom took all the fun things about the old games, chiseled away the rough exterior, and made a game that's much more accessible and inviting than ever before.
Of course, it's still all about teaming up to battle enormous monsters with outsized weapons, and that's still a blast. But compared to the past games, Monster Hunter World feels much less obtuse, plus it's significantly larger and dramatically prettier thanks to current-gen consoles. If you've ever been curious, now's the time to jump on.
Kingdom Hearts III
Square Enix's mash-up of Disney worlds and Final Fantasy spirt turned out a couple of brilliant PlayStation 2 role-players… and then the series got mired in inessential spinoffs and handheld entries for more than a decade. Luckily, the magic is back with Kingdom Hearts III.
Obviously, die-hard fans will get the most out of this trilogy-capper, which adds a modern dash of polish and upgrades while winding through worlds based on flicks like Toy Story, Frozen, and Big Hero 6. It's a charming, emotional quest – and even if you didn't play the old games, you can still get a kick out of Kingdom Hearts III… because the storyline's pretty perplexing either way.
Fortnite
Battle royale sensation Fortnite is the biggest thing in gaming right about now, and there's good reason for it: the 100-player showdowns are incredibly addictive, plus the friendly free-to-play design means you can play and play without paying a cent. Well, unless you want the coolest gear.
Unlike the super serious PlayerUnknown's Batlegrounds (a.k.a. PUBG, also on this list), Fortnite's intense action is slathered in an alluring cartoonish sheen, plus this playground is filled with wacky elements like shopping carts and rockets you can ride around. The ability to build structures on the fly also adds another component besides the frantic blasting, giving it a unique edge over PUBG.
Celeste
Celeste looks like a long-lost Super Nintendo game pulled from some vault in 2018, but in truth, this new indie game has been hailed by many as a modern masterpiece.
Madeline is the small sprite heroine, and she's attempting to climb the treacherous Celeste Mountain while also battling depression and anxiety, which manifest themselves in the emotional dialogue and even mission design. That gives a relatable edge to the quest, but Celeste also soars on the back of its pitch-perfect platforming, which is tough but designed to drop you back into the action immediately so that you can learn from your mistakes.
Don't make the mistake of overlooking one of the Xbox One's best digital picks.
Dead Cells
You'll find a couple of other awesome side-scrolling games on this list, as the Xbox One hosts throwbacks just as well as big, 3D, AAA endeavours – but Dead Cells might be the best of 'em.
Dead Cells looks like a glossier old-school gem, but the chaotic combat takes its influence straight from the Dark Souls series – so it's challenging and requires precision, but is also immensely satisfying. This roguelike game punishes with permanent death, forcing you to start your prison escape all over again each time, but gradual upgrades and enhancements hold over between attempts, making you better and better over the long haul.
Inside
Playdead's Limbo is one of the most distinctive games of the last decade, sowing strong emotions in players despite the mute hero and entirely monochromatic look – and now Inside takes that premise and really kicks things up a notch.
This side-scrolling, puzzle-infused platform game keeps the shadowy aesthetic and general premise, but delivers bigger environmental conundrums, richer gameplay amidst the levels, and a campaign that can be incredibly disturbing in turns.
What's Inside? You really should find out.
Dragon Ball FighterZ
Forget about the years of lame, awkward Dragon Ball Z fighting games – actually, chances are you already have. But that won't happen with Dragon Ball FighterZ, easily the best game to ever bear the name of the beloved anime franchise.
FighterZ keeps all of the show's wild kinetic energy, from the big spiky hair to the enormous fireballs, and presents it with some of the most incredible animation we've ever seen. But the game's real feat is keeping things approachable and fun: you don't have to be an arcade stick-wielding guru to enjoy and excel in this team battler. It's better than we ever expected.
Rocket League
Given all the shooters and action games on this list, it's nice sometimes to just have some silly fun. For that, we constantly turn to Rocket League.