AI dinosaurs, slotless racing and science wands: Best of Toy Fair 2015
Unleash your inner child with this hand-picked selection of goodies from this years Toy Fair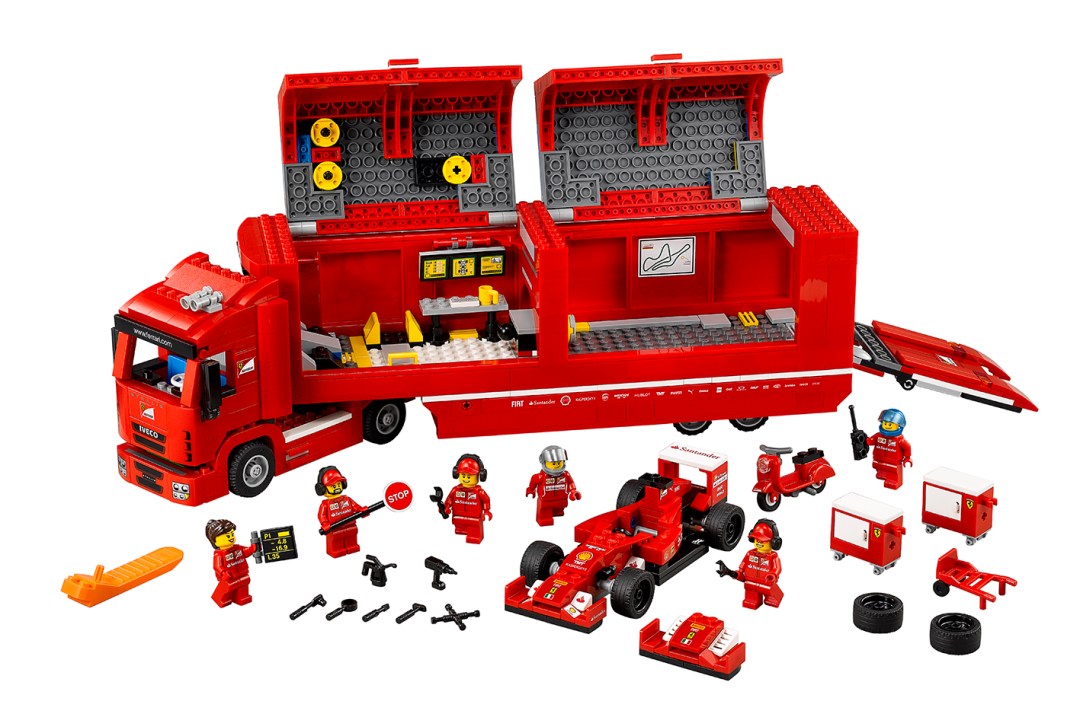 This week London is the hub of the toy world as manufacturers showcase their latest creations at the 2015 Toy Fair. And this year tech-enhanced toys feature big as toy makers hope to capture the imagination of kids big and small with AI, apps and drones.
Here's our picks from the show, so you can get writing your Christmas list early:
READ MORE: App of the Week: Gunbrick review
Real FX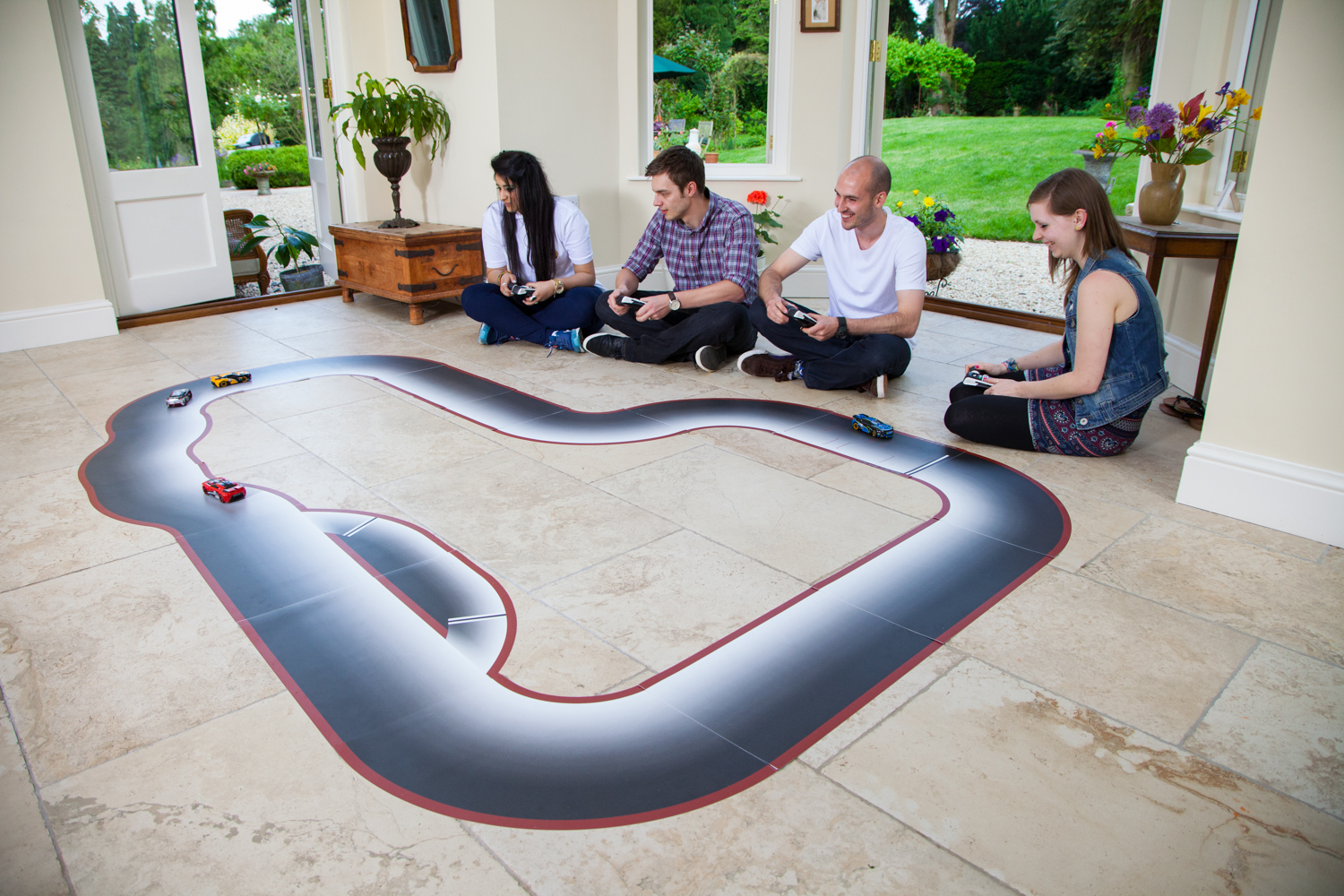 Look out Scalextric, Real FX is on your tail. This clever reinvention of slot racing has been six years in the making and on first impressions it's looking like a winner. Unlike other slot cars Real FX's vehicles can drive anywhere on the tracks you build thanks to sensors under each car and smart handsets that track car positions 200 times a second.
The handsets also have speakers that can tell you your race times and enhance races with warnings about virtual hazards like oil slicks. On top of that Real FX's tech enables races against AI controlled cars and offers plenty of upgrade potential through each car's USB port and detachable body.
All that's missing is the smell of burning dust.
Out summer. £100.
MiPosaur
Ever wanted a pet dinosaur? Then you're in luck thanks to WowWee, the people behind Robosapien. This year WowWee's robotic toy geniuses have created MiPosaur, a robo-dino that responds to hand gestures and will learn to love or hate you depending on how you treat it.
MiPosaur also comes with a hi-tech ball that can be used as a virtual lead to take your dinosaur for a walk and be shaken to make it dance. MiPosaur can also play football with it. There's also an Android and iOS app that lets you feed MiPosaur and check its mood, which will be rotten if you yank its tail too much.
Out summer. £100.
R.E.V.
WowWee has also been applying its AI know-how to toy cars with R.E.V.. These toy cars seek to bring the experience of weaponized racing from the video game screen to the household floor. Using the toy's Android or iOS app as a controller you can engage in races or fraught laser battles where your smart device tracks the damage each vehicle takes and shuts down the defeated. The cars can also be driven by AI, paving the way for motorized battles between man and machine.
Out summer. £100.
Lego Speed Champions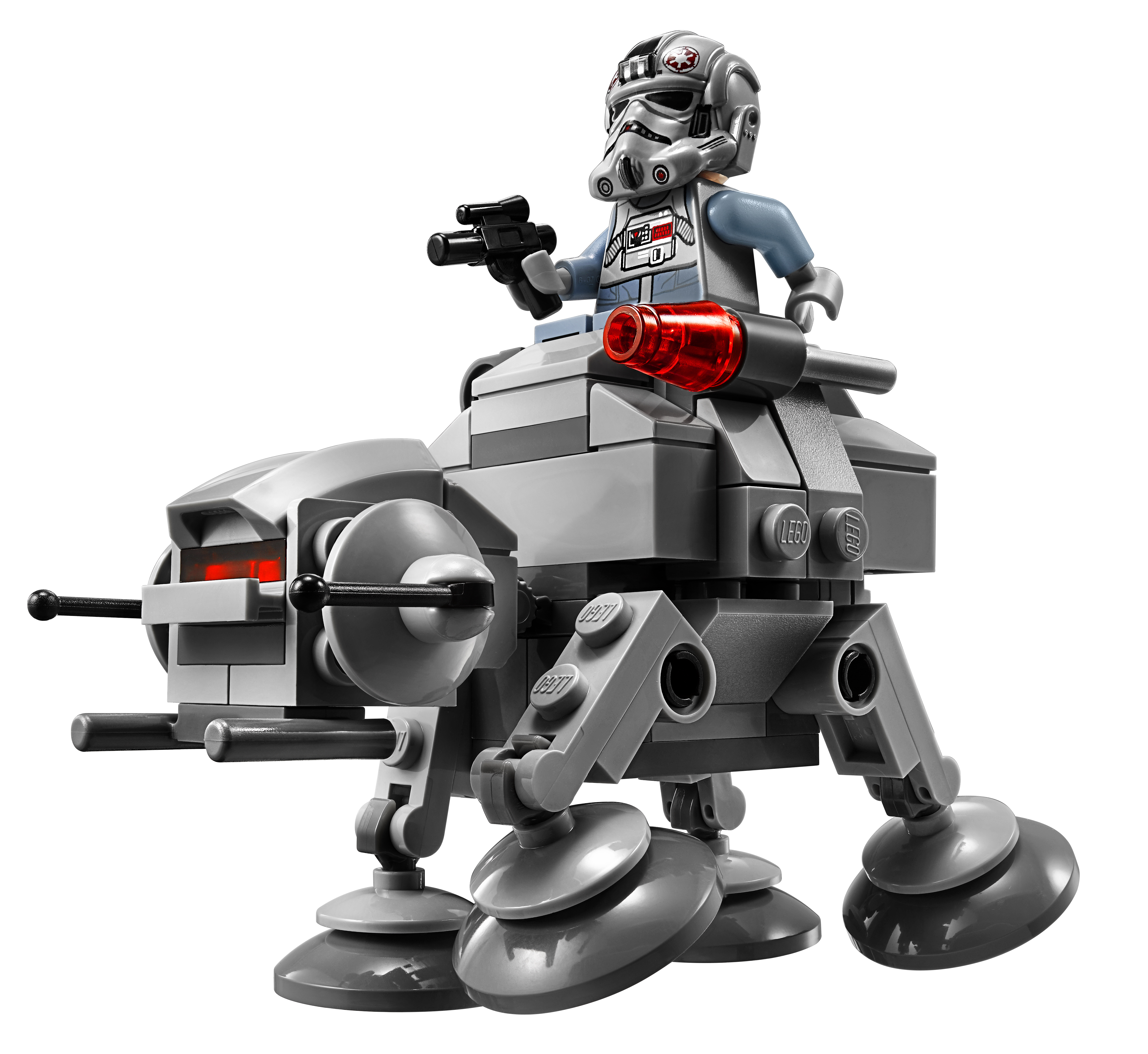 Danish plastic brick fans can look forward to a bumper crop of branded Lego this year. There'll be Scooby Doo sets with collectible Scooby Snacks, Minecraft dungeons, Jurassic World dinosaurs and loads of Star Wars kit including the set of the final duel on the Death Star and some super-cute AT-AT walkers.
Then there's the new racing car themed Speed Champions range. Aimed at Lego-lovin' petrolheads, the sets let you build famous speed demons like the Porsche 918 Spyder and McLaren P1. You'll even get the chance to piece together the Scuderia Ferrari Truck and a McLaren Mercedes pitstop brick by brick.
Out March. £13 to £80
K-Force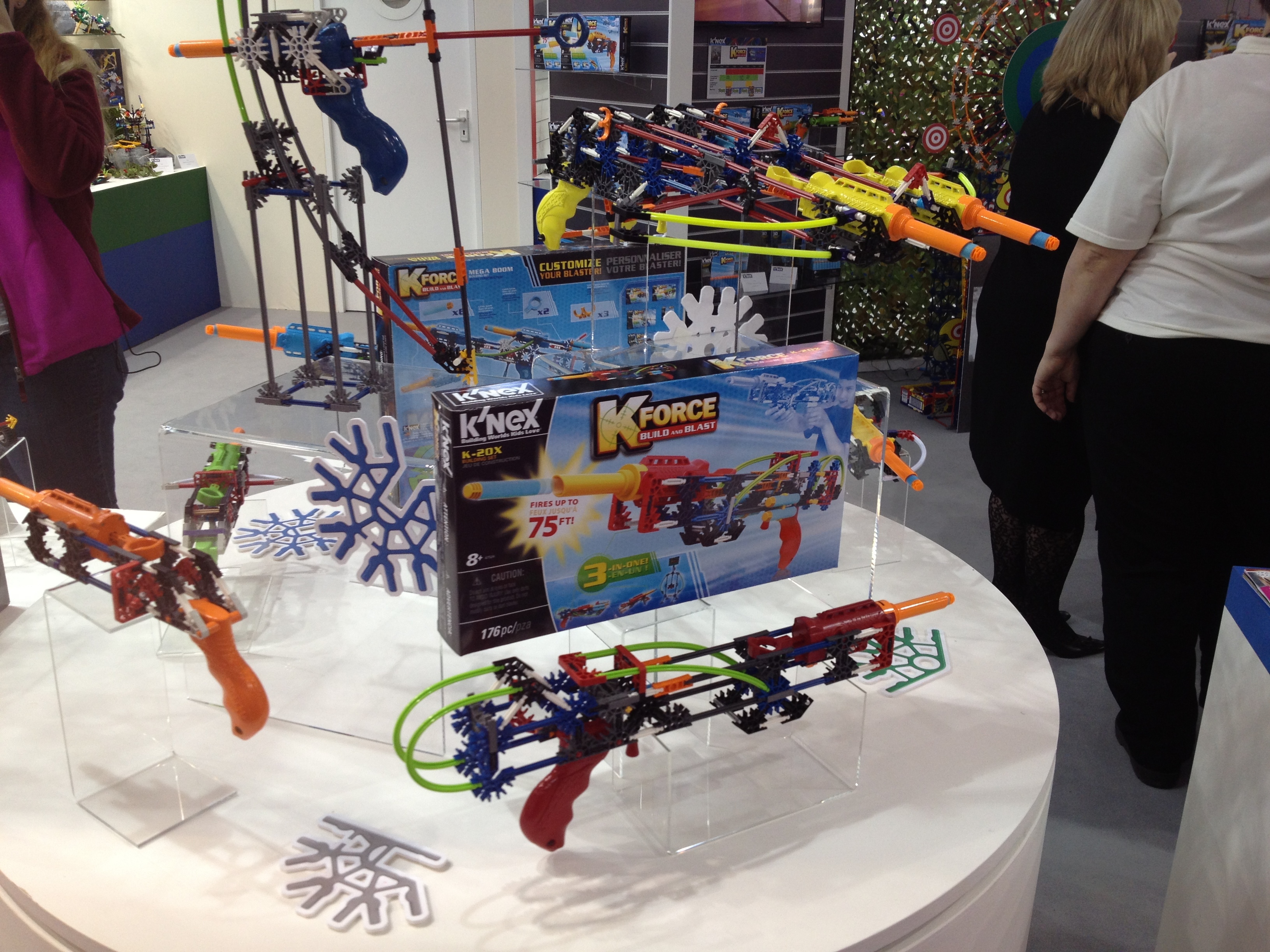 This autumn, K'nex will be bringing some Nerf-like fun to the construction toy scene with its new K-Force Build and Blast range. Inspired by fans who used their K'nex kits to create home-made guns and crossbows, the K-Force sets will supply would-be weapon designers with grips, blaster chambers and the (foam) ammo they need. What's more your customized guns and bows will be capable of firing foam bullets up to 22 metres and you can even make ones that fire two bullets at once for added deadliness.
Out autumn. £15-£40
Trick Stick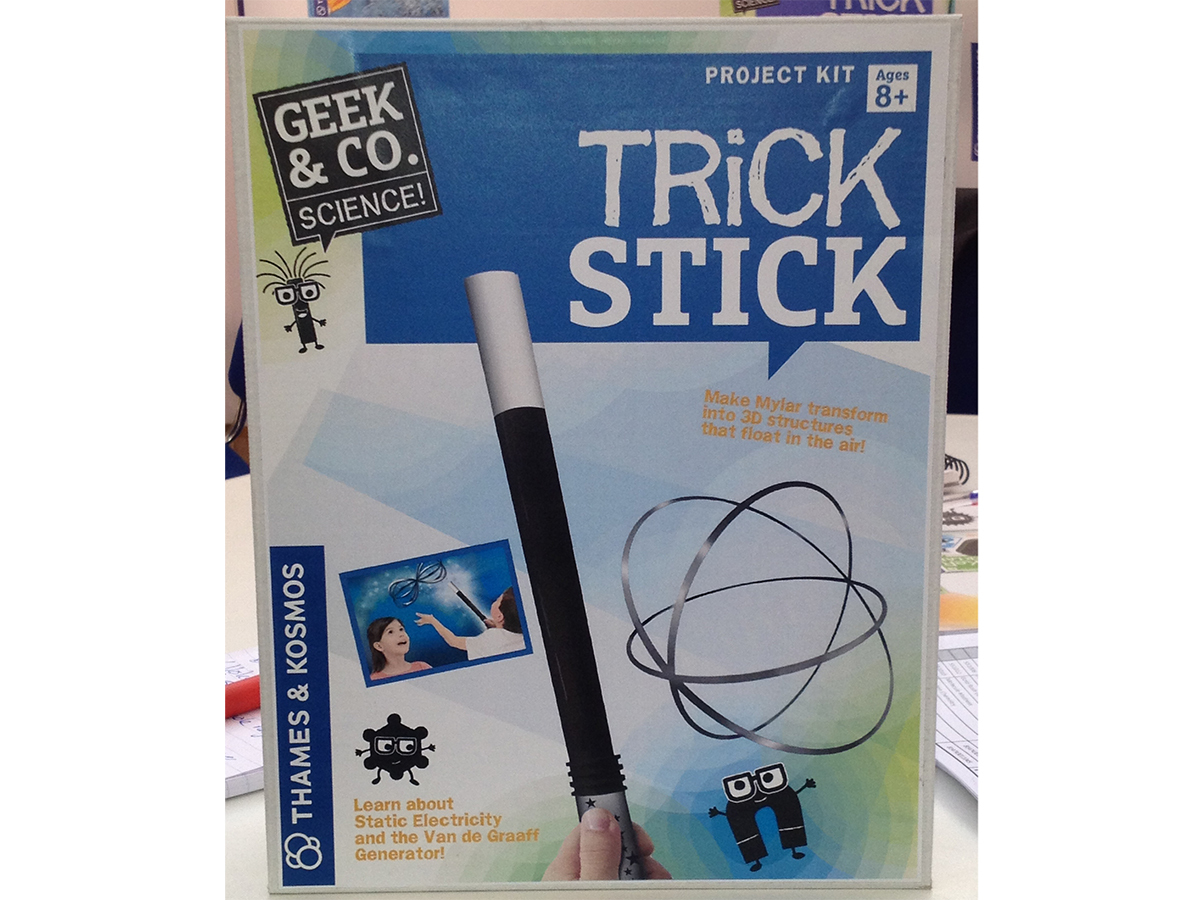 If you're looking for a gadget-tastic educational stocking filler, Thames & Kosmos' Trick Stick will fit the bill. Based on the principles behind Van de Graaff generators, the Trick Stick is a battery powered wand that teaches children about electricity by allowing them to levitate mylar butterflies and double helixes as if they're a wizard.
Out June. £13
Neutron quadcopter
Palm-sized drones were out in force at Toy Fair, but it's the Neutron range of quadcopters from Propel RC that caught our eye.
The Neutron's big sell is the company's Switch-blade tech that offers 3 and 4 channel flight modes and extra stability, making it ideal for beginners and experienced pilots alike. There's also three speed settings, a stunt button, HD camera and a choice of colours including iPhone 5-inspired gold for those seeking extra bling.
And since the Neutron is made from a durable mix of nylon, carbon fibre and polypropylene it should survive even the most haphazard piloting.
Out autumn. £60
Aston Martin DB5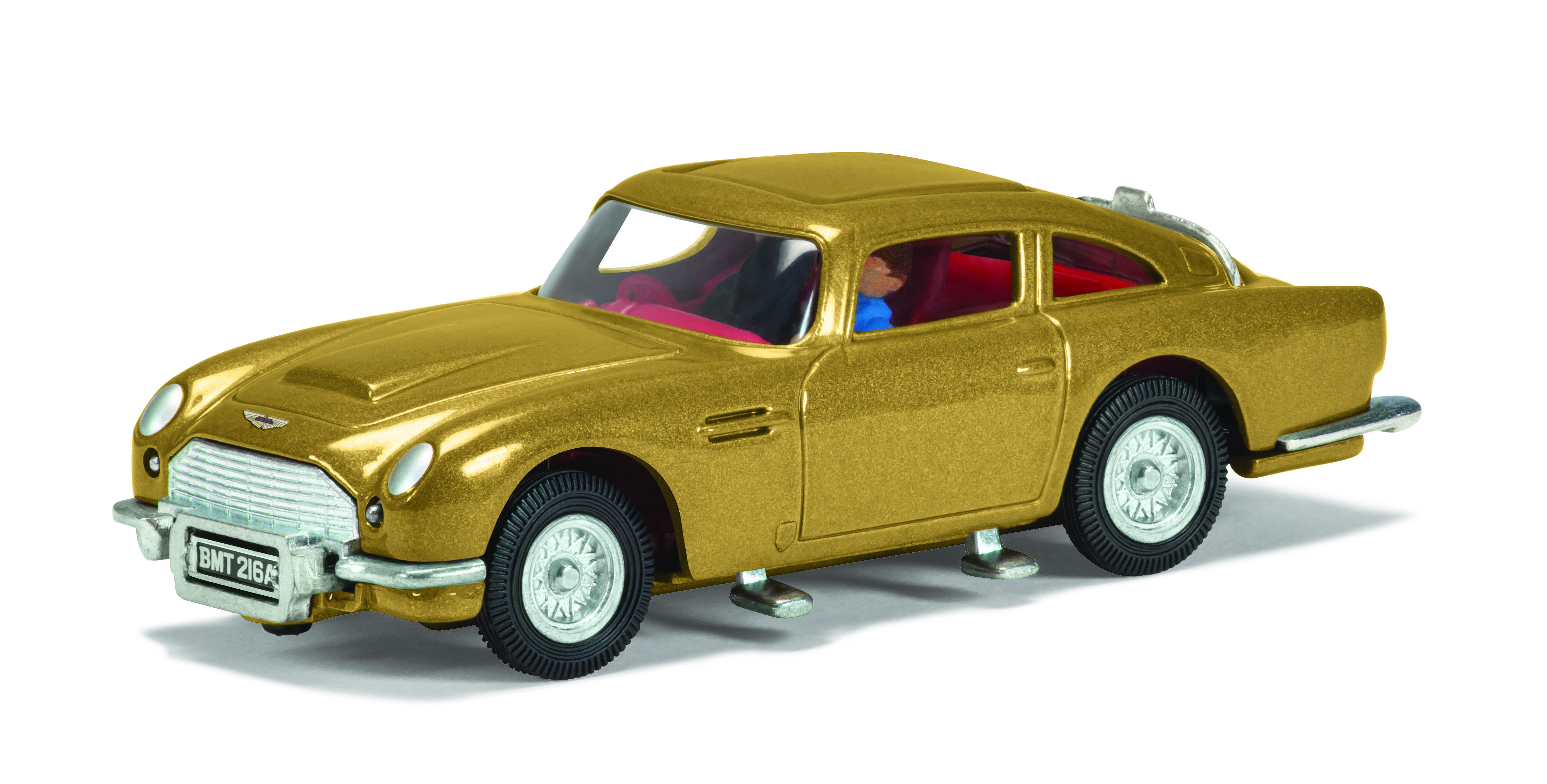 If all this tech toy magic is too much, you could always go on a nostalgia trip with Hornby's limited edition revival of Corgi's toy version of James Bond's famous Aston Martin DB5. The Goldfinger-era Bond car hasn't changed a bit. It's still got the ejector seat that's a bit fiddly to use, changeable car number plates that are also a bit fiddly to use and retractable machine guns that, you guessed it, are also a bit fiddly to use. But while its 50 years might be showing it's still a toy classic and available in both silver and gold to boot.
Out March. £20
READ MORE: These are the top 10 best smartphones in the world