Apple iPhone 8 Plus vs Samsung Galaxy Note 8: Which is best?
Which phablet is worth breaking the bank over?
September is the month for a big, big 8 – your pick of the brand new Samsung Galaxy Note 8 or Apple's iPhone 8 Plus.
Both are pretty fab phablets. The Galaxy Note 8 extends the Galaxy S8's design philosophy to a slightly larger display and packs in the S Pen stylus – and unlike last year's Note, none of them have exploded (yet).
Meanwhile, the iPhone 8 Plus makes modest improvements and alterations to last year's winning iPhone 7 Plus, bringing in some nice perks to Apple's previous best handset. However, it's overshadowed by the forthcoming iPhone X.
Still, if you're not compelled to splash out £999+ on a smartphone and want to 'only' spend between £799 and £869 instead, then this is a showdown worth considering. Here's our take on which big phone to get, now that we've properly reviewed both handsets.
Design: Note this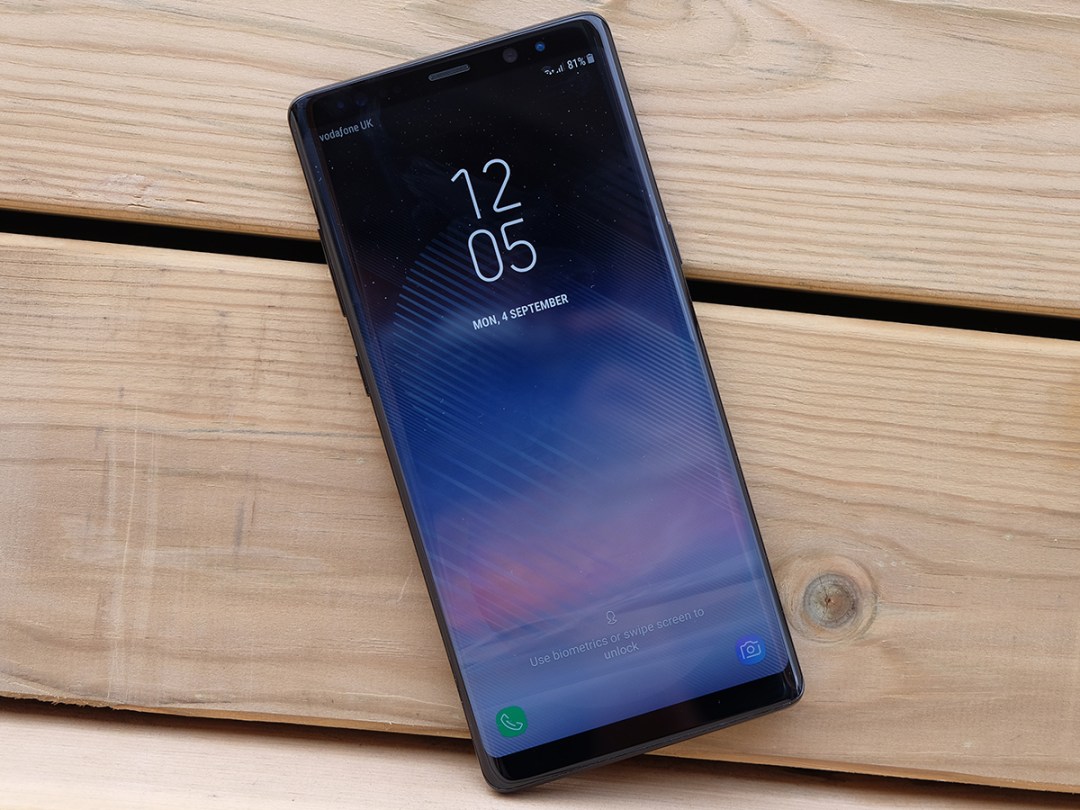 We could almost cut and paste the design showdown from our recent Galaxy Note 8 vs iPhone 7 Plus matchup, because the iPhone 8 Plus looks a hell of a lot like its predecessor. And the one before that. Oh, and the one before that too.
That's true from the front, at least. Flip it over and – finally! – the iPhone 8 Plus has revived the glass-backing treatment. Yes, the old aluminum finish is gone, in favour of flashy glass that also unlocks wireless charging capabilities. It's a slick upgrade, but otherwise the iPhone 8 Plus mostly looks and feels the same as before. We were already growing a bit tired of the familiar look, plus the flashy iPhone X isn't making the old approach seem any fresher.
And we're just way more into the Galaxy Note 8's look, really. Like the Galaxy S8, it's almost all screen on the front, with minimal top and bottom bezel around the huge curved display. It's striking stuff, and unlike what any other maker is putting out there right now.
Winner: Samsung Galaxy Note 8
Screen: Still Samsung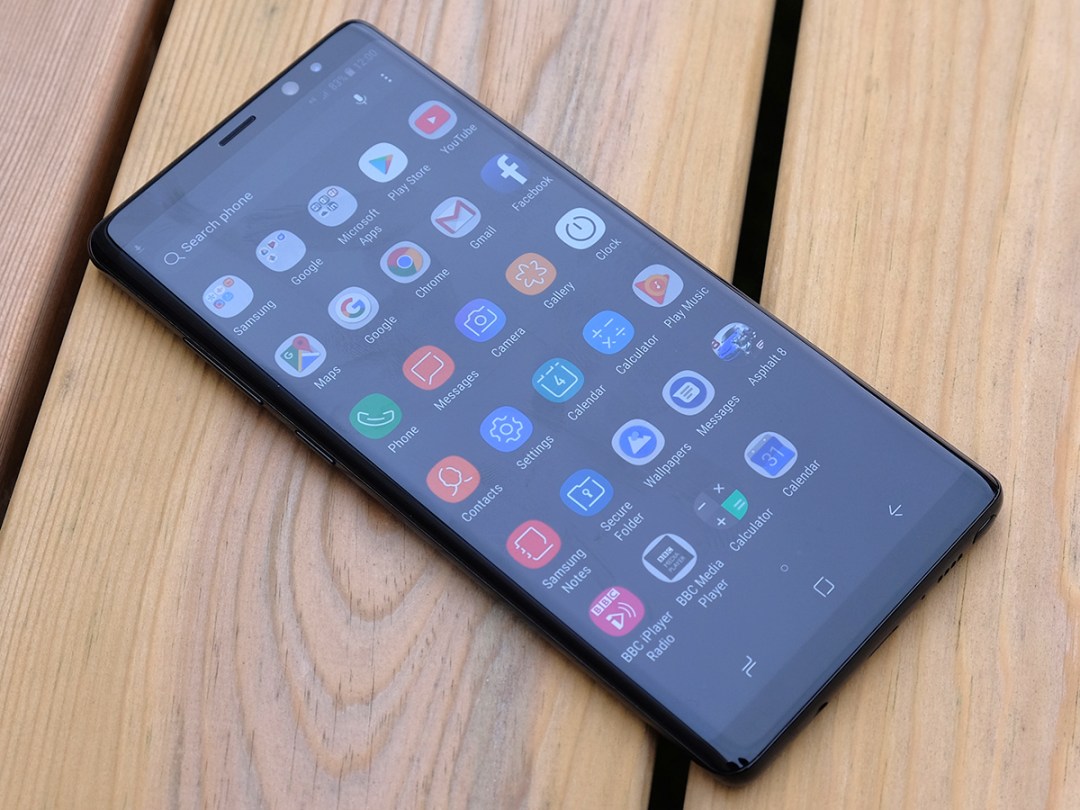 Again, there's not a big leap from the comparison to last year's big iPhone – seeing a trend here? The iPhone 8 Plus again packs in a 5.5in LCD screen at 1080p resolution, and it's plenty bright, solidly crisp, and will certainly please existing iPhone users. It's certainly a heap better than the 750p iPhone 8 screen.
The one big new advantage is Apple's True Tone tech, which comes over from iPad. It automatically adjusts colour levels based on your ambient lighting, and it looks really sharp. It really helps the iPhone 8 Plus' screen pop in everyday usage, and you'll definitely want to keep the feature enabled.
And yet the Galaxy Note 8 still nudges out a win here. It's a higher-resolution Quad HD display, and while it's larger at 6.2in, that's because it's also taller – with an atypical 18.5:9 aspect ratio. That gives you more screen to play with, but without making the phone feel too wide or unmanageable.
Better yet, it's another AMOLED stunner from Samsung, with excellent contrast, deep blacks, and now support for mobile HDR (high dynamic range) for apps such as Netflix and YouTube. Like the Galaxy S8 phones, it's the best smartphone screen you'll find right now. Well, until we properly test the iPhone X of course.
Winner: Samsung Galaxy Note 8
Camera: Snap decision
The Galaxy Note 8 won the recent camera battle against last year's iPhone 7 Plus when we pitched the two against each other, but that was a bit of an uneven fight given Apple's year-old tech there. So, does the new iPhone 8 Plus fare any better?
Yes, definitely. The iPhone 8 Plus brings some modest enhancements over last year's phone. It has two 12-megapixel cameras on the back, one wide angle at f/1.8 aperture and the other telephoto at f/2.8. On paper, that's the same as last year.
However, the larger, faster sensor brings better low-light results and speedier snaps, while the new colour filter punches up the saturation a tad and the "deeper pixels" provide better dynamic range. The results are typically quite detailed and well balanced, with spot-on exposure even in inconsistent lighting.
The Portrait mode also delivers more accurate and natural-looking results, plus there's the addition of the new Portrait Lighting feature, which lets you fiddle with the lighting around your subject with varied results.
On the other side, the Galaxy Note 8 also has two 12MP cameras: one f/1.7 main sensor and another at f/2.4. You can likewise do Portrait-style shots and optical zoom as on the iPhone. Like the Galaxy S8, shots are generally superb – some of the best you'll take with a smartphone in 2017.
Overall, both are really excellent, and in our individual testing, neither really stood out as being dramatically better than the other. Until we have a chance to pit them against each other, head to head, we're calling it a draw. You can't go wrong with either one.
Winner: Draw
Performance: Powered up
Samsung's Exynos 8895 chip powers the Galaxy Note 8 in some parts of the world, while the Qualcomm Snapdragon 835 handles the load elsewhere – but in either case, it's a total powerhouse. Add in 6GB RAM and you end up with one of the smoothest-running Android phones on the market today.
And yet it looks like Apple might have a commanding lead when it comes to raw specs. Last year's A10 Fusion chip was pretty close to Samsung's newer one in terms of benchmark testing, while the new A11 Bionic chip blows them both out of the water – or so it appears. And that's with 3GB RAM in the iPhone 8 Plus.
The iPhone 8 Plus apparently has a lot more horsepower to work with, although common everyday tasks only require so much power on a smartphone. Both of these are extremely swift with navigation and able to handle top games and apps with ease. But Apple's extra power could reveal itself in time, and Apple deserves the nod for packing so much extra muscle into a smartphone.
Winner: Apple iPhone 8 Plus
Battery and perks: So many perks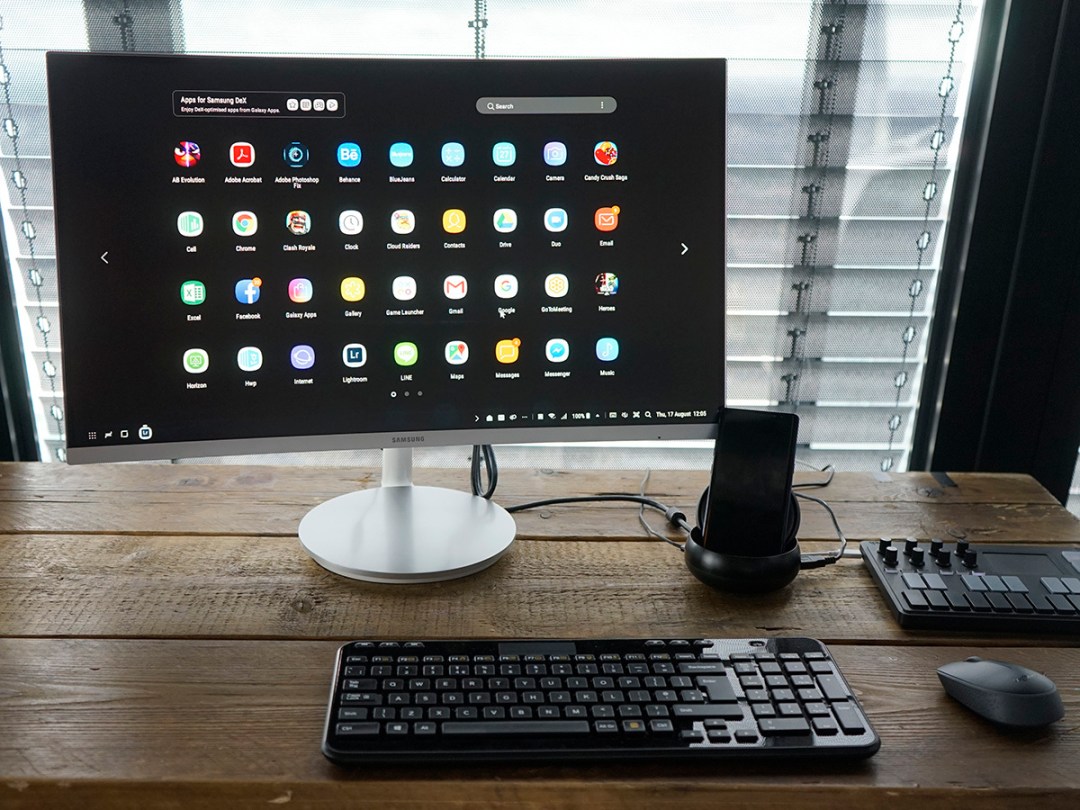 As mentioned above, wireless charging is one of the big benefits that the iPhone 8 Plus has over the iPhone 7 Plus, although it's nothing special in this battle – the Note 8 has it too. Both phones can also handle fast charging, another new addition for the iPhone (finally), although you need to buy a separate adapter for Apple's handset. That's annoying.
When it comes to actual battery life, we'd say it's about the same here. The Note 8 has a 3,300mAh battery cell within, while the iPhone 8 Plus is a solid chunk lower at 2,675mAh – but the lower-resolution screen requires less power, plus iOS is known as an extremely efficient operating system.
Both can last you till bedtime if you don't push too hard, but if you're rocking games and streaming media for hours, then you'll probably need a top-up. Thank goodness for fast charging!
When it comes to storage, we see another upgrade on the Apple front, but still a weakness overall. The iPhone 8 Plus offers more starting storage than last year, with 64GB and 256GB models, but there's still no option for expandable storage. The Note 8 comes with 64GB within, and then you can use microSD cards as you please.
The Galaxy Note 8 also packs in some bonuses that the iPhone can't touch, such as Gear VR support, as well as the optional DeX Station dock for using your phone as the brain of a desktop-like computing experience. (Although not one that we rate particularly highly, as it stands.) Also, the Note 8 has a headphone port, whereas Apple didn't add that back with the iPhone 8 Plus.
Lastly, of course, the Galaxy Note 8 has the S Pen, which can add a nicely productive boost for power users. But in our review testing, we weren't particularly moved by the addition. It's useful, but given how much we command our phones with our fingers, will you really feel compelled to use it? We weren't strongly swayed by it.
Winner: Samsung Galaxy Note 8
Verdict: A closer call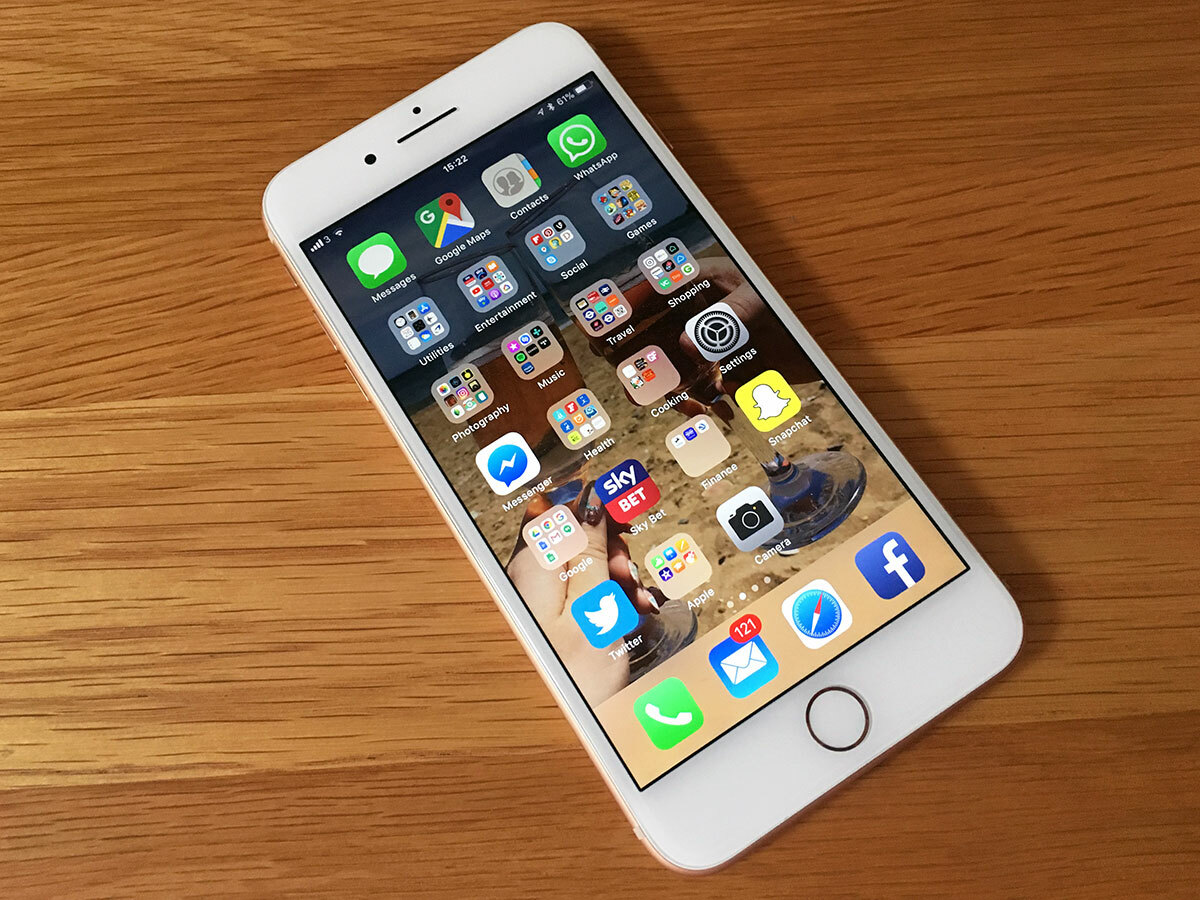 You really can't lose here: both of these are big, spectacular handsets, and they're both packed with modern tech, loads of power, and ample features.
The Galaxy Note 8 comes out ahead in some categories, mainly the design and screen quality, plus it has more perks. The iPhone 8 Plus packs even more raw power, although you shouldn't notice a huge advantage in daily use, and its camera setup seems just as strong as the Note 8's.
When we compared the Note 8 to the iPhone 7 Plus, the £150 difference between them helped push us to recommend Apple's phone. The Galaxy Note 8 just feels like too much phone for a lot of people, and Samsung's advantages aren't critical.
But with the iPhone 8 Plus marked up to £799, the £70 price difference isn't nearly as significant this time around. It's still a benefit to Apple, but if you're going to drop several hundred quid on a huge smartphone, then that probably won't be your largest consideration.
In short: if you have a preference between iOS and Android, then go with your gut there. If you don't, then we'd say the iPhone 8 Plus is more likely to appeal to the average user. It's provides a smooth, user-friendly experience, and every feature within is close enough to top-of-the-line to impress most prospective buyers.
The Note 8 is also excellent, but if you're not a power user and you're not hyped up by the S Pen stylus, then we don't think you'll get too much mileage out of its extra features. Still, we'd happily point you towards the Galaxy S8+ instead, which puts up a better fight against the iPhone 8 Plus in terms of both experience and price.
Winner: Apple iPhone 8 Plus