Apple iPhone 8 vs Samsung Galaxy S8: Which is best?
Apple's latest picks up some perks, but it's gunning for the current king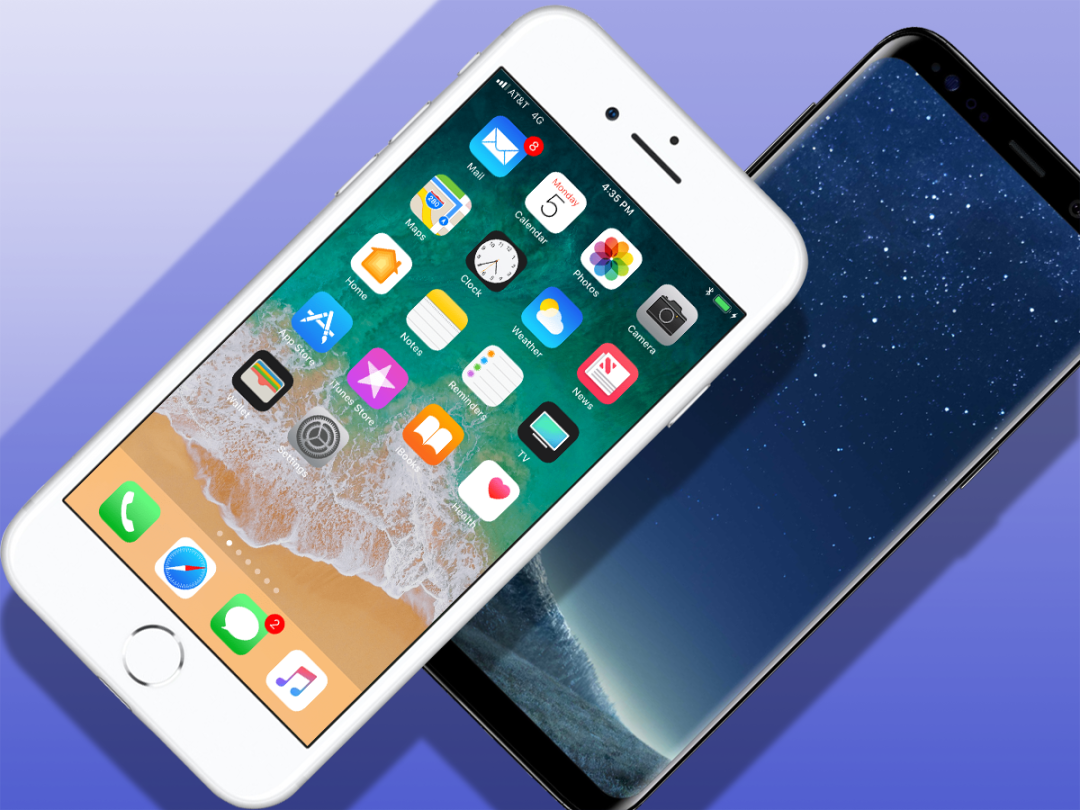 Can a flagship phone be simultaneously impressive and underwhelming? Sure. Can it do that and still sell in the many millions? Probably, given that it's an iPhone.
The iPhone 8 is a largely familiar handset for anyone who's wielded (or even seen) an iPhone in the last few years, and this version picks up some long-awaited enhancements, such as glass backing and wireless charging. But overall, it's not a massive upgrade from the iPhone 7.
And it's entering a smartphone market that Samsung is currently presiding over with its great Galaxy S8, a handset that has top-of-the-line everything from looks to power and perks. It's our favourite phone in the world right now.
How close does the iPhone 8 come to matching Samsung's best, let alone topping it? Let's have a look at how this showdown shakes out.
Design: Fresh or familiar?
The Galaxy S8 has been around since the spring, so it's not exactly brand spanking new, but it still dazzles us with its nearly all-screen front. Samsung has cut most of the bezel out of the equation, with very little beyond the curved screen dominating its face. It's a beauty.
Meanwhile, the iPhone 8 is… well, pretty much the iPhone 7. And the two phones before that. The front is exactly the same, but as mentioned, you do get a pretty slick glass backing this time around. That's an upgrade and it adds a little heft to the phone, as well, but mostly this is the same. And Apple's current iPhone design is proving a bit tired after four editions.
Winner: Samsung Galaxy S8
Screen: The clear difference
There's a lot to like about the iPhone 8's 4.7in LCD display. It's bright, sports great contrast, and is solidly crisp. And the new True Tone feature measures the ambient light around you to tweak the colours, which makes the screen look even more natural and welcoming.
But the screen is a bit behind the times, as it has been for a good couple of years now. It's only at 750p resolution (326 pixels per inch), not even hitting the 1080p bare minimum usually seen in flagship phones – while the Galaxy S8 packs in a much sharper 5.8in Quad HD screen at 570ppi. More pixels means less visible fuzziness throughout the experience.
The difference is clear as soon as you see the two phones side by side. Better yet, the Galaxy S8 uses an AMOLED panel, which delivers even stronger contrast and deeper blacks, and it's capable of mobile HDR with supported media (such as most Netflix Originals), as well. The iPhone 8's screen will be perfectly fine for the average user, but the Galaxy S8 has the best handheld screen anywhere.
The iPhone 8 does have the benefit of 3D Touch pressure sensitivity, but that's not a benefit that has truly transformed the mobile experience for most users. We kind of forget that it exists most of the time, actually.
Winner: Samsung Galaxy S8
Camera: Sharp shooters
On paper, the iPhone 8 seems to offer much the same shooting experience as its predecessor, with a single 12-megapixel f/1.8 lens on the back, but it has various added benefits within. The larger, faster sensor captures more light, plus it now (finally) packs in optical image stabilisation.
You won't get the Portrait mode and optical zooming perks of the dual-back-camera iPhone 8 Plus, but the iPhone 8 still impresses with clear, detailed shots, and mostly excellent HDR usage to add extra pop to your shots.
The Galaxy S8's system is pretty close on paper. You get a single 12MP f/1.7 camera on the back, with optical image stabilisation and dual-pixel autofocus, and it snaps three shots with a single tap, then immediately merging the results to give you one stellar result. Photos are swift and lush, and handles low light well enough, much like the iPhone 8.
Both are very strong shooters, but we haven't had a chance to put them against each other in a closer comparison. Until then, we're calling this one even. You'll get pretty awesome everyday shots from both.
Winner: Draw
Performance: Bionic power
If there's one area that Apple has an edge, it's performance. Sure, Apple's phone is six months newer than Samsung's, but the difference in benchmarks is even vaster than you might expect. In fact, the iPhone 8's A11 Bionic chip (with 2GB RAM) can hold its own against a current MacBook Pro, believe it or not, and it certainly comes out ahead of the Galaxy S8's Exynos 8895 processor (with 4GB RAM).
That's a relatively moot point for a device you'll mostly use for texts, web browsing, and watching streaming media, but you might notice an edge when it comes to high-end games and other graphics-heavy apps. Both are super speedy in everyday usage, but Apple wins this category for that extra firepower on reserve.
Winner: Apple iPhone 8
Battery and perks: S8 is great!
The 1,821mAh battery of the iPhone 8 might seem pretty meager compared to the Galaxy S8's 3,000mAh cell – and true, there is some difference. Used modestly throughout the day, the iPhone 8 can last you until bedtime, although you'll probably need a top-up before then if you push any harder with games and media.
The Galaxy S8, meanwhile, holds stronger throughout the day, and is better suited to perhaps last a bit into a second day if you don't go nuts with it. It has a solid edge here. Both phones offer wireless charging, now that the iPhone 8 has glass on its back, and you can fast-charge both – although you'll have to buy a separate adapter for the iPhone.
Samsung wins out with storage, as well. Apple now offers its iPhone in 64GB and 256GB varieties, with a vast £150 jump between versions. Meanwhile, the Galaxy S8 just comes with 64GB within, but then you can buy cheap microSD cards and upgrade at will via expandable storage. Yes, that is a much more sensible option!
You also get some optional bonus abilities with the Galaxy S8, such as the entertaining Gear VR headset, as well as support for Samsung's DeX Station, which lets you plug in a keyboard, mouse, and monitor and use your smartphone as a proper desktop PC. It's a cool concept, at least, even if the execution isn't all that spectacular.
And yes, the Galaxy S8 has a proper headphone port. The iPhone 8 still doesn't.
Winner: Samsung Galaxy S8
Verdict: Go with Galaxy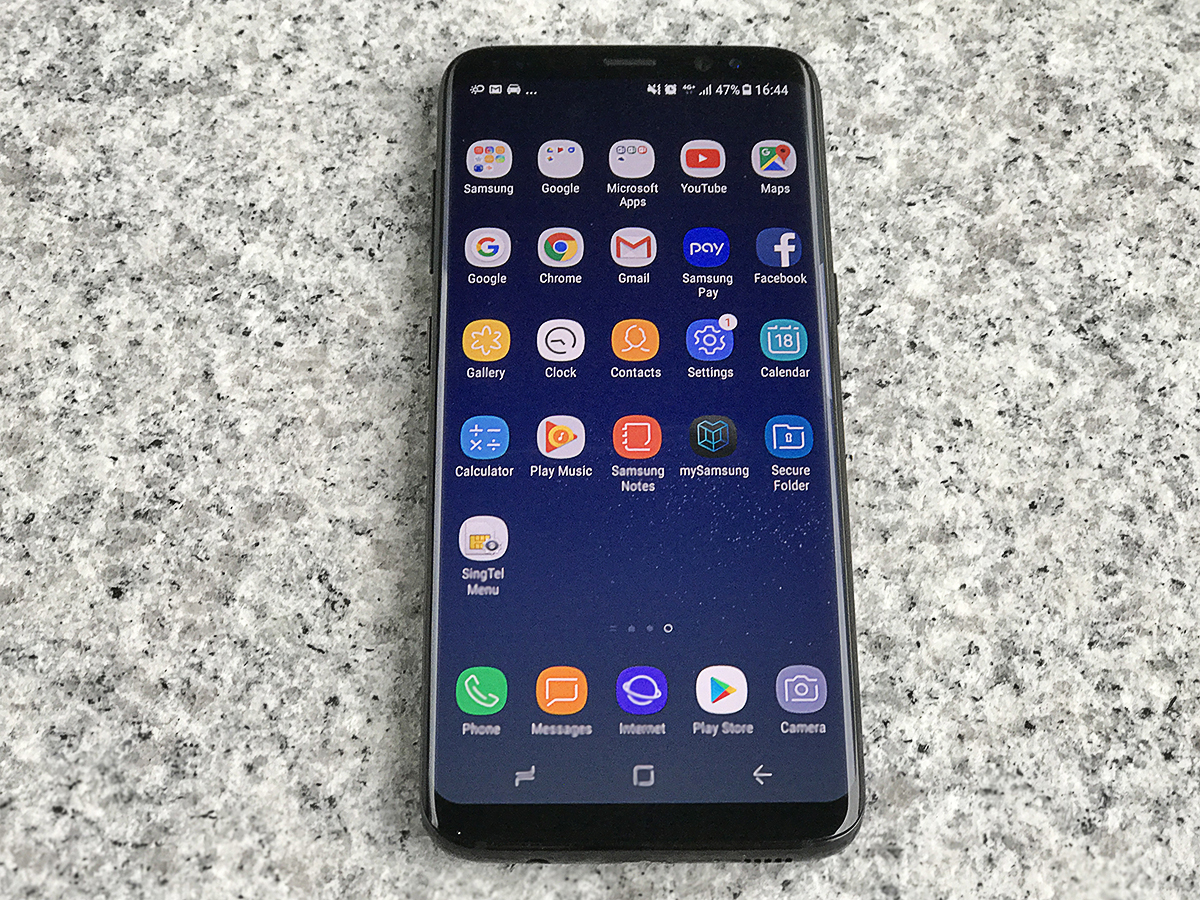 The iPhone 8 is a strong handset in a lot of ways, from its camera to its hefty horsepower, although the screen is a bit dated and the design lost its pop some time back. But at £699, it's certainly on the upper end of the price pool today.
But the Galaxy S8 is listed at £689 and now available in more of the £530 range, and it trumps the iPhone 8 in some key ways: it has much more appealing design, a better screen, improved battery life, and some nice perks in the package.
We love iOS 11 for its ease of use and excellent app ecosystem, and for some users, that'll be enough to make it the phone of choice. If so, go for it: you shouldn't be disappointed with the upgrade, but the iPhone 8 mostly feels like more of the same. The iPhone 8 Plus is the better pick for £100 more, or the overhauled iPhone X is on the horizon for later this year (albeit at a staggering £999).
But if you're not locked into one platform over the other, we'd heartily recommend the Galaxy S8 in this battle. It's a much more impressive handset overall, top to bottom and inside and out, plus you can find it for significantly less despite its myriad advantages.
Winner: Samsung Galaxy S8