The best 4K TVs of 2016 – reviewed
Get your big-screen fix with these top tellies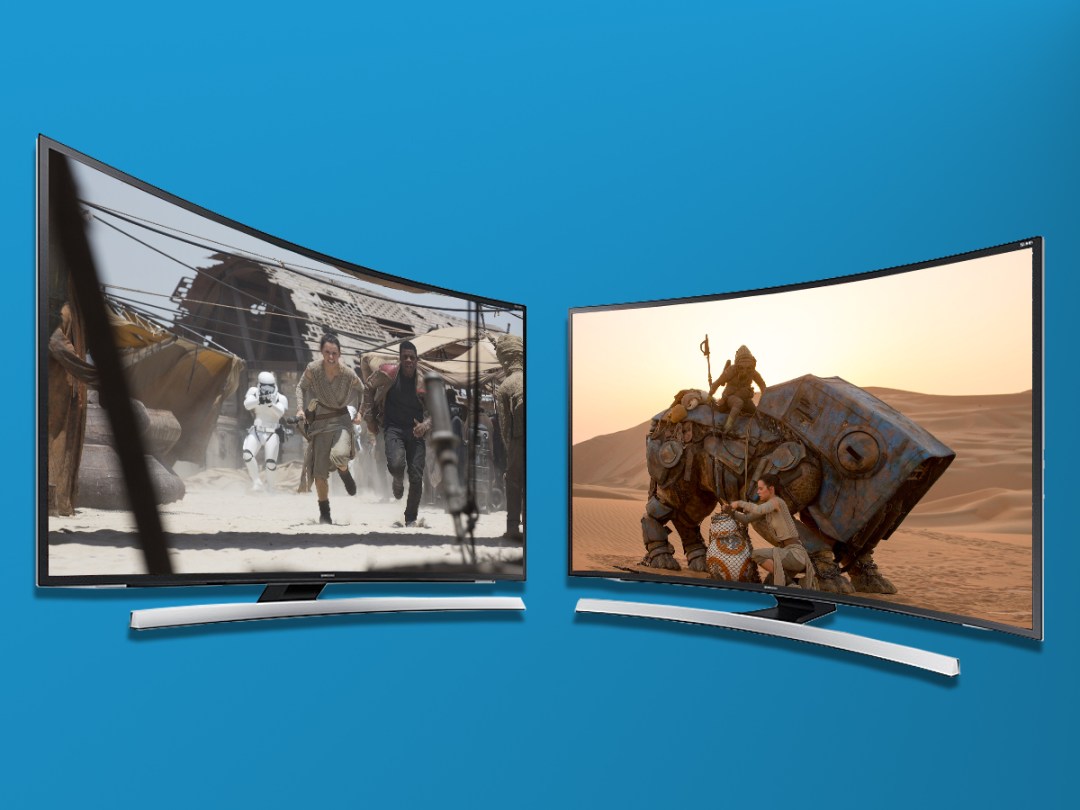 Choosing your next TV is a big deal. You'll spend longer staring at it than at your own children and it'll cover more wall space than a dynastic tapestry (with better detail, too).
But what to go for? Well might we suggest you narrow down your options to the 4K brigade.
For years, 4K TV was the next big thing. A tantalising, pixel-perfect glimpse of the future with four times as much detail as standard HD TV. When would it arrive? Sometime soon. Would you be able to afford it? Eventually.
Having tested the best that 4K has to offer, we're happy to report that the time is now for this eye-popping tech. Prices are gradually coming down (a bit) and there's finally enough 4K content around to justify getting one.
Anyway, on with the show: here are the best 4K television sets you can buy.
The Winner: Samsung UE55JS8500 (£1650)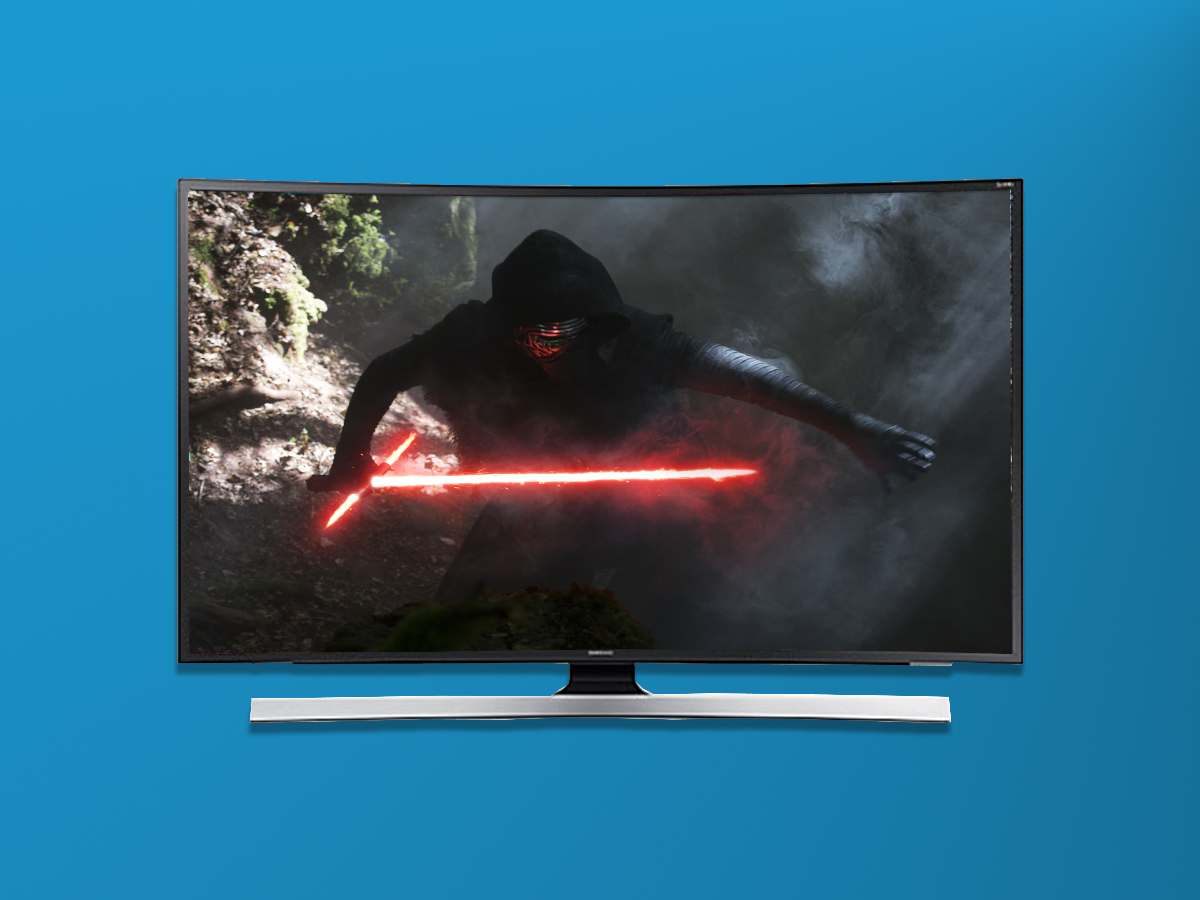 What's the story?
Everyone's favourite Korean manufacturer likes to stand out when it comes to oversized on-the-wallers, so its nanocrystal-toting flagship TVs are going by the unique acronym SUHD. Because Samsung.
Fresh for 2015 is Samsung's gorgeous, open-source Tizen operating system – not to be confused with Korean fizzy-pop, its shortcuts to apps and recent or recommended content make browsing a breeze. Also new to the party is a nice banana-shaped remote and a plug-in box that moves HDMI and USB connections out of sight.
Best of all, despite its super-sized smarts, it packs a mini-me footprint: its lil' feet can be positioned at the edges or near the centre, making it good for perching on just about any width of wood.
Picture perfect?
Each of the UE55JS8500's 8.3 million pixels is put to good use across the 55in frontage, filling the screen's handsome real estate with pin-sharp outlines, potent contrast and eye-popping colours – more subtle and realistic than those on the rival LG 55UF950V, and perfect for the 90 hours of 4K titillation pushed your way by Netflix and Amazon Prime Instant Video.
Fans of 3D get the full-blown active variety, but glasses aren't included. Soundwise, it's fuller and more powerful than skinny-sounding flatscreens.
We're also fans of the 'multi-link' mode, which lets you watch the footy and get your Candy Crush fix in chorus. If you have the considerable cashflow required, this is the 4K to have.
Tech specs
Screen size: 55in ● Dimensions: 71x124x9.2cm ● HDMI: 4 ● USB: 3 ● Weight: 20.9kg
Sony KD-75X9405C (£5000)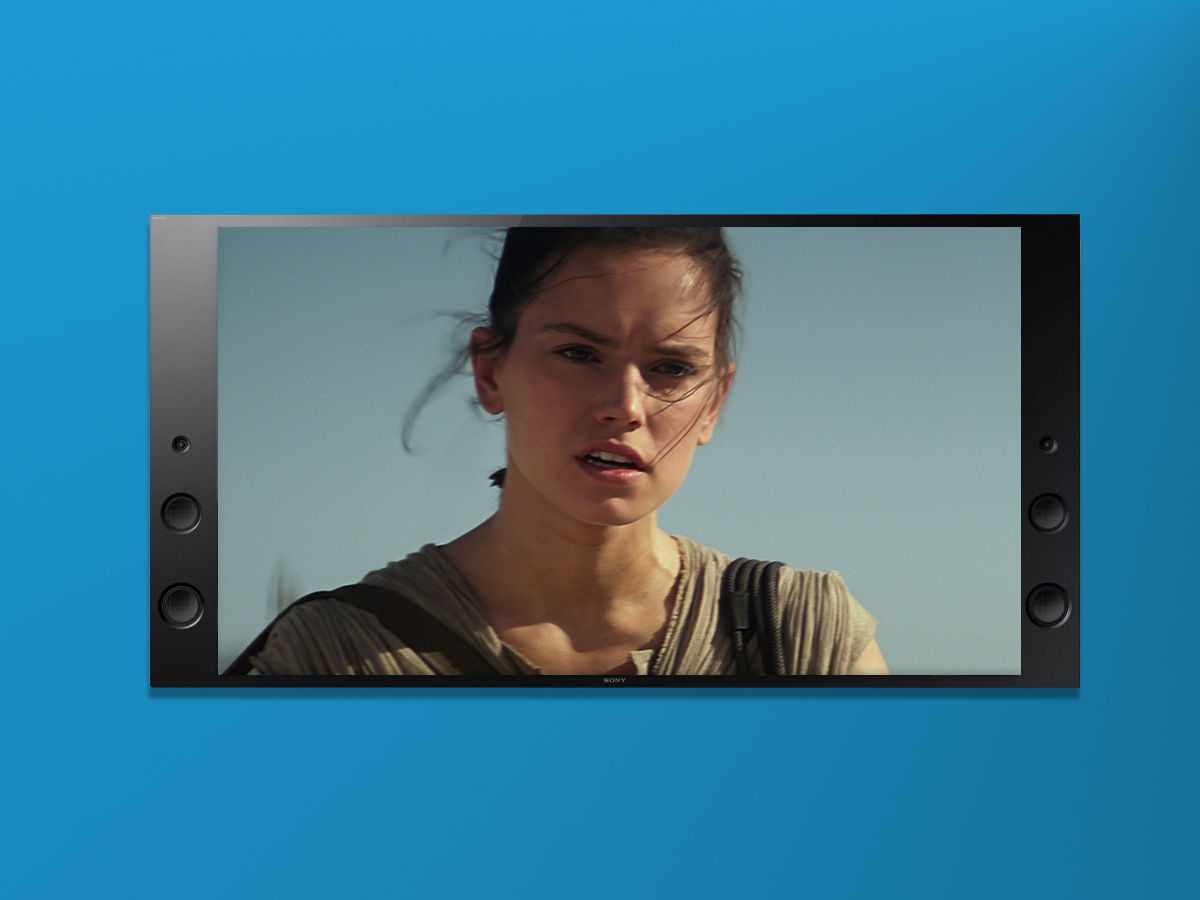 What's the story?
You don't believe in compromise. You don't have time for silly things such as logic and practicality. You'd happily sell your first-born. You'd happily knock your living room wall down if you hadn't already done so. Your life is dope and you do dope things. Nothing is going to get in the way of you sailing your flagship television, all up in the face of reason.
If that sounds like you, then you need this TV in your life. Why? Because it's 75 inches of holy cow. It is a monolith straight out of 2001: A Space Odyssey – only a lot more entertaining and with uncharacteristically large speakers at each end.
This is Sony's top-of-the-line TV – their other models this year pale in comparison. It benefits from the company's best processing technology, and is reinforced by Google's Android TV. You'll want to get a couple of willing friends to help. And remember to lift with your legs, not your back.
Picture perfect?
Yes it is, basically. This is the reason to get into ultra high definition: it puts the 'phwoar' into 4K.
Nobody will be able to walk past this without staring, jaws wide open. That picture is thrilling. You'll want to spend a little time calibrating the picture first, though – the default setting is so bright you'll end up squinting like Clint Eastwood. Still, while Sony has had a good handle on sharpness for a few years, this is something else.
This is the sort of picture that lets you see exactly how much hair gel Paul Hollywood uses: the colours are fierce, yet, somehow, just subdued enough not to look unnatural, and it sounds great, too. Those proper speakers at the sides really make a difference.
The only not-so-great bit is Android TV: it's clunky compared to LG's WebOS and Samsung's Tizen interfaces, and could do with more apps.
Tech specs
Screen size: 75in ● Dimensions: 193x104x32cm ● HDMI: 4 ● USB: 3 ● Weight: 56.8kg
Samsung UE48JU7000 (£850)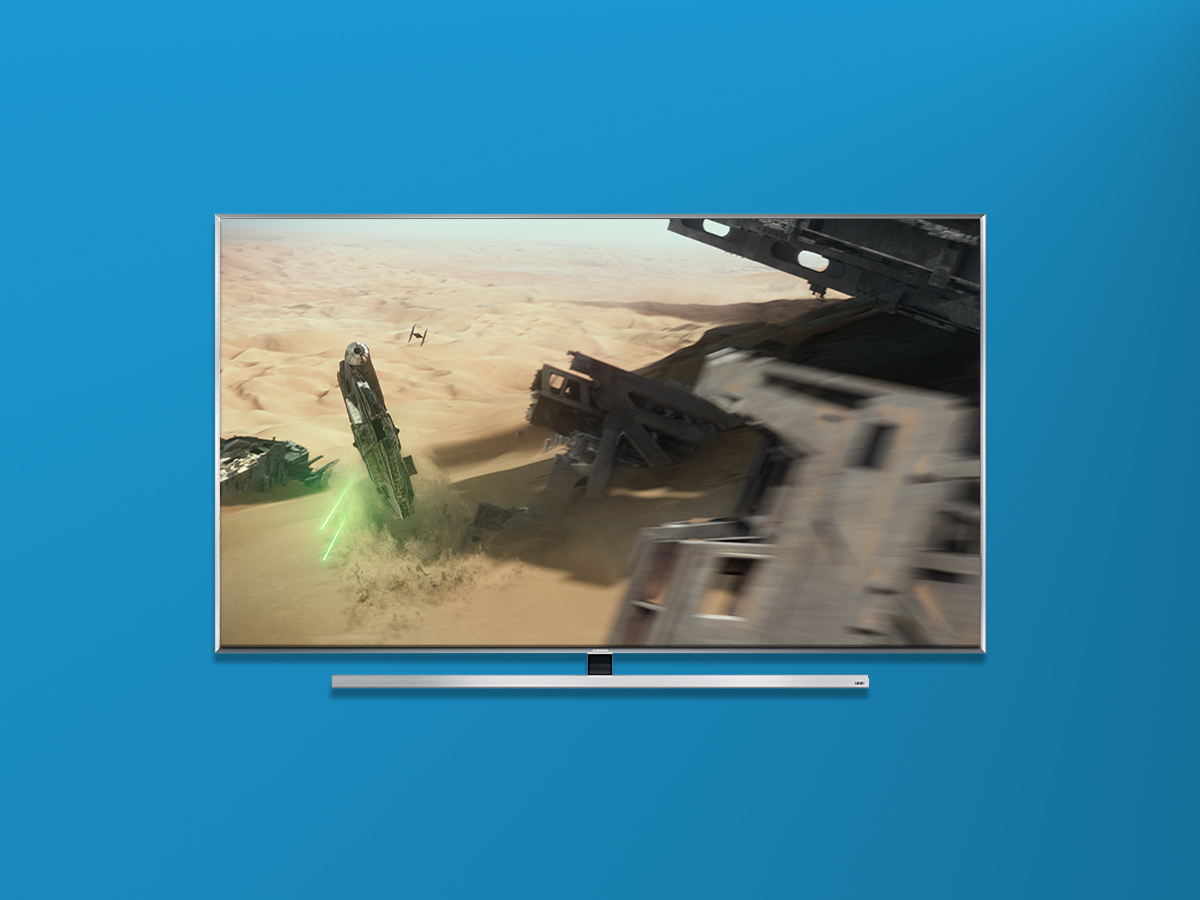 What's the story?
Samsung is top dog in the TV market these days, and this model is one of its best. Its 48in display is small enough for the average living room, but covers enough of the wallpaper to make houseguests coo. Just try not to shake your telly too often: its stand can be a little unstable.
It's a crowd pleaser, the Labrador of the group and the most likely candidate here to claim your affection. Is there a catch? Only if you're super demanding. This is a mid-range model, sitting below the fancy SUHD models, where 'S' stands for 'super' (but could also be 'steroids'). That means you don't quite get the premium OMG factor, or the high-contrast future-proofing provided by HDR (high dynamic range) compatibility.
Then again, HDR is still a way off, and this set offers plenty for your sterling right now. Samsung has even updated its smart interface, replacing its stale old home hub system for a slick new multitasking pop-up bar.
Picture perfect?
Not quite, but it's pretty darn close. It has everything you need: great performance, good looks, web-based smarts and plenty of connections. Picture quality is stunning – super sharp and clear in 4K, and brilliantly upscaled in 1080p and standard definition.
Colours are just right, popping enough to grab your attention without searing your retinae. Contrast is really good, too, especially by LCD standards. The Samsung has no problem juggling bright whites with murky shadows, showing off plenty of texture at both extremes.
The sound isn't quite as superlative – that said, it's balanced, never harsh and better than most flatscreen TVs. Then there's that Tizen smart interface, a multitasking concept shamelessly borrowed from LG. Jumping between apps is as easy as changing channels, but LG's WebOS does do it with more polish.
Tech specs
Screen size: 48in ● Dimensions 109x68x37cm ● HDMI: 4 ● USB: 3 ● Weight: 13.9kg
LG 55UF950V (£1280)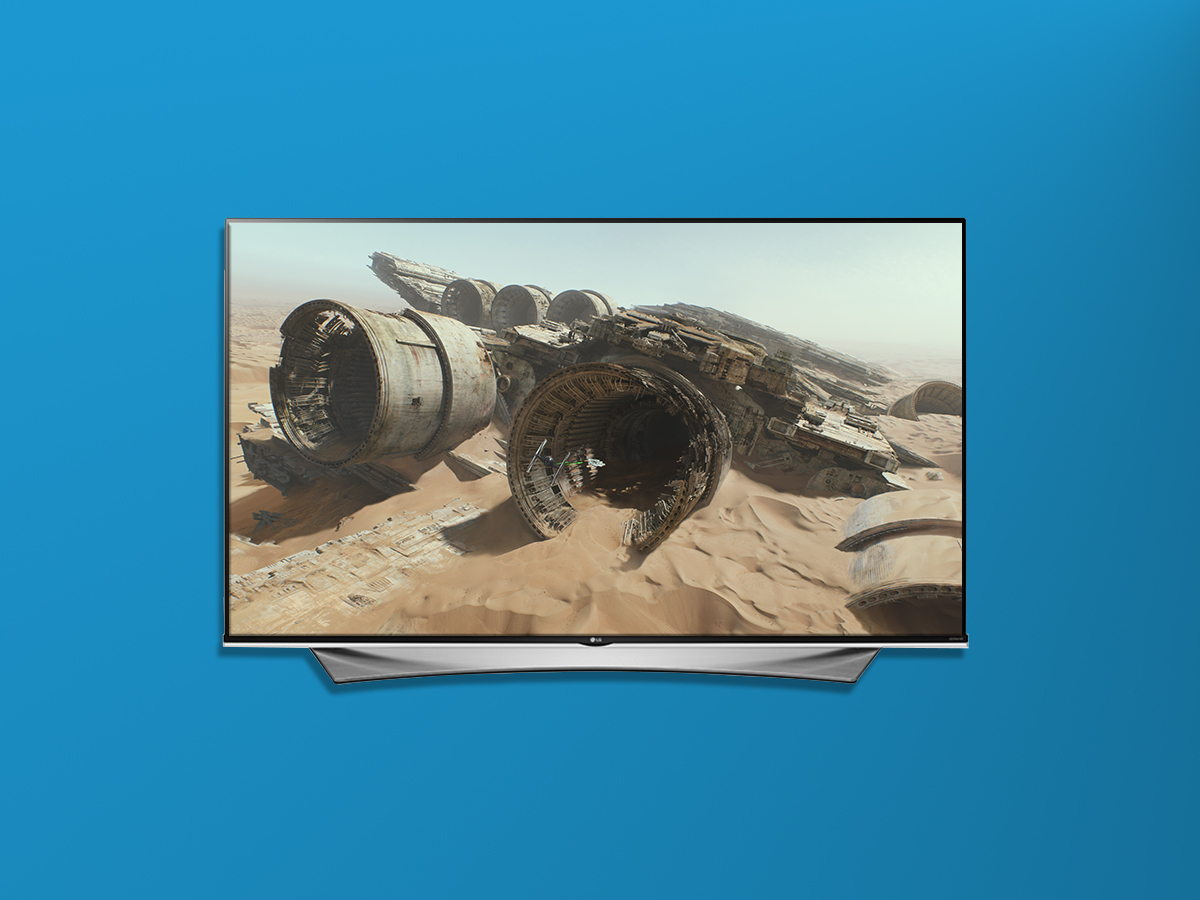 What's the story?
LG knocked us for six with its 4K OLED, and now it's the turn of its high-ranking 4K LED to raise eyebrows – and not just because of the price.
Its WebOS platform is now smoother and more streamlined, the telly comes to life in a flash and menus don't waste time loading. Handy shortcuts take long-winded menus out of the equation, while switching sources is as easy as changing channels.
Picture perfect?
No question, the LG is a glossy double-page advert for pixel-packing technology. Breaking Bad on 4K Netflix (Amazon Instant Video is onboard, too) looks startingly realistic – the TV's punchy palette revels in dazzling hues, deep-rooted blacks and Essex-smile whites, though it pulls up short of the Samsung UE55JS8500's subtlety and shading: exaggerated edges can make Walter White look like a cardboard cutout.
With Blu-ray, it dishes out the quality of the better full HD sets, and its 'Auditorium' stand aims to reflect the sound towards you. It has enough body to put you off a dirt-cheap soundbar, anyhow.
Tech specs
Screen size: 55in ● Dimensions: 72x124x4.8cm ● HDMI: 4 ● USB: 3 ● Weight: 19kg
John Lewis 55JL9100 (£650)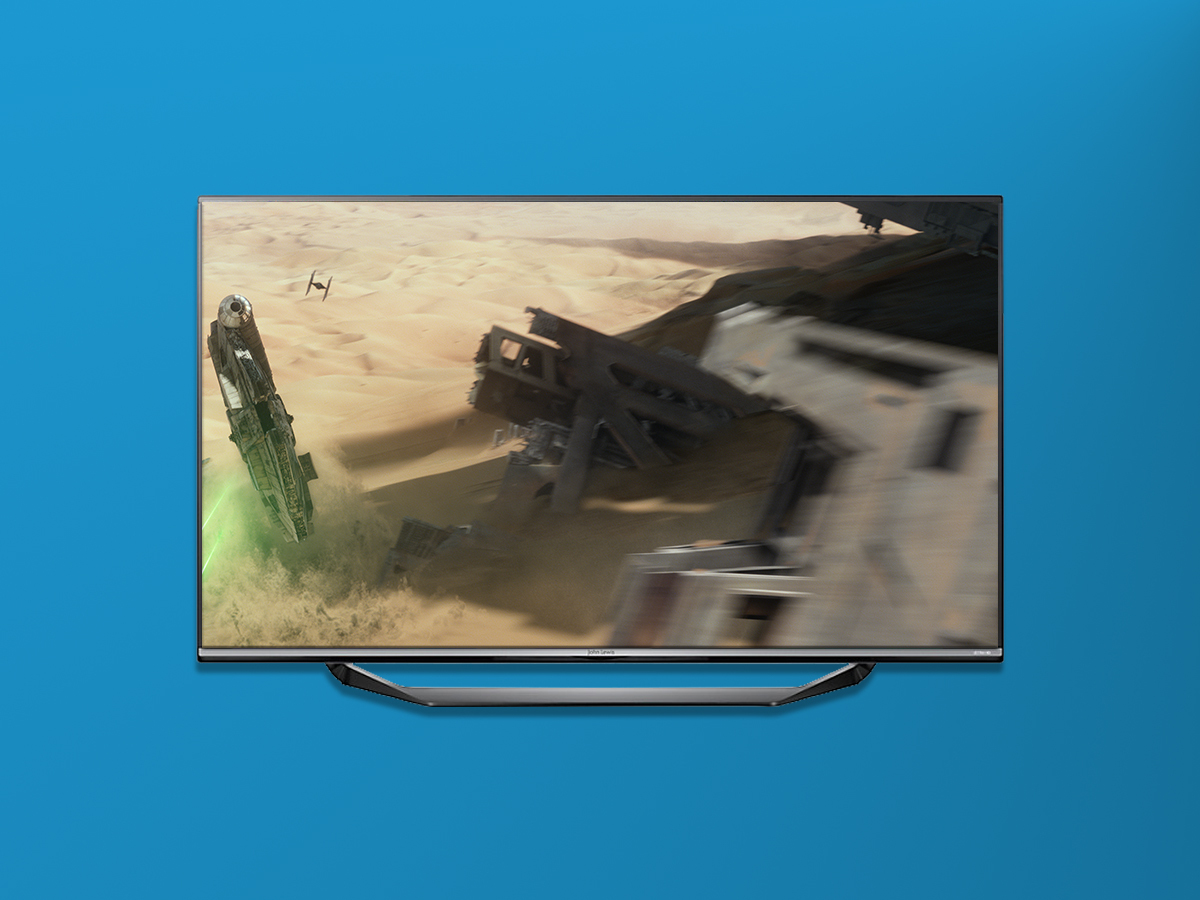 What's the story?
John Lewis? You mean the place where they sell biscuit tins, monogrammed handkerchiefs and a surprisingly comprehensive collection of stationery?
Making TVs? Seriously? Yes, really. But don't worry, the world hasn't gone mad. It has John Lewis branding everywhere (well, the bottom of the screen and remote) but, in reality, this is a partnership with LG, which 'powers' the TV.
Translation: LG made a TV and John Lewis slapped its logo all over it. Yep, forget that unusual branding – this is basically a bottom-tier LG. Bargain.
There's not even an attempt to hide the massive 'LG' embossed on the TV's rump. This is the option for those who want a big 4K screen without paying big 4K prices. At £900, it's not much more than some standard full HD models. And you still benefit from the best of LG, namely the lovely software and remote control.
Picture perfect?
There's a reason it's cheap. While it's actually a pretty good picture, don't go expecting the sort of video performance that the Samsung and Sony above are offering. This is a whole league beneath.
You don't get nearly the same level of subtlety and contrast that makes for an attractive, convincing image: there's not quite enough attention to shading, which ends up affecting the sense of depth. Then again, there's still plenty going on to grab your attention. Colours pop – a little too much perhaps, but this set favours punch over realism. It's also plenty sharp enough, fulfilling the minimum of its duties as a 4K TV.
As with the LG 65UF850V below, the software is the star of the show. It's slick and intuitive, and you don't need to worry about meandering menus or long-loading looks. A decent image with good web smarts for a lot less than the competition: sometimes compromise is a good thing.
Tech specs
Screen size: 55in ● Dimensions: 124x78x26.1cm ● HDMI: 3 ● USB: 3 ● Weight: 19.7kg
LG 65UF850V (£1400)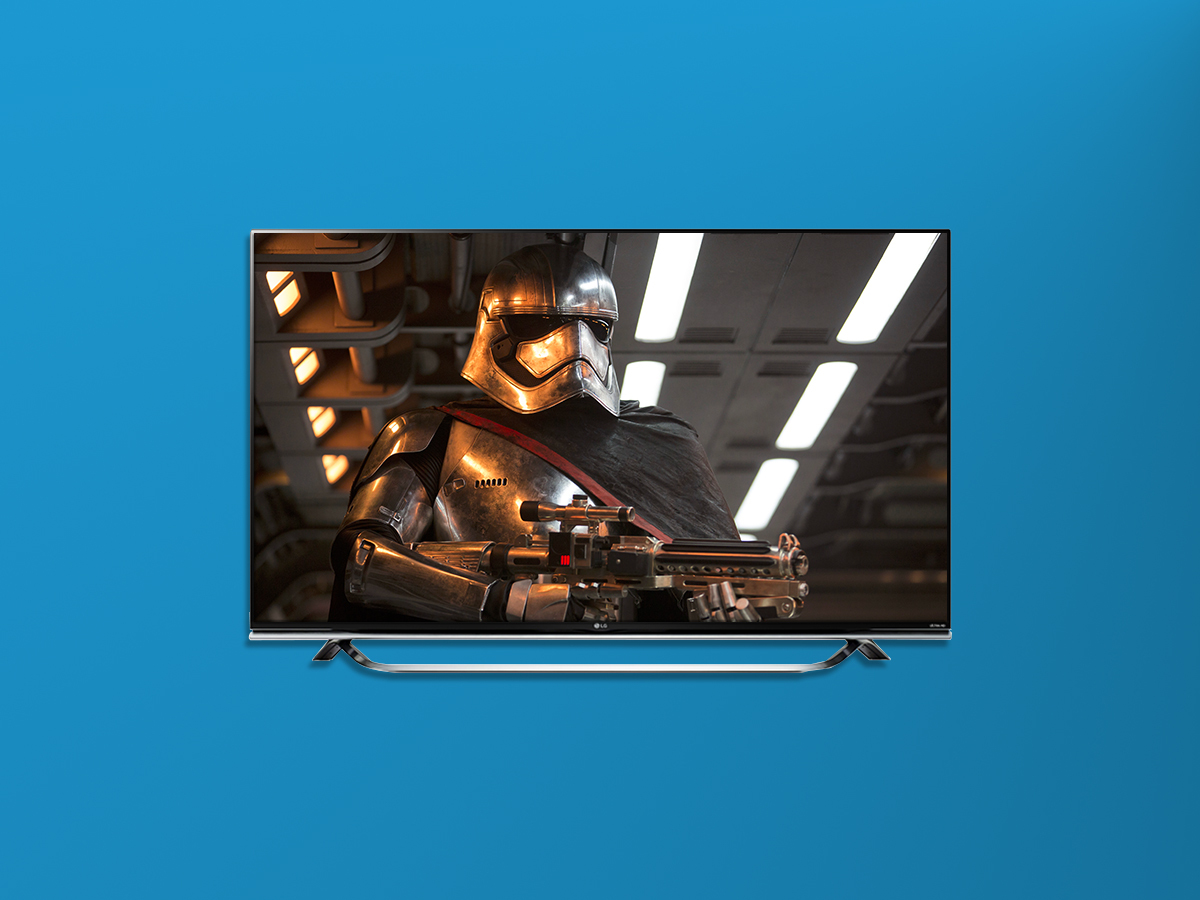 What's the story?
LG has been preoccupied with high-contrast, super-thin OLED TVs of late, which is all very well, but they're rather expensive. Thankfully, the company still has an eye on good old LCD panels, and this is one of them, taken from the middle of the range.
Want a huge TV that could still just about fit under the roof and doesn't require you to take out a second mortgage? This 65-incher fits the bill. This model doesn't have the top-tier specs of super-expensive screens, but you do get some of LG's better features.
Take the WebOS 2.0 interface, for example. That's been updated, and runs all aspects of this TV. This is particularly pleasant news considering how good the original WebOS was.
There's also a lovely new remote, which puts an end to that silly thing TV companies do where they give you two remotes to lose. Just try not to sneeze with excitement: the stand is a bit silly, with such a wide back that you'll need a big rack or it'll topple in a jiffy.
Picture perfect?
The picture isn't the star of the show, here. It's fine, but it's not going to have you mesmerised and lightly drooling in appreciation. Its greatest strengths are resolution and colour. It's clean and sharp, but not overdone and artificial.
The colours are rather fetching, but it's not a hugely nuanced set – especially when it comes to the subtle shading required around contours. Contrast isn't amazing, either – those blacks really ought to be darker.
At least it's a pleasure to use. WebOS 2.0 is a faster, slicker, more intuitive version of WebOS, which lets you jump from input to terrestrial channels to web-based app without annoying home hubs and waiting times. The new remote is basically palm-filling perfection, with motion sensors for those who want to point and click at the screen, and plenty of old-school buttons for those who don't.
Tech specs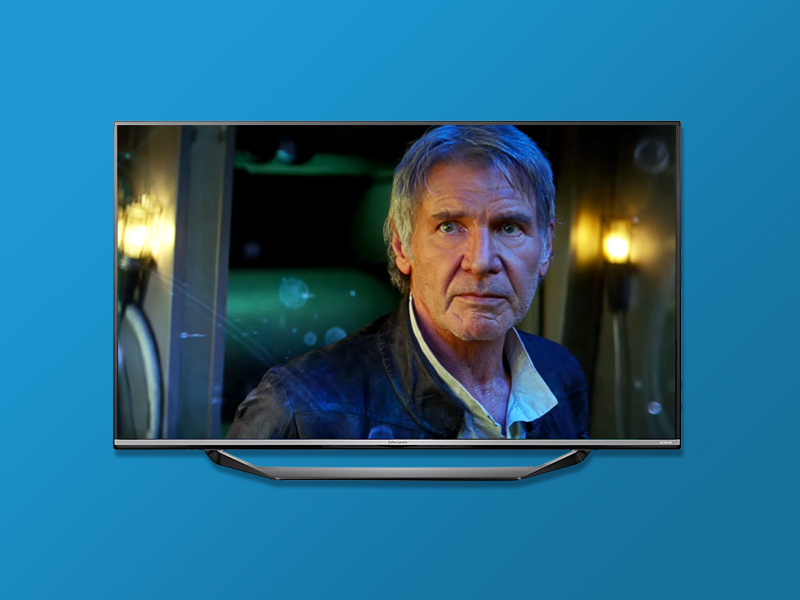 Screen size: 65in ● Dimensions: 145x90x27cm ● HDMI: 3, USB: 3 ● Weight: 32.8kg
Samsung UE40JU6400 (£500)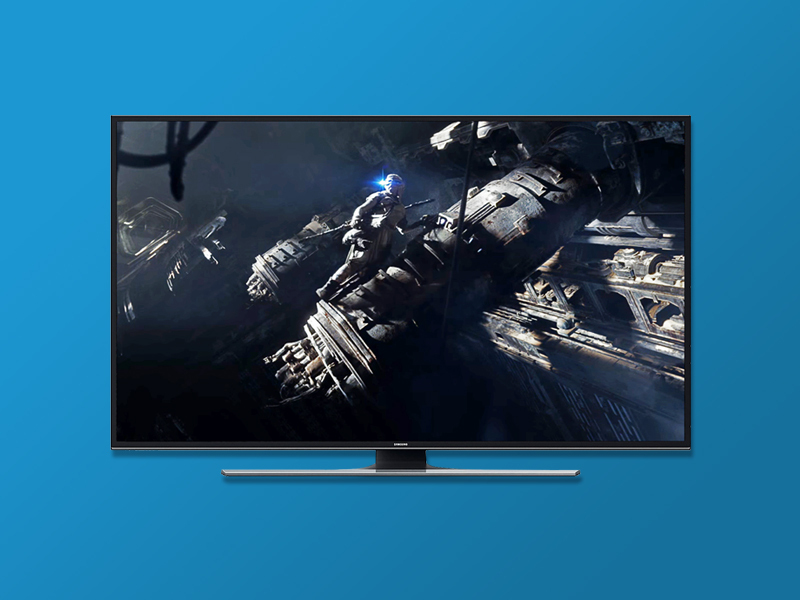 What's the story?
It wasn't long ago that you would have needed a second mortgage to even think about getting a 4K TV. Now here we are, with one for £500, and you don't even need to sell your firstborn. That's one hell of an achievement.
Not that Samsung wants to make a song and dance about it. If anything, this telly looks intentionally unassuming. It's as if the company wants to Clark Kent the thing, hiding its powers behind a humdrum appearance. At first glance, it does the trick.
The thick bezel and coat of ordinary black plastic immediately separate this model from the touchy-feely-sexy ones with extra unicorn dust. Don't dismiss it just yet, though. The JU6400 sits firmly in the middle of Samsung's TV family, and while it doesn't get to sit at the VIP table, it is still important enough to get UHD resolution (3840 x 2160).
You can expect no 3D, no High Dynamic Range compatibility and no fancy curved screen. There is also one big remote instead of two little ones, which is no bad thing. You do get the Tizen smart interface, heavily 'inspired' by LG's WebOS: a lovely system that lets you multitask and skip between apps and inputs as easily as you would change channels.
Picture perfect?
It's a 4K TV for £500! And the picture is very sharp indeed. Those pixels (all 8.3 million of them) look lovely crammed onto that 40in screen. Some say that 4K is pointless on smaller screens, but we would strongly disagree.
This sort of pixel density isn't just good for definition, but it does wonders for clarity too. It means you can sit further back without squinting like Clint Eastwood. It means you can sit closer before Jurassic World starts to look like Minecraft.
It's good at upscaling too, so your 1080p Blu-rays will look crisp as a frozen Kettle Chip while you're waiting for UHD Blu-rays to arrive. The colours are convincing and contrast is strong enough to defend itself against fairly bright rooms.
The black levels could be deeper, though. There's enough detail in the shadows to make out the grease on Keanu Reeves' hair in John Wick, but dark scenes just never get properly black. Still, the dynamism on hand is impressive for an LCD TV. Viewing angles are not as generous we'd hope. The two or three people sitting in the middle will get the optimum picture, but beyond that the picture begins to wash out – not so good for other people sprawled out across the living room.
Navigation, meanwhile, is slower than you'd expect from a quad-core processor. It's not a real problem, but it does slow Tizen's zippy interface a bit. Double espresso, please.
Tech specs
Screen size: 40in screen ● Dimensions: 58x92x24cm ● HDMI: 4 ● USB: 3 ● Weight: 9.4kg
John Lewis 40JL9100 (£500)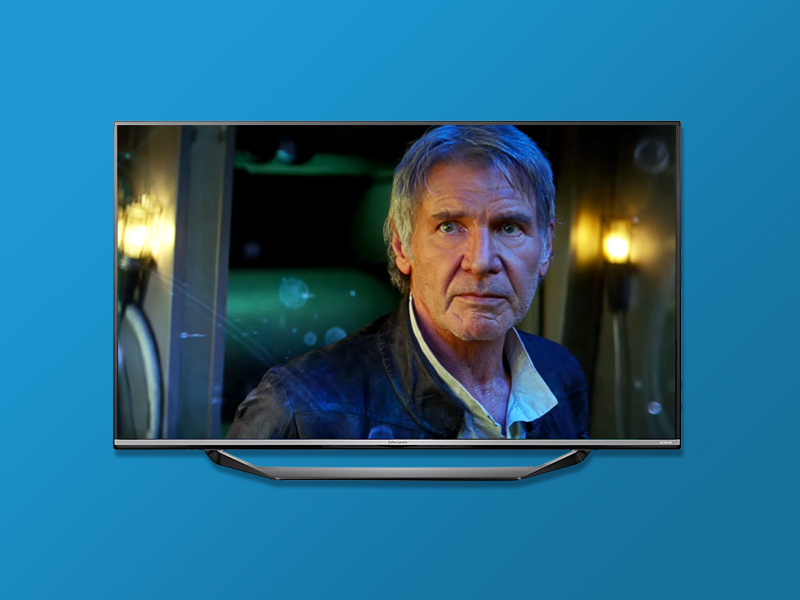 What's the story?
We don't know what's more perplexing: the fact that this is a TV by John Lewis, or that it's another 4K TV for just £499.
As with the John Lewis 55JL9100, this 40JL9100 is actually 'powered' by LG, so it uses the same panel, same remote, same interface as the Korean giant's typical fare. It runs on WebOS too, which has quickly become the darling of TV software platforms with its intuitive, Nan-friendly operation. Whether you're changing inputs, tinkering with picture settings, or pinning your favourite apps and content to the pop-up tile menu, it feels natural and undemanding.
There's more apps than you can shake a remote at as well, including Amazon Instant Video and Netflix for weekend movie binges; Sky's NOWTV for rolling-contract sports and entertainment packages; and BBC iPlayer for hours of catch-up TV. John Lewis hopes you're punctual for the midweek's Dinner Date and Gogglebox as ITV Player and All 4 are sadly AWOL.
As for design? It's not often a £500 TV elicits 'oohs' and 'aahs' as it's assembled, but the ribbon stand (no, it isn't wrapped up in a bow) is easy on the eye with its cradling shape and brushed finish. Just know that it's a tabletop hugger, nearly spreading the screen's girth.
Picture perfect?
The 40in display may not have the initial wow factor of a room-hogging, domestic-inducing 65in screen, but not everyone has room in their lives for that. It's also as sharp as a tack and impressive in all areas of the picture department.
In The Ridiculous 6 (in 4K), the dessert landscapes are tangible enough to give you dry mouth as you watch the foolishness escalade. Contrast is incredible: black eye patches and the inside of gun barrels match the TV's bezel for blackness, while white horses and shirts are clean without being too clinical.
Colours aren't as subtle as we've seen elsewhere, but upscaling on Blu-rays, DVDs and broadcast offers good levels of crispness, colour depth and detail. Mad Max: Fury Road doesn't lose its eye-popping edge, nor Stoker its warm charm. So if you're looking to dip your toes in the 4K pond, perhaps the 40JL9100 should be what's written all over your next paycheck.
Tech specs
Screen size: 40in ● Dimensions: 58x91x21.6cm ● HDMI: 3 ● USB: 3 ● Weight: 10kg