The best cheap laptops of 2016 – reviewed
Fancy a new laptop for less than £500? Then buy one of these budget beauties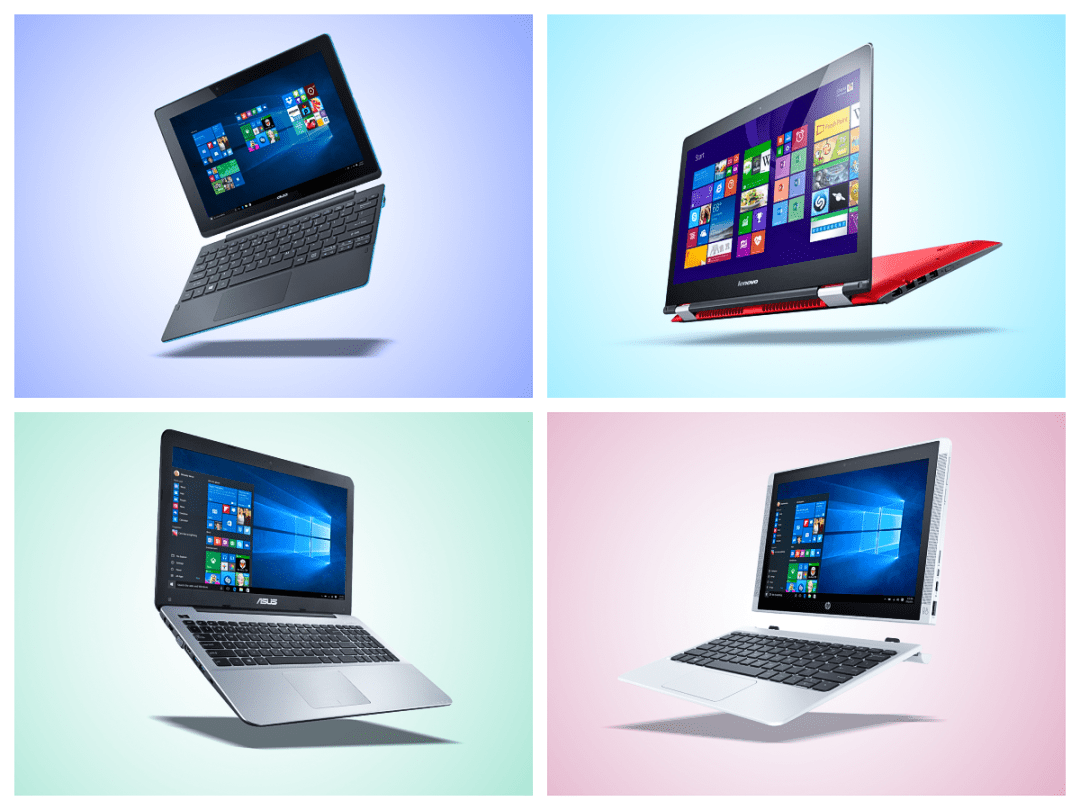 Gone are the days when spending under £500 on a laptop was a huge mistake.
While you'll have to do without luxuries like high-end processors, console-quality 3D graphics or a full HD screen, you can still find well-built laptops and versatile convertibles for that kind of money, complete with a screen that won't leave you squinting and enough horsepower to get things done. With value as our watchword we've picked out four of the best.
Sure, they won't turn heads or convince anyone that you're a hip graphic designer or high-paid exec, but if you're looking for a portable PC to lug around or hide beneath the sofa, these will do the job without whacking your wallet where it hurts.
Winner: Asus X555L (£400)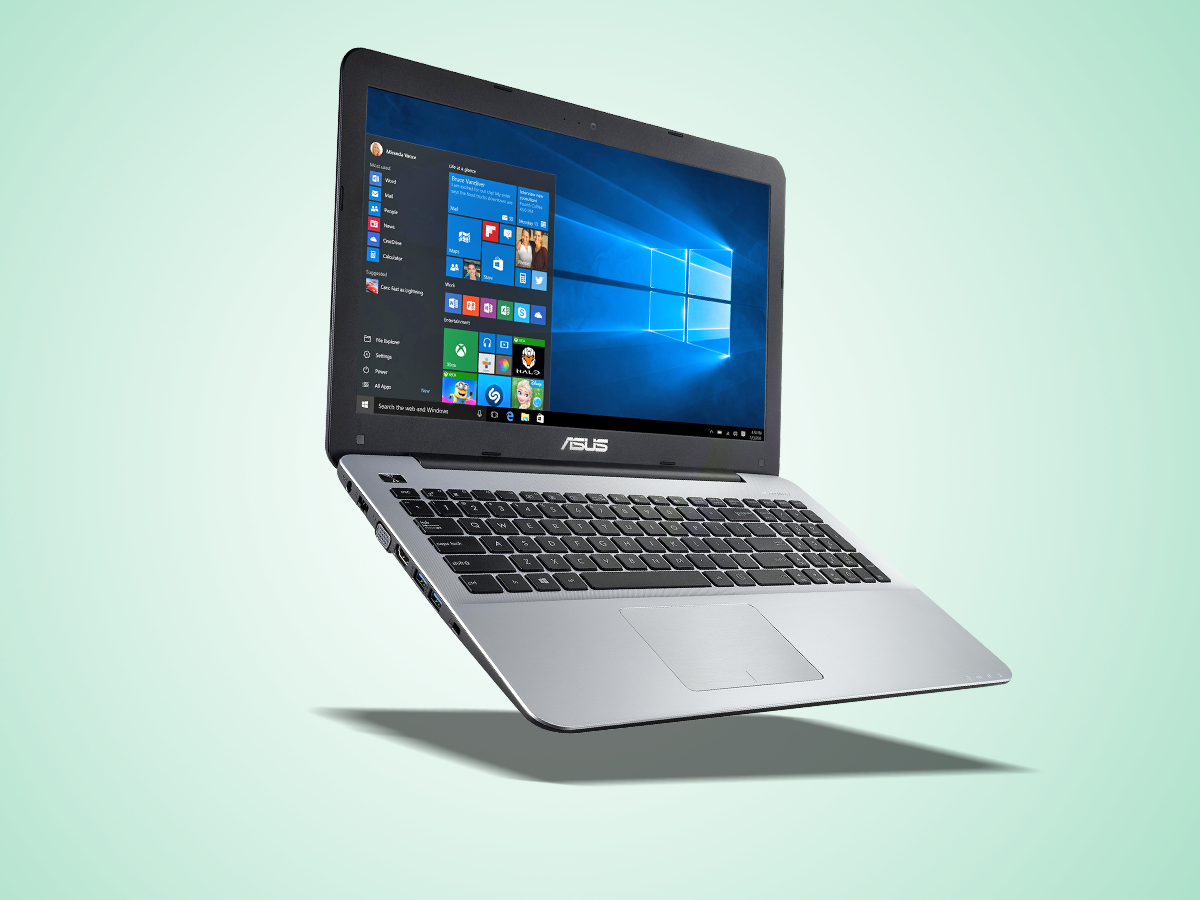 What's the story?
Get too close to the Asus's aluminium-effect keyboard surround and you'll spot that those brushed metals are plastic, yet the Asus X555L still does a good impression of a luxury laptop at an entry-level price.
Better still, it's a bit of a bargain basement beast, cramming in a speedy Core i5 processor and 8GB of RAM for the kind of money that would normally net you a basic Core i3 and half the memory. If you have £560 in your pocket you can get this laptop with a sharp 1080p Full HD screen, but for £400 you're stuck with a more bog-standard 15.6-inch display.
Any good?
The casing doesn't feel as premium as it looks, while the screen has poor viewing angles and a slight green tinge. Luckily, from head on its bright and punchy, and there are no questions about the X555L's performance.
With a multicore score of 5495 in the Geekbench benchmark it's much, much faster than its rivals. And it chomps through the photo and video-editing apps that leave some budget laptops quivering with the gusto of a zombie munching minor cast members in a series finale of The Walking Dead.
It scores high for usability, too, with a nice, spacious, crisp-feeling keyboard and a large, responsive trackpad. The Asus has its faults – the sound is tinny and congested, with precious little bass – but when even the battery life is comfortably above average, at around five hours and forty minutes of HD video playback, it's a challenge not to be impressed.
Tech specs
Processor: Intel Core i5 5200U 2.2GHz, RAM: 8GB DDR3, Graphics: Intel HD 5500, Display: 15.6in 1366 x 768 resolution, Storage: 1TB HDD, Connectivity: 802.11n WiFi
Lenovo Yoga 500 (£450)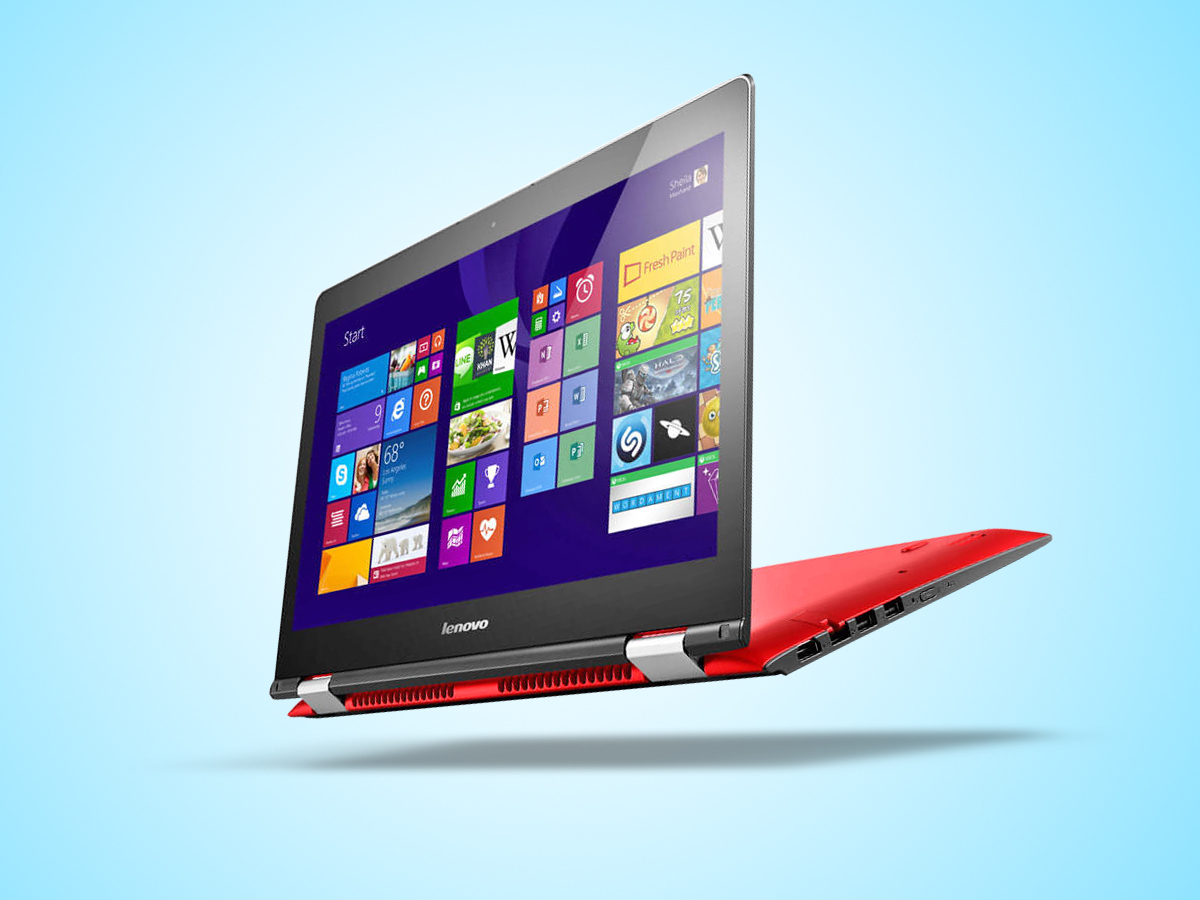 What's the story?
Lenovo's 14-incher isn't your ordinary budget laptop, but one of its curious flexible PCs. You can fold the touchscreen all the way around and flat against the base, then use it like a giant Windows tablet. Alternatively, fold it like a tent with the screen facing outwards, and you have a great device for watching Netflix and catch-up TV.
And when you need to get something serious done? Just use it like a regular laptop, complete with a fantastic keyboard. If you like to laze around with a laptop on the sofa, they don't get much better than this.
Any good?
Sure, at 1.8Kg the Yoga 500 is too big and heavy to double as a tablet, but it's a whole lot lighter than most budget laptops and fairly easy to lug around. It feels surprisingly expensive, has a great keyboard and massive trackpad, and the touchscreen is easily sensitive enough to work well with touch-friendly Windows 10 apps.
Featuring a slower Core i3 processor and just 4GB of RAM, performance isn't up to the Asus or Toshiba's standards – the Geekbench score is just 3292 – while the battery only lasts for a little over four hours of HD video playback. However, the screen is clear, with vibrant colours, it supports the latest 802.11ac WiFi standards and the sound has a little more warmth and body than you might expect.
With precious little 3D horsepower, gamers should also look elsewhere, but this is the kind of affordable, versatile laptop that shouldn't be available at this price.
Tech specs
Processor: Intel Core i3-5005U 1.7GHz, RAM: 4GB DDR3, Graphics: Intel HD 5500 graphics, Display: 14in 1366 x 768 resolution, Storage: 1TB HDD, Connectivity: 802.11ac WiFi
Toshiba Satellite L50 (£400)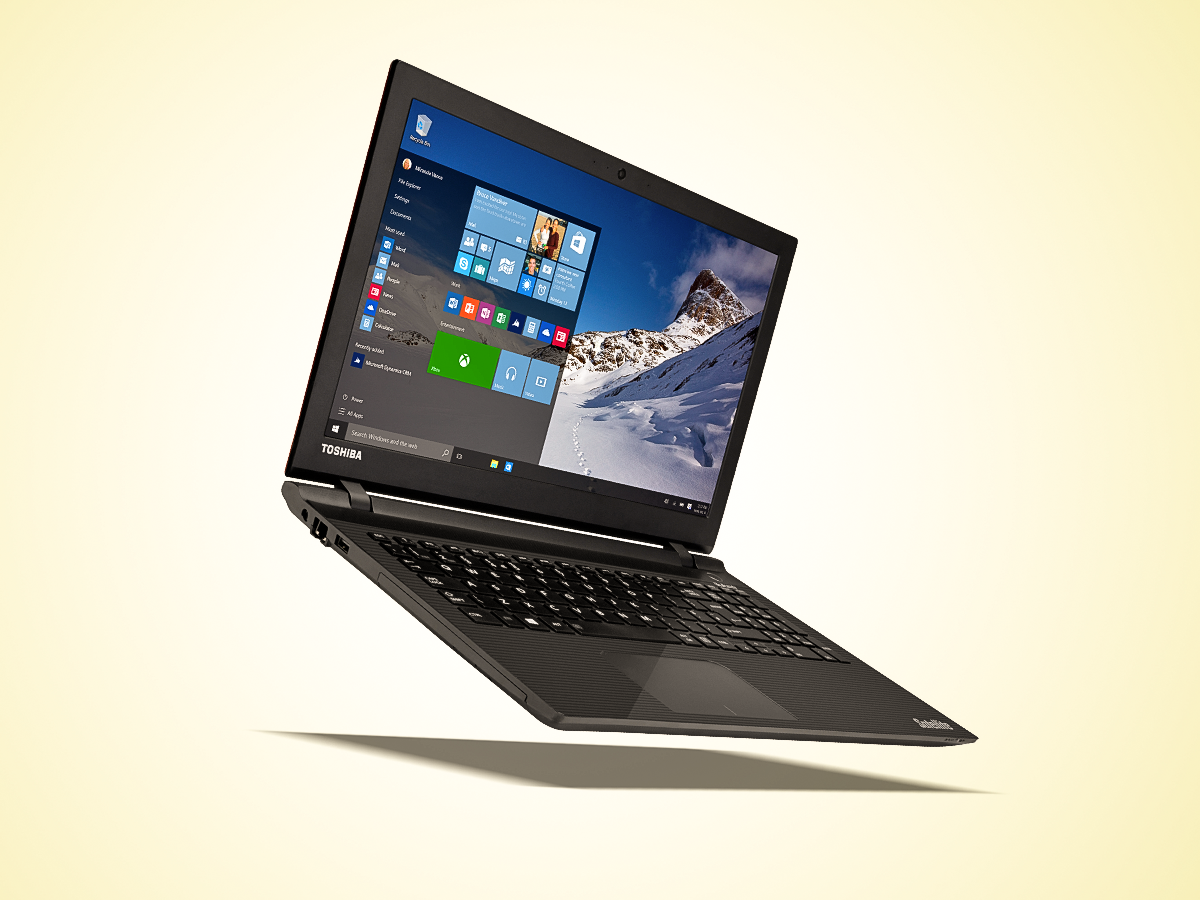 What's the story?
It's another low-cost laptop with delusions of grandeur, but beneath the faux-metallic finish the L50 has a few surprises. At 2.2Kg it's not actually that light, but Toshiba has made it seem slimmer and lighter than it actually is, while the 15.6-inch screen and SkullCandy-branded speakers speak of some potential for entertainment while you're hanging around at home.
Most interestingly, this particular model has one of AMD's A10 processors, combining a quad-core CPU with a Radeon R6 graphics processor, giving you a shot at some lightweight gaming.
Any good?
Surprisingly, yes. While the Asus scores higher in graphics benchmarks, the Tosh does a better job of running real games, managing to play slightly older, but still impressive titles like Crysis 3 and Need for Speed: Most Wanted at just about playable frame rates, though you'll have to drop the detail settings down to low.
Play vintage or less-demanding games, and you won't have any problems at all. The screen still struggles with woeful viewing angles and some washed-out colours, but it's not bad for a budget laptop, and the sound, while harsh, is clear and punchy.
It's not all good news. The keyboard has a nasty, floppy action and we're not big fans of the Satellite's square edges, which give the laptop an oddly unfinished feel. With a Geekbench score of 4793 it's not exactly neck-and-neck with the Asus on performance, while the battery life – just four hours and nineteen minutes of video playback – isn't great.
Still, the Tosh packs in a good selection of ports and a DVD rewriter, and it makes a good, affordable all-rounder.
Tech specs
Processor: AMD A10-8700P, RAM: 8GB DDR3 RAM, Graphics: AMD Radeon R6, Display: 15.6in 1366 x 768 resolution, Storage: 1TB HDD, Connectivity: 802.11n WiFi
HP Pavilion X2 32GB (£230)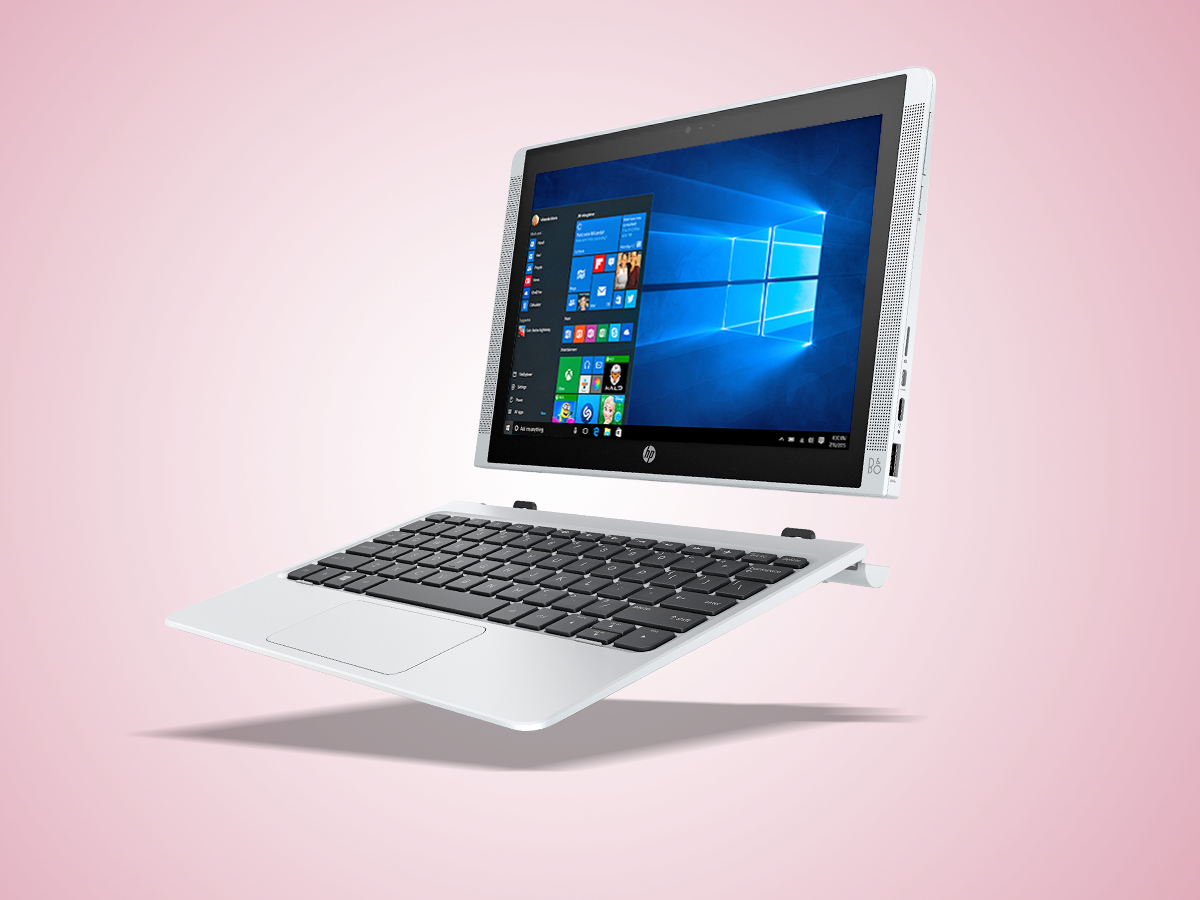 What's the story?
The Pavilion X2 is one of a new breed of ultra-cheap convertible laptops, with a 10.1-inch tablet that transforms into one highly portable PC. Here, though, HP has been smart about the design, dropping the normal 16:9 ratio of most convertibles for a squarer 4:3 display, then using gravity, two pins and a really solid magnetic hinge to hold the tablet in place on the bundled keyboard dock.
It's well balanced and not too inclined to keel over, and with the tablet weighing just 580g and the whole shebang a shade under 1.2kg, it's a good choice for cost-conscious buyers (or cheapskates) who are constantly on the go.
Any good?
The price is reflected in the lightweight, plasticky construction, but the X2 still feels more robust than most cut-price convertibles. The screen's not bad, either. Get past the ropey viewing angles and it's reasonably bright and crisp, handling complex websites and HD video better than you might expect given the hardly Retina resolution.
With small size come a few compromises, like a small touchpad and a slightly cramped keyboard layout, but if the touchpad can be a bit vague and unreceptive to Windows 10 gestures, the keyboard is surprisingly usable. The specification isn't brilliant. An Intel Atom processor with 2GB of RAM isn't going to speed through the most demanding applications – and action games of the last five years are virtually a write-off.
The Geekbench score of 2147 is pretty slow, and the 32GB SSD leaves only 16GB of free space. Yet if all you're running is a Web browser and some basic office apps you won't have any problems, while the X2 has stamina on its side. With over 9 hours of HD video playback it'll go on a whole lot longer than most cheap laptops.
Tech specs
Processor: Intel Atom Z3736F 1.33GHz, RAM: 2GB DDR3, Graphics: Intel HD, Display: 10.1-inch 1280 x 800 resolution, Storage: 32GB SSD, Connectivity: 802.11n WiFi
Acer Aspire Switch 10 E (£200)
What's the story
The Aspire Switch 10 E is another cheap hybrid, giving you a 10.1-inch tablet that transforms into a pumped-up netbook when slotted into the bundled keyboard dock.
Like the very similar HP Pavilion X2, it has a squarer 4:3 screen than most Windows tablets, giving you a display you can browse on without too much squinting. And you can insert the tablet bit facing forwards or backwards in the dock, allowing you to use the latter like a stand or prop it facing outwards in a sort of tent mode.
You can buy it in red or black, and find it in stores for less than £200 if you shop around.
Any good?
The Acer's screen is surprisingly bright and clear, with nice vibrant colours, and while the plastics feel pretty cheap, the textured surface on the rear of the tablet and the base of the dock make it easier to grip. In most other ways, the HP is the superior laptop.
Neither convertible is exactly speedy – and the Acer's Geekbench score of 1977 is slow by any standards – but the HP's hinge mechanism makes it easier to slot the tablet into place, while the Acer's keyboard lacks the crisp action of the Pavilion's.
The trackpad isn't the most sensitive, and used on the lap it feels unbalanced, with too much of the weight at the rear. However, the Acer does have some other strong points. It crams in a lot of useful connections and has a micro-USB power supply, which could cut down on the number of chargers you need to lug around.
More importantly, it's the Duracell bunny of budget laptops, lasting over ten hours of HD video playback from a single charge. If you're taking a laptop on a transatlantic flight, this might just swing things in its favour.
Tech specs
Processor: Intel Atom Z3736F 1.33GHz, RAM: 2GB DDR3, Graphics: Intel HD, Display: 10.1-inch 1280 x 800 resolution, Storage: 32GB SSD, Connectivity: 802.11n WiFi