Best GPS sports watch 2023: the top activity tracking watches reviewed
From sporty smartwatches to premium monitors, the best GPS sports watch will track your fitness and activity 24/7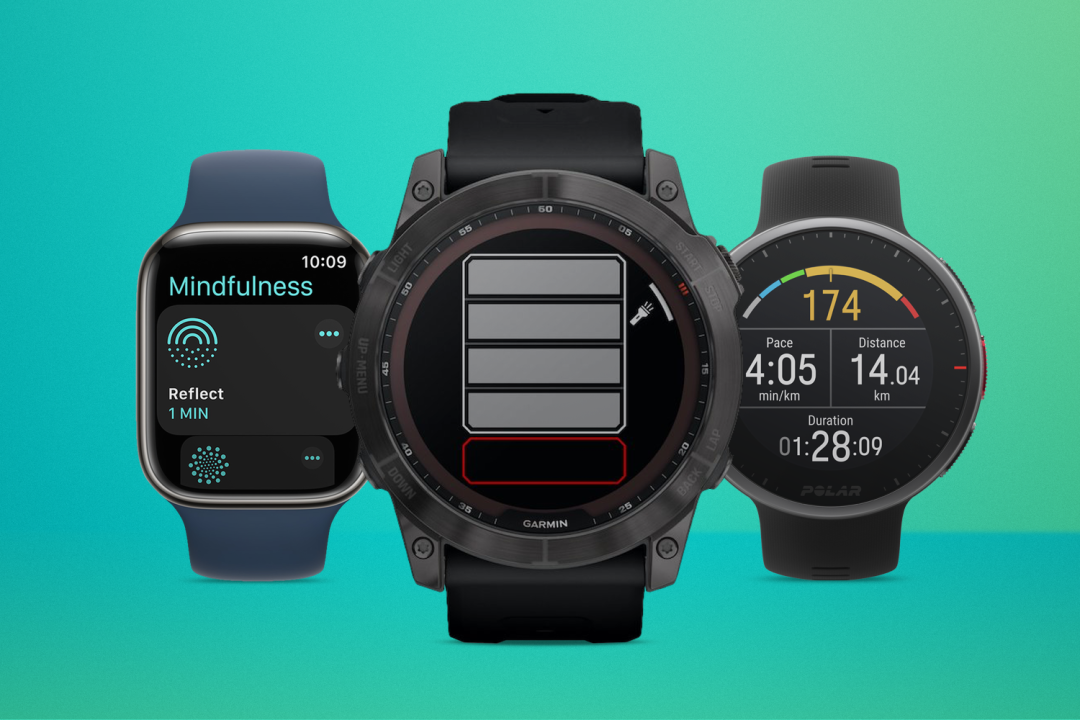 If you exercise without tracking it, did you exercise sport at all? Don't take the risk of missing a discipline: strap the best GPS sports watch to your wrist for a guaranteed calorie count.
Whether you're a runner, a lunger or just looking to get a bit fitter, the top tickers offer total fitness assistance. The top options below can analyse your activity, provide detailed training feedback and guide you to a new PB – on the road, in the gym or underwater.
Besides keeping tabs on your sweaty metrics, today's crop of clever trackers can also monitor your sleep quality, move you with music and steer you down the right path. All you have to do is wear one. And, you know, move.
Not sure which is right for you? From sporty smartwatches to premium monitors, the guide below features something to suit every wrist and budget. Plus some handy buying tips to help you pick your perfect ticker.
---
How to pick your perfect activity-tracking ticker
Smart choice
Not all activity watches are created equal. Some are sporting purebreds, designed to log your activity data alone. Others introduce a few smart features – think offline music and support for limited third-party services such as Strava – while only the full-fat smartwatches deliver a complete catalogue of apps and connectivity options.
Tough choice
Most sports watches are built tough to some degree. That usually means waterproofing to at least 50m, plus a case sturdy enough to survive everyday bumps. If you're a fan of particularly rugged pursuits, it's worth chooisng something more durable. The hardiest wristwear keeps ticking at 100m below the waves.
Multiple choice
Heart-rate monitors feature on the majority of sports watches. But the measurement of other metrics depends on the model in question. The best tickers can track your blood oxygen levels, keep an eye on your heat rate variability and even take echocardiograms, to confirm your blood pump's tickety-boo.
Cell choice
Battery life varies wildly from watch to watch. Extra skills often come at the expense of battery life, which means smartwatches tend to top out at 24 hours. Models in the middle can offer several days of connected tracking, while pared-back options are usually good for weeks. Certain sports watches now also include solar recharging, for theoretically endless battery life.
Route choice
GPS sports watches can log where you jog and track where you cycle. The accuracy and detail will normally depend on which of the standard satellite systems a watch supports; the best options will play nicely with several. Not sure which path to take? A number of the best sports watches also support offline maps and wrist-based navigation.
---
Our pick of the best fitness watches to buy today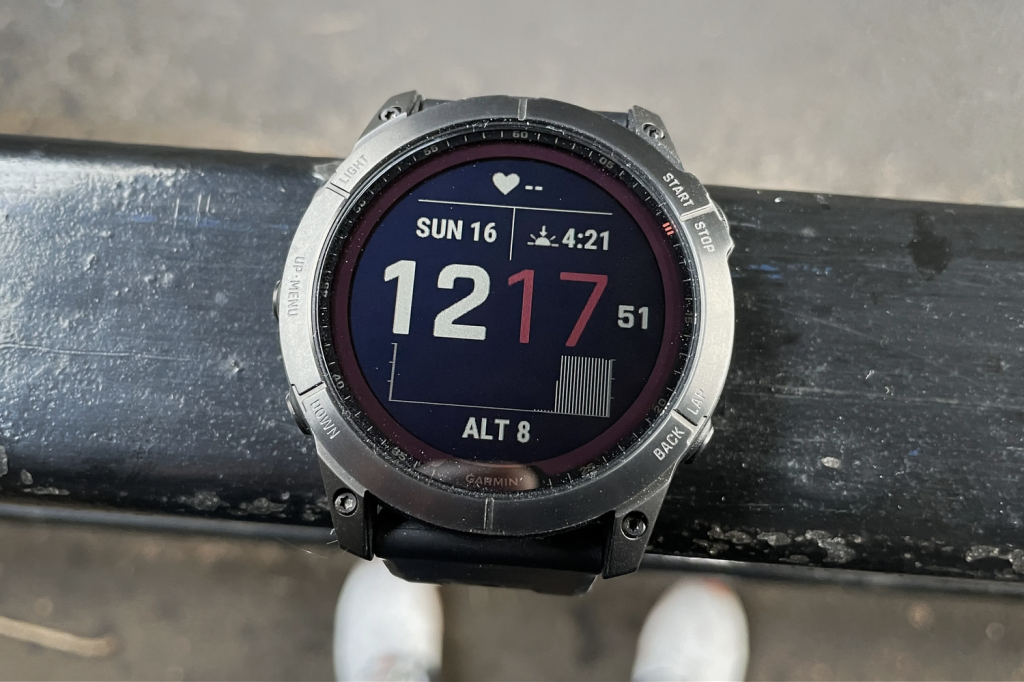 Garmin Fenix 7
Garmin has cemented its Fenix series as the top choice for serious athletes in need of a serious tracking tool. And with dedicated sports profiles for a huge number of disciplines – spanning from HIIT to hiking – plus a whole range of training metrics fed by its arsenal of sensors, the Fenix 7 stays true to that template.
Rated for up to 89 hours of battery life with full GPS enabled, the Fenix 7 is equipped to go the distance – and then some. Power Manager offers granular fine-tuning to eke the very most out of every charge. Opt for the top-spec 7X Solar edition and it'll refuel from the sun.
Built for bossing almost any sport, the Fenix 7 is as handy at tracking daily wellness as it is at providing real-time stamina estimates. Support for contactless payments and offline Amazon Music mean this durable ticker is no connected dum-dum, while support for TOPO maps makes it a navigational powerhouse.
The only fly in this capable ointment? The sizeable price tag, which puts the Fenix 7 firmly into premium territory. But if your budget stretches (and your pursuits demand it), this is the ultimate combo of tracking smarts and sporting endurance.
Stuff Says…
A durable do-it-all adventure watch, this is the best GPS sports watch – now with added solar staying power
Good Stuff
Smooth interface
Excellent durability
Bad Stuff
No Apple Health/Google Fit syncing
Limited app support
Tech spec:
Display: 1.3in AMOLED touchscreen, 260×260 pixels • Heart rate: Yes • Battery: 18 days (smartwatch), 57 days (battery saver), 10 hours (all satellite systems with music) • Waterproof: 100m • Case size: 42/47/51mm • Weight: 79g
---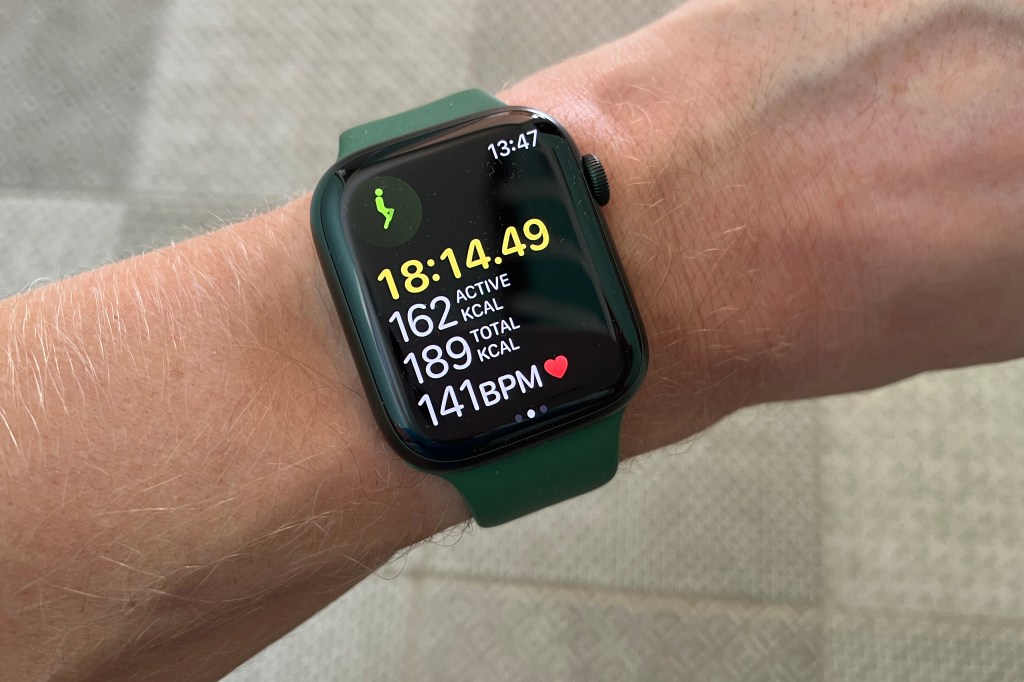 Apple Watch Series 8
For most people, Apple's understated wearable is one of the best smartwatches you can buy. But it's also a top GPS sports watch in its own right: waterproof to 50m, it comes equipped with blood oxygen, ECG and optical heart rate sensors to keep track of your vitals. It can even detect irregular heartbeats protect your hearing and alert emergency services if you take a tumble.
It also comes complete with Apple's comprehensive suite of health and fitness features, including all-round activity tracking, dedicated sports profiles with matching metrics, plus full-fat sleep tracking and schedules. The Series 8 is also the perfect partner to Apple's Fitness+ platform, syncing with your iPhone, iPad or Apple TV to track your numbers while you work out.
Its vibrant, tactile interface looks even better on the Series 7's OLED display, which is roughly 20% larger than before. Whether you're tapping into Reflect mindfulness sessions or swiping around the Watch's wellness tools, everything is big, bold and intuitive.
At 18 hours, battery life could still be beefier, while many will find that the Watch SE (2022) offers better value. But for the smartest sports watch around, you can't go wrong with the Series 8.
Stuff Says…
A better display doesn't change the recipe, but Apple's sporty ticker is still smartest of the lot
Good Stuff
Excellent battery life
Smooth interface
Bad Stuff
No Apple Health/Google Fit syncing
Limited app support
Tech spec:
Display: 1.61/1.9in LTPO OLED touchscreen, 352×430/396×484 pixels • Heart rate: Yes • Battery: 18 hours • Waterproof: 50m • Case size: 41/45mm • Weight: 32g (41mm, aluminium), 38.8g (45mm, aluminium)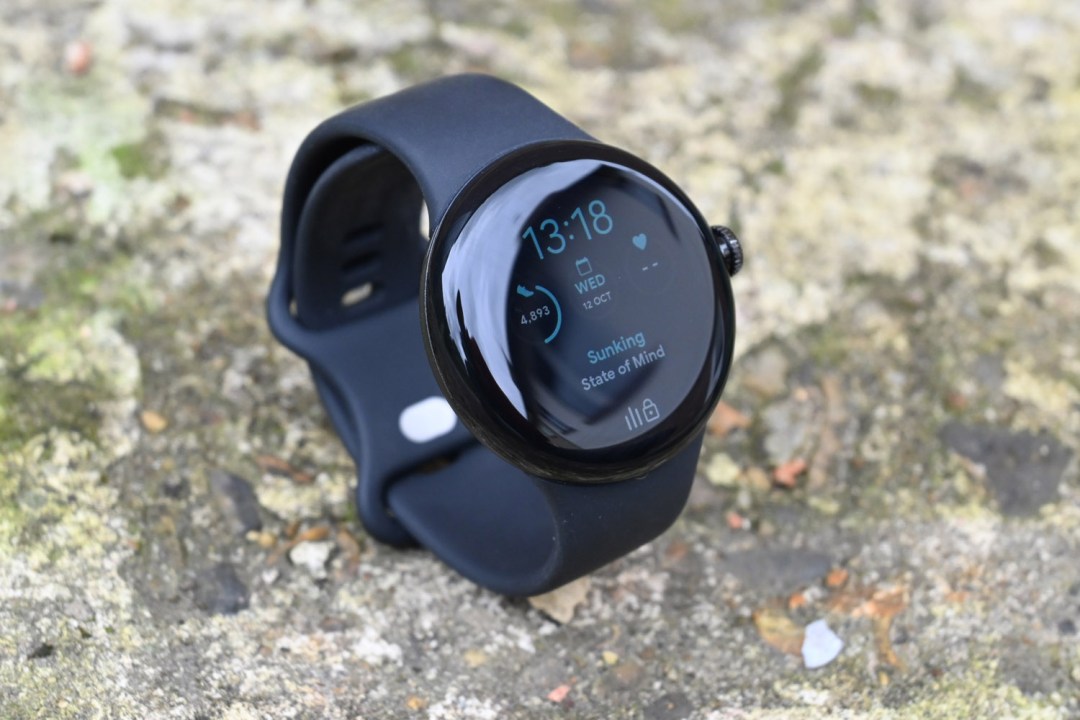 ---
Google Pixel Watch
Google's Pixel Watch stands out from the crowd, thanks to its ultra-minimalist design. Practically all-screen, its smooth curves are interrupted only by a snazzy-looking digital crown on the side. Its sleek design won't be to everyone's tastes of course, but if you're after a chunkier, more traditional look, there are plenty of other options out there.
Looks aside, its software is slick too, with comprehensive Fitbit-powered health and activity tracking for all the metrics you'd expect. GPS performance is solid as well, though it lets itself down a bit with a maximum battery life of 24 hours. If you push it hard with an always-on display, you'll find yourself with less than a full day of use per charge, which might be a dealbreaker for some.
Still, if you're an Android fan with a penchant for minimalist design and just need to record basic runs (as opposed to gruelling marathons), then the Pixel Watch is still worthy of your consideration.
Stuff Says…
A stunning looking smartwatch with stellar fitness tracking, albeit one with a few flaws. The Pixel Watch is a confident first start for Google's wearable effort, but falls short of more established rivals.
Good Stuff
Minimal styling stands out from other smartwatches
WearOS is user-friendly and shows promise
Bad Stuff
Only one size, which can look small on many wrists
Battery barely scrapes a day with always-on screen
Tech spec:
Display: 1.2in AMOLED, 450×450 pixels • Heart rate: Yes • Battery: 24 hours (smartwatch) • Waterproof: 50m • Case size: 31mm • Weight: 36g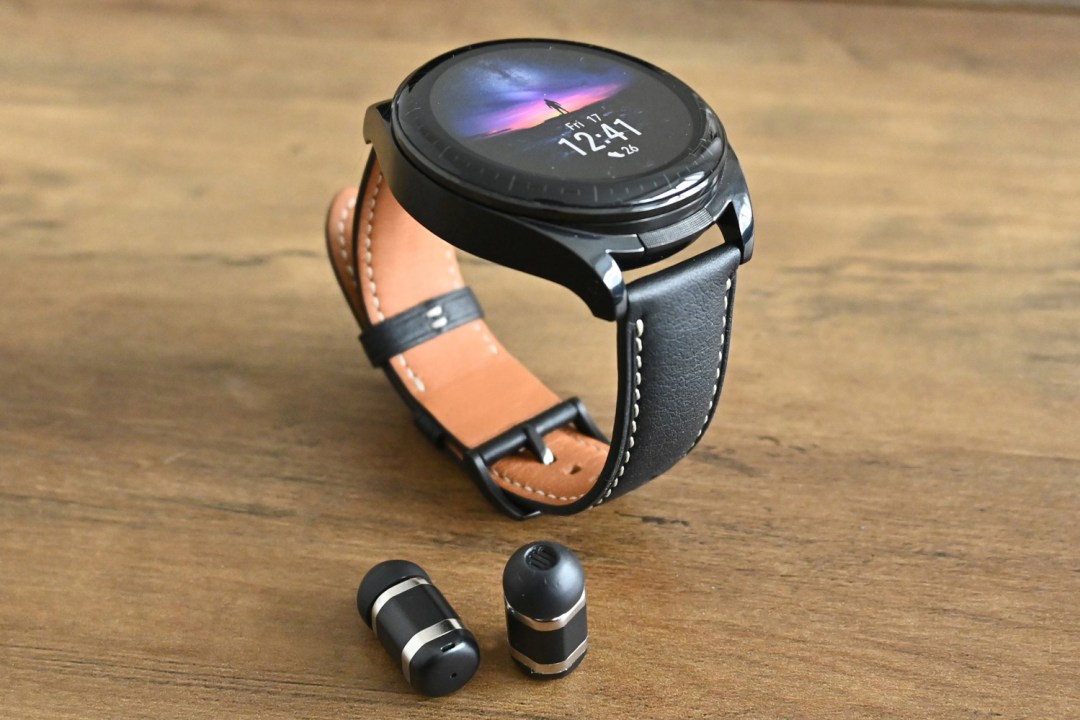 Huawei Watch Buds
Huawei's Watch Buds smartwatch is chunkier than most, and might not be suitable for those with smaller wrists. It's with good reason though — press the button on the bottom of the face, and the screen will magically pop open, revealing two miniature earbuds concealed within.
It's an offering unlike anything else out there, letting you ditch bulky earbud cases for good, and a godsend for forgetful types who constantly leave their headphones at home before realising their mistake far too late.
Hidden secrets aside, it's a very capable fitness watch too, with built-in GPS and all the heart and sleep-tracking sensors you'd expect. You'll need to download Huawei's Health app directly from the company's site (rather than the Play Store), mind, and a few settings and permissions will need to be tweaked/granted to get things working.
Overall, it's a niche choice that costs a pretty penny. But with decent sound, solid health tracking, and a quirky design, there's nothing else quite like it, and we applaud Huawei's attempts to create something a little different.
Stuff Says…
A first-of-its-kind hybrid gadget that's very convenient to use, but also an expensive one that makes compromises over buying your smartwatch and earbuds separately.
Good Stuff
Unique 2-in-1 concept
A capable fitness watch
Bad Stuff
Average audio and ANC
Software experience not the slickest
Tech spec:
Display: 1.43in AMOLED, 466×466 pixels • Heart rate: Yes • Battery: 3 days • Waterproof: IPX7 (1 metre submersion for 30 mins) • Case size: 47mm • Weight: 77.5g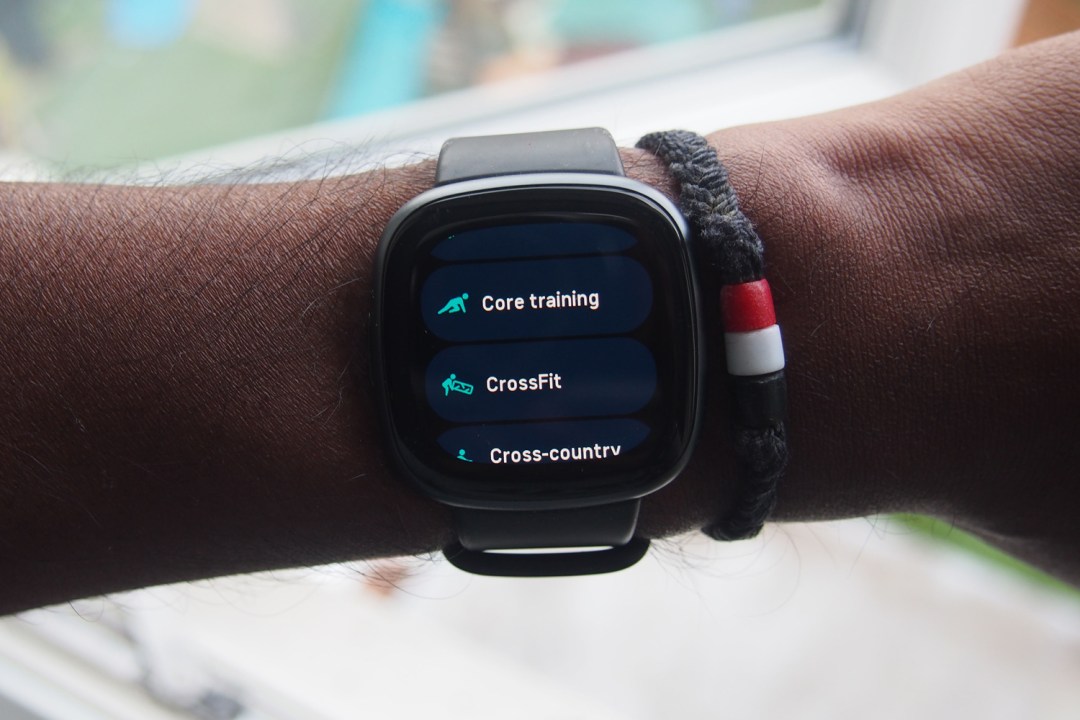 Fitbit Versa 4
The Versa 4 is more affordable than many of its rivals, providing all the Fitbit tracking and features you'd expect, at a palatable price point. While its square, rounded-corner design won't be for everyone, there's no denying that it stands out, and its build quality and choice of colour options are undeniably solid.
While it lacks a few extra features like built-in Wi-Fi or music, it still offers extras like Alexa integration and Google Maps, in addition to a comprehensive library of fitness and sports tracking modes. Built-in GPS and sleep tracking make it a comprehensive tracker overall, which is further boosted by its six-plus day battery life.
It lacks the fancy ECG and EDA sensors found on the more expensive Fitbit Sense 2, but if you're a fan of the form factor and are happy with its slightly more limited features, then the Versa 4 is a sensible choice.
Stuff Says…
Great for fitness tracking and general wellness, but stripped-out features make for a worse smartwatch.
Good Stuff
The button is back
Still a great sleep tracker
Bad Stuff
Loses big smartwatch features from Versa 3
Sports tracking is still just okay
Tech spec:
Display: 1.58in AMOLED, 336×336 pixels • Heart rate: Yes • Battery: 6+ days • Waterproof: 50m • Case size: 40.5mm • Weight: 38g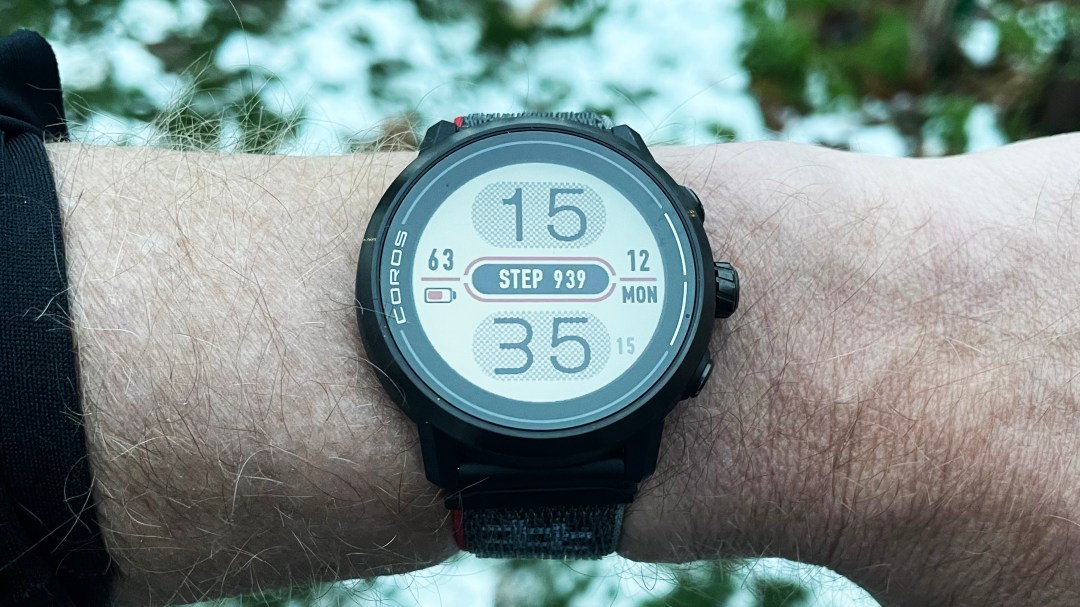 Coros Apex 2
Coros' Apex 2 impressed us with its larger battery, which should be good for around 17 days of use in between charges, or an impressive 45 hours in GPS mode. It also has improved HRV/ECG skills thanks to a newer sensor, while nailing things on the multi-sports tracking and stat delivery front too.
It has an LCD display rather than a punchier AMOLED alternative, but we can forgive that omission thanks to the aforementioned battery life. It's always-on too, which means no messing around with wrist flicks or button taps just to see the time.
The pricier Apex 2 Pro edges out ahead for GPS and heart rate accuracy, but don't let that fool you — this is still one of the most formidable sport watches on our list.
Stuff Says…
A good multi-sports all-rounder and bang-for-buck, the best of the Apex 2 bunch.
Good Stuff
Big battery life
Compact & light
Bad Stuff
No turn-by-turn navigation
Price hike
Tech spec:
Display: 1.2in LCD, 240×240 pixels • Heart rate: Yes • Battery: 17 days (GPS 45 hours) • Waterproof: 50m • Case size: 42mm • Weight: 42g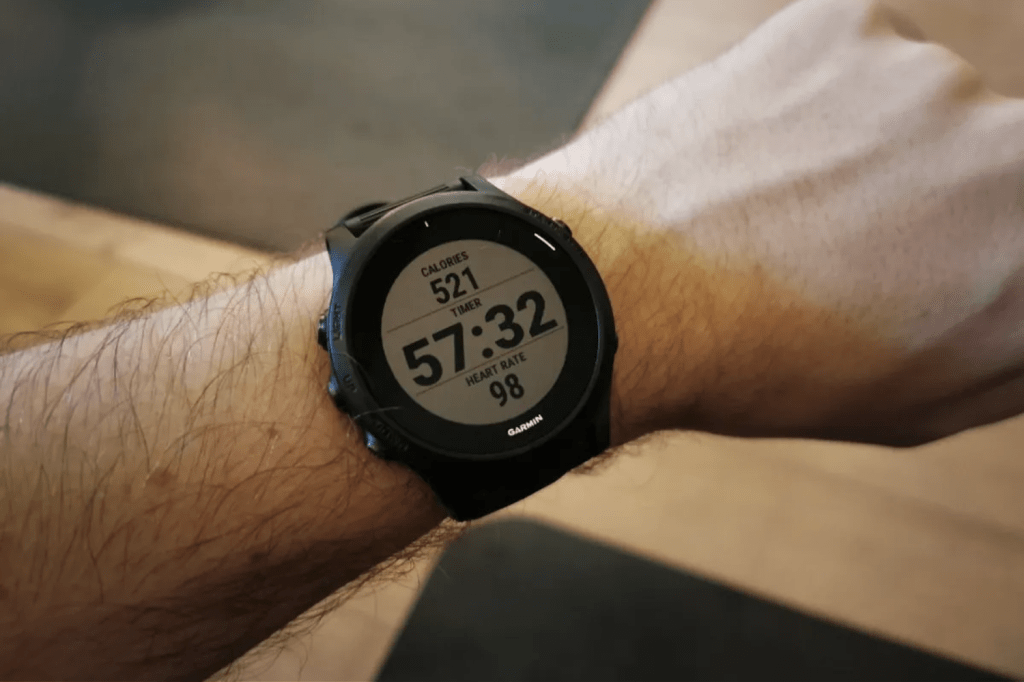 Garmin Forerunner 945
Not the sleekest of tracking tools, Garmin's Forerunner 945 is designed for those who want fitness insights without the extra baggage. And while it's not the newest release in Garmin's stable, it remains an excellent GPS sports watch for exercise – and one that's now available for a little bit less.
Its design clearly favours function over form: its fibre-reinforced polymer plastic shell didn't win any design awards back in 2019. But there's nothing wrong with minimalism if it gets the job done, and that's exactly what this streamlined 50g lightweight achieves.
Sticking with the pared-back approach, there's no touchscreen. Instead, you're reliant on sturdy metal buttons. Paired with a dull 1.2in LCD, this approach delivers a respectable 36-hour GPS battery life. But it doesn't go light on tracking tech: its full complement of sensors includes optical heart rate, GPS and blood oxygen.
It's accurate, it records everything you need and the partner app is perfect for diving into the data. The 945 can also store offline music from services including Spotify, plus it supports Garmin Pay. There are newer, shinier options out there – and several which are easier to master – but the 945 nevertheless remains a well-built, feature-rich GPS sports watch free from bloat.
Stuff Says…
Lightweight but well-built, this fitness-focused watch is packed full of features
Good Stuff
Excellent battery life
Smooth interface
Bad Stuff
No Apple Health/Google Fit syncing
Limited app support
Tech spec:
Display: 1.2in MIP , 240×240 pixels • Heart rate: Yes • Battery: 2 weeks (smartwatch), 10 hours (GPS with music) • Waterproof: 50m • Case size: 47mm • Weight: 50g
---
Polar Vantage V2
Polar's Vantage V2 might look like just another tracking ticker, but don't let its polished shell fool you: the V2 is a comprehensive training tool, designed to log your workouts then guide you through recovery.
While it's lightweight at 52g, the Polar's refined curves belie a tough build: fronted by laminated by Gorilla Glass, the aluminium casing is waterproof down to 100m. And though its 1.2in display isn't the sharpest or brightest, it is big and clear enough to be easily readable on the run.
Pursue a different discipline every weekend of the year and the Vantage V2 will still have a mode to track it. You'll find 130 activity profiles in the Polar Flow app, up to 20 of which can be loaded on to the V2 at a time. Outdoor activities can be tracked using GPS, with a reliable heart-rate monitor logging your effort.
The app provides no shortage of stats to digest, while the watch itself can suggest the right exercises for your active recovery. There's not much to customise and there's no app catalogue to speak of. But as a purist's training tool with a solid 40-hour battery life, the Vantage V2 is a tough GPS sports watch to beat.
Stuff Says…
A multi-sport training tool that looks good and has the tracking chops to match
Good Stuff
Excellent battery life
Smooth interface
Bad Stuff
No Apple Health/Google Fit syncing
Limited app support
Tech spec:
Display: 1.2in MIP touchscreen, 240×240 pixels • Heart rate: Yes • Battery: 7 days (watch), 40 hours (training mode) • Waterproof: 100m • Case size: 47mm • Weight: 52g
---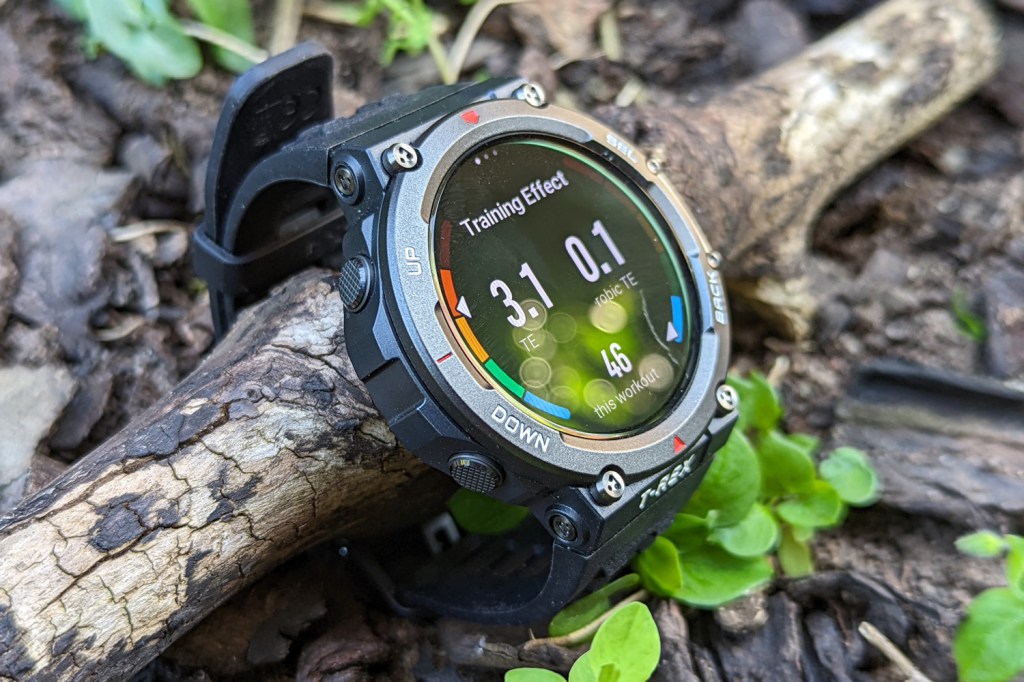 Amazfit T-Rex 2
Not everyone limits their activities to loops around the local park. If your fitness regimen tends towards adventurous, Amazfit's T-Rex 2 wants in. With a chunky polymer alloy case that's more than a little bit G-Shock, it's built to survive some rough and tumble.
There's no sapphire glass shielding the 1.39in AMOLED display, but the resolution has at least been bumped. Text is sharp, contrast excellent and colours punchy, with respectable viewing angles for good measure.
Amazfit's Zepp OS is simple to navigate, either by touch or using the physical buttons. It's functional rather than flashy, putting useful tools front and centre. This pared-back approach is reflected in the limited functionality of pre-installed apps and the absence of a meaningful third-party catalogue – although you can export data to Google Fit, Apple Health and Strava.
Where it doesn't fall short is fitness skills. The T-Rex 2 can log more than 150 disciplines, deploying a suite of sensors to capture in-depth metrics. Tracking accuracy is largely on par with rivals, even if our testing found heart rate figures to run slightly high. Battery life is also stellar: even with an active lifestyle and the always-on display enabled, ten days is comfortably doable.
Stuff Says…
With a rugged build and excellent battery life, this multi-sport tracker is a true survivor – even if its app catalogue is lacking
Good Stuff
Smooth interface
Excellent battery life
Bad Stuff
No Apple Health/Google Fit syncing
Limited app support
Tech spec:
Display: 1.39in AMOLED, 454×454 pixels • Heart rate: Yes • Battery: 24 days (typical), 50 hours (balanced GPS) • Waterproof: 100m • Case size: 47.1mm • Weight: 66.5g
---
Huawei Watch GT Runner
Huawei's targeting the wrists of sprinters with its Watch GT Runner. And with a sporty design, sizeable battery and heaps of software features for runners – plus a mid-range price tag – it's a tempting pitch.
Borrowing a fair few features from other Huawei wearables, the Watch GT Runner packages them in a lightweight polymer shell that's well-suited to sprinting. It shares its 1.43in AMOLED display with the Huawei Watch GT 3 – and it's just as sharp, responsive and easy to see. GPS tracking is broadly accurate, while results from the heart rate monitor fall within Huawei's claimed 10bpm margin versus a chest strap.
Huawei's HarmonyOS interface plays nice with Android, iOS and Huawei's own phones, but its AppGallery store doesn't offer the same catalogue depth as its rivals. What you do get is a whole host of running insights, including Huawei's Running Ability Index, which scores you based on training data and heart rate info. There are AI coaching plans available too, alongside familiar metrics like Training Load, VO2 Max and recovery time.
Smart notification support is limited to Android smartphones, while Huawei's Celia assistant only works if you have a connected Huawei smartphone. More convincing he flip side is its impressive battery life: 14 days can drop to seven with regular runs, but it's still a solid tally for a full-colour GPS sports watch with added smarts.
Stuff Says…
If you've been hoping for a Huawei wearable that offers pretty much everything you need to track serious runs, you'll want to look at the Watch GT Runner
Good Stuff
Excellent battery life
Smooth interface
Bad Stuff
No Apple Health/Google Fit syncing
Limited app support
Tech spec:
Display: 1.43in AMOLED touchscreen, 466×466 pixels • Heart rate: Yes • Battery: 14 days • Waterproof: 50m • Case size: 46mm • Weight: 38.5g
---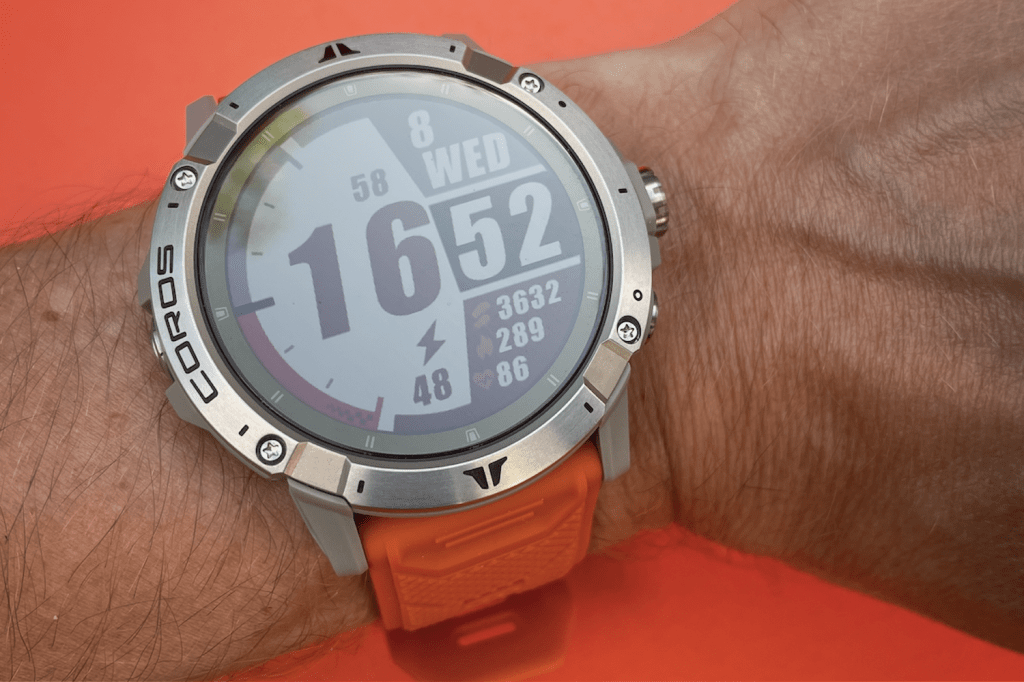 Coros Vertix 2
There's no escaping the heft of the second-gen Coros Vertix: beefy by design, this premium ticker is not only a considerable investment, but it also takes up a fair chunk of wrist space. Weighty at 89g, it sits high on the wrist, supported by a thick strap. Surrounded by a titanium alloy bezel and casing, the Coros packs a 1.4in LCD touchscreen that's disappointingly dull.
But the Vertix 2 does back up its chunky shell with an equally sturdy cell inside: good for up 240 hours in UltraMax mode, this is a ticker with endurance. It also goes big on features: there's sports tracking for almost every activity you can think of, plus multiple mapping options, music storage for offline playback, as well as an almost overwhelming breadth of performance insights from the EvoLab tool.
Swim tracking is similarly comprehensive, both in and out of the pool, and there's also general activity and sleep-stage data – although you don't get any of the more holistic wellness features seen on the likes of Garmin or Polar watches.
No lightweight, the Vertix 2 gives the Garmin Fenix a good run for its money – provided you've got big wrists and a matching bank balance.
Stuff Says…
If chunky's how you'd like your GPS sports watch, this is a rugged adventurer to rival Garmin's Fenix series
Good Stuff
Excellent battery life
Smooth interface
Bad Stuff
No Apple Health/Google Fit syncing
Limited app support
Tech spec:
Display: 1.4in LCD touchscreen, 280×280 pixels • Heart rate: Yes • Battery: 100 hours (standard), 60 days (daily use), 35 hours (full GPS with music) • Waterproof: 100m • Case size: 50mm • Weight: 89g
---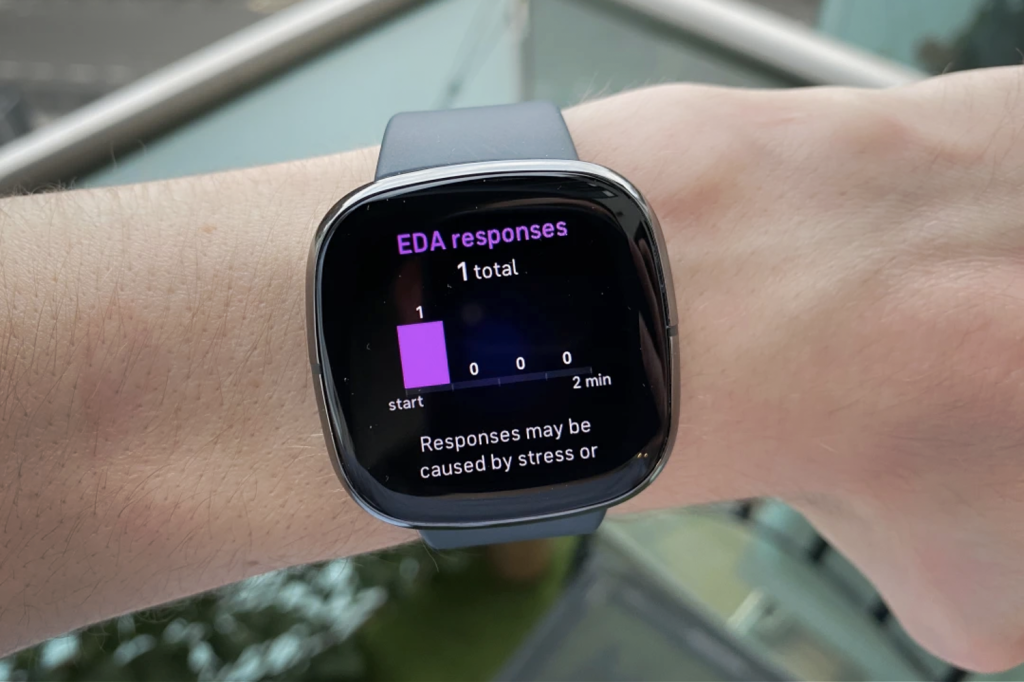 Fitbit Sense
In a world where your watch is the first line of defence against health complications, Fitbit was the first to ship one with an electrodermal activity sensor, capable of monitoring your stress levels. Add an ECG app and on-wrist skin temperature sensor to Fitbit's classic all-day activity tracking and the Sense shapes up as a comprehensive wellness tool.
With styling similar to the Versa 2, it adopts a rounded-square face that's subtle enough to be wearable in the office, but sufficiently unique to have some personality. It's impressively light, comfortable to wear and benefits from a nice OLED display, although the single capacitive button is a source of frustration.
Getting the most out of the Fitbit Sense requires commitment. If you're happy to invest vast amounts of health data, you'll be rewarded with a landslide of feedback and analysis. The app delivers a detailed breakdown of everything from stress factors to sleep scores, but you'll need a Fitbit Premium subscription to access more advanced insights.
Battery life comes in at a solid six days on average, which only makes the so-so overall performance more disappointing. It's not consistently smooth in use, often feeling a little underpowered in the processor department.
Stuff Says…
Ambitious with mixed results, the Fitbit Sense is still a fairly well-rounded smartwatch with a few innovative health features
Good Stuff
Excellent battery life
Smooth interface
Bad Stuff
No Apple Health/Google Fit syncing
Limited app support
Tech spec:
Display: 1.58in OLED touchscreen, 336×336 pixels • Heart rate: Yes • Battery: 6+ days • Waterproof: 50m • Case size: 40.5mm • Weight: 46g
---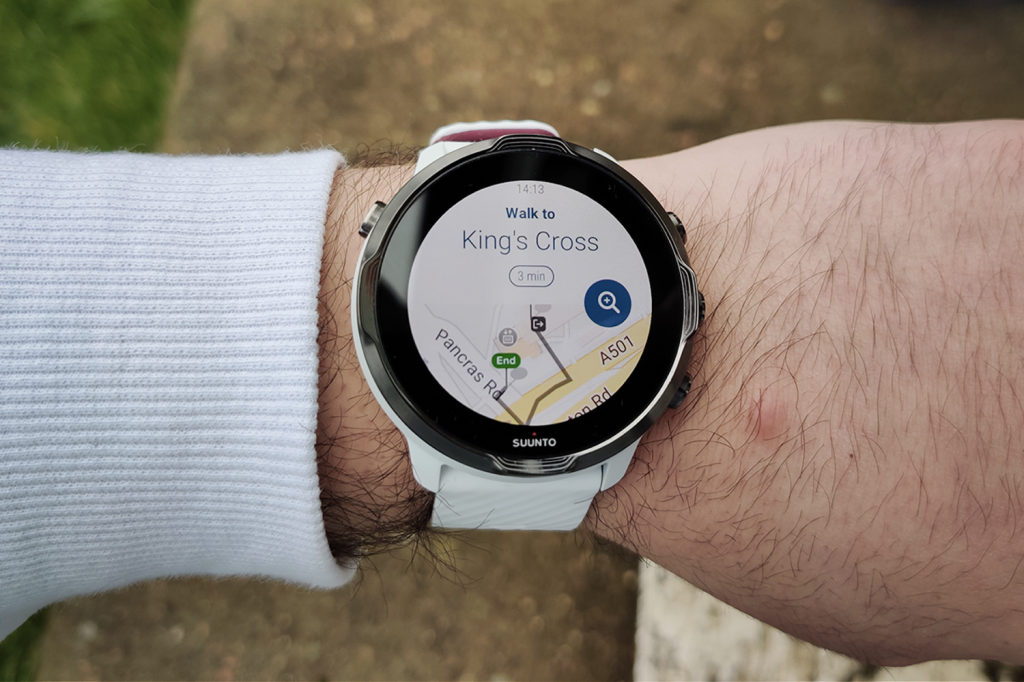 Suunto 7
The Suunto 7 isn't the most expensive GPS sports watch in this list. But as a rival to the Apple Watch, it also isn't cheap. Then again, by promising style, Android Wear smarts and a comprehensive suite of fitness-tracking features, it tries to tick all of the the right boxes.
Simultaneously rugged, stylish and sleek, the Suunto 7's four hardware buttons give it the feel of a traditional sports watch, while its four raised edges add welcome character. It's inescapably chunky – something unavoidable with its 55mm face – but it's light enough to be comfortable. The 454×454-pixel display is also up there with some of the best smartwatch screens. Because it's an AMOLED panel, blacks are true and colours punchy, while the resolution ensures text is sharp.
Wear OS is zippy enough, with a comprehensive app catalogue and payment tech to boot. And as a sports tracker, it also comes well-equipped: its built-in app covers all the main disciplines, with the option to install a whole range of third-party tools as you fancy.
GPS proves reliably accurate, while battery life can stretch to two days if you're careful. That's better than an Apple Watch, but still pretty limited for serious sports enthusiasts.
Stuff Says…
A pricey but attractive fitness tracker with comprehensive features and Android Wear smarts
Good Stuff
Excellent battery life
Smooth interface
Bad Stuff
No Apple Health/Google Fit syncing
Limited app support
Tech spec:
Display: 1.4in AMOLED touchscreen, 454×454 pixels • Heart rate: Yes • Battery: 40 days (time), 12 hours (training), 2 days (smartwatch) • Waterproof: 50m • Case size: 50mm • Weight: 70g
---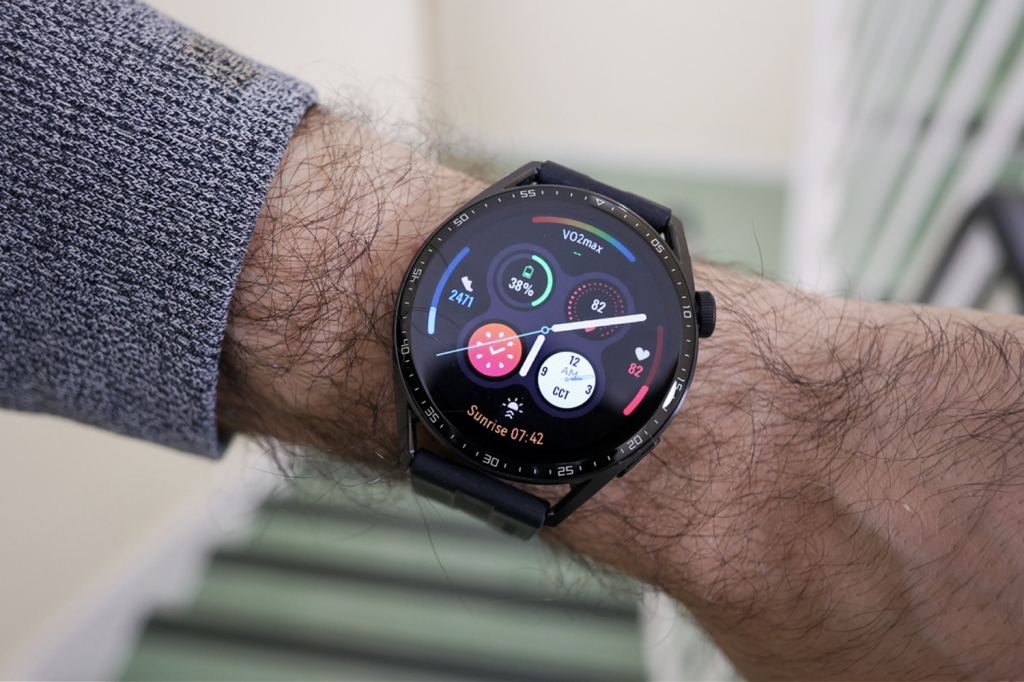 Huawei Watch GT 3
There's a lot to be said for a GPS sports watch that's reliable, looks good and lasts for ages. The Huawei Watch GT 3 is all of those things. Sure, it could cost less, but if your priority is a ticker that doesn't need a nightly charge and tracks your workouts and wellness with aplomb, it bests much of the competition.
By keeping its smart ambitions in check, the Huawei is able to serve up sensational longevity. Where an Apple Watch lasts 18 hours on a single charge, the Watch GT 3 can go for up to two weeks.
Styled like an actual watch (complete with rotating crown), the Watch GT 3 comes fronted by a 1.43in OLED display with a sharp 326 pixels per inch – perfectly complementing Huawei's finger-friendly UI. There are some app limitations (there's no Spotify) and issues with Huawei Wallet payments, but it's otherwise broadly responsive.
As for tracking, the Huawei is a serious contender. It features all-day SpO2 monitoring, heart-rate tracking, GPS and a temperature sensor – plus more than 100 activity profiles. Downsides? Sleep tracking can be a bit hit and miss, and there's no option to sync health data with Apple Health or Google Fit.
Stuff Says…
A smooth interface, top health tracking and a stellar battery lift the imperfect GT 3 above mediocrity
Good Stuff
Excellent battery life
Smooth interface
Bad Stuff
No Apple Health/Google Fit syncing
Limited app support
Tech spec:
Display: 1.32/1.43in AMOLED touchscreen, 466×466 pixels • Heart rate: Yes • Battery: 14 days • Waterproof: 50m • Case size: 42/46mm • Weight: 35/43g