Bags for life: the best sustainable backpacks for eco-friendly exploring
Roam responsibly with these recycled rucksacks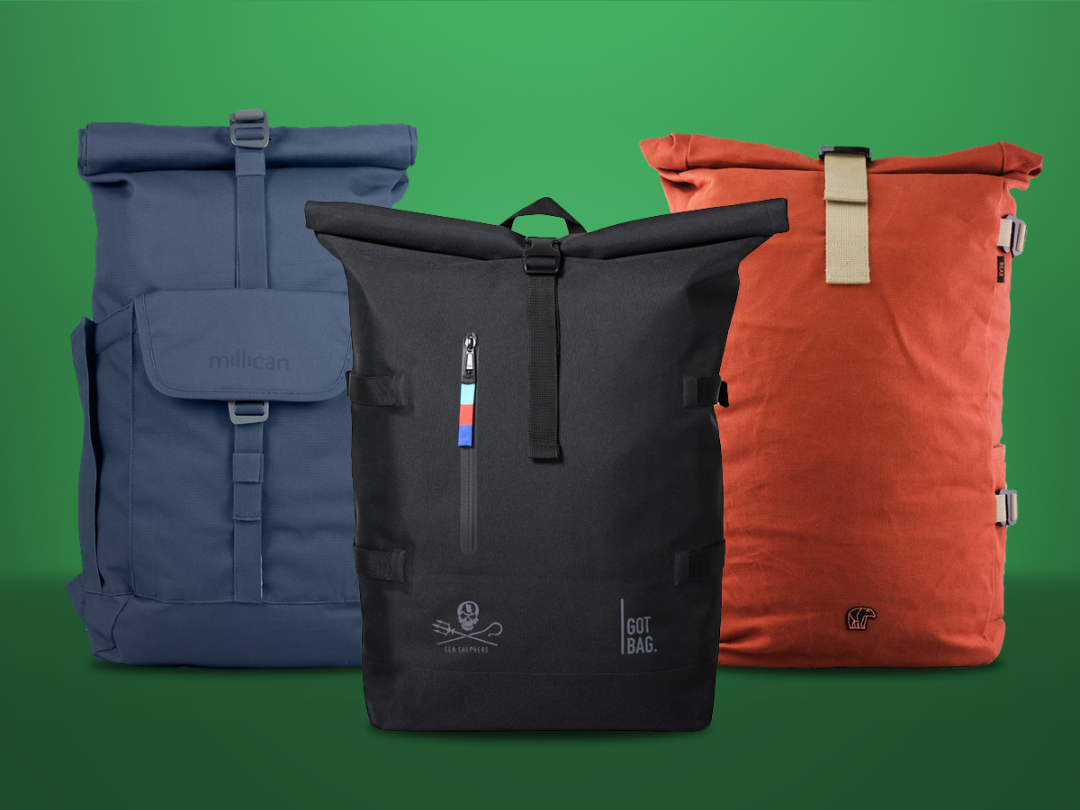 You can't carry the whole world on your shoulders, but you can shoulder some responsibility for the state of it.
Case in point: your backpack. The longer you keep your trusty two-strap, the more economical its existence becomes and the less manufacturing waste enters the system. Good job.
Problem is, there comes a time when even the most treasured of tatty totes has to go. Usually when a strap has snapped, you're missing two zips and there are too many mystery stains to count.
Ready for a replacement rucksack? Stick with the green theme and pack something sustainable. From plastic bottles to surplus fabric, each of our picks for the best sustainable backpacks is sustainably made from eco-friendly materials that prevent potential pollution from harming the planet – perfect for conscientious carriers.
The Pooh-approved pack: Bearmade Gouthwaite 15L (£175)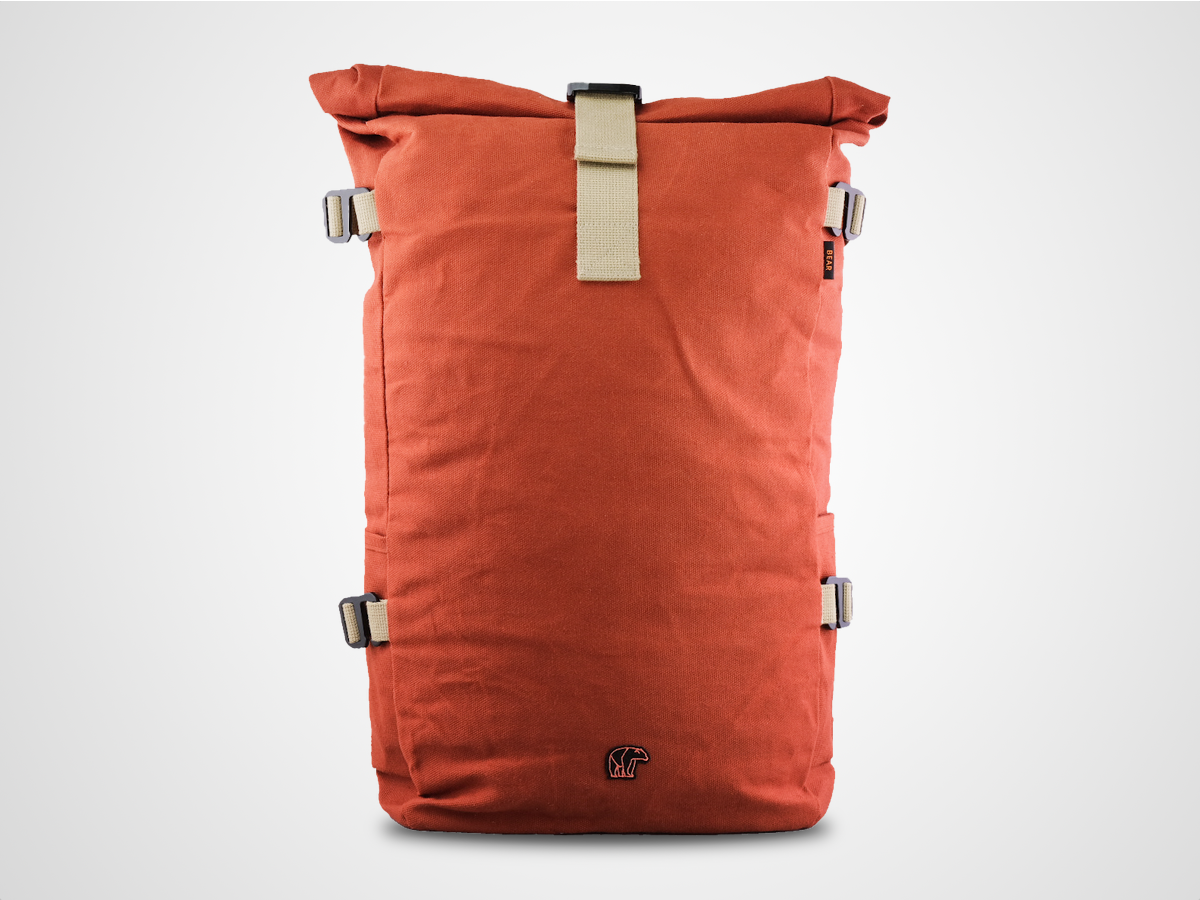 Bears don't make bags. But if they did, Paddington's backpack would probably look something like this. Crafted in the Yorkshire Dales to last a lifetime, the Gouthwaite's dry-waxed canvas construction is weatherproof and hard-wearing. The organic cotton is also greener than your average yarn, using 88% less water and no nasty chemicals. The only plastic in the pack? Recycled polyester thread.
The sack itself ships in two sizes to suit your sandwich storage requirements, while a pair of exterior pockets are perfect for small jars of marmalade. An internal pouch and laptop slot stop contents from becoming disorderly, plus recycled wool felt back padding helps to take the weight off. And just to make sure Winnie is pleased with their eco efforts, BearMade plants 20 trees for every roll-top sold – and uses 10% of sales to fund free wild workshops, from foraging to forest bathing. Two of Pooh's favourite pursuits.
The sea-saving sack: Got Bag Rolltop Sea Shepherd Backpack (£130)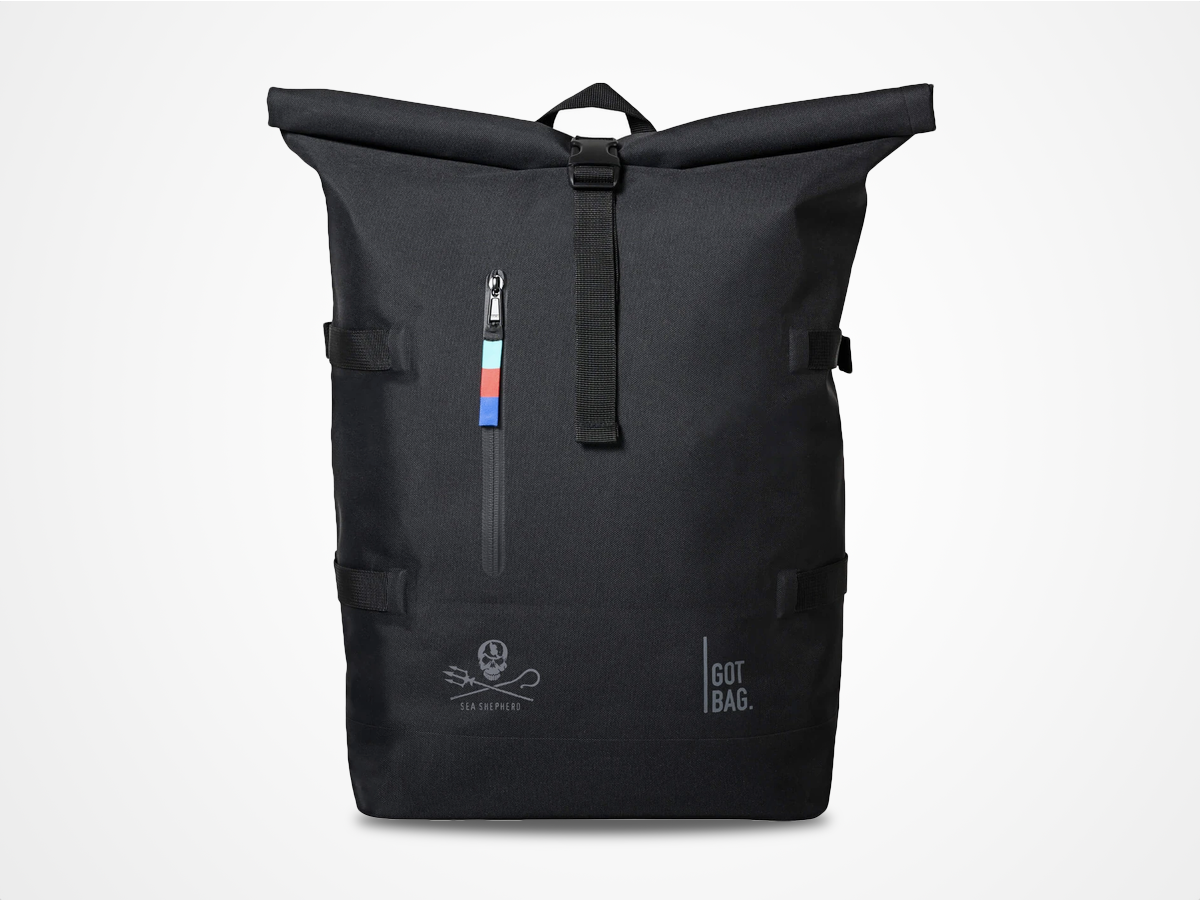 Need a backpack for your next beach clean-up? Got Bag's roll-top rucksack tackles floating trash while carrying your stash. For every bag made, 3.5kg of ocean plastic is collected by fishermen in Indonesia. The best of this jetsam is then sorted, shredded and sewn into a seaworthy sack. Built tough enough to brave the waves, the waterproof Sea Shepherd can pack down tight with the help of compression straps, while a removable laptop pocket keeps your stuff safely sorted inside.
The waste-free messenger: Lefrik Capsule (£58)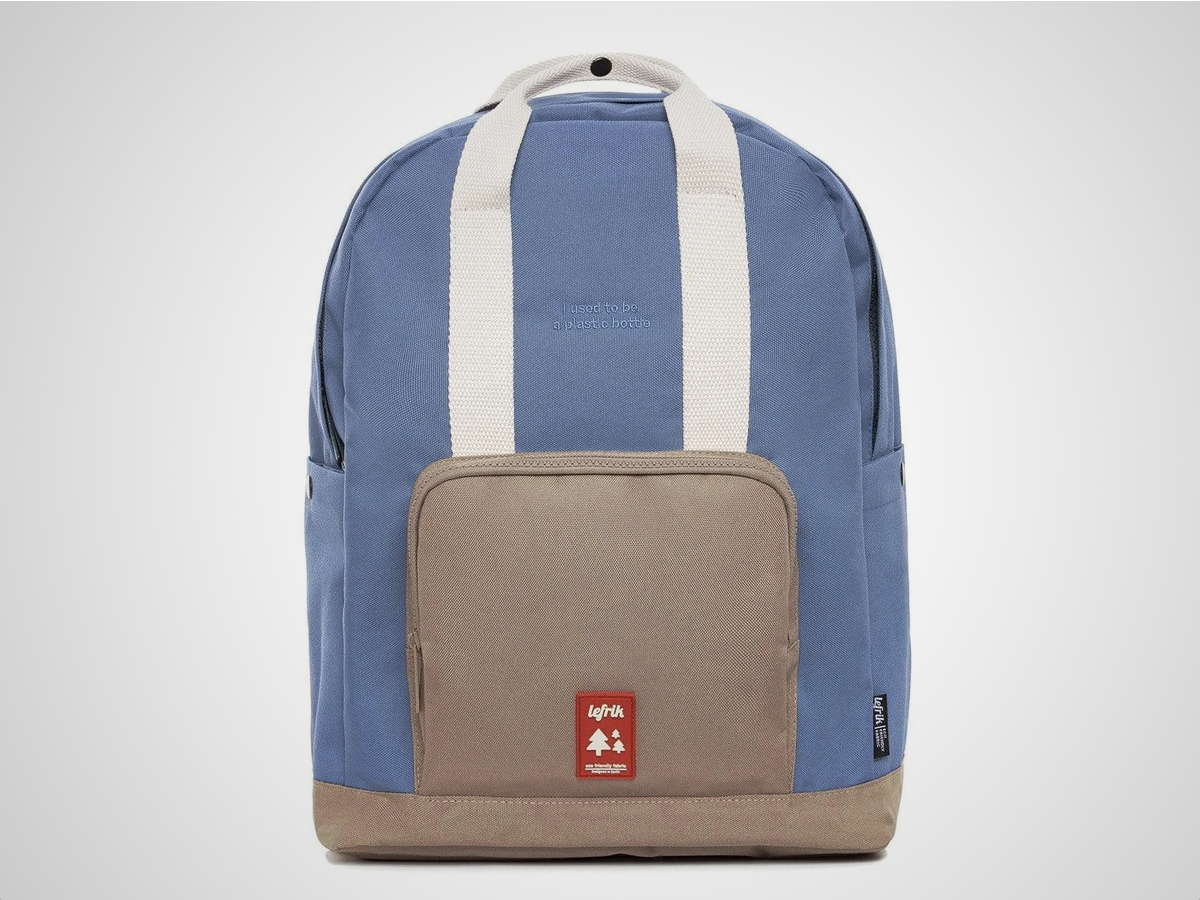 Reprocessing tech is now so effective that you can't tell recycled polyester from the standard stuff. Luckily, this stylish two-strap from Lefrik makes things clear with a sewn message: "I used to be a plastic bottle." Divided inside for handy stashing and equipped with a back pocket for quick access to key particulars, it's ideal for a greener daily grind.
The guilt-free tripper: Bellroy Transit Backpack (£185)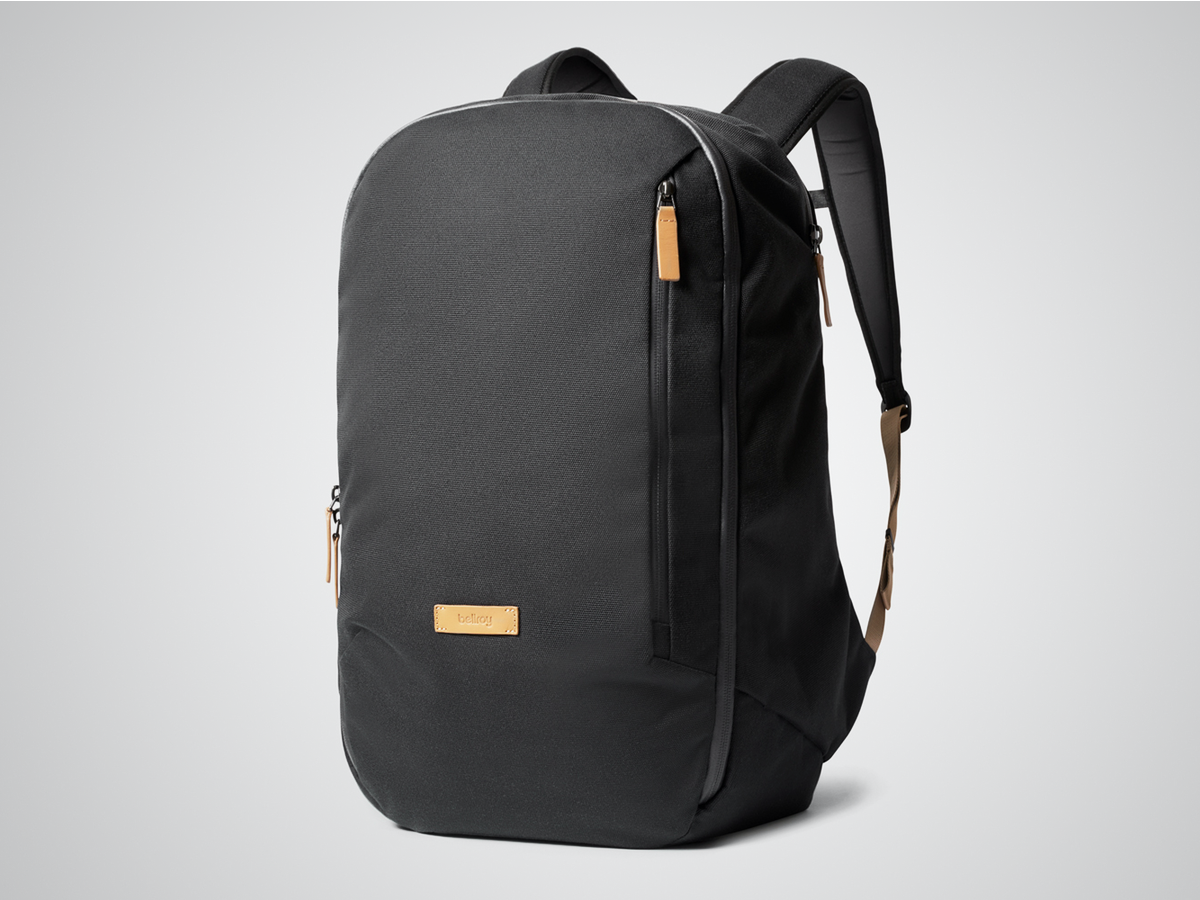 Planes put a strain on the planet, but sometimes you've got to fly. Use this 28-litre sack as your carry-on and its water-resistant shell – fabricated from recycled plastic bottles – should at least offset some carbon. Its main compartment can take a weekend's worth of gear, while a raft of external pockets make stashing your travel necessities a cinch.
The Scandi revamp: Fjällräven Kånken Art (£90)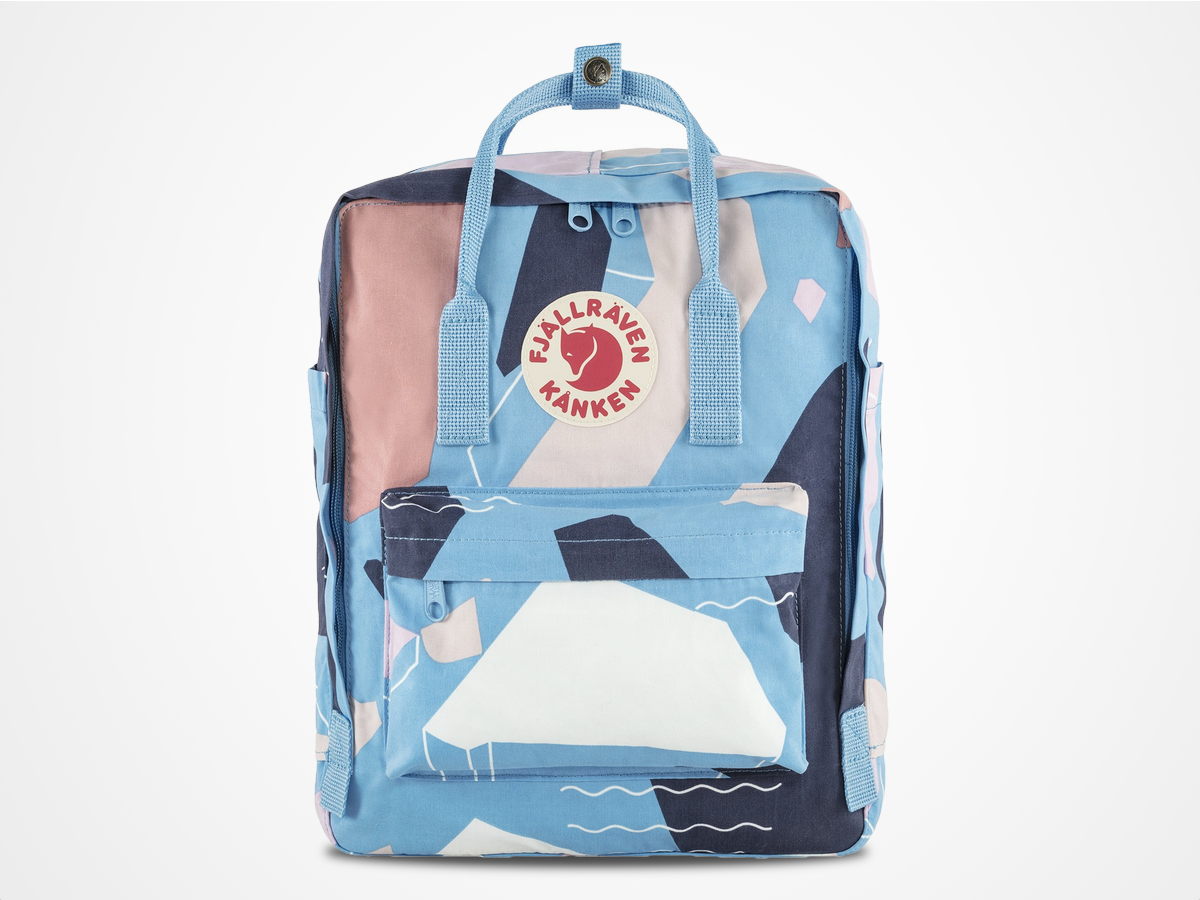 One natty backpack won't save the world's waters from plastic pollution. But two vibrant sacks should at least help raise awareness. Launched on World Ocean Day, Fjällräven's classic Kånken pack has been given a pair of fresh get-ups by Swedish illustrator Linn Fritz. Not a study in abstract camouflage, the Ocean Surface and Ocean Deep designs represent the appearance of ocean plastic from above. Each is made using recycled polyester and organic cotton, while 1% from every purchase will go to organisations working to keep trash from reaching the sea.
The ripstop revival: Finisterre Ridge Backpack (£65)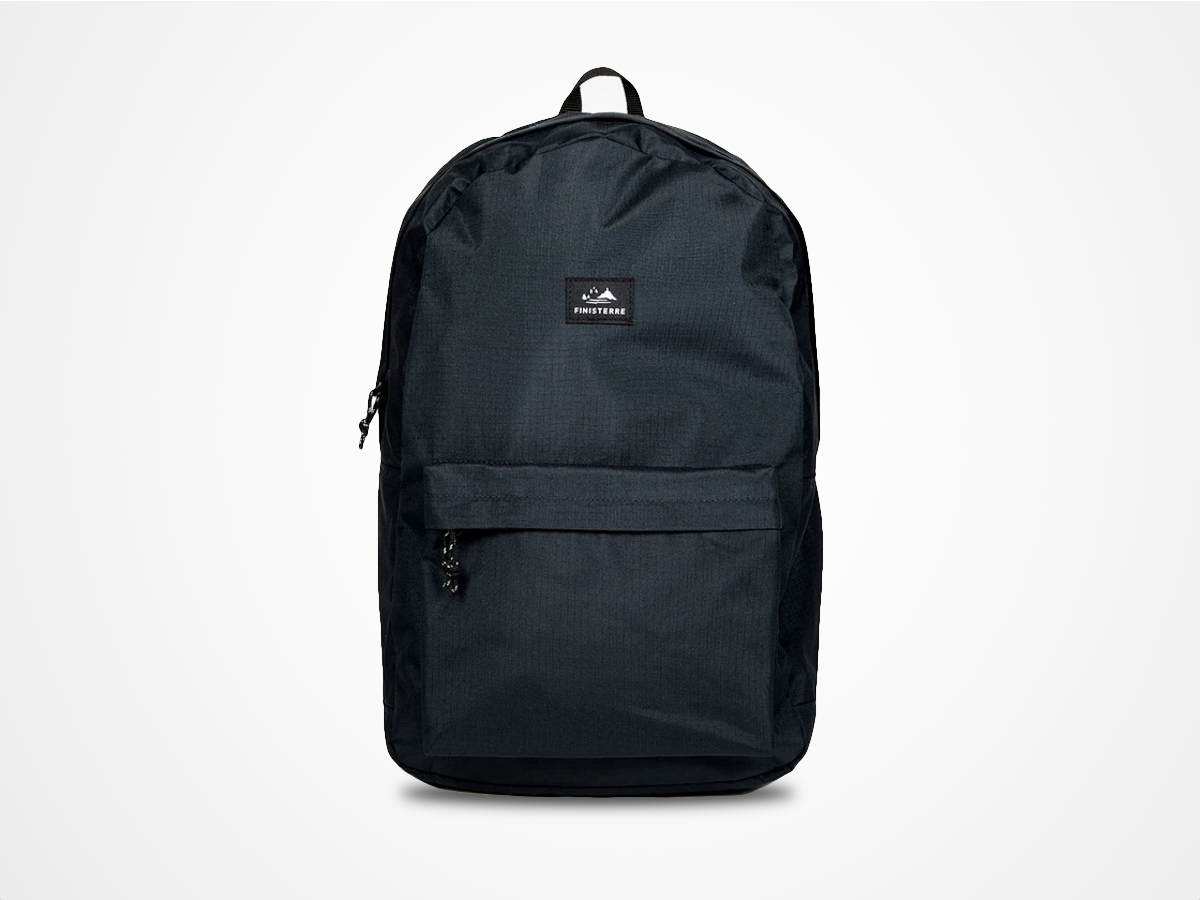 From wingsuits to parachutes, ripstop polyester is the material of choice for dressing daredevils. But even the toughest attire produces offcuts during the cut-and-sew process. Finisterre has found a purpose for the surplus: its rugged Ridge Backpack is crafted entirely from recycled ripstop. While it won't be much use if you jump from a plane, practical touches and a classic design make it a durably adaptable daypack. Loops, clips and pockets organise your gear, while an undivided main compartment offers useful stuffing space – for coats, not canopies.
The patchwork pack: Cotopaxi Allpa 35L Del Dia (€215)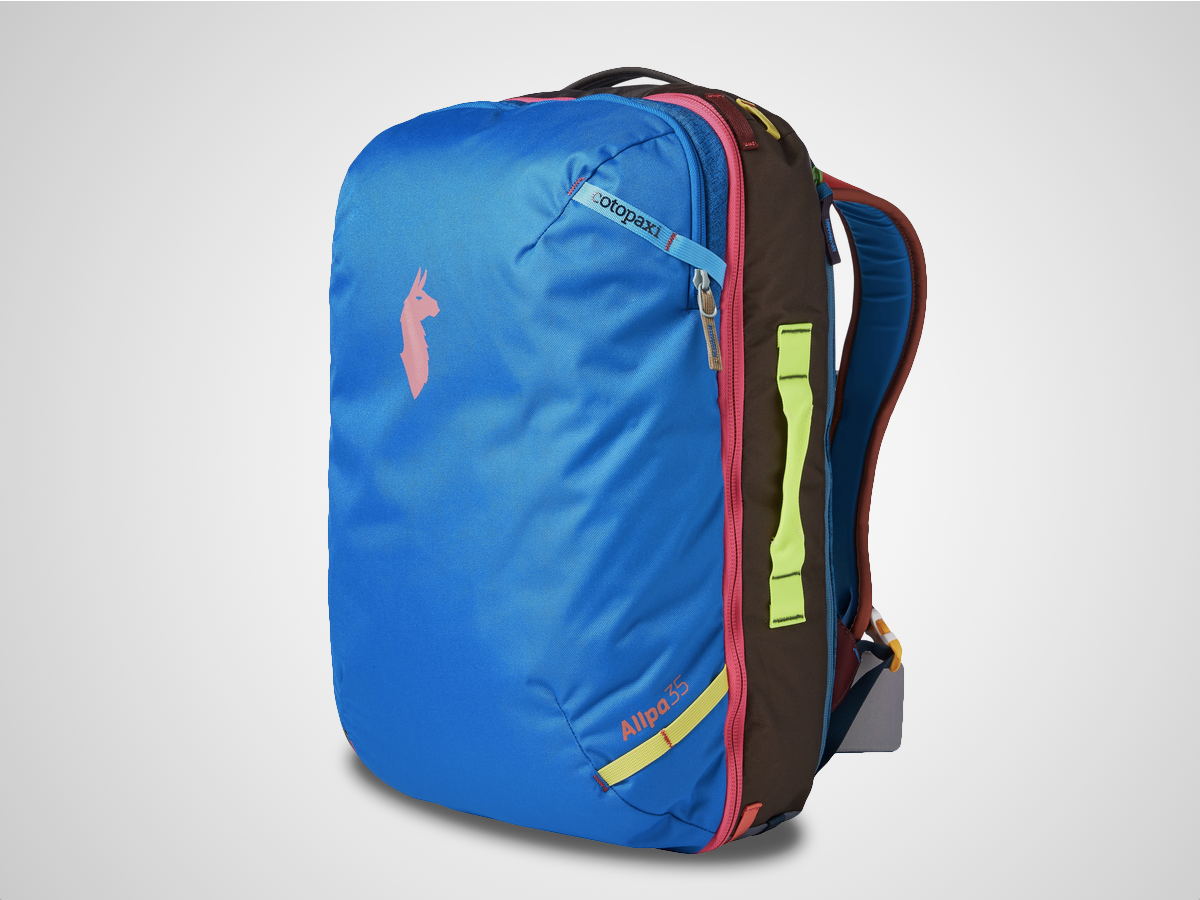 Not a fan of standard colourways? For a distinctive sack that matches your sustainable style, try this technicolour number: sewn using excess fabric from mass-production, pick a colour and one of Cotopaxi's stitchers in the Philippines will build a bespoke bag featuring your selected shade. Robust, comfortable and practical to boot, each custom carrier comes equipped with a plethora of pockets, sleeves and mesh compartments, while its 35-litre capacity is a boon for one-bag travellers.
The leftover lugger: 66 North Backpack (€130)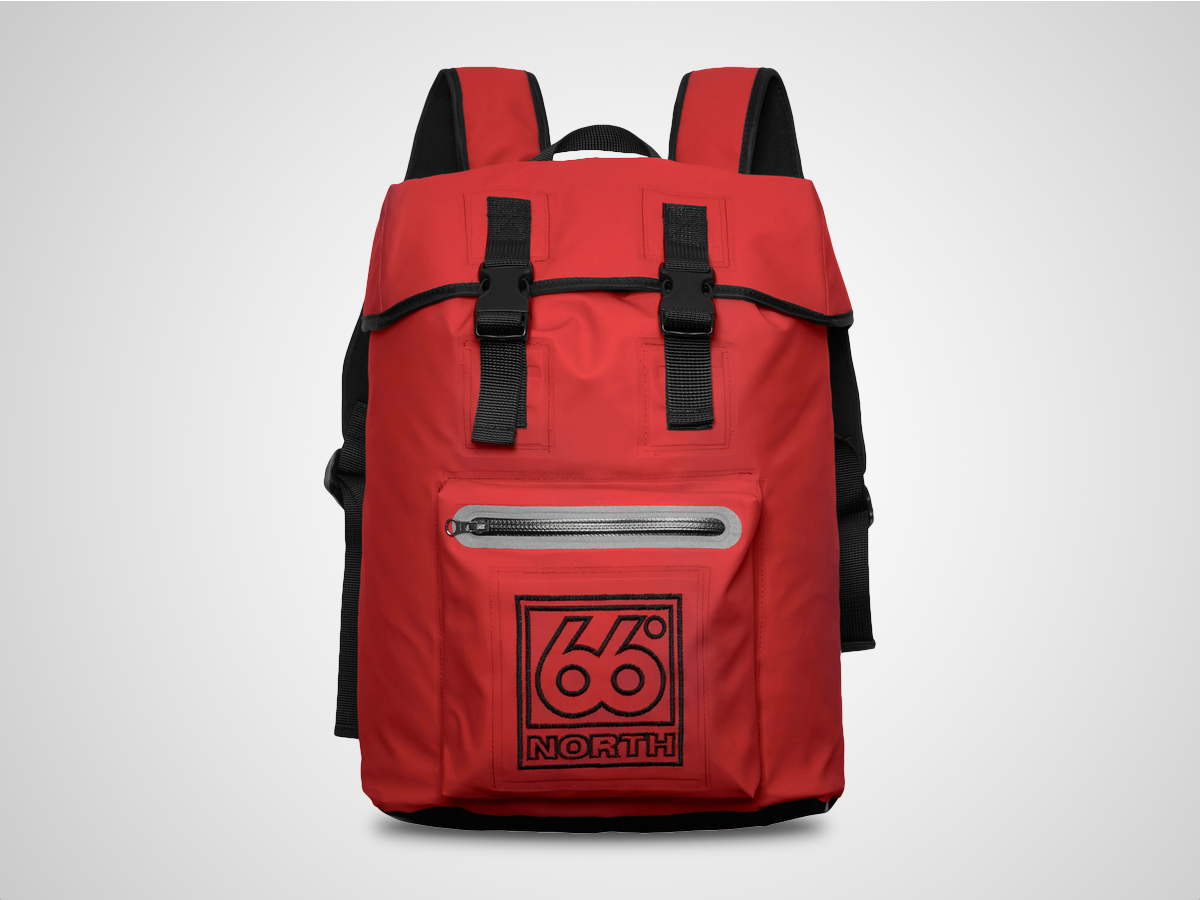 Trim fabric for a raincoat and you'll likely end up with lots of little leftovers. You could use the spare bits to make a matching mac for your pet mouse. Or, like 66 North, you could create a rugged daypack. Less cute than a rodent coat but, with a waterproof shell, 15-litre capacity and quilted lining, a lot more practical.
The rugged roll-top: Millican Smith The Roll Pack (£140)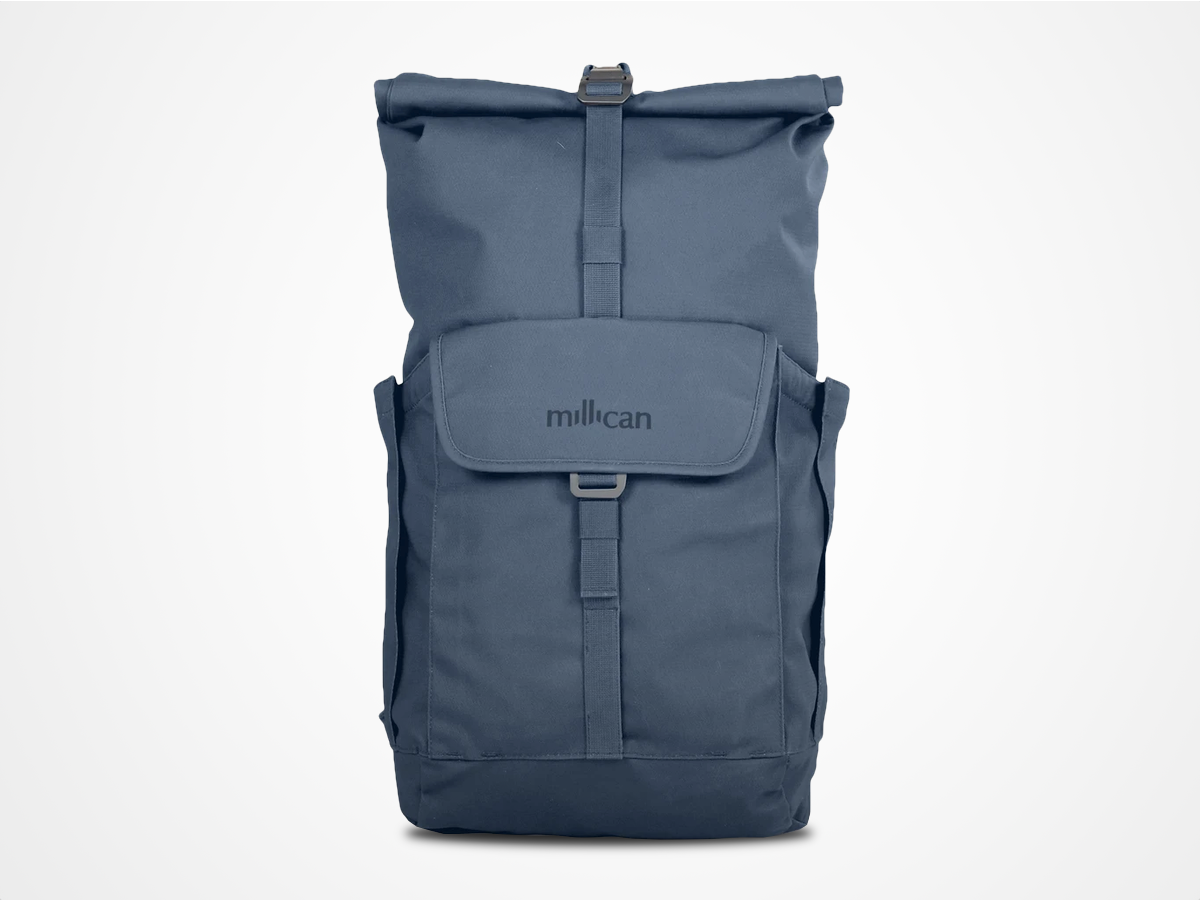 Hiking in the hills or hunched over handlebars, the best pack will have your back wherever you head. Designed in the Lake District, Millican's multi-talented tote is made to go the distance. Light, tough and waterproof to boot, the Smith's roll-top closure keeps kit safe and dry in every weather. External stash pockets are perfect for bottles and bulky bits, while sleeves inside the 25-litre sack – plus a subtle laptop slot – ensure your stuff is always sorted. Feeling burdened? Padded straps protect your shoulders, just as the recycled polyester shell and lining protect the planet.
The heritage hauler: Patagonia Arbor Classic Pack (€80)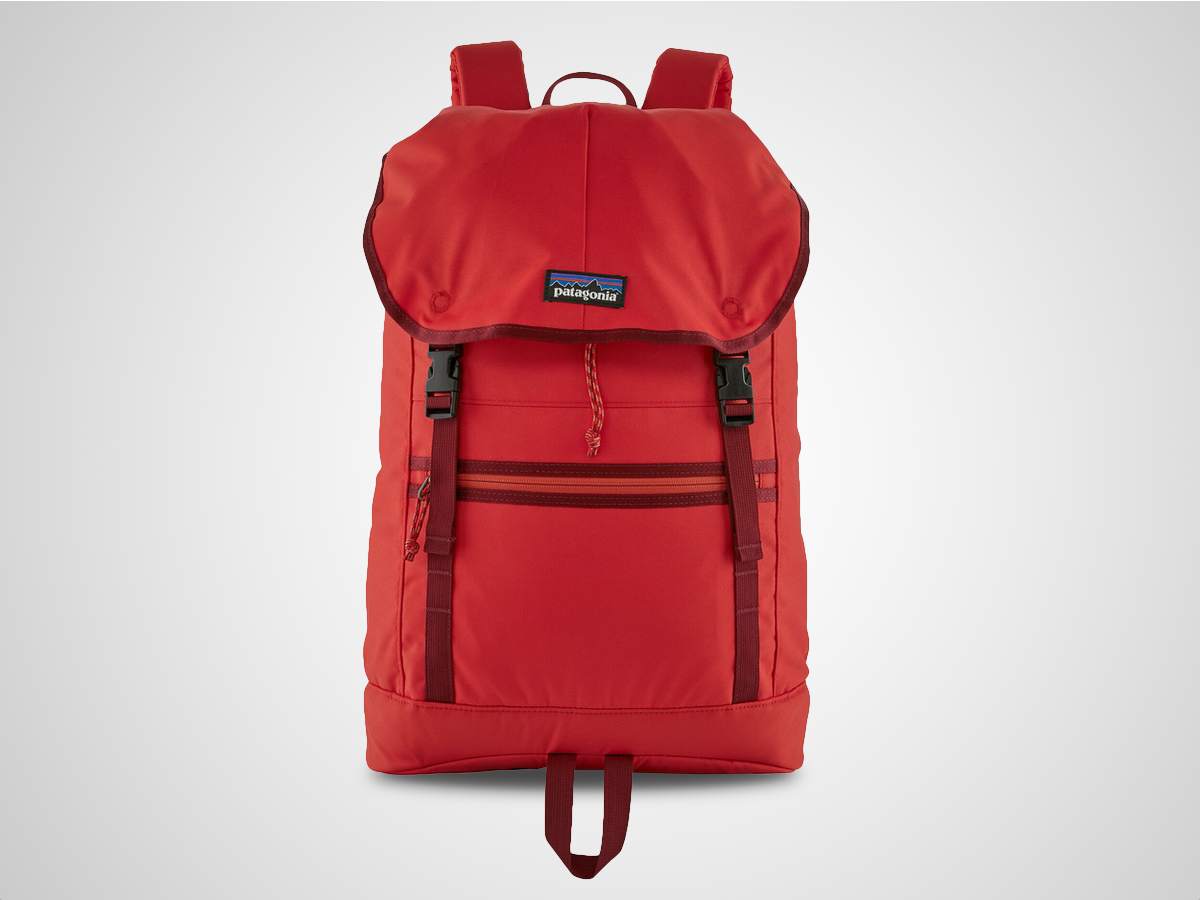 Patagonia's been recycling polyester for its gear since 1993. Celebrate that commendable record with this retro-chic sack, made from fabric woven with plastic bottles, manufacturing waste and old garments. Its throwback exterior is waterproof and harbours a sleeve that'll take both laptops and hydration packs, so it's as good in the great outdoors as it is for the office.
The trucker's tote: M-24 Medium Rolltop (£75)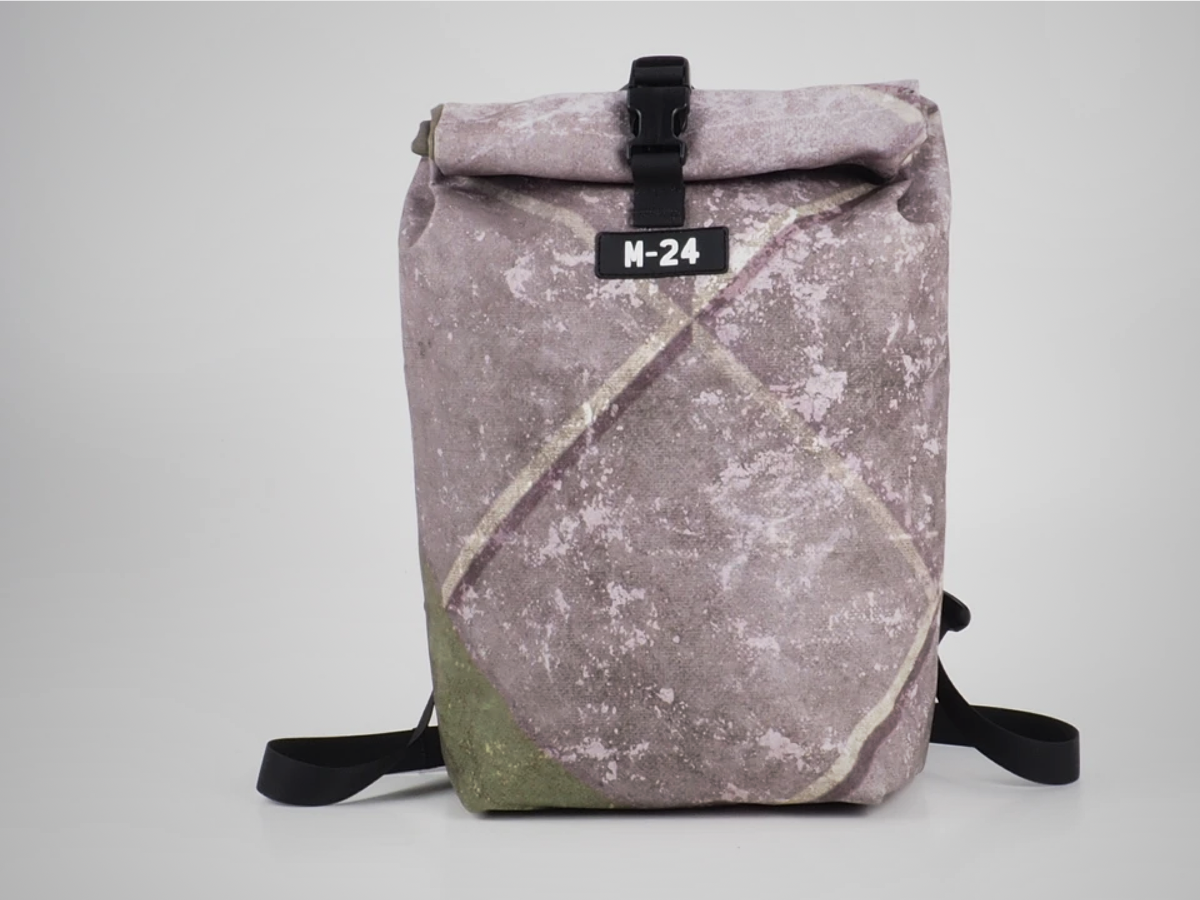 If it's tough enough to sheathe the sides of lorries, it stands to reason that tarpaulin can handle some hardcore hauling in backpack form. M-24 trims down old tarps, gives them a good scrub and forms them into roll-top companions that can go the distance. Each is completely unique, with straps fashioned from cargo webbing.
The green guardian: Pacsafe Vibe 25 Econyl ($130)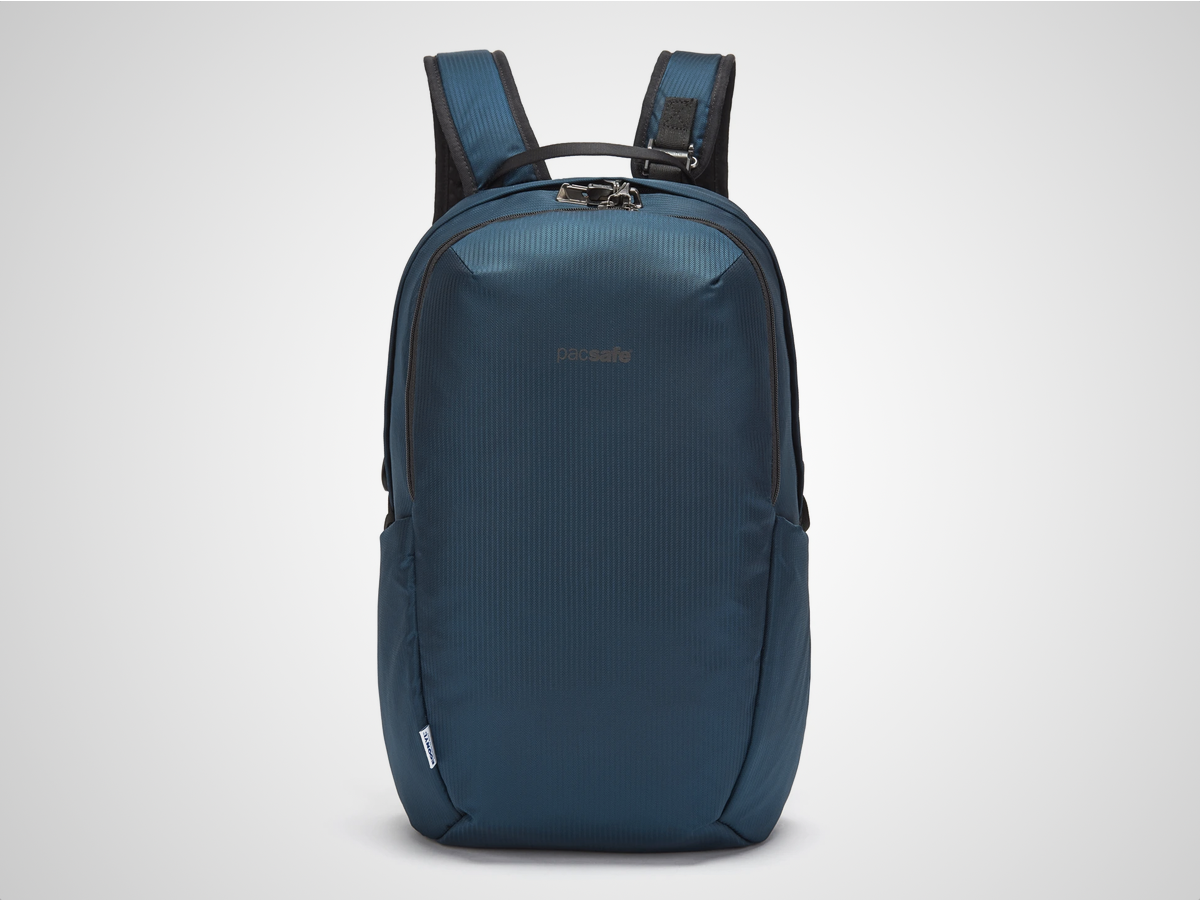 Fabricating a backpack from banana leaves might be the most renewable way to lug your gear, but one slash from a ne'er-do-well and your ethical possessions will be gone for good. For more secure sustainability, try Pacsafe's slash-proof pack: equipped with locking zips and an anchor strap, its reinforced shell is formed from Econyl regenerated nylon, sourced from fishing nets, carpet tiles and industrial plastic.