Google Nexus 6P vs Microsoft Lumia 950 XL: the weigh-in
Both Android and Windows have a huge flagship en route – which wins on specs?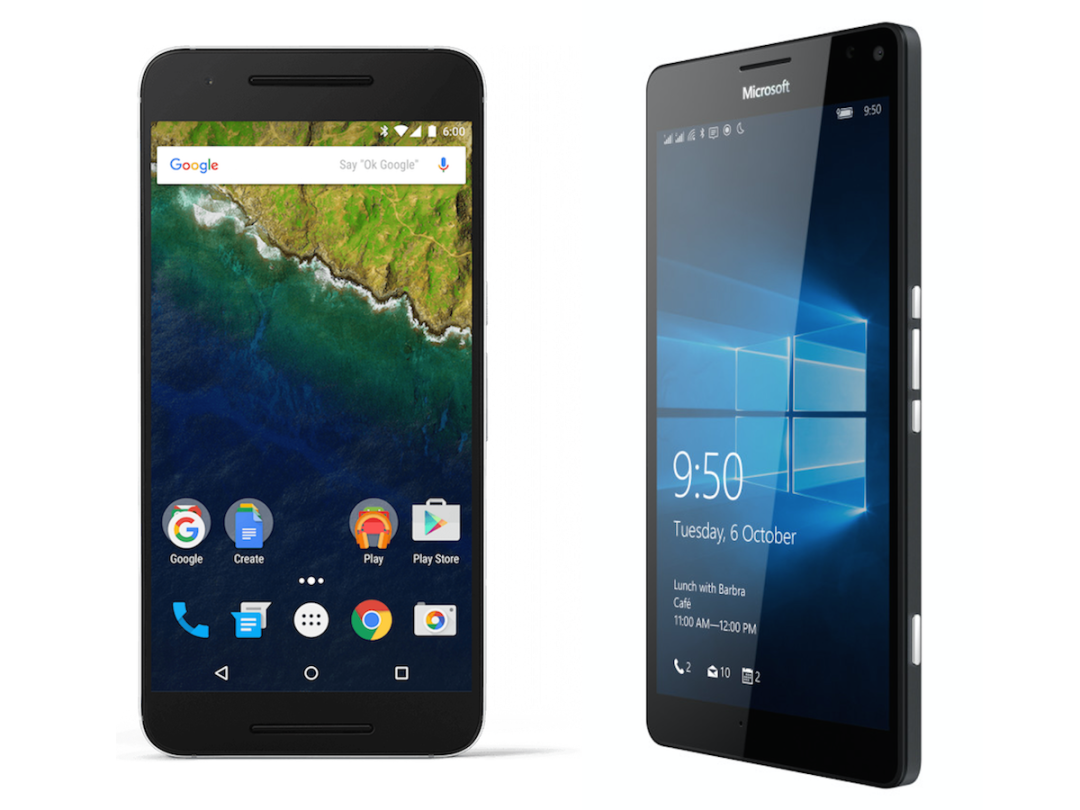 Microsoft hasn't had a truly compelling flagship Windows phone on the market in ages. But here comes the Lumia 950 XL, ready to plead Windows 10's case in the crowded mobile field.
Of course, there's no shortage of Android flagships these days, each one seemingly more feature-packed than the last – but Google's upcoming Nexus 6P, produced by Huawei, still deserves plenty of attention. Between that huge Quad HD screen, sleek metal build, and Android 6.0 Marshmallow out of the box, it seems like it can hang with the big-phone elite.
In one corner, Google's own vision of an Android flagship. In the other, Microsoft's flagship showcase for Windows 10. Both are due out in a matter of weeks, and if you want a big, beautiful phone, surely both will be on your radar. But which has the most upside based on specs? We investigate. 
Design: A nice Nexus
The Lumia 950 and 950 XL might be packing heat with near top-of-the-line specs, but Microsoft hasn't moved the needle much in terms of handset design. Which is to say that the 950 XL looks fine, but it's pretty innocuous. In fact, we'd compare it to a larger, flatter Nexus 5: it'll get the job done, but the hardware doesn't stand out.
By contrast, the Nexus 6P is no rehash of past Nexus designs: it has a distinctive edge, with the first all-metal body in the line, as well as that full-wide camera node and fingerprint sensor on the back. Nexus phones usually don't have the most daring shapes and forms, but at least the 6P has some nice distinguishing elements to set it apart from the pack.
Winner: Nexus 6P
Screen: Fair fight
The Lumia 950 XL has a 5.7in Quad HD, OLED display running at 2560×1440. The Nexus 6P? Also a Quad HD, OLED display running at 2560×1440. So in terms of what's on the spec sheet, we have a couple of very evenly-matched devices here. It's becoming the go-to spec for top-tier big phones, with the Moto X Style and Galaxy Note 5 packing the same size and resolution screens as well.
In use, we'll find out if there's a noticeable different between the screens of the Lumia 950 XL and Nexus 6P. We had a quick hands-on with the Nexus 6P and found its screen a bit oversaturated, but we can't make a firm judgment based on a few minutes ogling a screen at an event. We'll make this call once both are firmly nestled in our hands and/or pockets.
Winner: Draw
Camera: Lovely Lumia?
As we've learned time and again, a larger megapixel count doesn't necessarily mean better photos from a smartphone camera. So we'll resist the urge to pick the larger number and have that be the only deciding factor.
The Lumia 950 XL has a pretty standard-sounding phone camera, albeit with a big number attached: it's a 20-megapixel PureView back shooter, with optical image stabilisation, a triple-LED flash, and ZEISS optics. The Lumia line is long known for having strong cameras and lenses, and even with Microsoft in the driver's seat now, we have a feeling it will be a good one.
Meanwhile, the Nexus 6P tries something a little different. Rather than pop a giant number on the box – it has a 12.4-megapixel sensor, by comparison – the 6P packs larger 1.55 µm pixels, which let more light in and potentially capture better, clearer shots. Considering Lumia's strong track record here, we're inclined to believe the Lumia 950 XL will be a standout shooter, where we don't have that assurance yet with the Nexus 6P. So Microsoft has our nod for now.
Winner: Lumia 950 XL
Performance: Same guts
As with the screen, we're looking at a couple of nearly identical devices in terms of what's inside: both phones pack a Snapdragon 810 processor – quite likely the v2.1 version in both, which reduces the overheating issues with the original release. And both have 3GB RAM to help keep them chugging along without snags.
We'll have to put both through their paces to actually find out which runs more reliably – and operating system has a lot to do with that, as well. But we imagine stock Android and Windows 10 alike will do well with these well-specced handsets.
Winner: Draw
OS: Android vs Windows
With a couple of very similar handsets squaring off here, certainly operating system is going to be the biggest differentiator. And as has long been the case, it's going to be really, really difficult for Windows to hold its own against Android.
Windows 10 may be the ultimate version of Windows, but that doesn't erase the mobile platform's long legacy of lacking popular apps, games, and services. Windows looks great and typically runs really well, even on lower-end phones, but it's a tough OS to recommend due to its poor app ecosystem.
There is one big perk with Windows 10, however: universal apps, which means they'll look and act like they do on your PC, and you can even use the Display Dock with the 950 XL to link it up to a screen and use it like a proper desktop PC. That's an awesome bonus feature that might convince business users and/or frequent travelers to consider a Windows phone. But when using it as a phone, Windows has a fraction of the content found on Android.
And the Nexus 6P is the showcase for the most refined and efficient version of Android to date, Marshmallow. It looks great, runs better, and saves you battery life, plus the Android ecosystem is overflowing with excellent third-party content. Windows has a long way to go to even come close on mobile.
Winner: Nexus 6P
Battery: XL options
Once again, both devices are pretty evenly matched in terms of hardware here. The Nexus 6P has the slightly larger battery pack, rated at 3,450mAh, while the Lumia 950 XL isn't far behind at 3,340mAh. Both charge over USB Type-C, and both have fast charging.
That said, the Lumia 950 XL also has built-in wireless charging and a removable battery, while the Nexus 6P is strictly wired and the battery is firmly stuck within. Cheers to Microsoft for giving its buyers options.
Winner: Lumia 950 XL
Initial verdict
Truth be told, the Lumia 950 XL and Nexus 6P are pretty evenly matched in a lot of ways. Their screens share the same size and resolution, they have the same processor and RAM tally, and even the battery packs are very close in size. But they run two very different operating systems, and that's where the Nexus takes control of this showdown.
Nicely equipped as it may be, the Lumia 950 XL runs into a problem with the poor app ecosystem for mobile Windows, even though that phone makes a strong case for work usage with its universal Windows 10 apps and Display Dock functionality.
But for the average, everyday user, Android has a lot more to offer, and the Nexus 6P may be its best showcase device to date. And at £449 compared to the Lumia 950 XL's ambitious £549 price tag, Google has the advantage on price, as well.