HTC U11 vs Apple iPhone 7: Which is better?
How do HTC and Apple's top-of-the-range phones compare?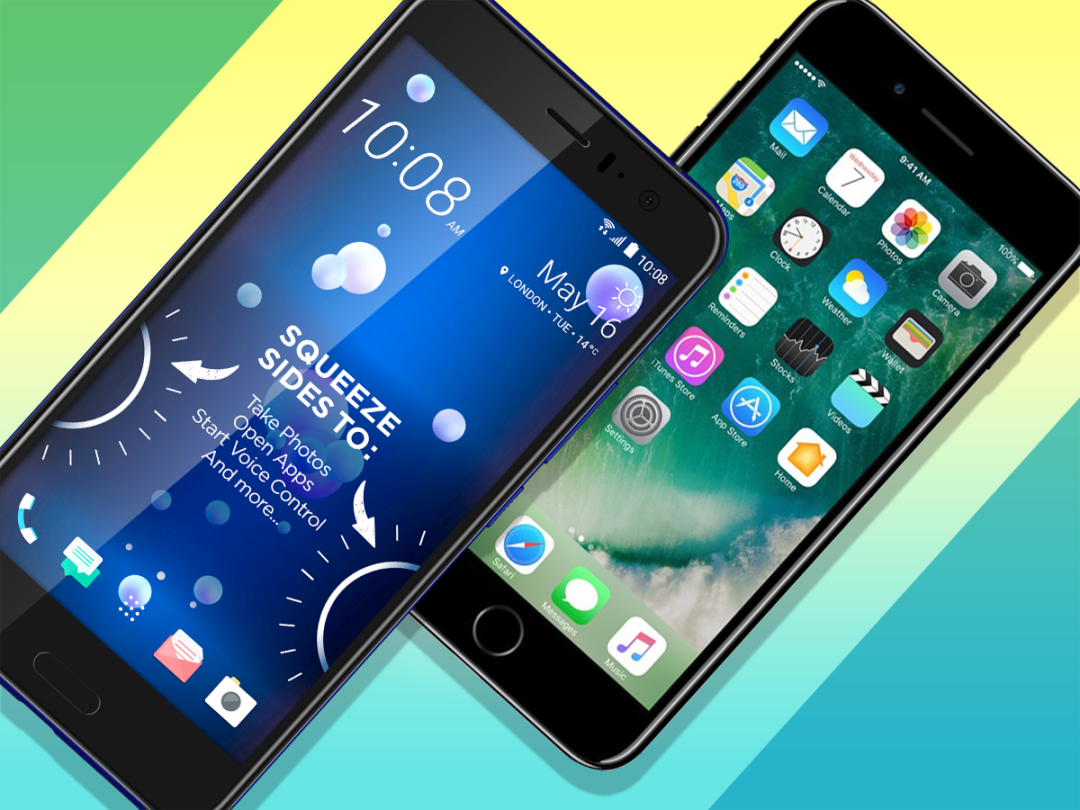 HTC's new flagship phone has arrived in the form of the HTC U11, and it's a lovely slab of glass with a few neat tricks.
Such as? Well, you can give the U11 a squeeze and it'll launch apps or jump straight into selfie mode. It also has Amazon Alexa on board, or at least it will do when an update arrives in July, and it's running on the fastest current Snapdragon processor, the 835.
So how does it shape up against the competition? We've pitched it against Apple's smaller flagship, the iPhone 7, to see which one looks the better bet on paper.
HTC U11 vs Apple iPhone 7: Design
Unlike the HTC M8, M9 and 10 before it, the U11 is mainly made from glass rather than metal. OK, not mainly made from glass – that would be a bit silly – but the whole back is one slab of coloured glass which curves round the sides to meet the metal frame.
That glass is treated with a special finish HTC calls Liquid Surface, and which shimmers and reflects in different ways depending on how you turn it. The result is a phone which, if you go for the Solar Red model, looks red from some angles, gold from others. Amazing Silver can look either purple or blue or, obviously, silver. You get the idea – and it looks amazing.
The iPhone 7, on the other hand, is still very much a metal phone, the design of which hasn't changed substantially since 2014's iPhone 6. It's thin and flat and about as premium looking as any phone, although the effect is rather spoiled by the protruding camera lens on the back and we can't help but feel it's due a bit of a design overhaul.
Both phones have an IP67 rating, which means full protection against water and dust and both have fingerprint sensors beneath the screen which double as home buttons.
Winner: HTC U11
HTC U11 vs Apple iPhone 7: Display
The HTC U11 has a 5.5in IPS LCD screen with a QHD (1440 x 2560) resolution, giving it a pixel density of 538 pixels-per-inch. Last year's HTC 10 only has a 5.2in display, so the U11's had a substantial size upgrade – which in turn bring it in line with most other flagships.
We say 'most', because obviously the iPhone bucks that particular trend: its screen, which is also an IPS LCD affair, measures a mere 4.7in and has a corresponding lowly resolution of 750 x 1334. It also has a much lower pixel density of 326 pixels-per-inch.
The reality, though, is that some people prefer a smaller phone. And even with its "low" 326ppi, you'd have to get your face up pretty close to actually pick out any individual pixels on its screen. Apple seems happy to sit out of the pixel density arms race; it has used essentially the same screen on its flagship phones for the past three generations, which suggests it feels like its screen is where it needs to be.
Is Apple right? That's ultimately up to you, but many people will surely feel that 5in-plus is now the minimum size they'd want in order to get the best from games and video. We're giving this round to the HTC U11, for its extra detail and size.
Winner: HTC U11
HTC U11 vs Apple iPhone 7: Camera
Another category where the raw specs don't tell the whole story, but let's delve into them anyway.
The iPhone 7's rear camera has a 12MP sensor, f/1.8 aperture, optical image stabilisation, phase detection autofocus, HDR, 4K video recording at 30fps and 1080p recording at up to 120fps.
On paper, the HTC U11 should be better. Yes, it also has a 12MP sensor, but it has a slightly faster f/1.7 aperture and it uses slightly bigger 'Ultrapixel' pixels, both of which should help it cope better in low light situations. What's more, its OIS is a technically more advanced 5-axis type and it has electronic image stabilisation too. Finally, it autofocuses using dual-pixel autofocus, which again is a technically more advanced solution than the iPhone's phase-detection method.
Phew! So what all those technical terms add up to is a much better camera on the HTC, right? Well, on balance they do – but we still feel like Apple's phone has the edge in low light conditions, and its speed of operation is zippier. On the other hand, the U11 delivers richly detailed, vividly-coloured images in good light. It's an exceptional camera.
Winner: HTC U11
HTC U11 vs Apple iPhone 7: Performance
The iPhone 7, like all iPhones, comes with a custom-made Apple chip ostensibly designed specifically to deliver the best performance-to-power ratio for the device. Here the chip's the A10 Fusion, with a quad-core CPU and six-core GPU combo, paired up with 2GB of RAM.
That may sound a bit underpowered compared to the HTC U11's 4GB of RAM (6GB in the premium version) and Snapdragon 835 processor (with octa-core CPU), but in our experience iPhones have always punched above their weight when it comes to performance.
We've tested the 4GB U11, and found it more than capable of dealing with anything the Play Store can throw at it; performance is stutter-free and lag-less, with multitasking a joy. The iPhone 7, of course, handles iTunes' apps and games with consummate ease.
In terms of storage space, though, HTC has the edge. The U11 comes with either 64GB or 128GB of built-in storage, plus a card slot for expansion. The iPhone 7 offers 32GB, 128GB and 256GB of built-in storage only.
Winner: HTC U11
HTC U11 vs Apple iPhone 7: Features
The U11 and iPhone 7 have more than a few things in common – like a missing 3.5mm audio port. Apple's phone uses Lightning, while HTC uses USB-C for its bundled in-ear headphones. Both phones include adapters in the box, so you don't have to spend extra just to use your existing in-ears.
It might be worth sticking with HTC's USonic headphones, though – they've got built-in active noise cancellation, which should silence the outside world while you're trying to groove to your tunes. They also beam ultrasound into your ear canals to automatically adjust the EQ to suit your personal hearing levels.
The iPhone makes do with a single speaker, but the U11 has two. HTC's BoomSound speakers make a welcome return here, with an acoustic chamber design that uses empty space between the components inside the phone to make it louder than its rivals. Basically, it'll drown out an iPhone, and save you from having to hook up a Bluetooth speaker when you want to listen without headphones.
Let's not forget those squeezy sides, either. The U11 has touch-sensitive side panels that act as shortcut keys, letting you jump into and control apps without using the touchscreen. Handy when the display is wet, or you're wearing gloves – but having spent a few weeks using it, it hasn't changed our handset habits, being instead a neat feature that we occasionally value. You could say the same of the iPhone 7's Force Touch, of course.
HTC has added Android 7 Nougat, the latest and greatest version of Google's mobile OS, while the iPhone 7 runs iOS 10. This is a bit like comparing apples and oranges – each has its good points and bad points, and which one you prefer is very much down to personal taste.
Winner: HTC U11
HTC U11 vs Apple iPhone 7: Verdict
On paper, the HTC U11 absolutely spanks the iPhone 7. It's packing more powerful hardware, has a more eye-catching design, superior screen and a higher quality camera. It's the clear winner in each of our categories.
Is this enough to have iPhone owners chomping at the bit to upgrade to an HTC? Some perhaps, but we suspect brand loyalty will have many waiting to see what the upcoming iPhone 8 has to offer before switching sides.
Then there's the whole iOS vs Android debate, and whether you're a fan of big-screen phones or prefer Apple's more pocket-friendly size.
Either way, HTC has an absolute corker of a phone here – one that we believe has the edge over the iPhone 7.
Overall winner: HTC U11
Buy the HTC U11 SIM free here from Amazon (UK) | Amazon (USA)