Huawei Mate 10 Pro vs Google Pixel 2 XL: Which is best?
Google's new phablet is fab, but does Huawei's latest Mate take it down?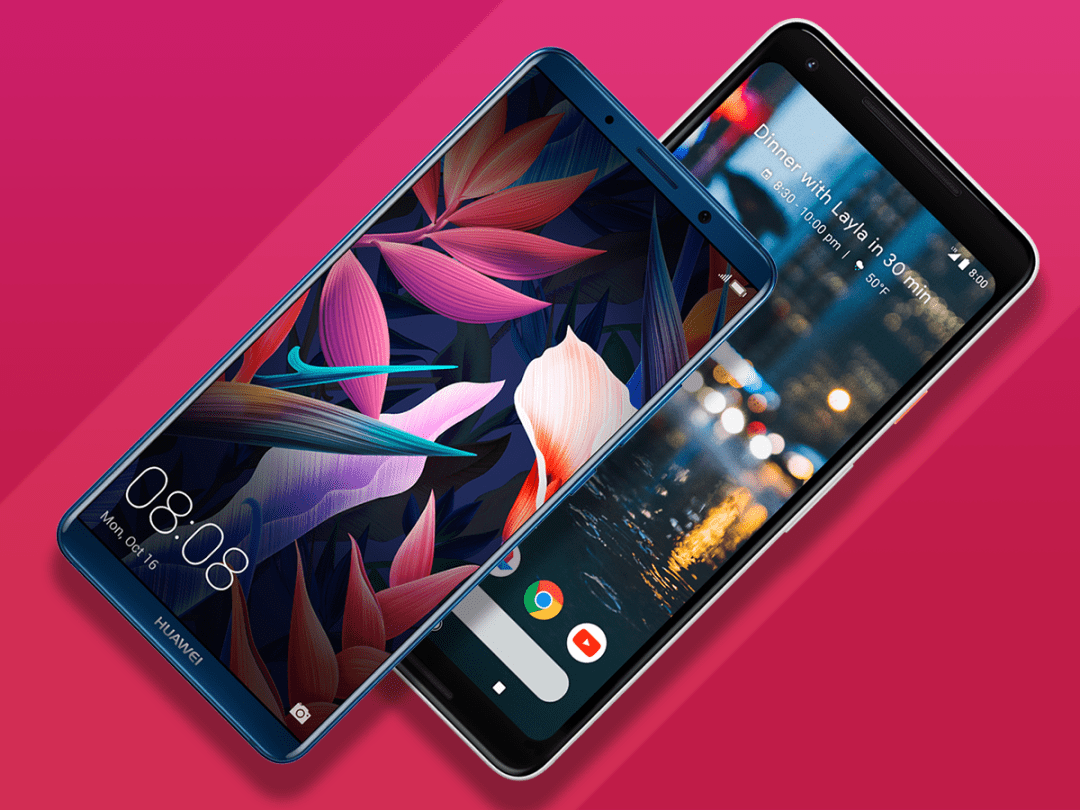 If you're planning to pick up a sweet new Android flagship soon, then chances are good you have Google's Pixel 2 XL in your sights. But there's another fresh contender that you might not have considered.
The Huawei Mate 10 Pro matches up well with the Pixel 2 XL on some counts, including design and capabilities, although there are some key details that vary between the two. Both will undoubtedly give you a top-of-the-line Android experience, but which better deserves the £700-800 you'll spend to get it?
Here's our final take, now that we've reviewed both of these large-and-in-charge Androids.
Design: All screen
At first glance, you might be hard-pressed to tell these phones apart.
They're very similar from the front: large screen, bit of bezel, nothing else. The Mate 10 Pro keeps its pointy screen corners and offers very little bezel on the right or left, although it has slivers on the top and bottom. And an eyesore of a company logo on the bottom.
Meanwhile, the Pixel 2 XL stylishly rounds off the display's corners but then has a fair bit more bezel on the sides along with the top and bottom. It feels larger than it needs to be, to be quite honest.
And when you flip it around, the two-tone aesthetic with the glass cut-out on top is a bit more alluring than the Mate 10 Pro's glass-atop-aluminum backing. The Mate's curved glass is a bit slippery, too.
We were keen on the Pixel 2 XL's design at first, but the more time we spent with it, the more we felt like Google didn't do enough to make it as polished and alluring as it could be. The Mate 10 Pro treads familiar ground, but it does so with a bit of flash.
Winner: Huawei Mate 10 Pro
Screen: Bit lacking, Mate
And as for the screens found on those familiar faces, there are similarities here as well. They're both taller-than-normal (18:9) 6in OLED displays that are both plenty appealing, but there's one key difference.
It's the resolution. The Pixel XL 2 keeps with the Android flagship trend of a Quad HD panel at 2880×1440, while the Mate 10 Pro dips into 1080p territory with a 2160×1080 display. The 6in 1080p panel still looks pretty sharp, and it has HDR10 support, but the Pixel 2 XL has a win with its resolution boost. It's one of the best screens around today.
Winner: Google Pixel XL 2
Camera: Pixel-packed shots
The original Pixel's camera was an industry-beater, and the Pixel 2 XL makes further improvements. It still has a single 12-megapixel back camera (now at a wider f/1.8 aperture) with phase detect and laser autofocus, but what it lacks in dual-camera tricks it more than makes up for with speedy shots and incredible results.
Google's image processing abilities ensure strong photos. Like the Samsung Galaxy S8, it snags multiple shots and then swiftly stitches them all together, leaving you with a finished product that should be as good as any you'll find from a phone today. No matter the lighting conditions, you're likely to get something great when you tap the shutter button.
And what about the Mate 10 Pro? Well, it has a few tricks up its own sleeves. It sticks with the same kind of dual-camera approach as the Huawei P10 and P10 Plus, with a 12MP main sensor and 20MP monochromatic sensor alongside – both now with f/1.6 lenses to grab extra light.
Thanks to the phone's A.I. skills, the camera quickly focuses on whatever you're shooting and adjusts accordingly, and we consistently pulled excellent shots in our testing. We'd say the Mate 10 Pro has one of the top smartphone cameras on the market today, and while we haven't done a recent shootout comparison between the latest and greatest handsets, it's definitely up there.
But the Pixel 2 XL is just a smidge better than anything else out there right now – except for the standard Pixel 2, that is. (They're equals.)
Winner: Google Pixel 2 XL
Performance: Oreo delights
Google admittedly surprised us by using six-month-old silicon in the Pixel 2 XL, sticking with the Qualcomm Snapdragon 835 instead of something newer. It's still one of the fastest chips on the market, of course, but with powerhouses like Samsung and LG likely readying new spring Android flagships, it'll probably be outdated before too long.
Still, it's plenty spritely on the Pixel 2 XL with 4GB RAM alongside, and having stock Android 8.0 Oreo onboard assures that it's super fast. We didn't run into any big hitches or snags during our review testing, whether it was when multitasking or calling upon the Google Assistant. Everything was crazy quick, as anticipated.
On the other hand, the Huawei Mate 10 Pro bumps up to the company's new Kirin 970 chip, which is a step ahead of the previous Kirin 960 – which was almost on par with other current Android leaders. With a neural processing unit within for A.I. needs, it's a speed demon, especially with 6GB RAM here. And with machine learning adapting to your usage over time, it could feel even faster in the future.
The Mate 10 will also have Oreo onboard, albeit with the EMUI 8.0 skin – not one of our favourites, traditionally, but it's fine here. Ultimately, the Kirin 970 compares well to the Snapdragon 835 in benchmark testing, and speed and performance in day-to-day usage on these phones is comparable. We're calling it a draw.
Winner: Draw
Battery and perks: All day and more
At 4,000mAh, the Mate 10 Pro battery pack is above and beyond most flagship phones – and that's with a lower-resolution 1080p screen to power, to boot. Meanwhile, the Pixel 2 XL has a more than respectable 3,520mAh battery, albeit with a power-sucking Quad HD panel inside.
In our testing, though, we found the Pixel 2 XL's battery more than capable: it lasted a full day of heavy usage, still leaving us with about a third of its lifespan left by nighttime. That's on par with Samsung's Galaxy S8 Plus and ahead of the OnePlus 5. But the Mate 10 Pro still tops it, delivering a stronger remaining cache of battery life at the end of a heavy day, while lighter users could well pull two solid days out of a single charge. It's that impressive.
As for storage, neither is expandable. You'll get 128GB with the Mate 10 Pro, or your choice of 64GB or 128GB on the Pixel 2 XL.
When it comes to other perks, the Pixel 2 XL has a pair of notable ones. First is Daydream VR, which offers apps and games that are a far step above Google Cardboard, albeit not nearly on the level of the Rift or Vive. And then there are the Active Edge pressure-sensitive sides, which lets you access the Google Assistant anytime with a squeeze.
We suspect more people will get use out of both of those than the Mate 10 Pro's desktop mode, which lets you plug in an external monitor and pair a Bluetooth keyboard for a PC-like experience wherever you are. That'll be handy for some folks, but probably very few overall.
With a potential edge on battery life and more storage in the base model, though, we're giving this category to the Mate 10 Pro. The other bits are relatively minor perks.
Winner: Huawei Mate 10 Pro
Verdict: It's close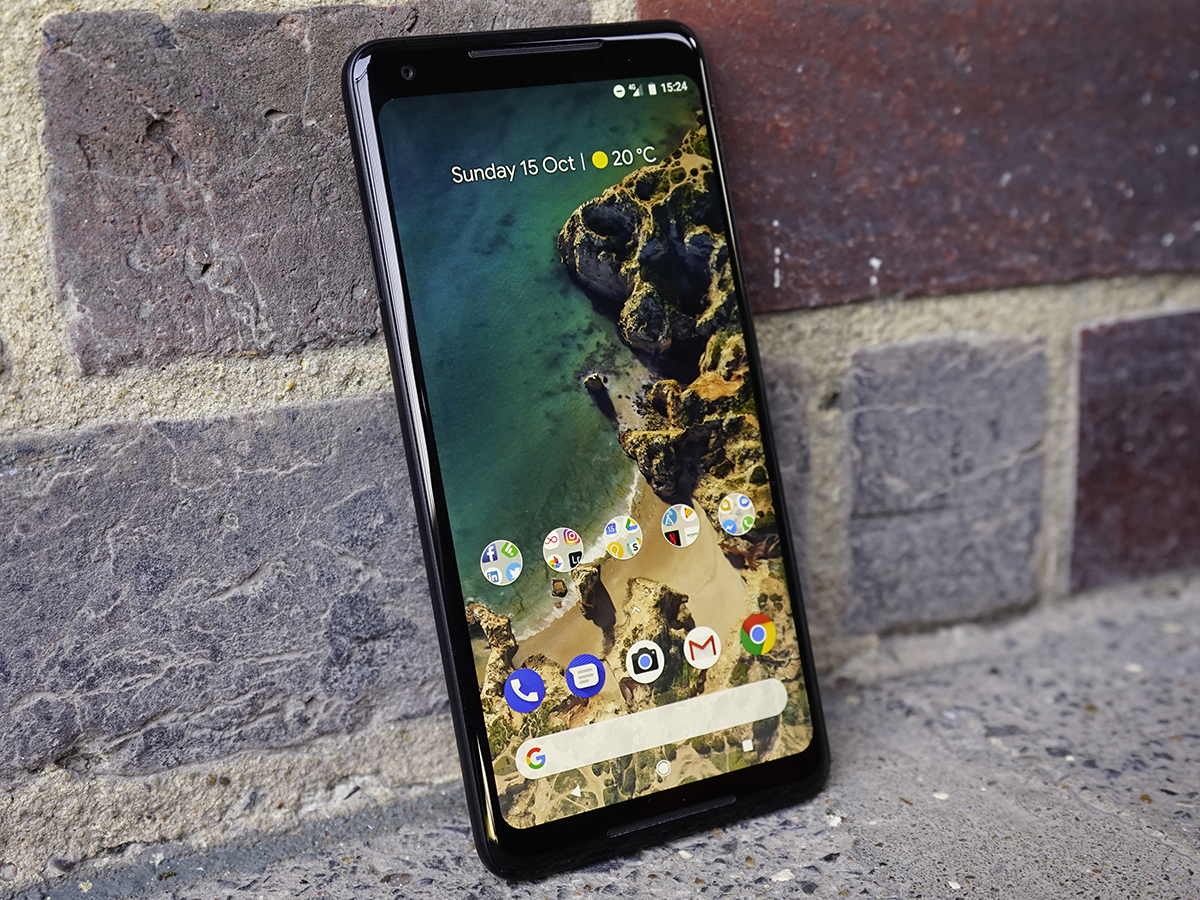 As our updated list of the world's best smartphones shows, the Google Pixel 2 XL (#2) ranks quite a bit higher than the Huawei Mate 10 Pro (#8), and our recommendation follows suit: if we're picking our favourite of these, we'd take the Pixel 2 XL.
But there's a bit more nuance worth exploring here. The Mate takes the slightest edge on design, while the Pixel comes ahead on screen quality and camera prowess. They're about even when it comes to performance, while the battery life and greater starting storage of the Huawei are well worth noting.
Overall, we're a bit more impressed by the Pixel 2 XL: it feels more like a top-end flagship through and through, with plenty of best-in-class components, while the Mate 10 Pro's biggest standout feature is battery life. But you'll pay for those Pixel perks: £100 more, to be exact, thanks to the Pixel's £799 price over the £699 asking cost of the Mate 10 Pro.
That might sway you towards Huawei's cause here, and in that case, more power to you: it's an excellent phone. But if you want a well-rounded, top-of-the-line flagship that doesn't look like a knockoff Galaxy S8, the Pixel 2 XL is tough to beat.
On the other hand, both the Galaxy S8 and Galaxy S8 Plus can be found cheaper than the Mate these days, and we'd recommend both over any other phone today. So that's an option, too.
Winner: Google Pixel 2 XL