Huawei Mate 10 Pro vs Samsung Galaxy S8 Plus: Which is best?
Does the latest Pro-level Mate take Samsung's big-phone throne?
Nobody is making stylish, high-end phones quite like Samsung right now, although Apple's iPhone X and Google's Pixel 2 XL are trying mightily to take the crown away from the Galaxy S8 and Galaxy S8 Plus.
And here's another big contender: Huawei's Mate 10 Pro. Last year's Mate 9 Pro looked strikingly like a Galaxy S7 Edge, but this year's edition embraces the extra-tall screen trend and sheds quite a bit of bezel accordingly.
By and large, it keeps with the large flagship standards with some tweaks, going big in some areas while paring down in others. All told, if you're looking for a top-end phone with a huge screen, is the Mate 10 Pro really worth considering over the Galaxy S8 Plus?
Now that we've completed our Mate 10 Pro review, here's how this battle shakes out.
Design: Aping Samsung's style
Like the Galaxy S8, Pixel 2 XL, and LG G6, the Mate 10 Pro has embraced a nearly all-screen face with less bezel all around. It's a little flashier than the surprisingly straightforward Pixel 2 XL from the front, but not quite on the level of Samsung. And the tiny Huawei logo below the screen is a bit of an eyesore. Are we really still doing front-facing branding in 2017?
Actually, they look rather similar at a glance. But Samsung did it first, and the Galaxy S8 Plus is still the leader of the design pack here. The Infinity Display takes up 85% of the face, which means there's barely any bezel at all around the curved screen and just a bit on the top and bottom, which artfully blend in well with the display.
Both of these glass-and-metal phones look and feel plenty premium, but the Galaxy has more style with its little flourishes, including the rounded edges on the top and bottom and the curved display.
Winner: Samsung Galaxy S8 Plus
Screen: A clear decision
Samsung's Galaxy flagships consistently boast the best-looking screens on the market, and that's definitely been the case again with the Galaxy S8, S8 Plus, and Galaxy Note 8. They're absolutely stunning Quad HD AMOLED displays at a taller-than-average 18.5:9 aspect ratio, and the S8 Plus does it at 6.2in (2960×1440) without feeling too overwhelming in size thanks to the dimensions.
Meanwhile, the Mate 10 Pro goes for a 6in panel at a close 18:9 aspect ratio, also AMOLED, but there's a key difference here: it's only a 1080p panel at 2160×1080. That's fine, certainly, but there's a slight degradation in clarity compared to the pixel-packed Galaxy S8 Plus screen. It's still a very nice display, but sharper really is better here.
Winner: Samsung Galaxy S8 Plus
Camera: One or both?
With the Mate 10 Pro, Huawei stuck with the pairing of a 12-megapixel main sensor and 20MP monochrome sensor from the great P10 and even better P10 Plus, albeit now with f/1.6 aperture lenses for both.
That tweak lets in extra light and makes for much better low-light results, and only the LG V30 matches it on that front. It also has phase detection and laser autofocus, and everything seemed super speedy in our usage – thanks in part to an A.I. assist that recognises what you point at and adjusts accordingly to ensure the best possible shot. Snapping a picture of a dog, or maybe your dinner? The Mate 10 Pro can figure that out with its A.I. smarts.
As with the P10 models, the results can look a bit overly processed at times, but whether you like that or not is up to your own preference. By and large, though, it takes excellent photos.
Samsung also has one of the best smartphone snappers in the world right now with the Galaxy S8 Plus – but not the best, as we decided in August and have since declared anew with the Pixel 2 and Pixel 2 XL. It's a single 12MP shooter on the back with a f/1.7 aperture lens, optical image stabilisation, and dual-pixel autofocus, plus some crafty processing to help you snag brilliant shots.
Thanks to multi-frame image processing, the phone can take a trio of snaps with a single tap, and then immediately blend them to give you one brilliant result without delay. Great contrast and colouring ensure that images stay true-to-life here.
Both phones turn out pretty fantastic shots most of the time, but neither stands tall as the absolute best on the market right now. We haven't had a chance to get these phones into a proper shootout just yet, but for now, we're calling it a draw – you'll do well with either of these.
Winner: Draw
Performance: Speed demons
The Galaxy S8 Plus is already one of the speediest phones on the market, and the Mate 10 Pro is at least on the same level. And it might prove faster over time.
Samsung is using its own Exynos 8895 chip in many territories or the Qualcomm Snapdragon 835 in others (with 4GB RAM either way), and both are top-of-the-line in the Android world. Meanwhile, the Mate 10 Pro uses Huawei's new Kirin 970 CPU that packs a punch over the previous version, with 6GB RAM to help speed things along.
The Mate 10 Pro also comes with a Neural Processing Unit (NPU) that helps automate some tasks, such as turning on the low-light mode and doing near-real-time language translation. It also uses machine learning to speed up processes the more you use the device, so it's possible that the phone will feel faster over time instead of bogged down and slower.
Still, there's no obvious difference in performance between these two: they're two of the fastest Androids around.
Winner: Draw
Battery and perks: Bit of a mix
What do you get when a phone has a lower-resolution screen and a larger battery cell inside? More battery life – and that could help nudge some folks towards the Mate 10 Pro over the Galaxy S8 Plus.
With a 1080p screen and 4,000mAh battery pack, the Mate 10 Pro squeeze at least few more hours out of a charge than the Galaxy S8 Plus, with its 3,500mAh battery and Quad HD display. The S8 Plus can already last a full day of pretty heavy usage without a top-up, but the Mate 10 Pro can go even longer – and lighter users might be able to get two days out of it. That's wonderful.
Both phones offer fast charging, however the Mate 10 Pro lacks wireless charging.
When it comes to storage, though, the Galaxy S8 Plus has the obvious overall advantage. It comes with half the built-in storage, with 64GB vs 128GB in the Mate 10 Pro, but the Galaxy has a microSD slot for cheap, expandable storage. The Mate 10 Pro doesn't, so you're stuck with the starting cache.
Samsung also gets a nod for Gear VR headset support, which is something the Mate 10 Pro doesn't have an equivalent for, although mobile VR might not be for everyone. It's pretty entertaining, though.
Both Samsung and Huawei have the ability to use the phone as the brain of a desktop-like computing experience: you'll need to buy the DeX Station dock for the Galaxy, while the Mate 10 Pro just uses a USB-C-to-HDMI cable with a wireless Bluetooth keyboard. The DeX Station was a bit underwhelming, but Samsung has been updating the experience. Likewise, the Mate 10 Pro's mode is pretty limited, so neither of these is a huge benefit.
Bit of a mixed bag in this category, really. If you're big on battery life, then the Mate 10 Pro has an advantage with its beefier battery pack. On the other hand, the Galaxy S8 Plus offers the option for more storage via microSD cards, plus it has Gear VR support.
Which seems more appealing to you? Go with that one. We're split.
Winner: Draw
Verdict: We say S8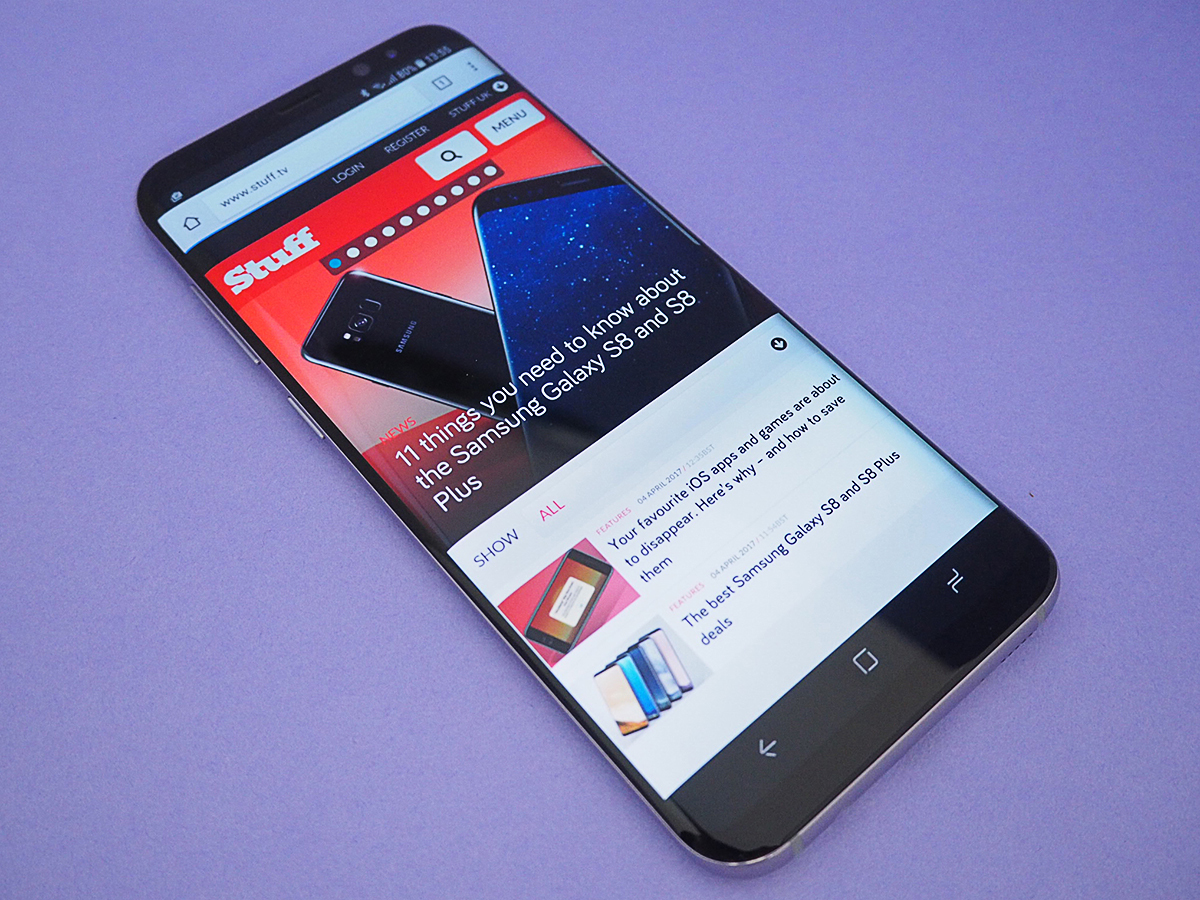 It's a close call, and Huawei can take that as a statement of praise – because the Galaxy S8 Plus is an incredibly tough phone to beat. Samsung has the slight edge on design here, and it has the higher-resolution screen.
Meanwhile, when it comes to camera quality and processing power, they're close enough in our book, while you'll have to decide between battery life and expandable storage as the bigger perk.
And when it comes to price, Huawei doesn't appear to have any advantage here. At £699, it's a pricey handset, but still cheaper than the Galaxy S8 Plus started out at in the UK (£779). But nowadays, you'll find the S8 Plus for £670 or less if you shop around.
For our money, the Galaxy S8 Plus is the best phone you can buy right now (alongside the standard Galaxy S8), and while the Mate 10 Pro is very close in overall quality, it doesn't have quite the same allure or freshness.
Since you can also find the S8 Plus for less money, well, it's a pretty easy nod in Samsung's direction for us.
Winner: Samsung Galaxy S8 Plus