iNew V3 hands-on review: cheap quad-core thrills
We wrap our hands around a 5in quad-core smartphone that'll only set you back £115
A few years ago we wouldn't have put any faith into an unknown Chinese-manufactured smartphone, but in the words of a certain Mr. Dylan: the times, they are a changin'.
Take the Oppo N1 and N7 for example. The former earned a well-deserved five stars in our in-depth review, while the latter has blown the collective mind of the gadget world with its amazing 5.5in 2K (that's higher-than-hi-def) screen.
iNew Mobile's V3 handset is another Chinese-made phone which talks big on paper, with a price that's firmly in Moto G territory.
With quad-core insides, a 13MP camera and dual SIM slots – all for just £115 – it's hard not to be tempted. But what is the V3 like in the flesh?
Pleasant plastic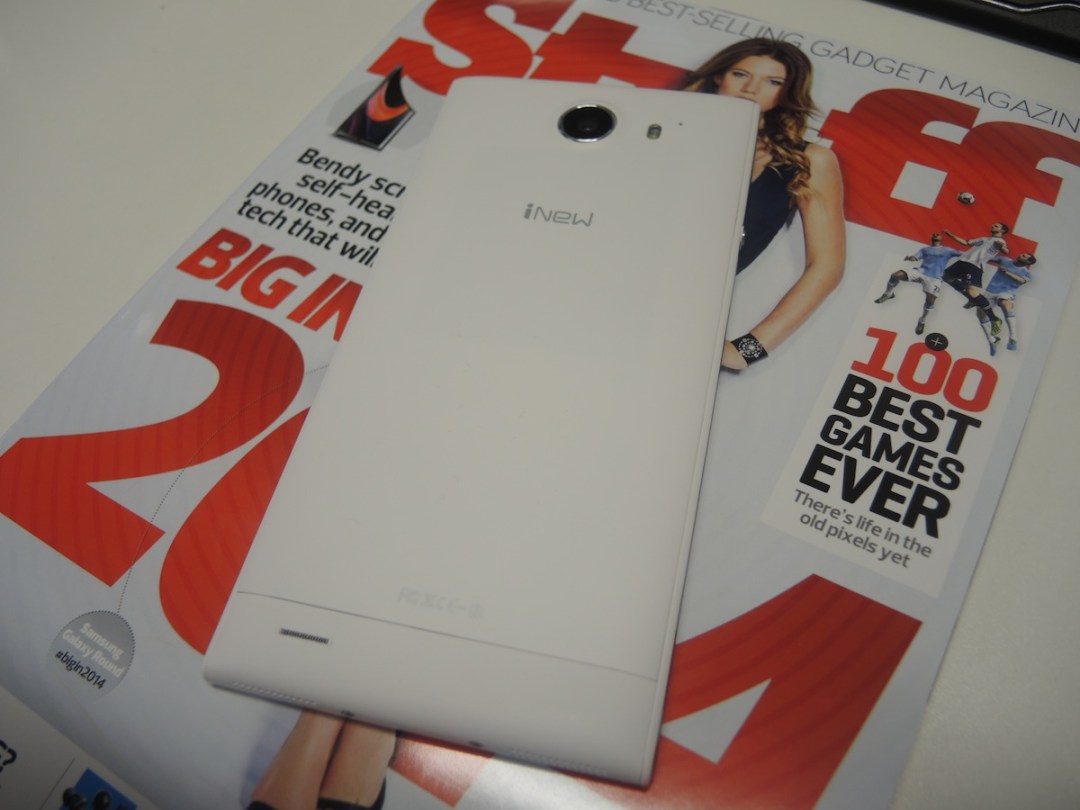 Despite its all-plastic build, the iNew V3 doesn't feel cheap in the hands. It's not quite as thin as the billed 6.5mm, but at 7mm, it's definitely not going to stretch out your pockets. It still manages to be thinner than an iPhone 5s, which is no mean feat.
We like the way the rear cover wraps around the front and bottom, and its Xperia-inspired power button is a nice touch too.
A removable battery, dual SIM slot and microSD slot for expandable storage are all revealed once the thin battery cover is popped off.
Our favourite aspect of the V3's design is it capacitive Android navigation buttons, and we really like the glowing LED light slit which acts as the Home button.
Overall it looks far better than you'd expect and does a decent job of standing out from the crowd.
HD Ready
The V3's screen isn't exactly packed with pixels. Its 720p resolution is stretched out over five inches, and while it's perfectly useable, you'll notice a lack of sharpness if your eyes have been spoiled by full HD displays.
We found the app icons to be a little pixellated, which is a shame because the screen is bright with decent viewing angles. The actual wallpaper itself looks much sharper though, so it could just be a case of updating the OS with higher resolution icons.
Colours are a little washed out compared to other Android phones, but it's not as bad as the ones on the original Xperia Z.
Camera
The V3 has a 13MP camera which takes decent pictures. Although we haven't compared them in detail with other smartphone shots on the big screen, it more than meets the requirements for uploading shots to Facebook.
It also has multi angle image mode which lets you snap pictures around an object, letting you move around it post-shot.
Power
The iNew V3 is packing a 1.3GHz quad-core MediaTek processor, and while it's not the same calibre as a slice of Snapdragon silicon, apps and games ran smoothly during our brief time with it, though we did notice a little occasional sluggishness when switching between apps.
It is let down by only 1GB of RAM however, which might put off gadgeteers looking for a little future proofing. Still, at this price point, there's not a lot to complain about.
The V3 also supports gesture-controlled shortcuts, allowing you to wave your hand across the screen to open up the camera, or another app of your choice, depending on the direction you wave.
In practice it's impressive when it works, but we were left waving our hands with no response on more than one occasion. We're told that this is due to the firmware that our model has on it, so it should be fixed with an update.
Initial Verdict
There's plenty to like about the iNew V3, and its build is actually a lot nicer than a budget Chinese smartphone has any right to be.
Yes, its screen isn't full HD, and it's not the strongest smartphone at the benchmark gym, but it's not aimed at hardcore power users. You could do a whole lot worse at this price, and it could be left-field option to consider if the Moto G's 4.5in screen is a little too small for you.
Update: The £115 price tag is from iNew's Chinese site, which does not include shipping and tax charges. You can however buy the iNew V3 from inewmobile.co.uk for £150.
READ MORE: Motorola Moto G review