The lean, the mean & the green: three electric supercars put to the test
Stuff's steeliest pilots whizz from coast to coast to find out which of the new eco-supercars is the most future-friendly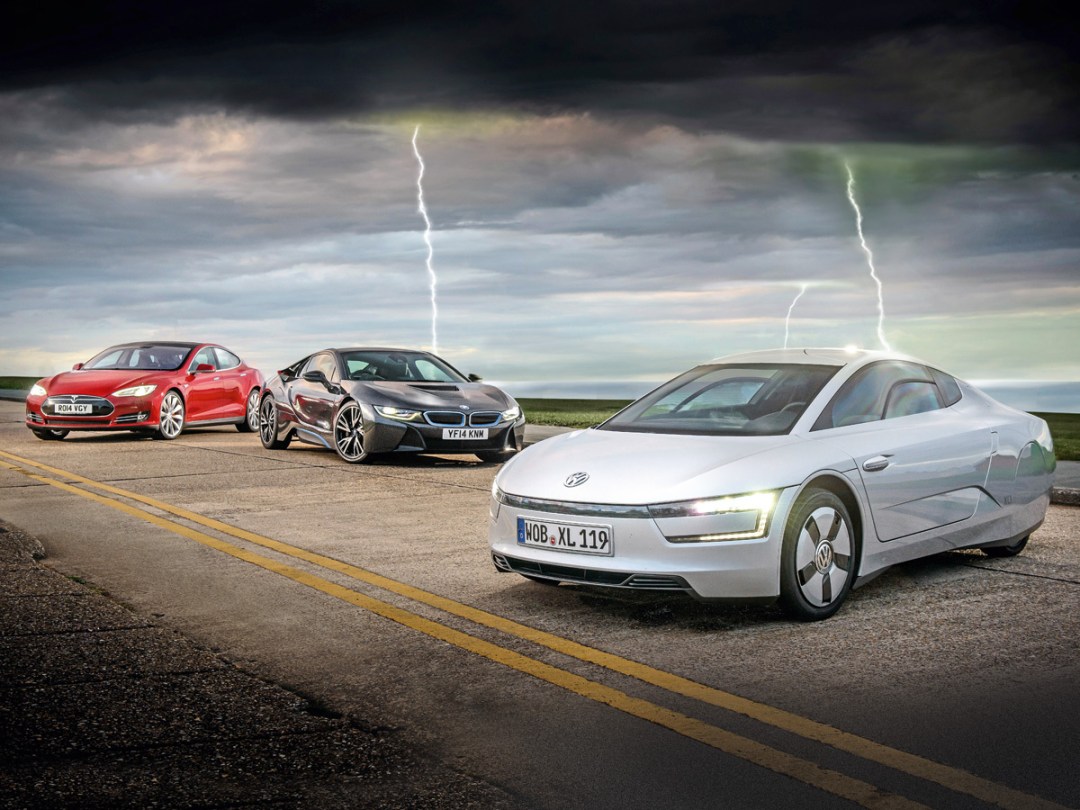 It began as a noble endeavour: drive three practical electric cars from coast to coast, and put everyone's range anxiety at ease.
Then we looked at which cars to take, and we realised we didn't just want to save the planet: we wanted to zoom around it in a fleet of next-gen dream machines that outpace their old gas-guzzling forebears on a whiff of petrol and a gulp of lightning.
So, we rounded up three different approaches to the eco supercar – the BMW i8 hybrid supercar, Volkswagen's retro-futuristic XL1 hybrid and the all-electric Tesla Model S – for a low-carbon cruise across England's middle.
START
Weston-super-Mare, birthplace of John Cleese (whose family name was originally Cheese) and gateway to the Bristol Channel.
Stop 1
Cheddar Gorge, birthplace of actual cheese and a number of goats. The goats seemed particularly interested in nibbling the white paint from the middle of the road.
Stop 2
Tilshead, on Salisbury Plain. Londis sandwiches all round.
Stop 3
Clacket Lane Services, M25, home to a high-voltage charging point that put enough sparks in the Tesla to take it all the way to Whitstable.
FINISH
Whitstable: oysters (hmm…), fish and chips (better!) and England's largest village green.
Tesla Model S P85 (£69,000)
The i8 and XL1 are cheat cars. They'll run forever because they run on petrol. Admittedly a much smaller amount of petrol than the average car, but everyone knows petrol's going to cost £450 per teaspoon soon. When that happens, batteries will be the only way to power your car, and the i8 and XL1 have got about as much battery power as a Sony Walkman.
It's a big 'un
The Tesla's different. This thing has a massive 85kWh battery that it reckons is good for 312 miles. It may look less radical than the other two, but underneath it's a technological marvel, and arguably represents the true future of motoring.
And boy is it big. Nerve-rackingly so when your first experience of it involves the close confines of the labyrinthine Westfield. The 720p feed from the parking camera that's fed to the ginormous screen in the centre console does come in handy for reversing, though.
Practical but powerful
When the challenge started I had 300-odd miles in the 'tank', and by our first stop in Cheddar I was totally in love with the Model S. Yes, it's practical (a boot in the boot and in the bonnet, plus loads of legroom) and yes, it's gizmo-tastic (it's all touchscreen-controlled, from the panoramic roof to the suspension height, steering weight and an absolutely humongous Google Maps-powered sat-nav), but it's also insanely, giggle-inducingly fast. Faster than the i8, in fact. And this is immediate power. No delay for the car to decide how it's going to hook up two different motors to most effectively deliver the acceleration, just all the power you could possibly require the moment you put your foot down.
I thought I'd miss the noise of an engine, but there's something just as exciting about that burst of speed being accompanied by near-silence – it's like the Starship Enterprise entering warp, and what could b≤e more awesome than that?
Onwards to the winding roads of Salisbury Plain, and the Tesla proves to be pretty darn chuckable for a car so big and heavy. You can't throw it into corners quite the same way you can the lithe little i8, but there's still more than enough grip to take them far quicker than you probably should. And you can fit a Tom Wiggins in the bonnet – something we genuinely did while photographing our motors.
Quick pit stop
I'd avoided using the air-con, but had otherwise driven the Tesla like the frustrated racing driver I am so far, yet the readout was telling me I had enough juice left to make it the rest of the way to Whitstable. Just. Before risking it I did a little research on zap-map.com, only to discover that Whitstable doesn't have a single electric car charger (seriously, Whitstable, sort it out).
Now I like Whitstable a lot, but I didn't fancy being stranded there in a totally dead car, so it was with some reluctance that I had to insist the convoy stop at Clacket Lane Services for a little power-up. Thankfully this meant I had the range to complete the journey and get home again after a 50-minute break – plenty of time for a really rubbish Costa Coffee experience.

A car for the future
By the end of our challenge I was still in love with the Model S, but there was no escaping that I'd been challenged more than the other two. Sure, for 360 days a year the Tesla's range would be way more than I needed and I could just charge it overnight, but I occasionally enjoy a drive to Devon, Wales or Scotland, and I'm the type to find nothing other than depression at motorway services.
That's why I wouldn't buy a Tesla now. Next year there will be 23 Superchargers in the UK, and they can pump in 170 miles' worth of charge in 30 minutes. That's when I'd buy a Tesla. If I could actually afford it.
Tech specs: Power: 85kWh battery • Top speed: 130mph, 0-60mph in 4.2 seconds • Weight: 2100kg • Claimed fuel efficiency: infinite (but a 312-mile range per charge)
Volkswagen XL1 (£98,000)
Choosing a Tesla or an i8 for this challenge is like using a fork to eat a bowl of soup: frustrating and wasteful. That's why I parked my behind into the driver's seat of the VW XL1 – a concept come to life that Volkswagen claims is the most fuel-efficient hybrid available. How could I possibly be beaten?
Cut 'n' shut
The XL1 looks like two cars stuck together. I like to think the squared-off rear end makes it look like Ferrari's 'Breadvan' 250 GT but in all honesty it's probably more like a futuristic hearse, albeit one with only enough space for a generously sized dog.
It accelerates a bit like one too (a hearse, not a dead dog) but with everything about it designed to reduce drag and extend its range – from the covered rear wheels and compressed cardboard interior to the lack of power steering – the XL1 is clearly all about efficiency, not power or luxury. It even eschews airflow-disrupting wing mirrors for cameras. Only the i8's head-up display is more sci-fi than that.
Cheddar Gorge-ous
Don't get me wrong, the XL1 is by no means a chore to drive. Setting off from Weston-super-Mare in all-electric mode, I quietly nipped through early morning traffic following the built-in Garmin's guidance towards Cheddar, gradually getting used to the Tarmac-scraping driving position, slight lack of rear visibility and increased attention from camera phones.