LG G6 vs Apple iPhone 7
Apple's best phone to date… or LG's bounce-back flagship?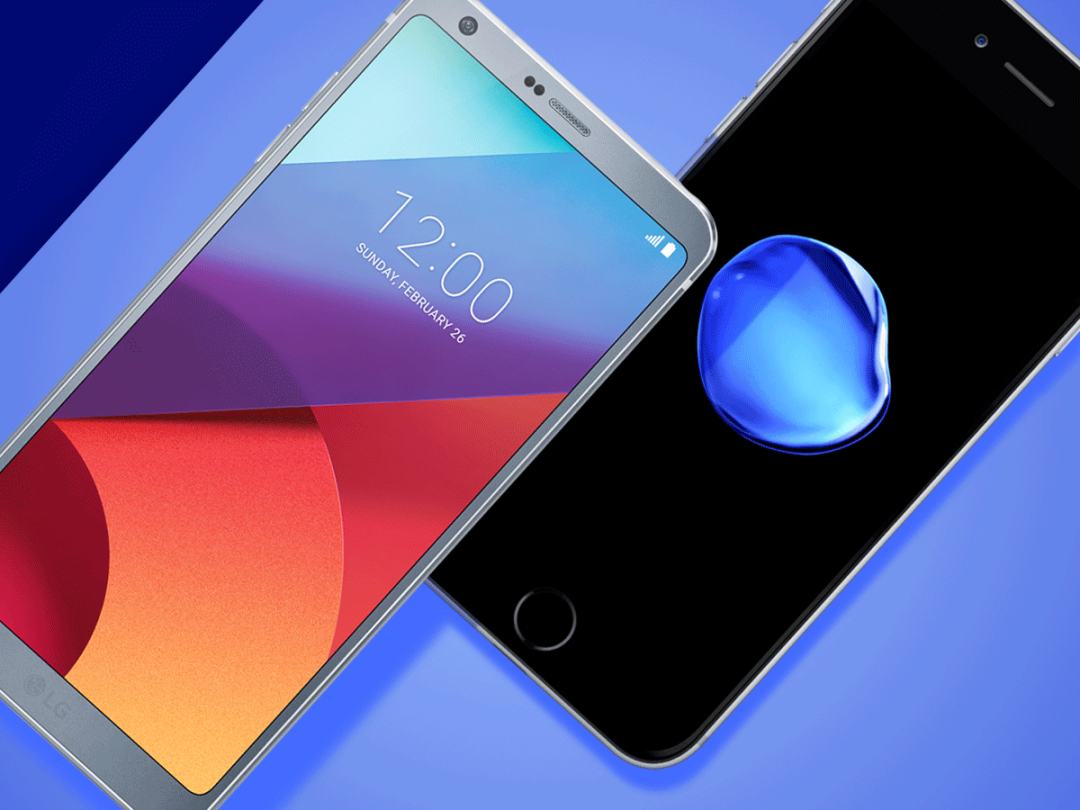 Apple has used the same core design for the last three mainline iPhone models, with last autumn's iPhone 7 delivering the ultimate version to date.
LG hasn't followed quite the same approach. The LG G5 scrapped the G4's more traditional design for one with modular, snap-on accessories, but while there were good ideas in the mix, it didn't catch on – and the G5 wasn't better than the top competition on either the Android or iOS side of things.
Luckily, the LG G6 is a much stronger effort. Ditching the modular trend, the G6 is just a straight-up slab of wonderphone, with a big and bold (and extra-tall) screen, appealing design, and plenty of power within.
The LG G6 is a strong contender against even the stunning Samsung Galaxy S8 that's releasing soon, but how does it stack up compared to the iPhone 7? Here's what we think.
Design: Fresh vs familiar
The iPhone 7 implements some nice tweaks to the existing iPhone 6/6s design, whether it's making the antenna likes less obvious, changing up the home button, or adding some appealing black colour options (and now red, too). But at a glance, it's the very same phone that Apple has peddled for three editions now. At least water resistance is a great benefit this time around.
On the other hand, LG has emerged from its modular phase with a really attractive and fresh-feeling device, highlighted by that screen-dominated front. Contrast that to the still-bezel-loaded iPhone design, which is fine but also pretty unexciting at this point.
The LG G6 is heavy on glass and metal, plus it looks and feels super premium and plenty luxurious. The curvy Galaxy S8 can't help but overshadow the G6 a bit, but this battle against the iPhone 7 is much more easily won.
Winner: LG G6
Screen: Not very close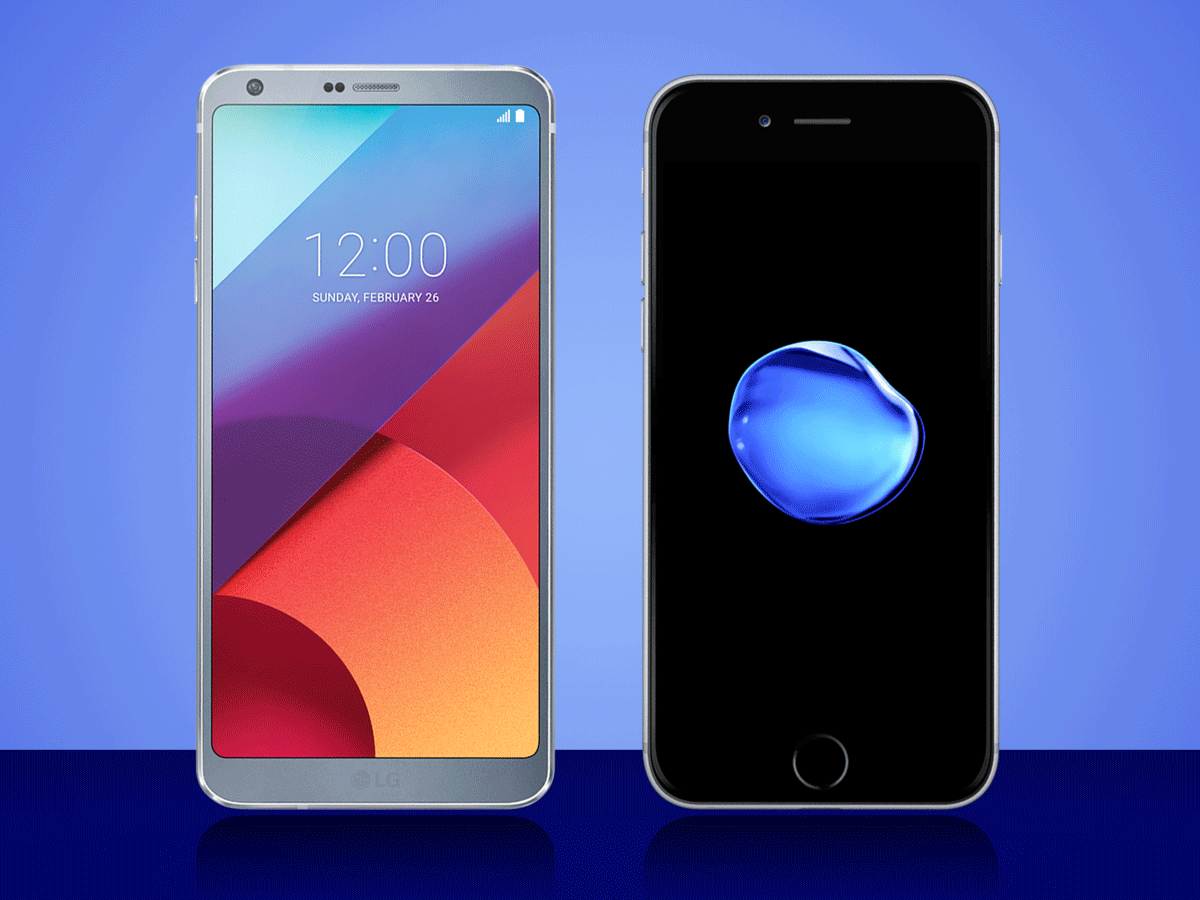 As Android flagships have embraced pixel-packed Quad HD displays over the last couple years, Apple has held tight to its lower-resolution screens. The iPhone 7 screen (4.7in) is still only a 750p panel, although the iPhone 7 Plus (5.5in) thankfully hits the 1080p benchmark, at least. That said, the iPhone 7 has a pretty clear little screen, and packed with colour and sharp contrast while delivering reliably strong brightness.
LG takes this category handily, however. The 5.7in display sounds massive, but thanks to the minimal bezel, the phone doesn't feel as large as it seems. It's a super-sharp Quad HD display, like the G5's was, but this time it uses a taller 18:9 aspect ratio. Why? Hard to say for sure: just something different and more eye-catching, we suppose. But at least LG has built-in modes that can re-render content to fit the screen without obvious stretching.
Better yet, LG's screen has HDR (high dynamic range) support – yes, on a smartphone. It'll run both Dolby Vision and HDR10 content right in your hand, delivering the incredible contrast and stunning colours that HDR promises. Expect Netflix and other apps to start offering on-the-go HDR content soon via updates.
Winner: LG G6
Power: Fantastic Fusion
Apple actually has a leg up in this category, at least when it comes to measurable computing power. The A10 Fusion chip introduced in the iPhone 7 was smashing benchmark tests left and right last autumn, blowing past anything else on the smartphone market at the time.
You might think that LG could put up something more powerful after a few months now, but instead, the company is using the existing Qualcomm Snapdragon 821 seen in the Google Pixel and OnePlus 3T. It's a super-fast processor, and the G6 has double the RAM to play with (4GB vs 2GB on the iPhone 7) – but if we're talking raw power, Apple seems to have slightly more of it.
In everyday use, however, there's no night and day difference here. True, Android and iOS are different operating systems. Apple's iOS 10 tends to feel fast and fluid with its own chips, while pure Android 7.0 Nougat on a top-tier phone is also plenty speedy.
LG has a small amount of skinning seen on the G6, but it's not extensive or overbearing here. In short, you're sure to have more than enough power for all of your apps, games, media, and other daily purposes, no matter which of these devices you use. But since we're dealing with specs here, we'll give Apple the small nod.
Winner: Apple iPhone 7
Camera: Can't miss
The iPhone 7's single back camera isn't quite as spectacular as the iPhone 7 Plus' double array, but it's still one of the top phone cameras for everyday snaps – as the iPhone has long been – especially with speedier focusing in the latest model. The 12-megapixel sensor typically grabs reliably clear shots, whether you plan to print them or post to Instagram. It's a winner.
The LG G6 is a strong challenger to both iPhones, however, and like the iPhone 7 Plus, it has two back cameras. Here they serve different purposes, though: one is a 71° standard lens and the other goes wide at 125° degrees.
Last year's G5 did something similar with widely disparate megapixel counts for each (16MP for the standard and 8MP for the wide angle), but now they're evened out at 13 megapixels apiece – so you won't sacrifice quality to fit more into the frame.
In our review testing, the LG G6 impressed in both standard and wide angle shooting, and it's quick to focus as well. You'll get brilliant shots with ample lighting, although the lack of optical image stabilisation (found on the iPhone 7) means that low-light images suffer a bit.
Both are among the best phone cameras you can chuck into your pocket today, but we're not so strongly swayed towards either when everything is considered. You can't go wrong here, so we're calling it about even.
Winner: Draw
Perks: Mixed bag
When it comes to hardware perks, the LG G6 scores a big win over the iPhone 7 with storage options. The G6 launches with 32GB of internal storage, but then you can pop in a microSD card with up to 2TB (once that size is available) of extra space to load it up.
Meanwhile, the iPhone 7 is predictably limited to whatever amount of storage you pay for from the outset, whether it's 32GB, 128GB or 256GB. Each higher level adds another £80 (or US$100) to the price tag. But that's always been the case with iOS devices. And the LG G6 is £50 more out of the box than the iPhone 7, anyway.
And there's another big hardware perk for the LG G6: an actual headphone port. Yeah, we said it. Honestly, the iPhone's obvious omission hasn't been that big of a deal, but we're still happy to see LG stick with the classic 3.5mm port.
When it comes to battery life, the LG G6 packs a hearty 3,300mAh pack with fast charging available, while the iPhone 7 has just a 1,960mAh cell. Granted, the iPhone 7 surely uses much less battery power for its lower-resolution display, but there's still a significant difference here.
With steady, but not heavy daily usage, the iPhone 7 can typically last 'til evening – although if you start busting out the games or stream a lot of video, you'll likely need an early top-off. And admittedly, the LG G6 didn't go quite as long as we'd hoped, considering that large battery pack, although we'd call it a slightly stronger all-day performer. You probably won't get a day and a half, however.
We don't need to dig into the great iOS vs Android debate again, and both mobile operating systems have their advantages and perks – but ultimately, both are super useful, loaded with features, and similar in a lot of ways. If it's a big deal to you, then you've probably already made your decision in this particular battle.
But when it comes to apps and games, it's tough to argue with Apple's advantage. The App Store not only gets more high-profile app and game releases, but it also often gets those bigger releases before Android. The Play Store certainly isn't barren, and almost anything worth a damn on iOS will eventually hit Android – but not everything, and it can be a long wait.
We'd give LG the hardware win here, but there's something to be said for the iOS app and game ecosystem. Maybe this category is too wide-ranging, but ultimately, we see benefits on both ends. It's a draw.
Winner: Draw
Overall: A fantastic fight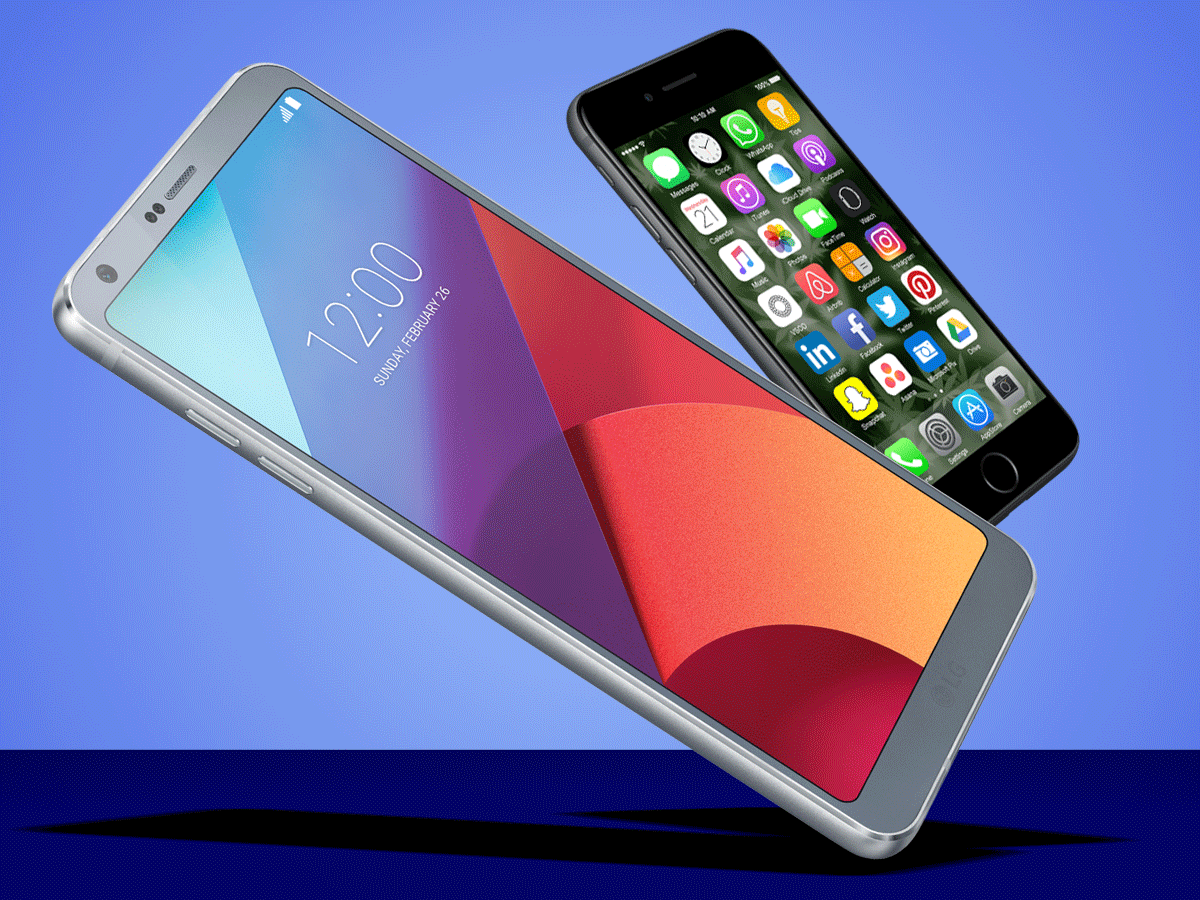 When it's all added up, it's no surprise: the LG G6 landed very high on our list of the best smartphones in the world right now. It returns to strong, core fundamentals of flagship construction and ditches last year's modular additions, and packs in a brilliant display, alluring design, plenty of power, and little obvious reason to complain.
And it placed above the iPhone 7 on that list, when the dust finally settled on our latest update. These are pretty different handsets, to be fair. The iPhone 7, while Apple's best edition of the standard model to date, feels like the company's last gasp at revising (and reusing) a proven design before hopefully wowing us with something new. In that respect, it's not all that exciting. It's great in nearly every way, but also highly familiar throughout.
The LG G6, while maybe not blisteringly innovative, at least has a lot more momentum and excitement, especially as a rebound from the LG G5 and also one of the first big flagships out of the gates in 2017.
It doesn't top the extra-premium iPhone 7 Plus in our book, but it's close – and we'd say it's the better pick right now when the standard iPhone 7 is being compared. Maybe wait for our Samsung Galaxy S8 review if you're planning on buying a flagship phone this spring, however. Just to be safe.
Winner: LG G6