Motorola Moto G7 Plus vs OnePlus 6T: Which is best?
How does the most powerful Moto G to date compare against the budget-flagship king?
Motorola's Moto G budget phones keep edging closer and closer to the kind of premium styling and components of flagship phones – and the Moto G7 Plus is the best example to date.
With its teardrop notch, sleek glass-and-aluminium design, and improved camera setup, this £269 phone looks a lot better than you'd expect for the price. And that's kind of OnePlus' shtick too, albeit at a higher level. The company keeps delivering flagship-level phones that trim a couple of nice-to-have features in favour of a much better price point.
So we can't help but wonder: How does the Moto G7 Plus stack up against the current OnePlus 6T? Here's what we think, now that we've reviewed the Moto G7 Plus.
Design: Hardly worlds apart
Thanks to the new teardrop notch design of the Moto G7 Plus, it's actually pretty close to the overall aesthetic of the OnePlus 6T. The teardrop itself is a little deeper on the G7 Plus, and the phone has more bottom bezel – but considering the price difference, they're darn close.
Both also have curved glass backing (albeit with a matte finish on the 6T), with the Moto G7 Plus featuring a larger, circular camera module while the OnePlus 6T keeps its own module pretty compact. Overall, there's a smidge more polish for the OnePlus 6T, but they are pretty close overall.
Verdict: OnePlus 6T
Screen: Similar, but different
You'll get a large 1080p display on both sides of this comparison, but there are key differences. The Moto G7 Plus screen comes in at 6.2in and is an LCD panel, while the OnePlus 6T is a bit larger at 6.42in and is a Super AMOLED panel.
Whatever your preference on size, there's no doubt that AMOLED panels typically look better than their LCD competitors. With deeper blacks and improved contrast, they pack more of a punch. Like the Moto G6 Plus before it, the Moto G7 Plus screen looks great – but OnePlus has a slight edge here.
Verdict: OnePlus 6T
Camera: Both are capable
The OnePlus 6T's dual-camera 16-megapixel/20MP setup is very good, but not quite as excellent as some of the pricier flagships out there. With good lighting, you can get some fabulous shots, while nighttime shooting doesn't match up to the top competition. Even so, it's great for the price.
That's pretty much what we said about the Moto G6 Plus last year – that it had the best camera in its price range. And now the Moto G7 Plus bumps up to a 16MP main sensor with optical image stabilisation, and a 5MP sensor alongside for depth.
You'll get pretty good detail in daylight shooting, and nighttime shooting is better than before thanks to the optical image stabilisation. Unsurprisingly, the higher-end OnePlus 6T is a bit more capable overall – but given the price difference, the gulf isn't that vast.
Verdict: OnePlus 6T
Performance: Not so close
Here's where OnePlus 6T has a clear advantage: the Qualcomm Snapdragon 845 chip is a flagship beast, while the Moto's Snapdragon 636 lands square in the mid-range.
You'll still get pretty zippy performance with Android 9 on the Moto G7 Plus, but the OnePlus 6T has a fair bit more muscle for gaming, multitasking, and other myriad tasks. Still, while the Moto G7 Plus can't hit the highest of gaming peaks, it has enough power for most users' everyday needs.
Verdict: OnePlus 6T
Battery and perks: Mixed bag
The OnePlus 6T has a pretty beefy battery inside, at 3,700mAh, while the Moto G7 Plus opts for a more modest 3,000mAh. That potentially earns you a few extra hours of uptime with the OnePlus 6T, or better resilience against high-performance games and apps. Neither phone supports wireless charging.
You'll get double the internal storage on the base OnePlus 6T, at 128GB, or you can pay more for a 256GB model. Meanwhile, the Moto G7 Plus just starts with 64GB… but you can augment that with up to 512GB via cheap microSD cards. Frustratingly, OnePlus doesn't support those.
The OnePlus 6T also has a very new and flashy perk with its in-display fingerprint sensor, while the Moto G7 Plus sticks with one on the back of the phone. It's really just a matter of preference, as both do a fine job of recognising your biometric signature, but the OnePlus 6T's option definitely has a premium allure to it.
Also, the Moto G7 Plus has a 3.5mm headphone port, while the OnePlus 6T scrapped it this time around to boost the battery and add the in-display fingerprint sensor. Your call on whether that was a smart move or not.
Verdict: Draw
Verdict: Consider the value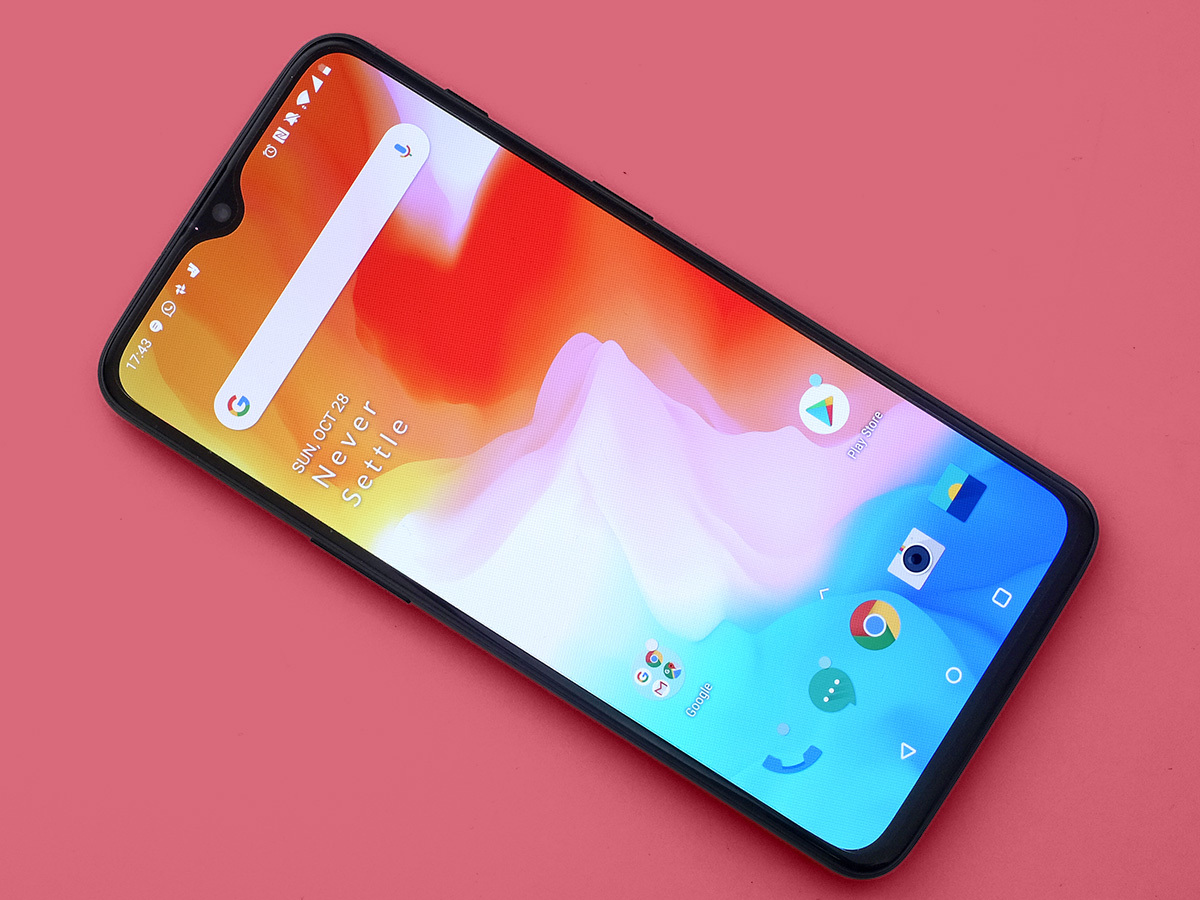 Four category wins and one draw? That certainly seems like a slam dunk for the OnePlus 6T. And if all you care about is getting the better device, regardless of cost, then the flagship-level OnePlus 6T certainly beats the mid-range Moto G7 Plus. But if money isn't an issue, then we'd point you towards the Huawei Mate 20 Pro instead, anyway.
If you're buying either of these phones, then cost probably is a factor. And here, it's a potential game-changer. While the OnePlus 6T has an edge here almost across the board, its victories aren't that massive: they're pretty close on design and screen quality, and not far off in camera quality. The OnePlus 6T has a solid win in performance and has better battery life, though – and like we said, it's the better all-around device.
Here's the thing: at £499, the OnePlus 6T is nearly twice the price of the Moto G7 Plus. If you can't stomach spending a few hundred quid on a smartphone, the Moto G7 Plus won't steer you wrong. It's an excellent lower-priced replacement, and the sacrifice isn't as significant as it might seem. We strongly recommend the Moto for anyone on a budget that still wants an impressive handset.
Winner: OnePlus 6T