Promoted: 9 pieces of pub ammo for the Galaxy Note 4
Ah, banter. Chat! Gossip! Joshing! Nothing makes an evening in your local like a bit of quality small talk.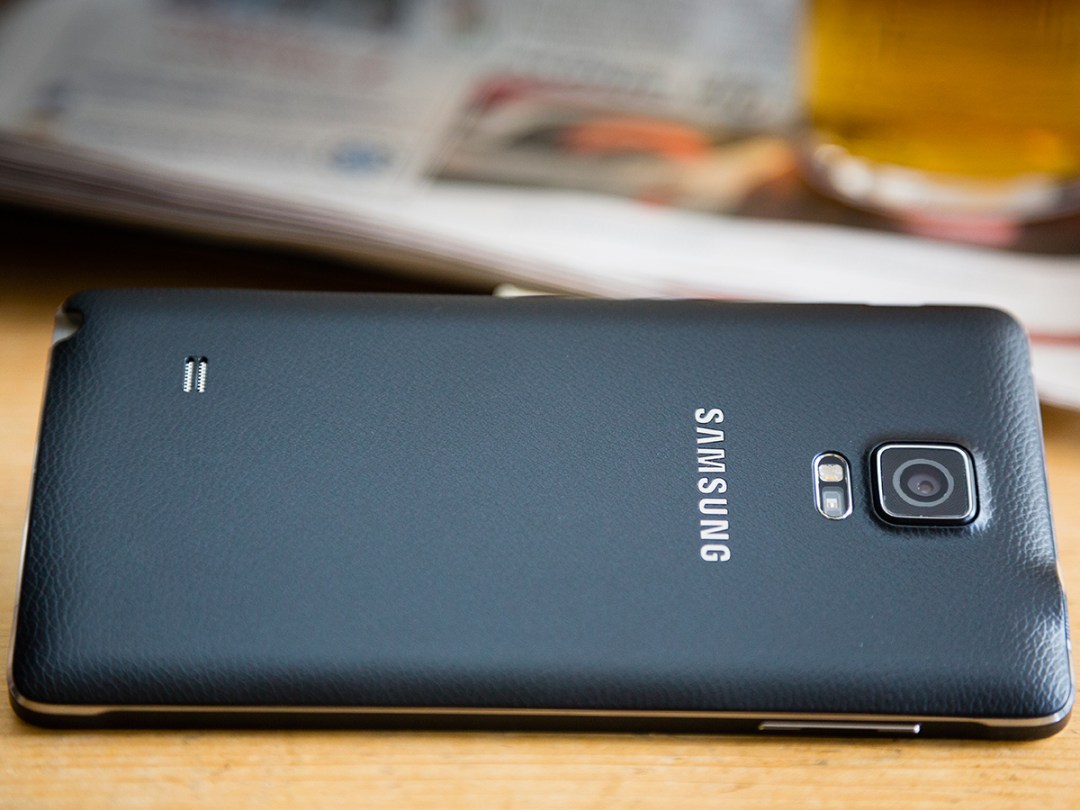 And, if you're anything like us, the topic will eventually turn to tech. What's good, what's bad, what's coming up and, natch, who's got the best phone.
If you've got the new Samsung Galaxy Note 4, you needn't worry. That lovely big battery, the 16-megapixel camera, the expandable SD card slot – it all adds up to a world-beating device that will have your crestfallen chums desperately justifying their own handsets. Here's why you're right and they're wrong: for the sake of your friendship you'll want to deliver the following as diplomatically as possible.
1. The screen, the screen, the screenYes, a 5.7in screen is big. No, you're not going to want to keep it in your back pocket but with its incredibly high resolution (Quad HD) and Super AMOLED technology, the Note 4's screen is bright, incredibly clear and its high contrast makes anything – from your own cameraphone snaps to TV shows and films – look gorgeous. However the conversation about the best phone starts, this'll end it.
2. The S PenThe big screen really gets a life of its own when you pop the Note 4's intelligent stylus out of its holder. Forget the dumb stylus of a decade ago: pull out the S Pen and the Note 4 springs into life, and the Air Command wheel appears, allowing you to take a shortcut to various write-on-screen activities. The S Pen is pressure sensitive, so the harder you press, the thicker your text appears. You can forget "party piece" accusations as well: with accurate handwriting recognition the S-Pen is perfect for jotting down quick notes for grabbing later.
3. The big screen means more space for…The battery! The Note 4 has a 3,220mAh battery on board. That's massive compared with smaller phones, and means that despite the bright screen, the powerful quad-core processor and the 4G cellular radio, the Note 4 will go for an incredibly long time, whether it's browsing the internet over 3G, playing videos, or streaming music. So while your buddies fearfully squeeze all they can from their phones as the night draws to an end, you'll have plenty left for the ride home.
4. You're not going to run out of spacePity those poor cretins around the table whose phones don't include an SD card slot. PITY THEM. The Galaxy Note 4 has a microSD card slot that can accommodate a memory card up to 128GB, so more space for HD films, games, TV shows, podcasts and way, way more.
5. Recharging is a sprint, not a marathonSprints are more interesting than marathons: any sport that includes the words "explosive power" has us interested. The Note 4 can't cover 100 metres in under ten seconds, but plug it in and you'll see some pretty impressive results: that big battery will go from empty to 50% charged in only 30 minutes. Get home from work, bosh the Note 4 on the charger, and it'll be ready to go by the time you are.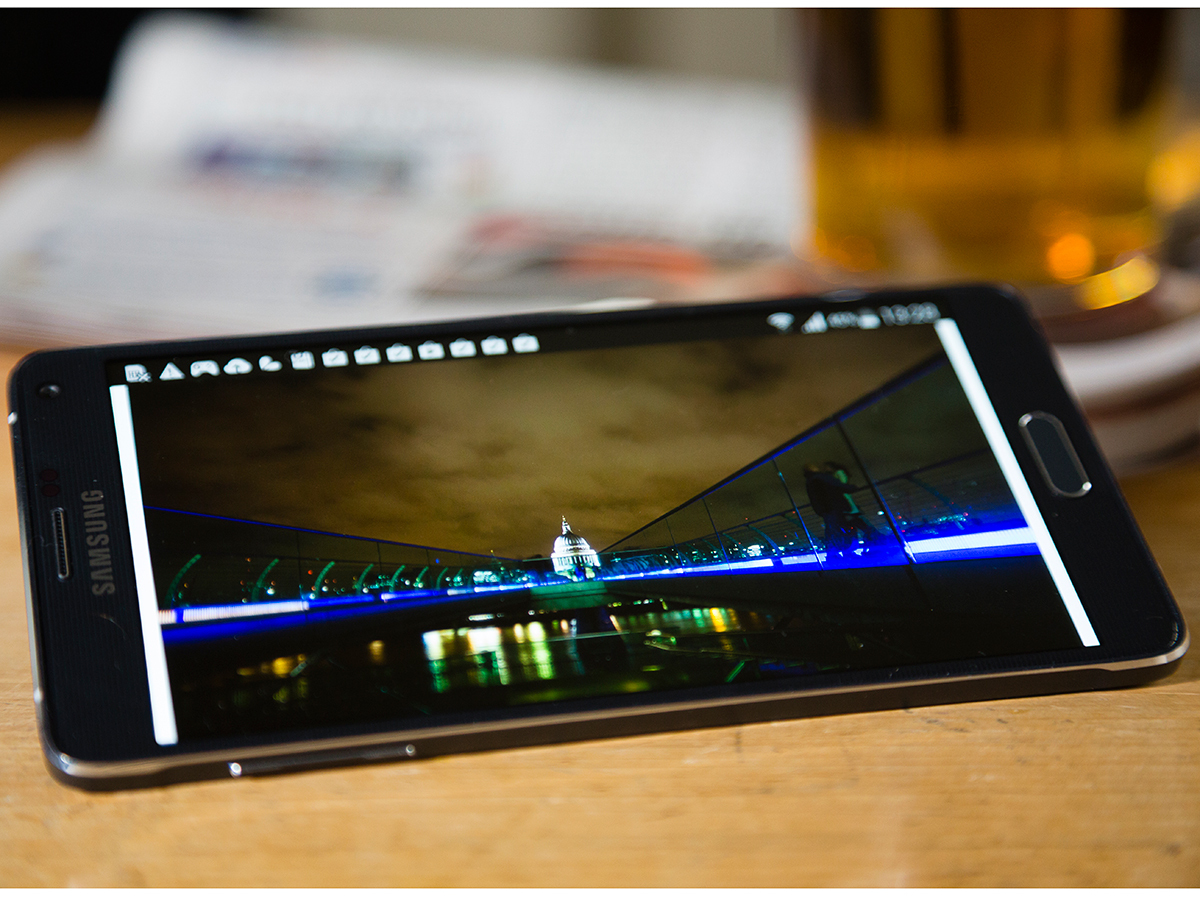 6. It's going to make your photos look amazing
The Note 4 has a 16-megapixel camera on the back and a 3.7-megapixel camera on the front for video chats and – let's face it – selfies. The camera has optical image stabilisation built in, which means you can take sharp pictures even if you're moving about or if you're shooting in dim light, and that's before you factor in the bright LED flash. Still, all that photographic potential is wasted if your pics don't look their best, and that's where that spectacular screen steps in. AMOLED screens have amazing contrast ratios and that means deeper, darker blacks and brighter, clearer whites. Great screen, great cameras: a winning combo.
7. Multitasking on a phone FINALLY MAKES SENSE
We love the idea of multitasking on a phone: the idea of being able to see lots of running apps at once is amazing, particularly if your current phone only gives you tiny thumbnails. The Note 4 uses the extra screen real estate to give you proper previews of what your apps are doing, while gestures let you find what you're after, and close apps you don't need.

8. Ultra Power Saving is a bacon-saver
Even with its big battery, the Ultra Note 4 is going to run out of juice at some point. And, when you're down to your last few percent of power, the last thing you need is your phone frantically pulling data from the cloud, running its screen at full brightness, and updating loads of apps in the background. What you really need is a phone that can call the nearest taxi. Opt for Ultra Power Saving and you can squeeze up to 24 hours of power from the last 10% of the battery.
9. It cares about you
Obviously, the pub isn't an amazing place to talk health. Salty snacks are just too tempting and a plate of chips goes better with live football than a handful of carrots. Still, when you tumble out of bed on Saturday, you can rely on your phone to motivate you to try a little harder: S Health is a personal fitness tracker that can use the Note 4 as a pedometer to track how far you're walking, and there's a heartrate monitor embedded in the back. Just hold your finger over it and you can see what your resting and active heartrate is. Nothing better to motivate you to get out for a jog.