Samsung Galaxy S10 vs Honor View 20: Which is best?
Does Honor's £499 phone outshine Samsung's latest?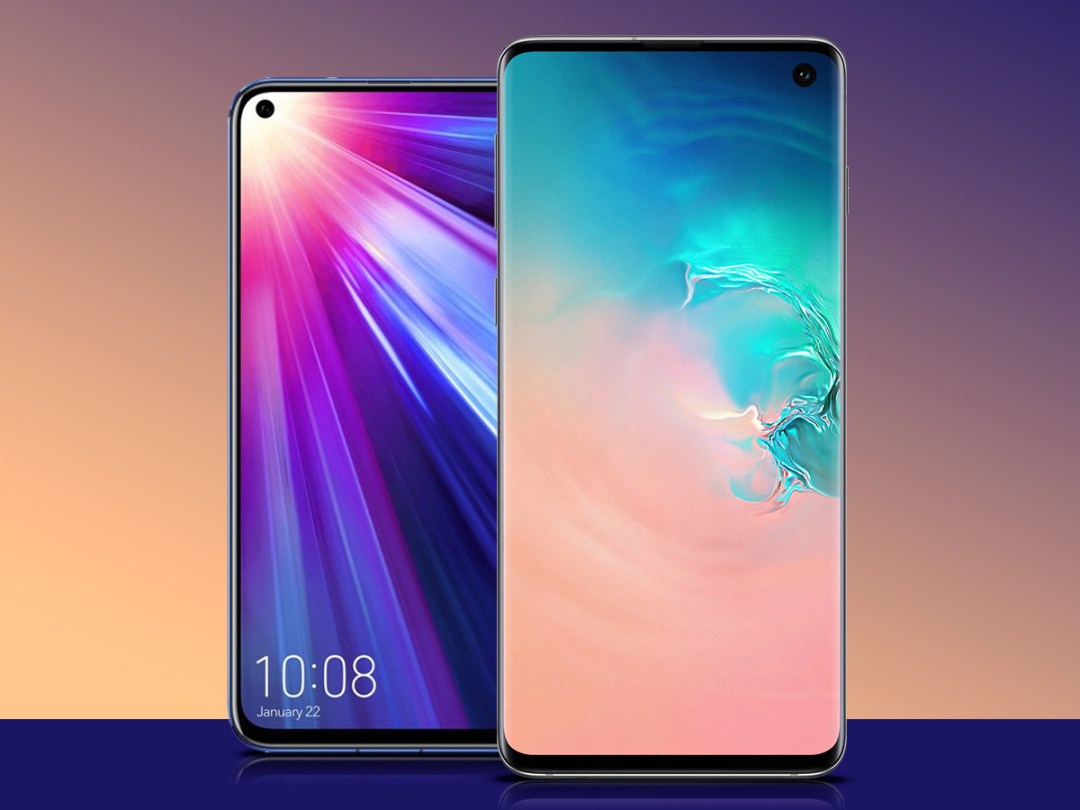 The Galaxy S10 is now out in the wild, and it represents the new top-of-the-line Android experience from Samsung – but other makers are delivering premium experiences for much, much less cash.
Honor is one of those companies leading the charge, and the View 20 is easily its best effort to date. Packing in plenty of power and the same kind of punch-hole display as the Galaxy S10, it's an alluring option that'll save you a few hundred quid in the process.
It does come with some sacrifices, however. Are they worth making? Here's how these two glossy handsets compare now that we've posted our final Galaxy S10 review.
Design: Trading punches
The Samsung Galaxy S10 and Honor View 20 are two of the first big-name phones to introduce punch-hole camera cutouts, which poke a little hole in the screen for the selfie cam. That allows them to stretch the display across more of the phone's face without big bezel chunks or a larger notch.
The holes look about evenly-sized here, but Honor opted to put its punch-hole in the left corner while Samsung's is in the right corner. Your call on whether that makes any difference. The "chin" bezel at the bottom of the screen looks a smidge larger on the Honor View 20, but the overall effect is very similar.
On the back, the Galaxy S10 looks plain in still photos, but the reflective finish is alluring (especially on the white model). And the Honor View 20 goes for flash: a bold, blue, angular design that reflects light. It's about as flashy as phones come today. Both are nice – it just depends on what you're more into.
Verdict: Draw
Screen: OLED edge
Here's one of the areas in which that price difference is most obvious. Samsung always has the best OLED screens on the market, and the Galaxy S10 is no exception. The 6.1in panel comes in at Quad HD resolution and looks absolutely stunning, with punchy colours and impeccable brightness.
By contrast, the 6.4in Honor View screen comes in at the lower 1080p resolution, and on top of that, it's an LCD panel – so it doesn't have the deep blacks or brilliant contrast of an OLED screen. Even so, it's pretty good. As we said in our review, "It's not the sharpest, and it's not OLED. But most of you will have to actively try to nail down the difference in real-life terms." Side-by-side, the difference is more obvious.
Verdict: Samsung Galaxy S10
Camera: One or three?
The Honor View 20 bucks the multi-camera trend of late, and instead goes hard on a single sensor – a massive 48-megapixel Sony camera. It actually snaps 12MP images via four camera sensor pixels and has lots of A.I. assists, and the results are typically great. Night shots are pretty nice too, and you can get loads of detail.
You'll get impressive results from the Galaxy S10, as well, which actually gives into the triple-camera trend. It has another 12MP main sensor with adjustable aperture (f/1.5 to f/2.4), as well as a 16MP ultra-wide sensor at f/2.2 and a 12MP telephoto sensor at f/2.4.
Ultimately, it's the versatility that gives Samsung the edge here. The ultra-wide camera is incredibly cool, offering a very wide view of what's in front of you – so wide, in fact, that Samsung calls it "zooming out." Meanwhile, the telephoto lens provides 2x zoom, and all three cameras can deliver vibrant, detailed snaps. Nighttime shooting isn't the best, however, but it still feels like you're getting a full camera bag's worth of tricks on a single phone.
Verdict: Samsung Galaxy S10
Performance: Power-packed
You might expect a big difference in power between these phones, but don't: they both use current top-end Android processors. The Honor View 20 uses Huawei's Kirin 980 chip – the same as in our current #1 phone, the Huawei Mate 20 Pro – while the Galaxy S10 uses Samsung's Exynos 9820 chip in Europe and the Qualcomm Snapdragon 855 in the States.
There are slight differences between them, but they're not far off from one another in benchmark testing. You can get the View 20 with 6GB or 8GB RAM, depending on the version you buy, while the Galaxy S10 comes with 8GB RAM. Both are fast, both are powerful. Neither stands significantly above the other.
Verdict: Draw
Battery and perks: Pay for perks
The View 20 has a solid advantage in terms of battery life, as its 4,000mAh pack is very large indeed – and on par with the Huawei P20 Pro and Samsung's Galaxy Note 9. Meanwhile, the Galaxy S10 comes up short by comparison with 3,400mAh, which is enough to last a solid day without heavy pushing. With a lower-resolution screen and a larger pack, the Honor View 20 can keep on going.
Samsung's premium price tag comes into play with perks, too: the Galaxy S10 not only has wireless charging, but also PowerShare reverse wireless charging. That means that it can charge other wirelessly-chargeable phones and accessories (like the Galaxy Buds) on its back.
The Honor View 20 comes in 128GB and 256GB storage varieties, but has no ability to add more storage via microSD. Meanwhile, the Galaxy S10 offers 128GB and 512GB options and a microSD slot. That's a big bonus.
The Galaxy S10 also has Gear VR support, letting you strap your phone into a headset shell and use it to experience virtual reality games and apps.
Luckily, both of these phones have a 3.5mm headphone port. Phew.
Samsung's screen also has an unseen perk: an in-display fingerprint sensor. The Honor View 20 just has a standard sensor on the back… but to be honest, it works better than the fidgety Galaxy S10 sensor. New tech isn't always better tech, sadly.
It's definitely a mixed bag here, and heavy users might put battery life above all. Still, given the wide range of things in play in this category, we need to give it a draw.
Verdict: Draw
Verdict: What's your spend?
The Samsung Galaxy S10 was the only phone to actually win any categories here, so it must be the better phone… right? Yes, in terms of high-end tech, camera versatility, and added perks, the Galaxy S10 is definitely the most premium phone here. It's one of the best top-end smartphones you can buy right now if you're willing to part with £799.
But here's the thing: the Honor View 20 is close enough in most categories and it's £300 less at just £499. Samsung has a few advantages, but the Honor View 20's punch-hole LCD screen is great on its own merits, and the single-shooter camera is the best you'll find at that price point. Honor has made a cheaper flagship that can absolutely hold its own against pricier rivals.
We're listing the Galaxy S10 as the winner, because if money is no object, the added advantages are plenty sweet indeed. But if you want a phone that has the style and features of a 2019 flagship without breaking the bank as hard, the Honor View 20 is your best option today.
Winner: Samsung Galaxy S10