Smartphone supertest: Samsung Galaxy S5 vs HTC One (M8) vs Sony Xperia Z2 vs LG G3
Four top Androids. Four eye-caressing screens. We play spot the difference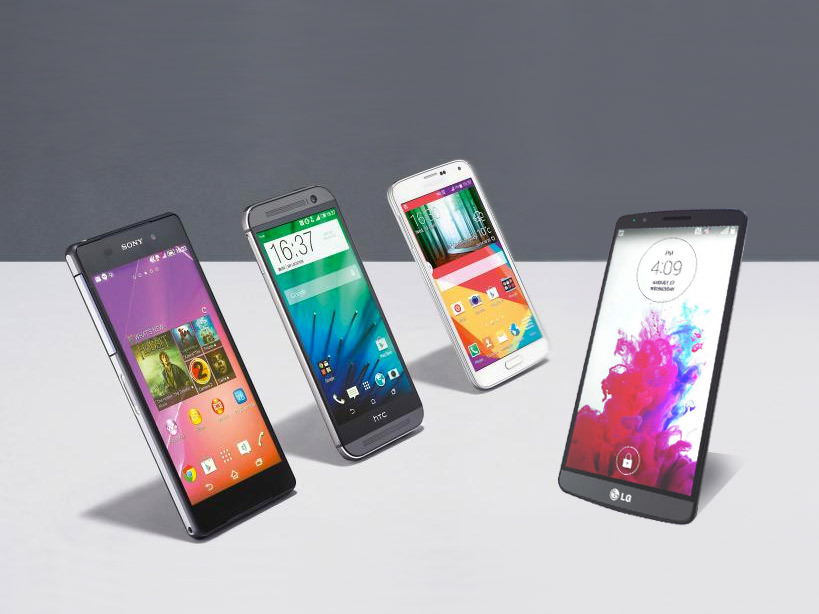 Which 2014 superphone should you buy? We're going to say something controversial now: all four of these devices are amazing.
You're looking at four great phones from last year, tweaked, refined and enhanced almost beyond recognition. So there's no wrong choice. But that doesn't make your decision any easier.
What might help, however, are the following results of us living with the HTC One (M8), Samsung Galaxy S5 and Sony Xperia Z2 and LG G3 for weeks, discovering the teeny flaws with each handset and the things that make them tick. For instance the downright beautiful snaps the Z2 can take – when your blurry finger isn't ruining the shot because the rear camera is in the corner – or which of the Samsung's features to actually bother using. Read on to find out what you'll love most about Android's new finest, day to day.
READ MORE: Apple iPhone 6 preview – everything we know about Apple's next smartphone
Meet the contenders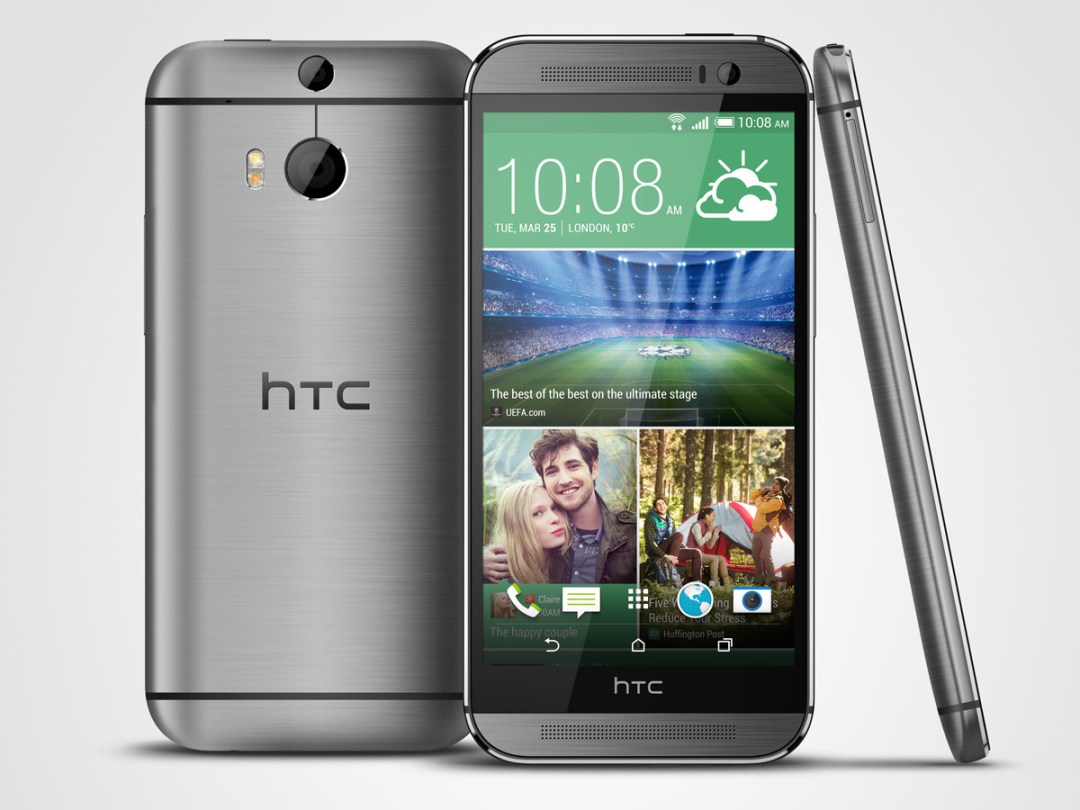 1. Sony Xperia Z2
This latest Sony has a 5.2in screen, new camera tricks and Android KitKat. But is it enough?
2. HTC One (M8)
Previously crowned Stuff's No.1 smartphone, the HTC One (M8)'s beautiful body and sleek Sense 6.0 experience make for a formidable opponent.
3. Samsung Galaxy S5
The Swiss Army knife of phones continues its mission to make all other gadgets obsolete, but is it the phone we want in our pocket?
4. LG G3
Stuff's number one smartphone brings super-thin bezels, a 2K screen and a laser-assisted camera to the fight.
1. Sony Xperia Z2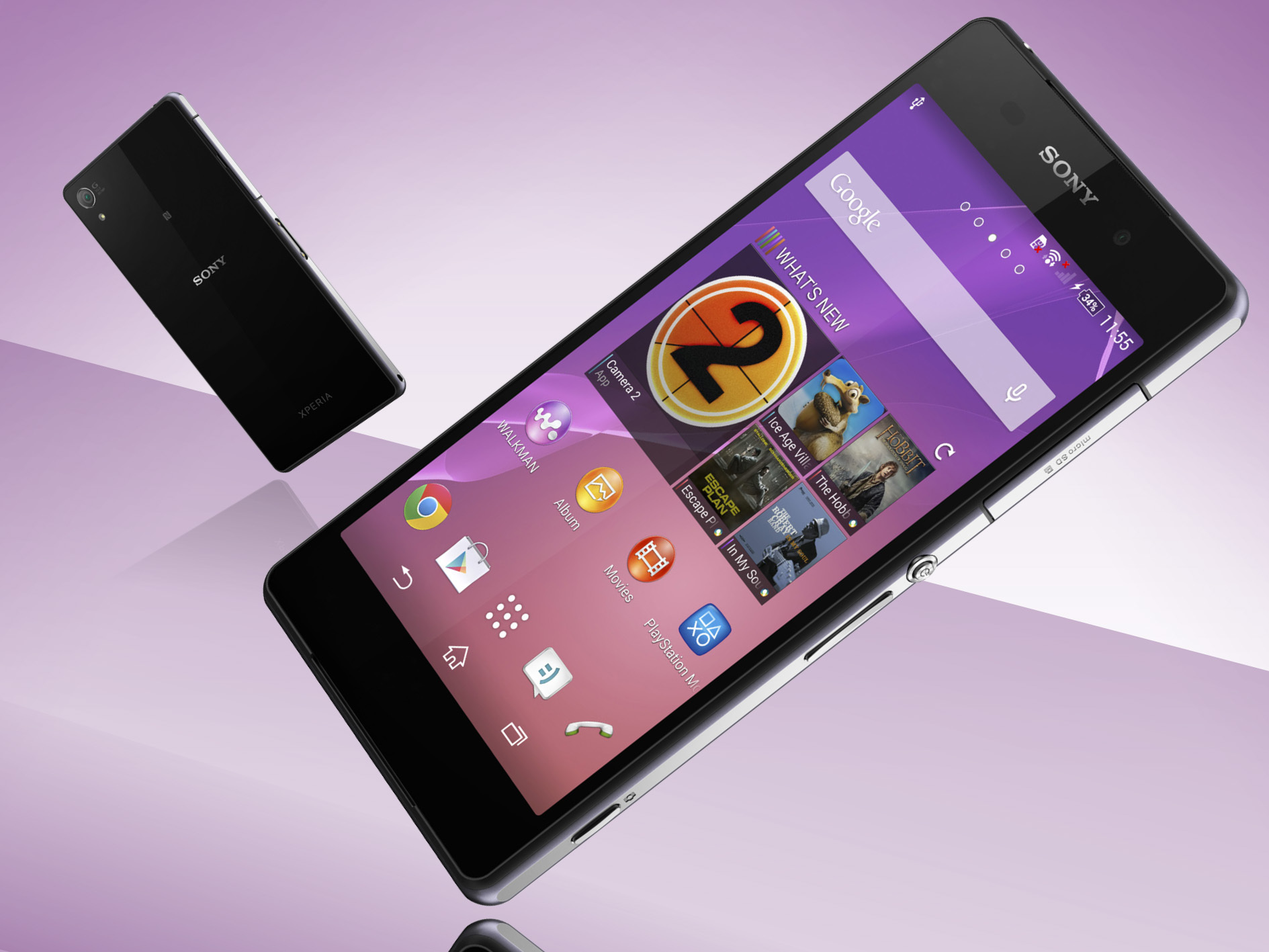 The Xperia Z2 makes almost zero compromises – on screen, sound, camera or battery life. The design is gallery-worthy, finished with rounded aluminium corners, an all-glass back and minimalist details. But your hands might not like it – both the S5, One M8 and G3 are easier to hold than this 163g block, and picking up the Z2 from a desk can be awkward.
It has Live Colour LED tech for punchy but accurate hues, and clear-sounding stereo speakers on the front of the phone. Our only niggle? The front is seriously reflective. For a smartphone camera, the Z2 can take incredible photos with its 1/2.3in, 20.7MP sensor and speedy autofocus.
It also flies in use: it shares the same 2.3GHz Snapdragon 801 processor as the S5 and One M8, but the Sony's 3GB of RAM bests its rivals. Small apps in overlaid windows lag occasionally, but it's still a great use of that 5.2in screen, and the Android skin is mostly clutter-free.
With a bigger screen, there's a bigger 3200mAh battery, and the Z2 reliably lasts the day – with Stamina mode to conserve juice when the screen's off.
Overall, this is the connoisseur's choice, capable of taking brilliant photos and playing cinephile video. It oozes quality but isn't the most practical choice. But if you have the time to show Sony some love, it will return it in large dollops.
The detail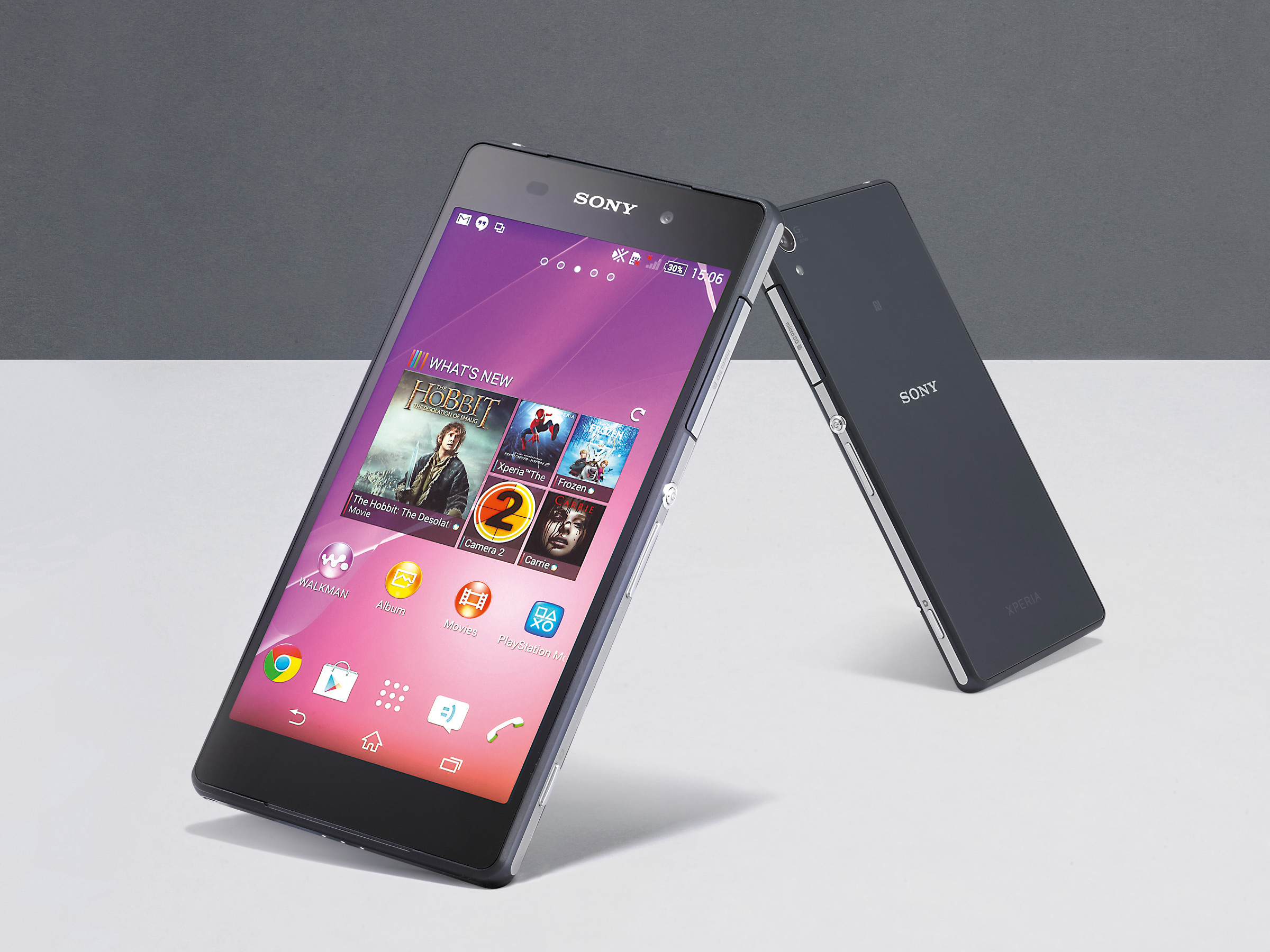 Design: 9/10
A gorgeous design isn't the same as a thoughtful design. Although the Z2's a heavy smartphone, this isn't the problem – the HTC weighs just as much. The issue is more that the Z2's toughened glass build would work better scaled down. When you're dealing with a 5.2in diagonal span of glass, ergonomics count (we're hoping the Z2 Compact gets this right).
Another smartphone best picked up and fondled before you decide, then. If its shape and minimalist design work for you, you can get back to appreciating everything the Sony does brilliantly. Such as being waterproof: with all the port flaps closed, the Z2 has the same IP55/IP58 water-resistance as the Z1. Plus, the headphone jack is now flap-free.
Screen: 9/10
In almost every way the Z2's screen is a stunner. It displays fine detail better than both the S5 and the One M8, perfect for pressing your nose up against full HD movies. Viewing angles aren't the best but they're no longer a problem either.
Camera: 10/10
The Superior Auto mode doesn't always produce the best images – it can struggle to expose correctly in sunlight and it doesn't have the night vision of the HTC. But chances are, Sony owners won't mind digging into the comprehensive settings.
Here it shines: faces come out well in low light, scenes look punchy and the background de-focus mode is mesmerising. Both 1080p and 4K footage are smooth thanks to SteadyShot stabilisation, though autofocus jumps around while filming and, with the Snapdragon heating up, the Z2 can abruptly stop shooting in the higher resolution.
OS and apps: 9/10
Sony's treatment of KitKat verges on bloatware, with pushy media services ruining the fun. For instance, an upward swipe to access Google Now also shows Sony's What's New app: a feature guaranteed to have zero fans.
2. HTC One (M8)
We may go on about smartphone design a bit, but with the HTC it's justified. This is one of the best-looking and best-built phones ever, with 20% more metal than its predecessor the HTC One and microSD storage now included. M8 owners will find themselves checking emails too much, just to show it off.
The 5in, 441ppi screen is super-sharp and considerably bigger than the One's 4.7in display – it's not a clear winner but colours look natural, text is smooth and viewing angles are fantastic.
Has HTC fixed the One's niggles? Battery life is slightly better, bringing it on a par with its rivals – you shouldn't need the Ultra Power Saving Mode to last the day. But the UltraPixel camera stays.
This might disappoint those looking to shoot serious images and footage, but for most, the low-light prowess and focusing tricks are good enough. Nothing else needed tweaking – in use, it's as fluid as we expect from an HTC and the feature set gets new tricks here and there, such as the ability to swipe straight into BlinkFeed even when the phone is off.
It might not have the bragging rights of a 20.7MP camera, a removable battery or a heart-rate sensor, but for us, the extras on the S5 and Z2 simply don't compare to the pure gadget joy you get with the HTC One M8.
The detail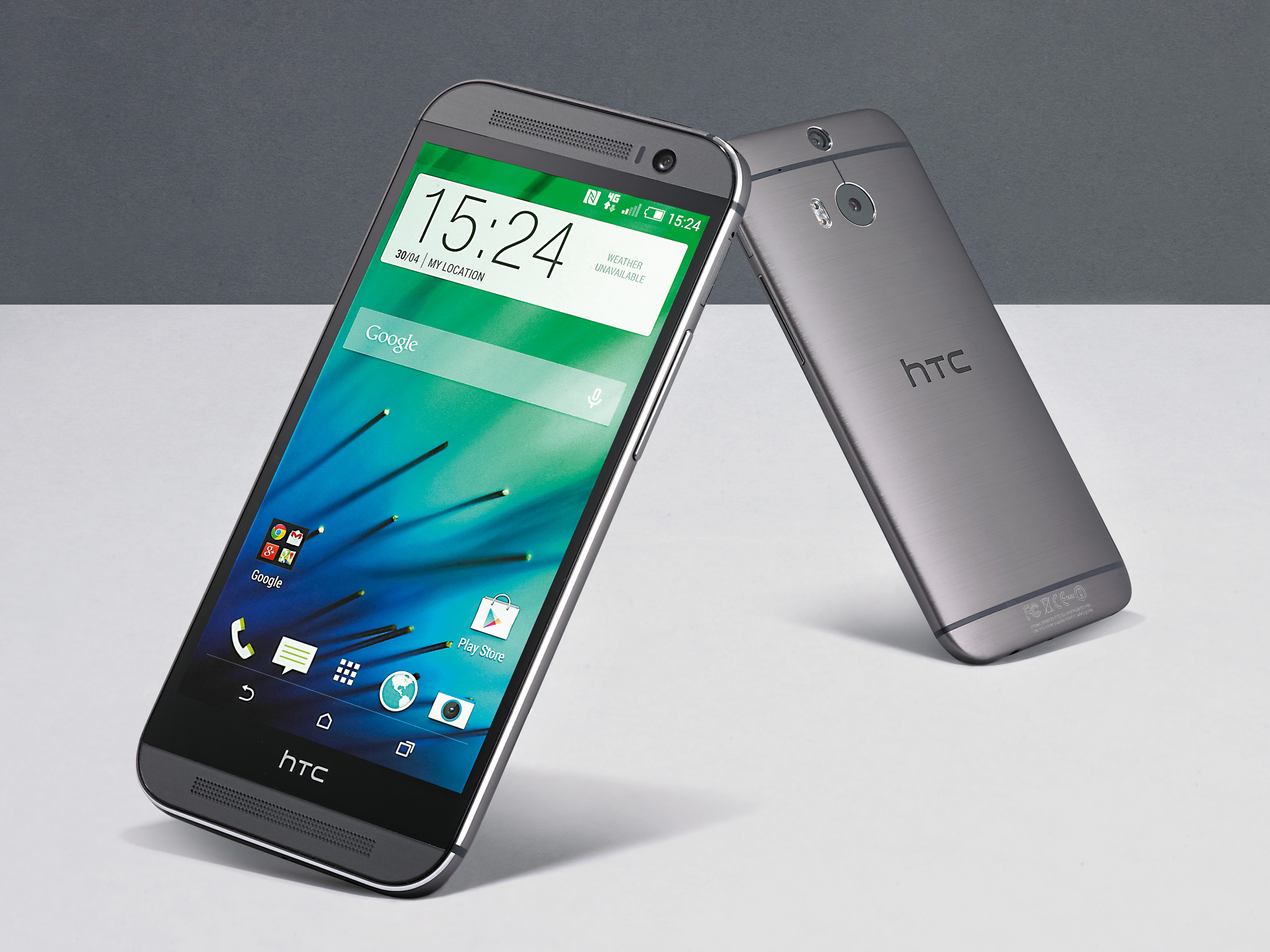 Design: 10/10
Some will prefer the old One's iconic design but this is just as tasty. The bevelled edges catch the light where the S5's metal-look edges look cheap. While the G3 looks as metal as the M8, it can't match its premium weighty feel in the hands.If you want those machined lines, choose the Metal Grey variant.
Screen: 9/10
The HTC might have the smallest screen here at 5in but it beats the mighty Sony on contrast and off-axis viewing. Compared to the original One, the palette leans to the green side… but only nerds will notice that.
Camera: 8/10
More than a gimmick, the Duo camera lets you change the focus of pics after you've taken them; and unlike on the Samsung and Sony, you don't need to select a mode before taking the shot. You can 3D-ify pics with Dimension Plus.
OS and apps: 10/10
Still our Android skin of choice, Sense 6 will win over even fans of stock Android. BlinkFeed now keeps tabs on your interests and you can track steps, distance and calories automatically without a tracker.
3. Samsung Galaxy S5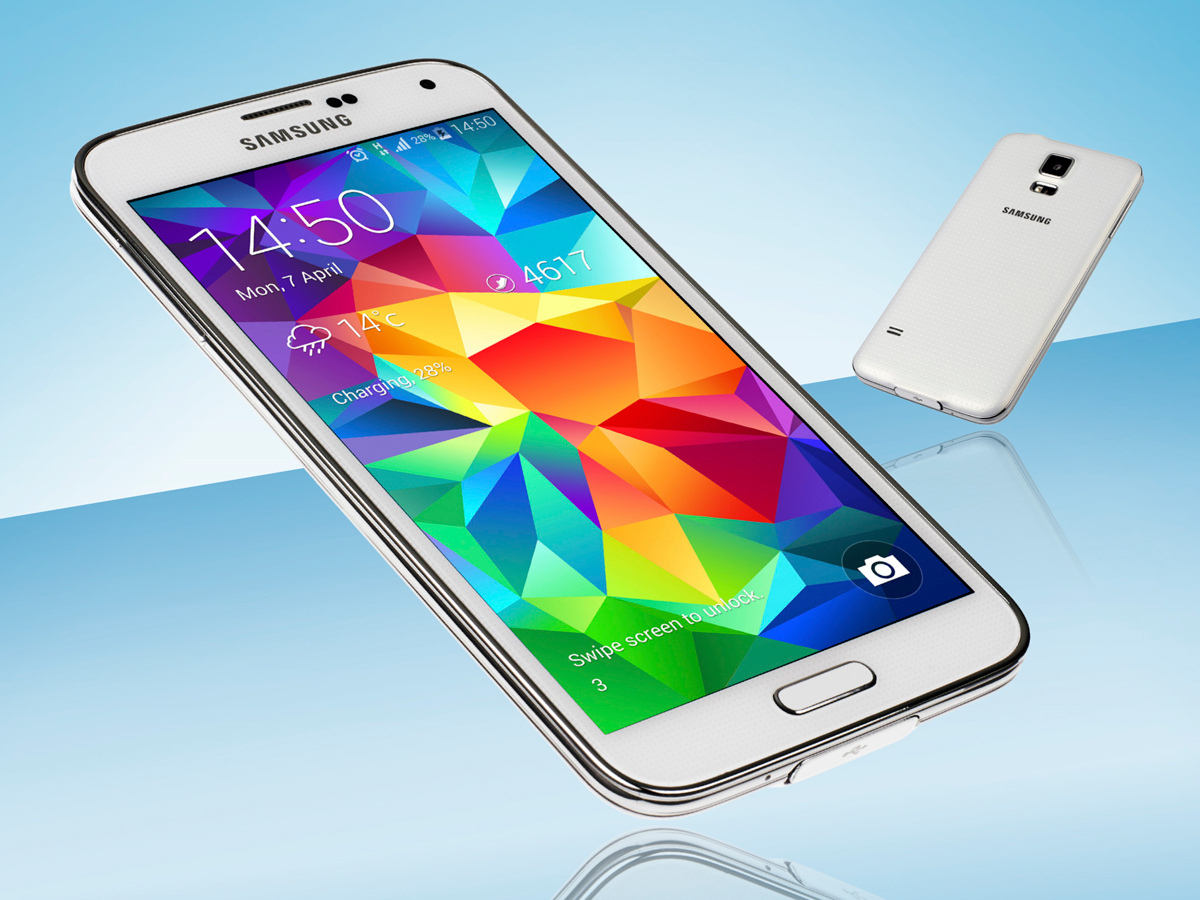 Galaxy smartphones are known for going big. Big screens, big specs, big tricks and, of course, big sales. But the small stuff can be just as exciting and the S5's only halfway there.
Samsung's still enamoured by its Galaxy design DNA: lightweight, durable and now waterproof – it makes a lot of sense. But with a big handprint, 'modern glam' back panel and poor size-to-screen ratio, it's still not beautiful.
Features rule, with a swappable battery, microSD storage, the ability to run two apps side by side and even a heart-rate sensor round the back. It's not 2K but the 5.1in Super AMOLED screen is the best we've seen on a Samsung phone. Plus there's a superb ad-hoc 16MP snapper with fast autofocus and 4K video – just in case you thought Samsung had gone soft on specs.
That TouchWiz lag is almost gone for good – a few stutters using its My Magazine Flipboard app were all we could force – and battery life is on the longer-lasting end of the Androids That Last A Day spectrum.
If the tweaked build and cleaned-up user interface are anything to go by, Samsung is taking design, inside and out, seriously. There's more work to do but it's a mighty close call and Samsung fans won't be disappointed here.
The detail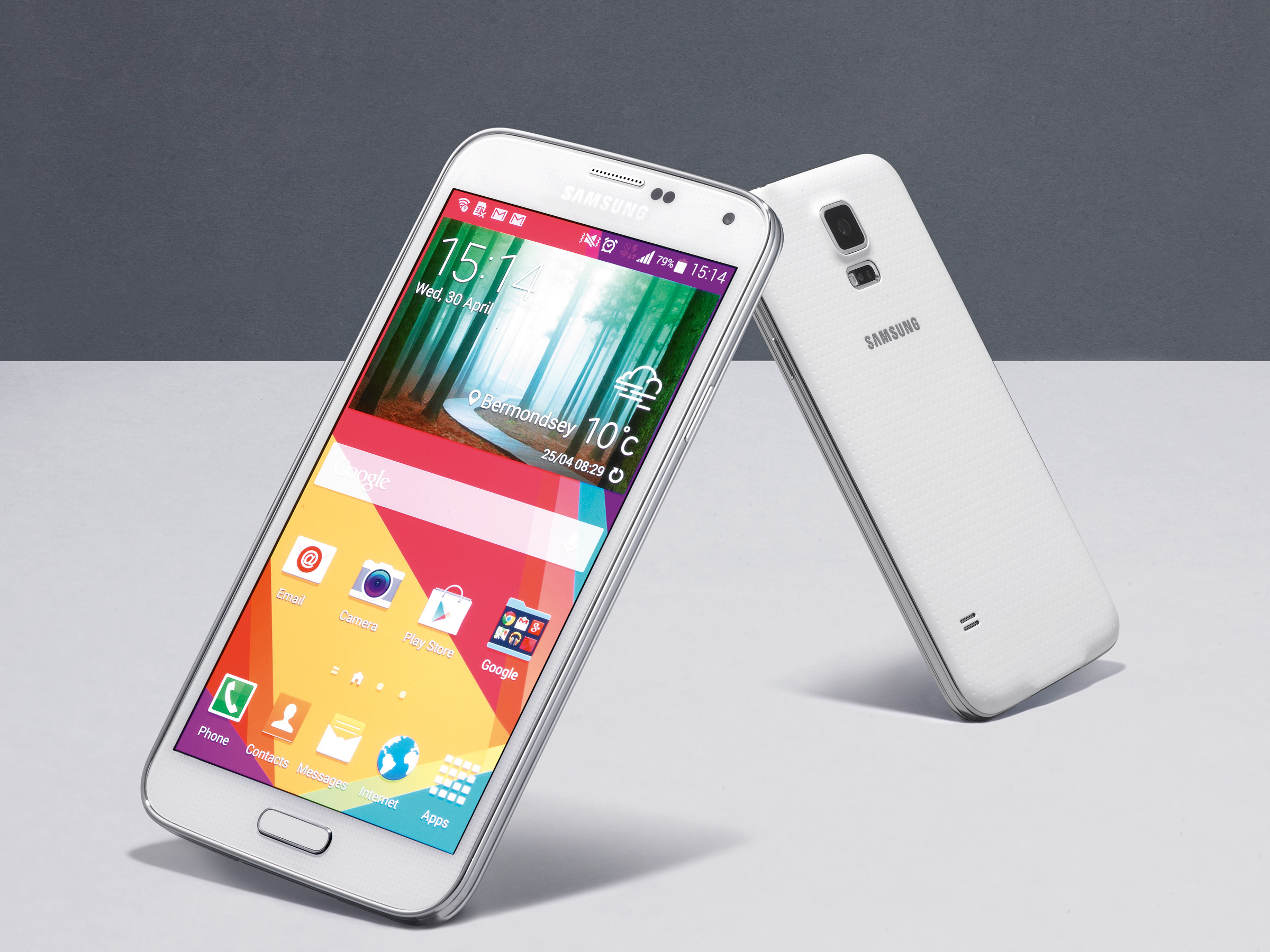 Design: 8/10
This is a big, wide phone but the new textured polycarbonate makes it nice and grippy. It's a mere 15g heavier than the S4 and is also more solidly built. We're not saying "go metal or go home" but a redesign is long overdue.
Screen: 9/10
One advantage the S5 has over its rivals is how easy its screen is to read outdoors. When watching small-screen flicks, blacks look incredibly inky – but the HTC and Sony bring out more detail and there is a slight blue tinge.
Camera: 9/10
Zooming in on landscape shots? Use the S5. Your mate's face in a dimly lit restaurant? Reach for the HTC or Sony. Elsewhere, the HDR mode is one of the best we've used and we like the simplified camera app.
OS and apps: 9/10
Still a little overwhelming, the latest version of TouchWiz sees Samsung trying to edit its gazillions of features. There are cool additions such as S Health and Smart Switch, which imports iOS data if you're switching from an iPhone.
4. LG G3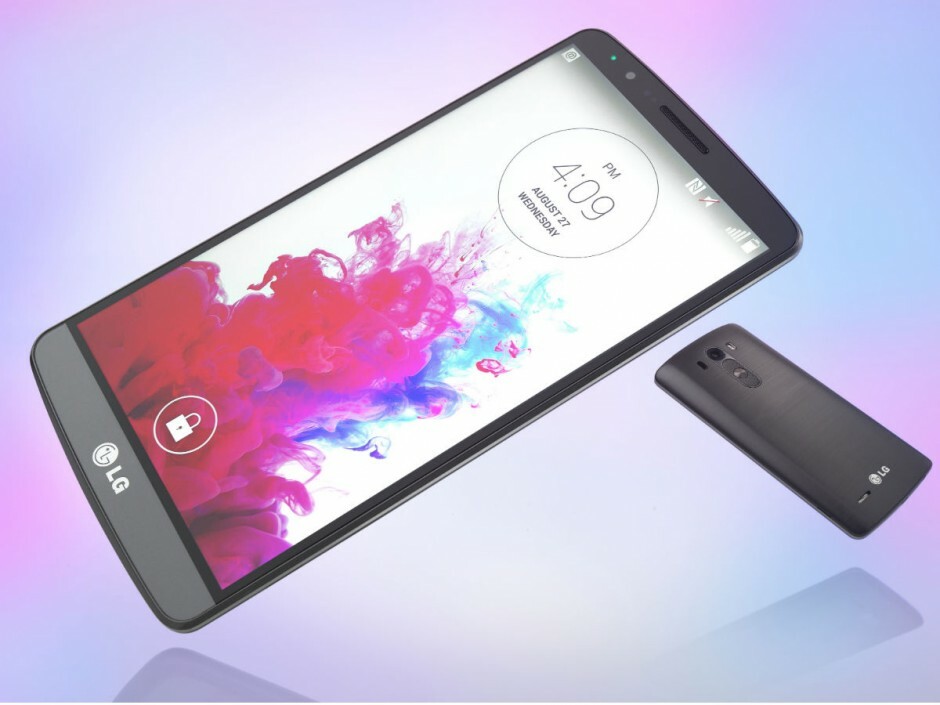 The G3 had its work cut out for it when it launched. Not only did it have to face the toughest smartphone competition ever, but it had to surpass its excellent predecessor, the G2, which reigned supreme at the top of Stuff's best smartphone list until the M8 came along.
Thankfully, LG was more than up to the task. The G3 surpasses the G2 in almost every way. For starters, it's got a 2K display that's almost sharp enough to cut your eyes on. Sorry if you're squeamish.
While the G2's 13MP camera remains, LG has thrown in laser-assisted autofocus and 4K video. And it now matches the Samsung with a removable battery and microSD slot.
It doesn't have the booming dual front-facing speakers on the One M8, but its rear 1W speaker is no slouch, and can almost match its HTC rival for loudness, if not bass.
While it lacks the Galaxy S5 and Xperia Z2's waterproof powers, its build is much improved, with a plastic, brushed-metal-look finish that will fool your eyes, if not your fingers.
LG's redesigned its UI too, opting for less eye-searing colours and a more muted, subtle look.
THE DETAIL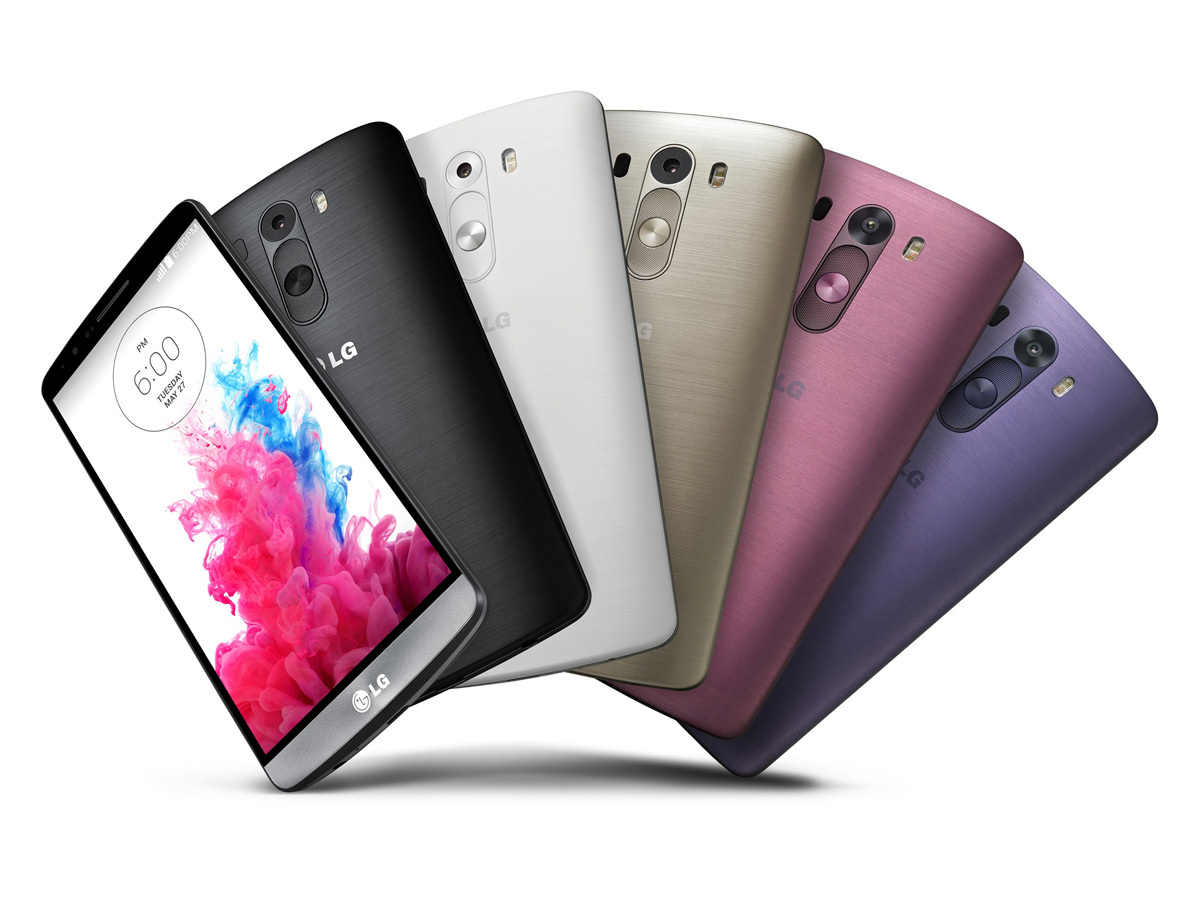 Design: 9/10
The G3's faux brushed-metal finish is barely discernible from the real metal rear of the HTC One (M8), and it easily beats the S5 for classiness. Pick it up, though, and its weight (or lack of it) can't fool your fingers. So it's no M8, but that doesn't mean it's not handsome in its own way.
Screen: 9/10
The G3 stands out from the crowd, with a 2560 x 1600 2K screen. That's an insane 538 ppi, though you won't notice any difference in sharpness in normal use. Look closely enough however, and it does throw up more details than its rivals. Its colours are excellent too – even more realistic than those on the M8 – although brightness, black levels and contrast let it down somewhat. Overall though, it's one of the best screens our eyes have had the pleasure of ogling.
Camera: 10/10
The G3's 13MP camera is, put simply, fantastic. It's a jack of all trades, and nearly a master of every one. Well-lit shots are packed with crisp detail, and it even beats the light-guzzling M8 in most murky conditions. Its advanced optical image stabilisation, coupled with its laser-assisted autofocus, help keep subjects in focus – and at lightning-quick speeds, too.
OS and apps: 9/10
LG has thankfully gone down the same fat-trimming path as Samsung. While its UI still isn't as minimalist as the Z2's, the garish icons are gone, replaced with flat, pastel-coloured icons.
Much of the bloatware is gone too, and LG's done its best to simplify things. The camera app for example, has had almost every little-used feature eliminated, and its bare controls now make for a much more pleasant experience.
LG's new Smart Notice is less useful. It's essentially a Google Now clone, and we can't see any benefit it offers over Google's own well-established offering. Smart Clean is more useful, prompting you to clean up and delete apps to save memory.
Finally, LG's excellent Knock Code feature negates the need for any fancy fingerprint scanners. Sorry, Samsung. It lets you tap out a pattern on the G3's screen (even when it's off),and with over 80,000 combinations, and a higher reliability than fingerprint scanning, LG's hit on a winner.
The verdict
The LG G3 doesn't have the exquisite build of the HTC One M8, nor does it have the extra sensors of the S5. But that doesn't matter.
Instead, it brings a complete package. For one thing, it has an excellent screen that, despite being larger than its rivals, doesn't increase the size of the G3 itself, thanks to LG's bezel-trimming magic.
Its camera is superb and adaptable, and its build, although not metal, both looks and feels good. A removable battery and microSD storage are the cherries on top of an already very tasty cake.
The S5 points to a flashy future, the Z2 a controlled one, and the One M8 continues to push design boundaries. But it's the way LG has packaged everything so carefully that makes this the nicest phone to live with.
The final scores
HTC One M8 (from £520) ★★★★★
Beautiful and brilliant, the One M8 is as pleasant to use as it is to hold
Samsung Galaxy S5 (from £530) ★★★★★
Packing in tech features and waterproofing is great, but Samsung needs to focus on design details
Sony Xperia Z2 (from £600) ★★★★★
Classy and clever with talent in spades, if the Z2 were easier to live with it'd be unstoppable
LG G3 (from £407) ★★★★★
LG followed its 2013 Smartphone of the Year by keeping everything that made it so special and adding a whole lot more
What's next?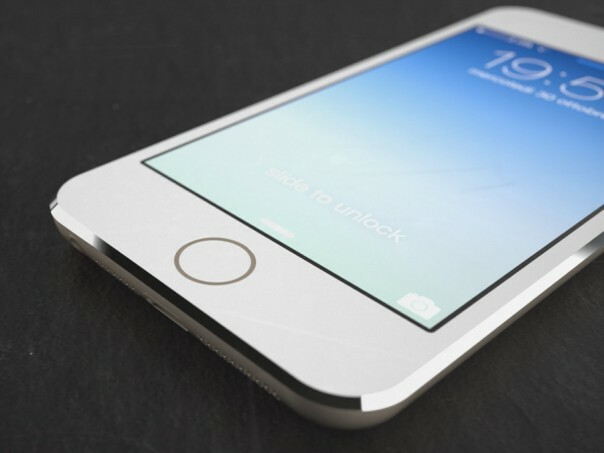 Smartphone season isn't over. Not by a long shot. The new king of the spec sheets is the £230 OnePlus One, with the 2K Oppo Find 7 not far behind. Both 5.5in phones offer most of what the HTC, Samsung and Sony have, for a lot less money. Paying more isn't the only way.
Each of the phones here is a refinement of sorts. If you're waiting for more of a leap, both the Samsung Galaxy S5 Prime and HTC One M8 Prime have already been rumoured to launch with 2K screens. The Samsung Galaxy Note 4, meanwhile, should be announced at the IFA trade show in September and may even have a flexible display.
And then of course there's the Apple iPhone 6 – coming to an Apple Store near you this autumn. Want even more radical? Google's Project Ara should bring us modular smartphones in early 2015.
READ MORE: Apple iPhone 6: price, specs, release date – everyhting we think we know