Sonos Era 300 vs Era 100: what's the difference?
Here's how to tell the latest Sonos Era speakers apart - which is the better choice for your Sonos setup?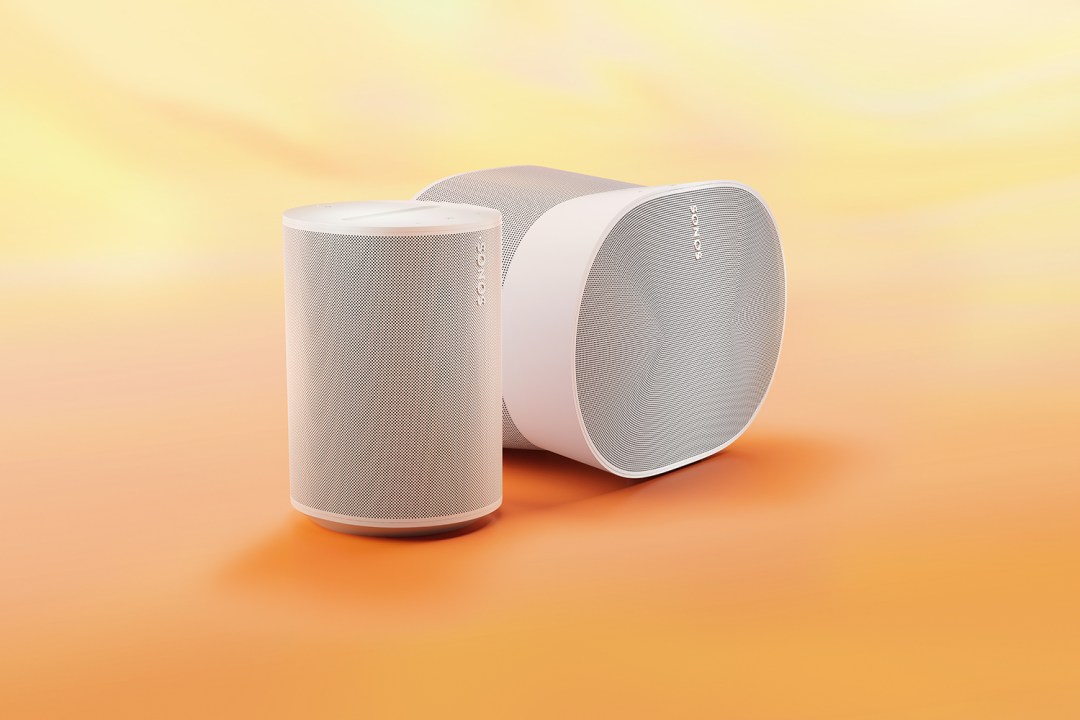 Sonos isn't very good at keeping secrets, so while everybody knew the Era 300 and Era 100 speakers were coming before they were officially announced today, that doesn't mean we're any less excited to go ears-on with them.
Until that's possible, though, we've taken a closer look at them side-by-side and picked out the key differences between the two new Wi-Fi speakers. Which one will you be adding to your audio arsenal?
Design: Some speakers are bigger than others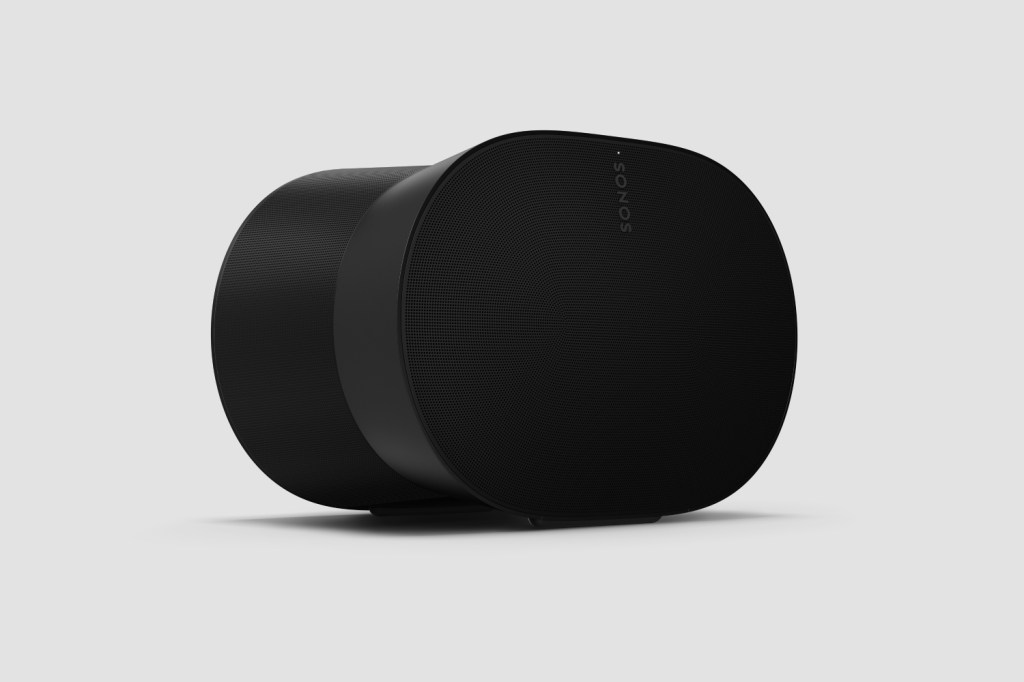 The most obvious difference between the Era 300 and Era 100 is the size.
The Era 300 is the larger of the two. Weighing nearly 4.5kg and measuring about the same size as a standard two-slice toaster, it's not quite as big or heavy as the Sonos 5 but it's definitely something you'll need to clear a space for rather than squeezing in on a shelf. It's an unusual shape, too, with a contoured chassis that looks like it's got a belt tied a bit too tightly around the middle.
The Era 100, however, isn't a huge departure from the speaker that it's come to replace. In fact, it's almost exactly the same size as the Sonos One, and at 2kg is only slightly heavier. It's slightly more elliptical in shape and stands slightly taller, but you can certainly tell they're related.
Both the 300 and 100 come with the same set of capacitive touch controls, allowing you to play, pause, skip, replay, adjust the volume, mute the voice assistant, and group or ungroup Sonos products without having to reach for your phone. There's also a Bluetooth button for pairing new devices that aren't on your Wi-Fi network, plus a light that shows connection status indicates microphone activity and confirms whether mute is active or not.
Both speakers are available in just two finishes: black or white.
Specs: Six of one…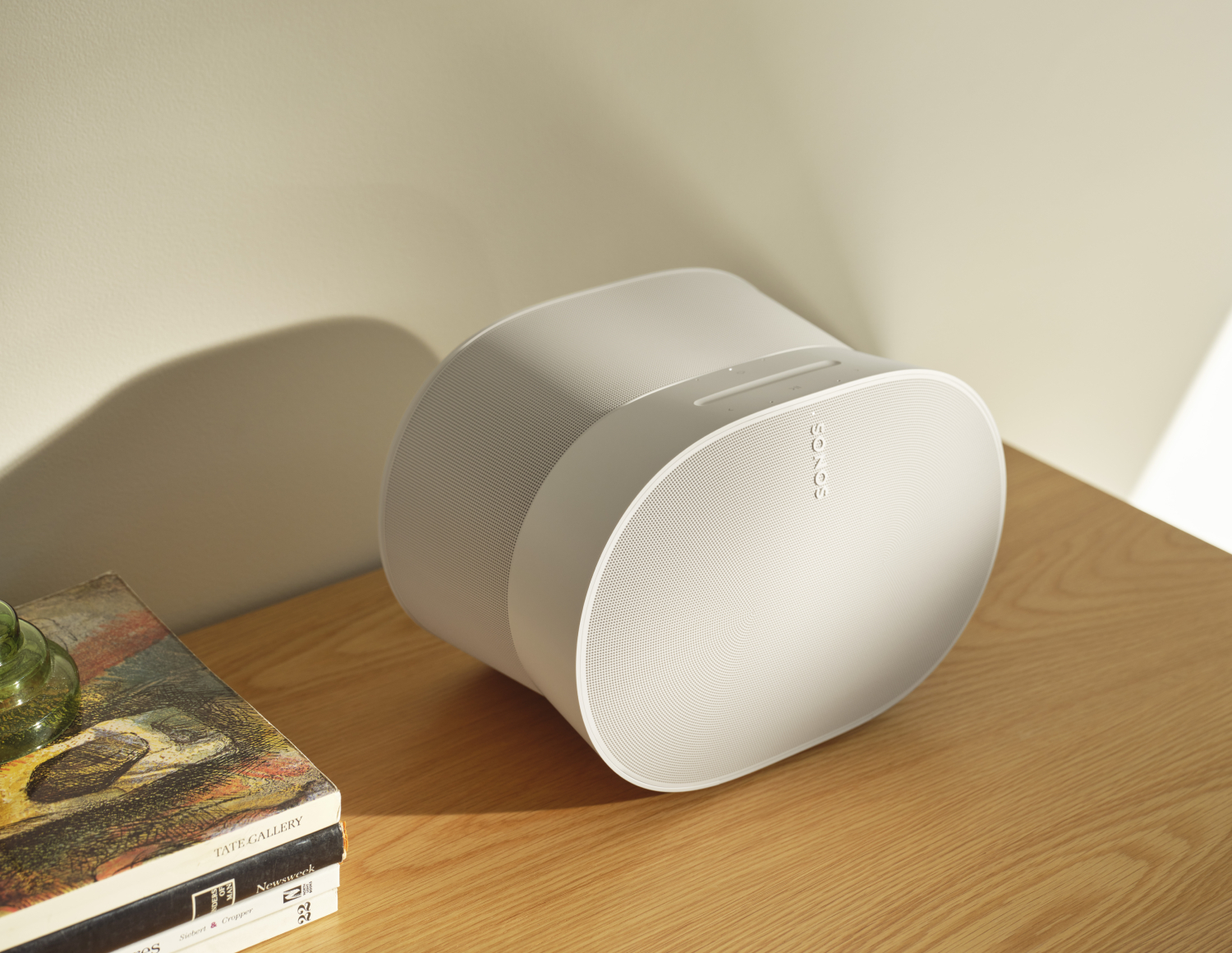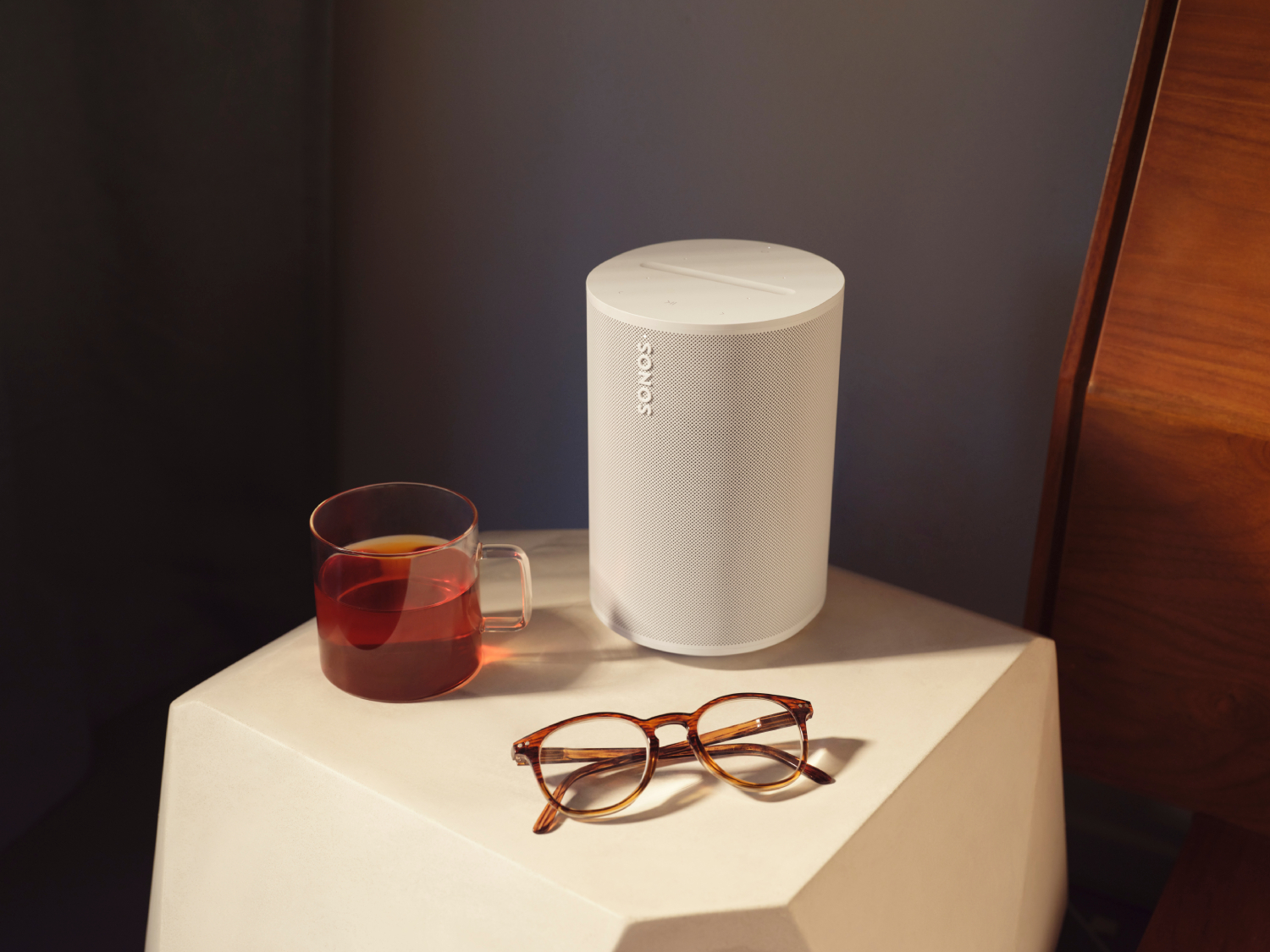 The Era 300's larger size allows it to house more drivers and amps than the Era 100.
You get four tweeters and two woofers inside the 300, with one tweeter pointing upwards so that sounds can be bounced off the ceiling, and the others angled to fill the rest of the room. The whole lot is powered by six class-D amplifiers, so it should have enough power to reach every corner.
The Era 100 has just two angled tweeters and one mid-woofer, which is an upgrade on the Sonos One but obviously far fewer than its fellow new arrival. It also has half as many class-D amps inside, but that's still one per driver, plus its more compact dimensions mean it's better suited to smaller spaces anyway.
Performance: Spatial awareness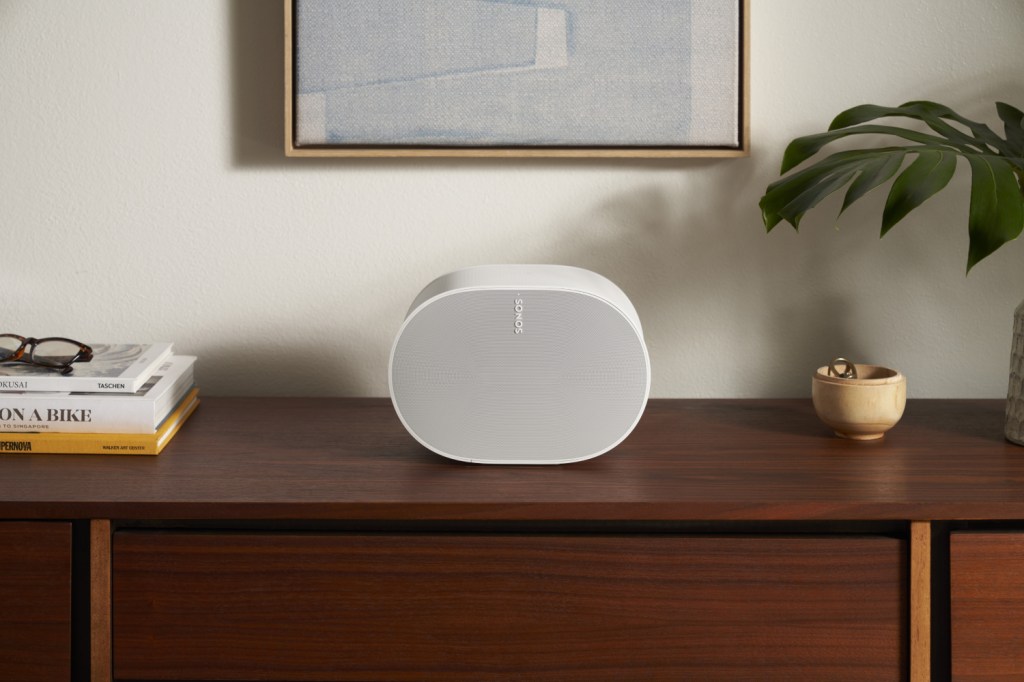 The Era 300's extra drivers (and their arrangement) mean it's capable of something the Era 100 can only dream of: playing back spatial audio.
In the first information we received about the product, Sonos originally said it was only compatible with Dolby Atmos Music via Amazon Music Unlimited but Sonos has now also announced the new speakers will support Apple Music Spatial Audio from launch.
If you've got two Era 300s you can pair them with either a Sonos Arc or Beam (Gen 2) soundbar and unlock full-on Dolby Atmos surround sound.
While the Era 100 doesn't have spatial audio skills, you are able to pair two together for a wider soundstage or add them to your Arc, Beam, or Ray soundbar as satellites.
Features: Trueplay or dare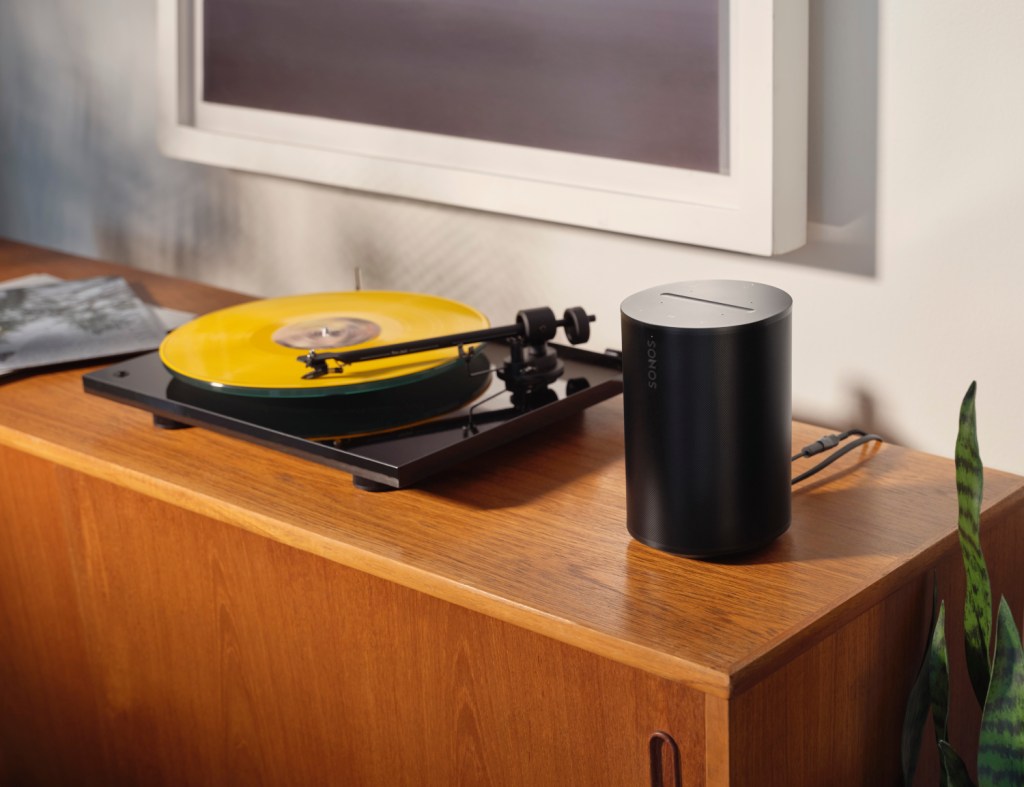 Both these speakers offer all the usual Sonos skills, meaning you can use them on their own or as part of a larger multiroom speaker setup.
They both work primarily over Wi-Fi, although there's now Bluetooth onboard as well, and if you buy a Sonos Line-In Adapter you can connect old-skool wired kit to the USB-C port using an aux cable.
Amazon Alexa is onboard both, too, or you can just use Sonos's own voice control system. The built-in mics that allow that also enable Trueplay tuning, which tweaks the sound of the speaker to suit the dimensions of the room that it's in and where exactly it's placed in relation to the walls and furniture. Trueplay used to be only available to iPhone users, but with these new Era speakers Android owners can now access it, although it only uses the speaker's onboard mics, rather than those built into the phone like it does on iOS.
If you're not happy with the adjustments Trueplay has made, you can also tinker with the performance of both speakers using the adjustable EQ in the Sonos app.
Price: Mind the gap
As you'd probably expect given the significant technical difference, there's also a pretty big difference in the cost of these two speakers. The Era 300 will set you back $449/£449, while the Era 100 is $249/£249.
Check out our guide to the best Sonos gear and the best wireless speaker.