Sony Xperia XZ2 Compact vs Apple iPhone 8: Which is best?
Want a small flagship? Here's our pick
Sony has a couple of new flagships releasing right about now – the new base Xperia XZ2 model and the smaller Xperia XZ2 Compact. And despite being the smaller and less robust of the two, we were actually more excited by the XZ2 Compact when they were announced.
In a field full of ever-expanding screen and device sizes, it's a smaller phone with some serious perks, packing a 5in, extra-tall 18:9 display along with top-of-the-line tech. In other words, it can hang with the other, larger Android flagships debuting this spring, but it's not quite as huge in the hand. Plus, it's cheaper.
Of course, if you're looking for a smaller, flagship-level smartphone, it's hard to ignore Apple's iPhone 8. While not as glitzy and glossy as the wallet-destroying iPhone X, it remains an incredibly capable handset – and even those with smaller hands shouldn't struggle with it.
Looking for a smaller phone that still packs a punch? Here's how the Sony Xperia XZ2 Compact and Apple iPhone 8 compare, and our verdict on which we'd pick if it were our money on the line.
Design: Neither's a stunner
The iPhone 8 is Apple's fourth straight core model with the same overall design, and truth we told, it's become a bit boring. It's fine, certainly: super minimal and plenty polished, but the gleaming iPhone X makes the iPhone 8 look even more tired. At least the iPhone 8 adds sleek glass backing over the earlier editions, which is definitely a plus.
On the other hand, the Xperia XZ2 Compact isn't going to win any awards for Android design. It's fairly plain on the front, with a good amount of bezel here (much like the iPhone), and the backing goes simple with rounded polycarbonate. Nothing too alluring, really, but it's still a nice shake-up from Sony's typical rectangular, bezel-heavy look. That said, it's surprisingly chunky and hardly feels like a flagship.
Even if the iPhone 8 seems a bit plain these days, it still looks and feels a lot higher-end than the Xperia XZ2 Compact.
Verdict: Apple iPhone 8
Screen: The Sony edge
The Xperia XZ2 Compact doesn't go for broke compared to other Android flagship screens: not only is this LCD comparatively small at 5in, but it's also a modest 1080p display as well. However, it does go extra-tall at an 18:9 aspect ratio, providing more room to view photos, videos, games, apps, and anything else you can throw at this display.
It feels like a 4.5in 16:9 screen stretched taller, which does feel rather tiny at times – like when playing games and squinting to see details. But most of the time, the screen looks pretty great.
By comparison, the iPhone 8's screen still underwhelms – but that's true against most flagship phones these days. Apple stuck with the 4.7in, 750p, 16:9 Retina LCD display that we've seen some version of over the last few years, and it's pretty good, especially with True Tone to automatically adjust the colours based on your natural light. Even so, it loses something on crispness, and the sharp-looking Sony has an edge here.
Apple's screen does pack in 3D Touch pressure-sensitivity, which lets you press harder to interact with games, apps, and menus, but we use it so infrequently that it hardly feels like a notable advantage anymore.
Verdict: Sony Xperia XZ2 Compact
Camera: Photo finish
Sony isn't usually known for having the best smartphone snappers around, but the Xperia XZ2 Compact at least improves upon past models. The single 19-megapixel back sensor gets an image signal processor boost from the top-of-the-line Qualcomm Snapdragon 845 chip inside.
It can't hang with the Samsung Galaxy S9 or Google Pixel 2, two of the best smartphone cameras today, but we wrote that "it's good in all conditions." Daylight detail is great, even if it over-eggs the exposure and can look too saturated, and even nighttime shots typically look pretty detailed despite the lack of optical image stabilisation here.
The Xperia XZ2 Compact also shoots 4K video footage in HDR and can also grab slow-motion video at an utterly mad 960 frames per second.
On the other hand, the iPhone 8 camera is rather stellar. Granted, Apple has been gradually edged out over the last couple years, not only by better Android cameras but also by Apple's own iPhone 8 Plus and iPhone X.
Even so, there are few better point-and-shoot smartphone cameras out there, with the iPhone 8 delivering routinely excellent shots without any fussing or fiddling. It's a 12MP shooter with an f/1.8 lens and optical image stabilisation, with impressive detail and colouring along with crisp 4K footage at 60 frames per second.
We haven't been able to put them head to head just yet, but from our individual experiences with each, we'd say they're pretty evenly matched. Neither is the best around, but they're both very good for everyday shooting.
Verdict: Draw
Performance: Heavy lifters
The Xperia XZ2 Compact might be small, but it's certainly mighty: Sony has packed in the same aforementioned Snapdragon 845 chip that we're seeing in a lot of newly-announced flagship phones, along with 4GB RAM. Only Samsung's new Exynos chip seems to pack in more power on the Android side, but it's nothing dramatic.
And yet Apple has it beat, amazingly enough. The A11 Bionic chip, the same seen in the iPhone X, is an absolute barnburner of a mobile processor, driving benchmark numbers that still haven't been equaled even after six months on the market. The iPhone 8 only has 2GB RAM within, but we never experienced any real bottlenecks: it's impressively fast.
In day-to-day usage, you shouldn't see much of a difference here. Apple's iOS 11 is super speedy and streamlined, and Android Oreo is much the same on the XZ2 Compact. But that extra smidge of raw power could come in handy for the iPhone 8 at some point.
Apple takes this category on raw horsepower, but it's not so much that it should sway your decision. Both of these are incredibly swift, top-of-the-line handsets.
Verdict: Apple iPhone 8
Battery and perks: Xperia advantages
When it comes to battery capacity, the XZ2 Compact has a big advantage: it wields a 2,780mAh battery pack, while the iPhone 8 has a paltry 1,821mAh. The iPhone 8 does a solid-enough job of lasting through a day if you go relatively easy on it, but hit the games and streaming media and you might need a top-up by dinnertime.
The iPhone 8 does have the advantage of wireless charging, however, which isn't available on Sony's Compact. But the larger XZ2 Compact battery does more confidently last throughout a full day, even with a fair bit of media usage, although it's not quite enough to get deep into a second day.
Both of these handsets start with a solid 64GB of internal storage, but the Xperia XZ2 Compact has a significant edge with microSD support. It's a lot cheaper to add a memory card than to spend another £150 to bump up to 256GB on the iPhone 8.
Verdict: Sony Xperia XZ2 Compact
Verdict: An XZ decision?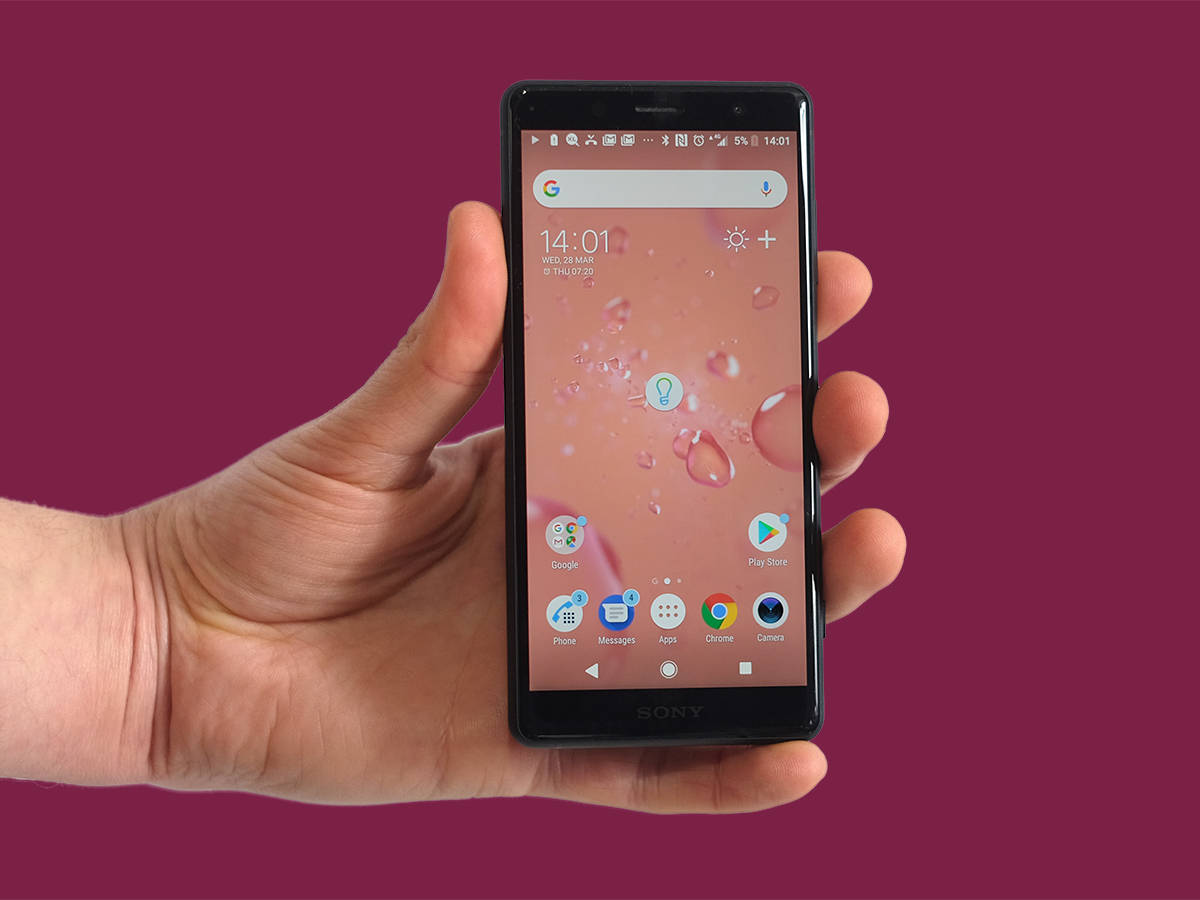 Two categories for the iPhone and two for the XZ2 Compact, with one draw in between. None of them are knockout wins either, although there are some key advantages in both directions.
But when it comes down to price, Sony has an undeniable advantage. The Xperia XZ2 Compact is officially priced at £549, although Amazon is selling it for £529 for day one. Meanwhile, the iPhone 8 sits at £699. The XZ2 Compact is a full-fat flagship phone in a smaller body, and it's the cheapest 2018 flagship available today.
The iPhone 8 is a very good Apple phone, and it's the cheapest of the latest-gen options. That said, £699 feels a bit pricey for a phone with a couple of lower-end components and the same old design. The XZ2 Compact might not look or feel quite as premium, but for £529, it's a very powerful and capable phone at a more comfortable one-handed size than most other Android flagships today.
If you're not dead set on an iPhone and want something that's appropriately… well, Compact, then we'd point you in the direction of Sony's smaller handset.
Winner: Sony Xperia XZ2 Compact