Sony Xperia XZ2 vs Samsung Galaxy S9: Which is best?
Can Sony's revamped flagship challenge for the smartphone throne?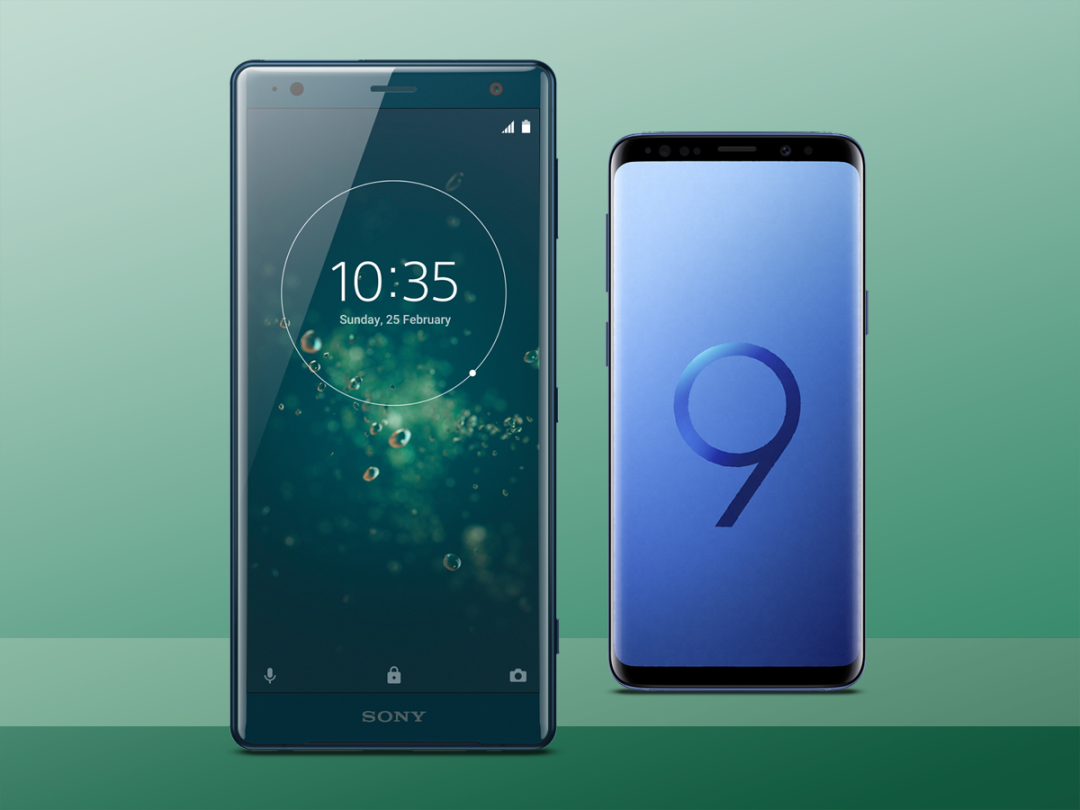 It's been a busy spring for flagship smartphones, and two of the biggest options are undoubtedly the Samsung Galaxy S9 and the Sony Xperia XZ2.
Both are Android-powered beasts with top-shelf components inside, and both are now vying for your (many, many) flagship dollars. But despite some similarities, they are pretty different handsets in terms of design, screens, and myriad other details along the way.
Eyeing a pricey, powerful new phone right about now? Here's a look at how two of the highest-profile options compare, now that we've put both of them through our extensive review gauntlet.
Design: New look XZ2, familiar S9
You've probably seen the Galaxy S9 before – because it's virtually identical to last year's brilliant Galaxy S8. That's not a problem, really, since the Galaxy S8 was our favourite phone in the world for an entire year, and its sleek, curved, ultra-minimal design is still a stunner.
But the only real design difference here is moving the fingerprint sensor to below the back camera, instead of alongside it. And as anyone who wielded the Galaxy S8 knows, that's actually a pretty smart upgrade.
The Xperia XZ2 takes a tiny bit of Galaxy inspiration, with its sides curving just a smidge, but it's not quite as distinctive: it's a bit closer to the Pixel 2 XL at a glance. Add in a comfortable curved back glass panel and it's definitely the best-looking phone that Sony's made to date – but we just don't think it has quite the same allure as the S9 here.
Verdict: Samsung Galaxy S9
Screen: An easy edge
Here's where Samsung has a key advantage. The Galaxy S8's 5.8in curved Super AMOLED display (18.5:9 aspect ratio) was arguably the best smartphone screen around last year, and the Galaxy S9 keeps it intact. It's a little bit brighter this time around, and the Quad HD screen is still fabulously sharp and has impeccable contrast.
On the other hand, Sony's screen sticks to a 1080p LCD at 5.7in, albeit similarly extra-tall at 18:9. It's lower-resolution than Samsung's, but still looks pretty nice with the ability to upconvert standard Full HD video into HDR (high dynamic range) for more visual pop. We didn't feel like we were getting the full HDR advantage when watching Netflix content, however, and overall the screen has less detail, muddled contrast, and less-punchy colours compared to the Galaxy S9.
Verdict: Samsung Galaxy S9
Camera: Samsung's a better shot
The Galaxy S9 makes solid camera strides by dropping the aperture on the 12-megapixel back shooter down to f/1.5 (from f/1.7) to let in more light, and then it enables adjustable aperture. What does that mean? Well, when you have plenty of light, it'll automatically shift to f/2.4 to capture even more detail. That's a pretty cool addition, albeit not the huge game-changer it's been billed as.
Even so, the results speak for themselves. Even if the Galaxy S9 doesn't quite hit the heights of the Pixel 2, you'll consistently get clean and clear results, plus low-light shots are much clearer and sharper than in the S8.
Meanwhile, Sony continues to lag behind the competition on snapshots. As we wrote in our Xperia XZ2 review, "Sony's performance falls behind the very best of the S9, iPhone X and Pixel 2 XL, but is still capable of great shots in certain circumstances."
You'll get some pretty great shots in strong lighting, but zoom in and there's still a bit of noise in view. Meanwhile, low-light shots underwhelm due to the lack of optical image stabilisation, along with the f/2.0 aperture. It's just not at the kind of consistent level we expect from a pricey flagship in 2018.
On the other hand, Sony's video shooting is ace thanks to its ability to capture 4K HDR footage with 10-bit colour depth. And its super slow-mo 960fps shooting goes to 1080p resolution, while Samsung's is stuck at 720p. But these benefits seem secondary to a stellar everyday still shooter, so we'd say Samsung has the better all-around option here.
Verdict: Samsung Galaxy S9
Performance: Loads of power
Samsung's Galaxy S9 comes with the Exynos 9810 processor in the UK and many other countries, which leads the Android pack by a solid margin. It'll run the Snapdragon 845 in the States, though, and benchmark tests show a little bit less speed from Qualcomm's chip.
Unfortunately for Sony, that Snapdragon 845 is the same one in the Xperia XZ2 – but there's still a lot of speed for your everyday needs, and it's also a step up from the 835 used in a lot of last year's flagship phones. And both of these phones pack in 4GB RAM.
Ultimately, they're very comparable in speed when it comes to day-to-day usage, with no obvious advantage on either end.
Verdict: Draw
Battery and perks: Mixed bag
The Galaxy S9 sticks with the 3,000mAh battery pack seen in last year's device, which was plenty enough to last a full day with moderate usage. The Xperia XZ2, on the other hand, nudges up to 3,180mAh and has a lower-resolution screen to power.
In our testing, we found that the Xperia XZ2 had more staying power, drawing less battery life during a Netflix run-down test and lasting deeper into the day with heavy usage. That's a nice little advantage for Sony here, but it's not a massive one.
Both of the phones offer fast charging and wireless charging capabilities, as well. And the two are also IP68 water and dust resistant, so you don't have to worry about a quick drop in a puddle.
And you'll find 64GB of internal storage in both of these, along with microSD card support for extra storage – so that's a welcome perk all around.
The Xperia XZ2 also has haptic sensors that deliver force feedback that matches the audio during games and features – a rumble feature, if you'd like, to borrow a term from the Nintendo 64 (circa 1997). No, we don't think it's a very essential addition.
But the Xperia XZ2 ditches the headphone port this time around, which means you'll need wireless or USB-C headphones to listen – as well as listen to Hi-Res audio. The Galaxy S9, on the other hand, bucks this trend by keeping the port. Nice one.
And the Galaxy S9 also supports the updated DeX Pad, which lets you plug in an external monitor and use your phone like a desktop PC, as well as the great Gear VR virtual reality headset. As always, Samsung goes above and beyond with cool, albeit optional perks.
All told, Sony has a nice edge on battery life, while Samsung has the more compelling perks. We're calling it a draw for this category, but you might be swayed more in one direction or the other.
Verdict: Draw
Verdict: It's Samsung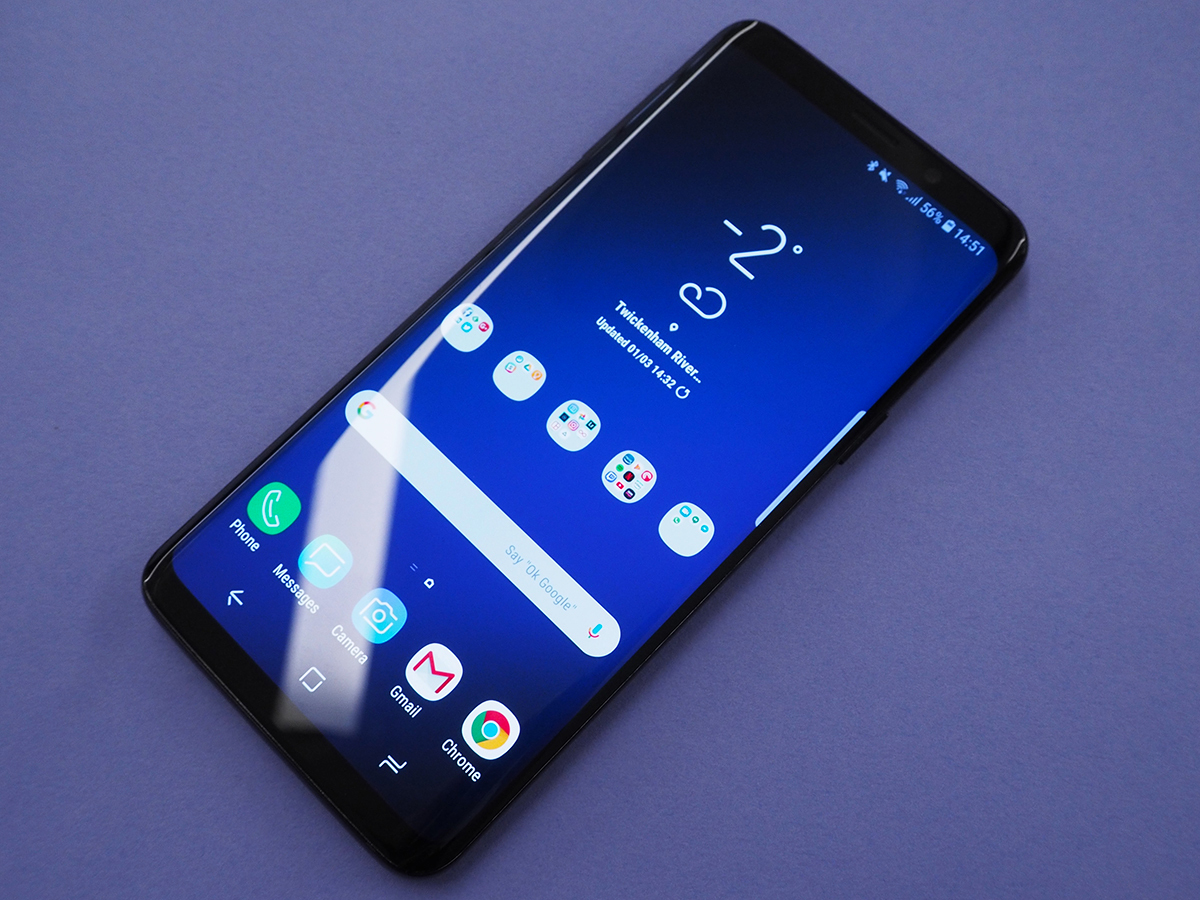 Sony's Xperia XZ2 shows some improvements for the downtrodden line, including a refreshed design, 4K HDR video shooting and a zippy Snapdragon 845 inside to power things along.
Still, this is the Galaxy S9 we're talking about. Even if it's not a very major upgrade over last year's edition, the Galaxy S8 was our favourite smartphone for the last year, and no other phone really came close enough to change our minds.
Now the Galaxy S9 tops our best smartphones list (as of this writing) – it's an incredibly impressive, well-rounded flagship phone that excels in every area. Unfortunately, the Xperia XZ2 excels in some areas, but doesn't fare well in this comparison.
The XZ2's look doesn't pop as much, the screen isn't as crisp or colourful, and the camera disappoints a bit with still shots. They're about even on power and the Xperia's battery life impresses here, but Samsung's overall experience shines in a way that Sony's doesn't.
There is a difference in price: £699 for the Xperia XZ2 versus £739 for the Galaxy S9, but don't let 40 quid determine this battle for you. If you're looking for a top-end Android right now, the Galaxy S9 is the best of the best.
Winner: Samsung Galaxy S9