Stuff Gadget Awards 2013: Voyager-1's interstellar flight is Tech Event of the Year
From test-tube burgers to singing in space, it's been a roller coaster year for tech events. But only one could triumph, and it's based on tech from 1977
This has been a year packed with era-defining events both in and outside of tech.
From flying cars to test-tube burgers, it truly feels like we're living in the far-flung future of The Jetsons. There are even astronauts recording music videos in space.
But only one could win the hearts of Stuff readers, and scoop a coveted Gadget Award. And it's based on the technology of 1977. Read on to find out more…
Winner: Voyager 1 exits the solar system
Proud of your travelling days when you staggered around Australia, Thailand and New Zealand with a grubby backpack? Well don't be, because the Voyager-1 spacecraft – first launched in 1977 to study the outer reaches of the solar system, and the first to provide close-up photography of Saturn and Jupiter and their satellites – was confirmed this year as the first manmade object to leave our solar system. It's almost 12 billion miles away from home, and it takes 17 hours for its signal to reach us here on Earth. Feel insignificant? Yeah, us too.
Runner-up: Terrafugia Transition flying car lifts off
Flying cars were the future they said. We'd be zipping off to work like the Jetsons, they told us. Well it's 2013, and we still haven't achieved our dream of piloting a flying Taxi like Bruce Willis in The Fifth Element. But thanks to the 20-minute test flight of the road-legal Terrafugia plane, our hope has been rekindled.
Runner-up: Martin jetpack cleared for test flights
We've longed for a jetpack ever since we watched Sean Connery take to the skies in Thunderball, which is why the first manned test-flights for New Zealand-based Martin Aircraft Company got us more excited than hormone-addled school girls at a One Direction concert.
Runner-up: House of Cards wins an Emmy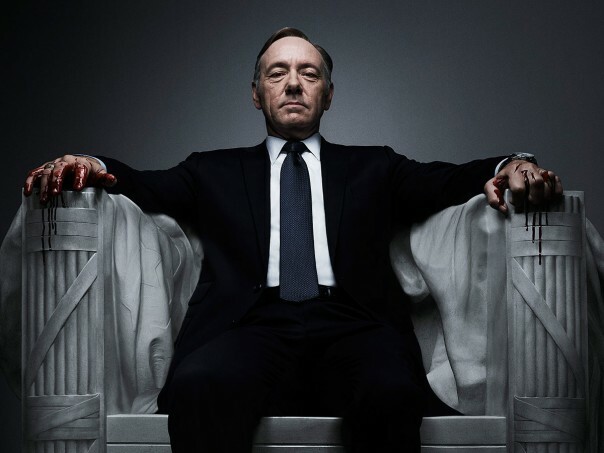 Netflix's original series starring Kevin Spacey made history by being the first online-only platform to win a primetime Emmy award. Nominated for 14 awards, it snapped up best director of a drama series and paved the way for a confirmed second, and expected third series.
Runner-up: Birth of the test-tube burger
£210,000. That's how much this test-tube-grown burger cost to make, and it could be the end of food as we know it. Only two people were approved to eat it at the launch event in London, where the described the 20,000 moulded muscles fibre patty was described as tasting like a 'meat protein cake'. Mmmmm.
Runner-up: Commander Hadfield's incredible Space Oddity video
Commander Chris Hadfield was already an internet sensation before posting his tribute to David Bowie's Space Oddity online, but spending his last day on the ISS recording himself floating around in zero gravity while wistfully staring at the Earth from above sealed his title of 'most popular astronaut around'.
Runner-up: 4G comes to the UK
2013 was the year we caught up with and overtook the rest of the world with the launch of a UK-wide 4G service. We haven't looked back since, catching up with Breaking Bad, gaming and surfing at speeds that we would have given our right arms for in our homes a few years ago.
Runner-up: Goal-line tech hits the Premier League
It happened at last. After years of debates, angrily spilled pints and insults flung at the mothers of many a referee, the FA finally gave the green light for goal-line technology to be used in the Premier League. Now all we have to argue about are handballs, offside, red cards, free kicks and penalties.
Runner-up: iOS 7 launch
iOS desperately needed a makeover, and Sir Jony Ive delivered. Gone were the fake virtual stitches and skeuomorphic design elements that made Apple's OS look long in the tooth. But what made this a Tech Event of the Year was the fact that the internet experienced its greatest traffic in history as people scrambled to download it on launch day (up 112% on the usual levels, apparently). Just 16 hours after launch, it was being used by almost 1/3rd of iThing users. That's a win.
More 2013 Stuff Gadget Awards, you say?
See what gadgets, people, apps, services and cars won in our other 22 Gadget Award categories right here.