Turn your iPad Pro into a laptop – or a desktop
Happy tappy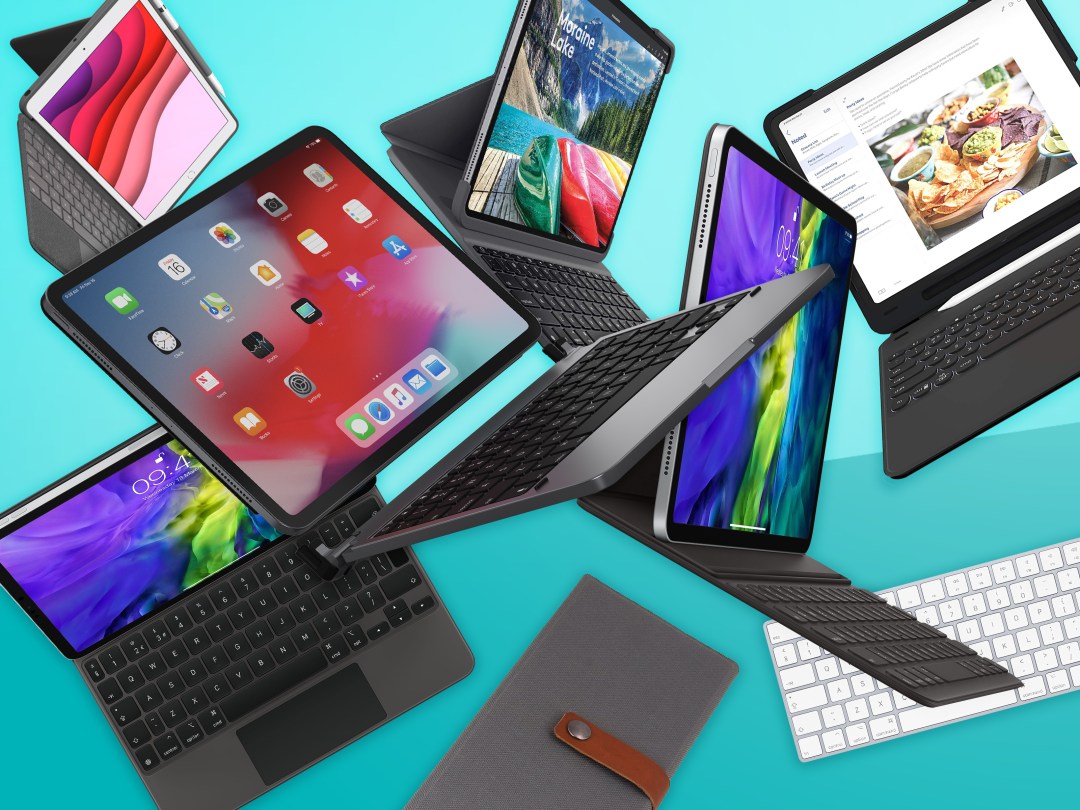 The original iPad was designed to sit in a space between smartphones and laptops. But quality software and the desirability of Apple's tablets resulted in many people wanting to replace their laptop with an iPad.
The snag is typing on glass isn't much fun. Fortunately, Apple and enterprising third-parties recognise this, and provide cases and other solutions to temporarily transform your tablet into something akin to a MacBook.
This round-up examines several options – and then goes a step further by exploring how to make your iPad ape a desktop computer.
Updated (May 2020): now includes Apple Magic Keyboard review.
Note: laptop-style cases and solutions can be augmented with a separate mouse or trackpad, if you use iPadOS 13.4's cursor functionality.
Apple Magic Keyboard for iPad Pro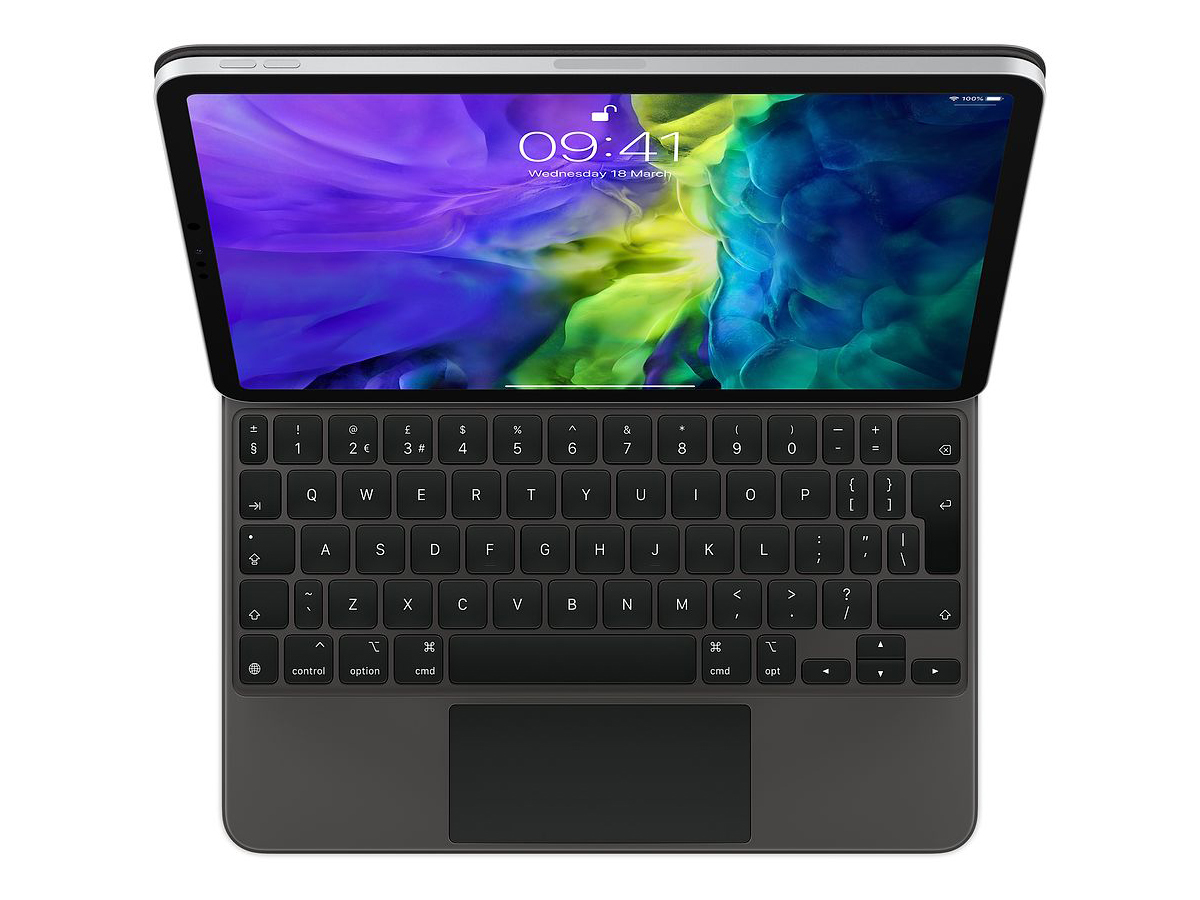 This keyboard for iPad Pro costs as much as an entry-level iPad, but it's packed with features. You get pass-through charging, backlit scissor keys (albeit, sadly, no media keys), a trackpad, and a floating design with limitless viewing angles. But is it worth the outlay?
If you spend a lot of time on your iPad Pro with apps that use traditional input, yes. The trackpad is like a dinky take on Apple's MacBook ones. The keys are great. The stand is solid and robust, ensuring your iPad doesn't move or wobble when you're smashing words into shape. Best of all, your iPad can be removed from the case in an instant (given that it attaches magnetically), making the Magic Keyboard ideal for a modular set-up where you switch on a whim between tablet and laptop 'modes'. It works with both the 2020 iPad Pro and the 2018 edition.
Just take care if you use the thing on an actual lap, mind – slope your legs downwards and the Magic Keyboard/iPad Pro combo has a tendency to overbalance and topple in terrifying fashion. We fortunately avoided a smashy incident through 'scientific' testing with a cushion (seriously), but you might not be so lucky.
Magic Keyboard for iPad Pro (from £299) – available for iPad Pro
Apple Smart Keyboard Folio
Apple's stand revels in magnetic attraction. It instantly snaps to your iPad, and immediately connects once you rest the iPad's edge in one of two provided slots.
Typing feels odd at first – if you're old, it's like the dead flesh ZX Spectrum keyboard. But with practice, you can hammer away at a fair old lick, even if it's annoyingly easy to invoke caps lock – and no way to tell whether it's on.
The lack of media keys is a pity, and the case being flush with the iPad means this one's very much a keyboard rather than something designed to protect your iPad. But that you can whip the thing off in a fraction of a second is a boon when you only want a laptop form factor some of the time.
Smart Keyboard Folio (from £179) – available for iPad Pro
Case closed: Smart Keyboard for iPad
Not rocking a pro, but want some fleshy keyboard goodness? Luckily for you, Apple offers the Smart Keyboard for iPad (£159). It supports the 7th-gen iPad and 3rd-gen iPad Air, is pretty good for tapping away on, and folds back neatly when you want your iPad to be a tablet again. It can't be used as a case, though – unless you like your cases with a skinny keyboard danging from them at all times.
Logitech Slim Folio Pro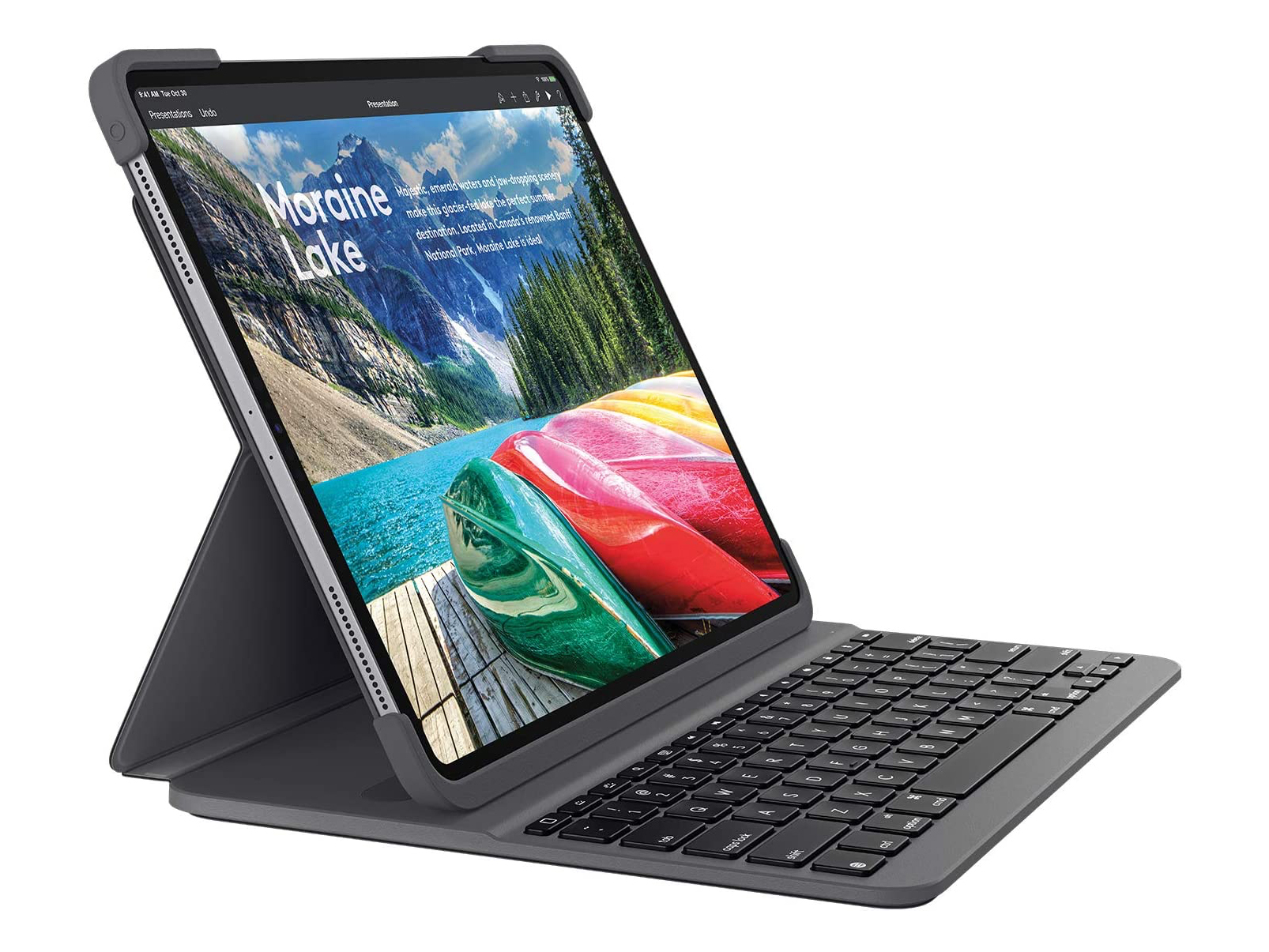 To use Logitech's Slim Folio Pro, you'll first need to squeeze your iPad into the case's rubbery confines — a not entirely speedy process. Once you're done and the Slim Folio Pro's connected via Bluetooth, you get something vaguely laptop-like. There's only one viewing angle, though, so you'd best hope you like it.
Unlike Apple's Smart Keyboard Folio, the Logitech's keys are backlit — although the light under the review unit's leftmost key shone out during review. Typing is a tad spongey compared to Apple's standard keyboards, but pleasant enough — and on par with the Smart Keyboard Folio. The UK keys layout is a nice bonus.
When ensconced in rubber, your iPad feels safe being flung into a bag; but the awkwardness of getting your iPad in and out of the Slim Folio Pro means it's best suited to longish 'laptop' sessions.
Slim Folio Pro (from £99) — available for iPad Pro; Slim Folio at £89.99 also available for iPad/iPad Air
Logitech Combo Touch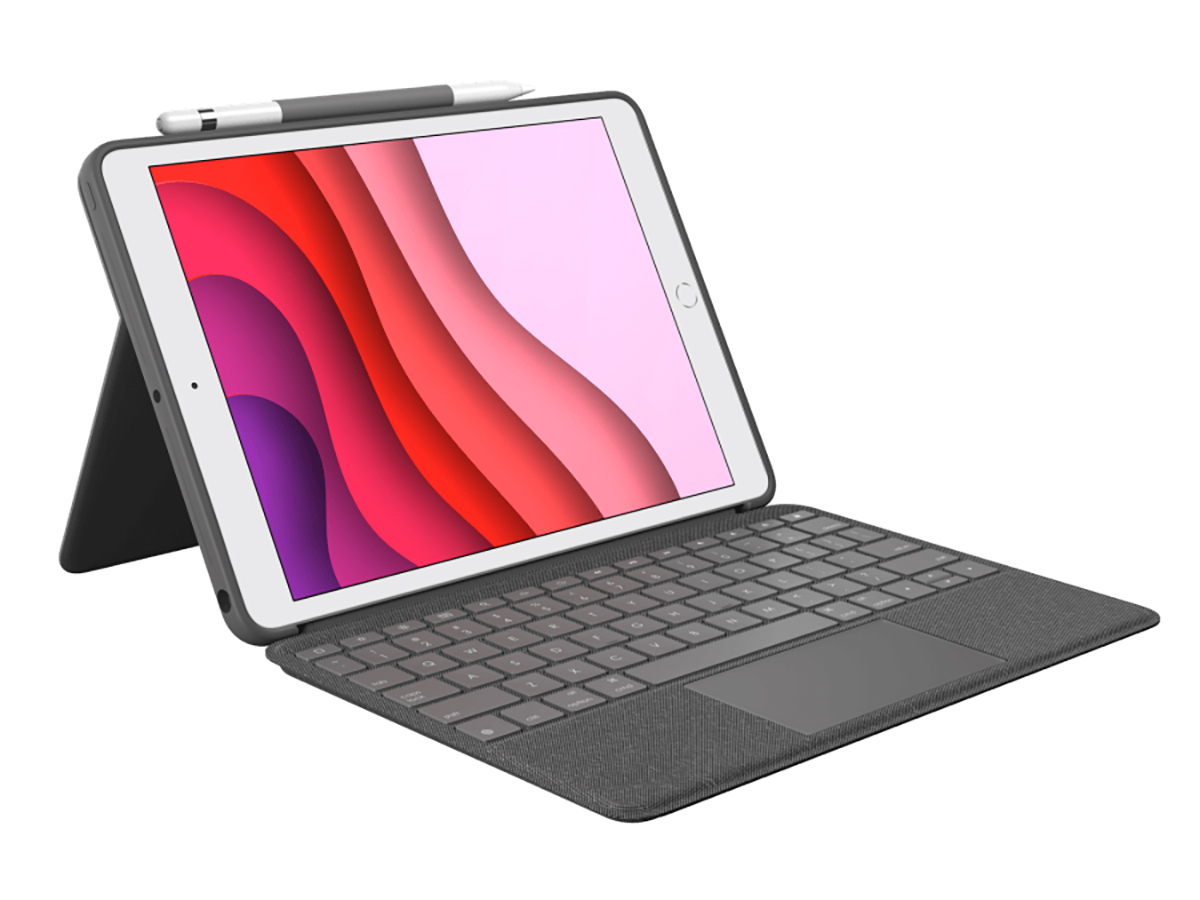 Apple's next-gen iPad keyboard focuses squarely on the iPad Pro, and so this Logitech product brings a similar experience (trackpad; backlit keys) to Apple's recent iPad, iPad Air, and the 10.5in iPad Pro.
It utilises a similar case system to the Slim Folio Pro, but the keyboard is detachable. The kickstand on the cover part has multiple angles. Has it got the touch? Reportedly, the gestures work just as well as on Apple's keyboard, but we shall see when we get hold of one.
Logitech Combo Touch (from £119.95) – available for iPad/iPad Air/iPad Pro 10.5in
Snappy dresser: Logitech Folio Touch
The iPad Pro take on the Combo Touch is the Folio Touch (£149.95). You don't get the lift-and-go sleekness of Apple's effort – nor the detachable keyboard of the Combo Touch. (You can, however, flip the keyboard behind the screen, to work in tablet mode.) Still, it's half the price of the Magic Keyboard, yet still uses the iPad Pro's smart connector, supports all of its snazzy gestures, and will also keep your iPad safe when it's slung in a bag.
Brydge Pro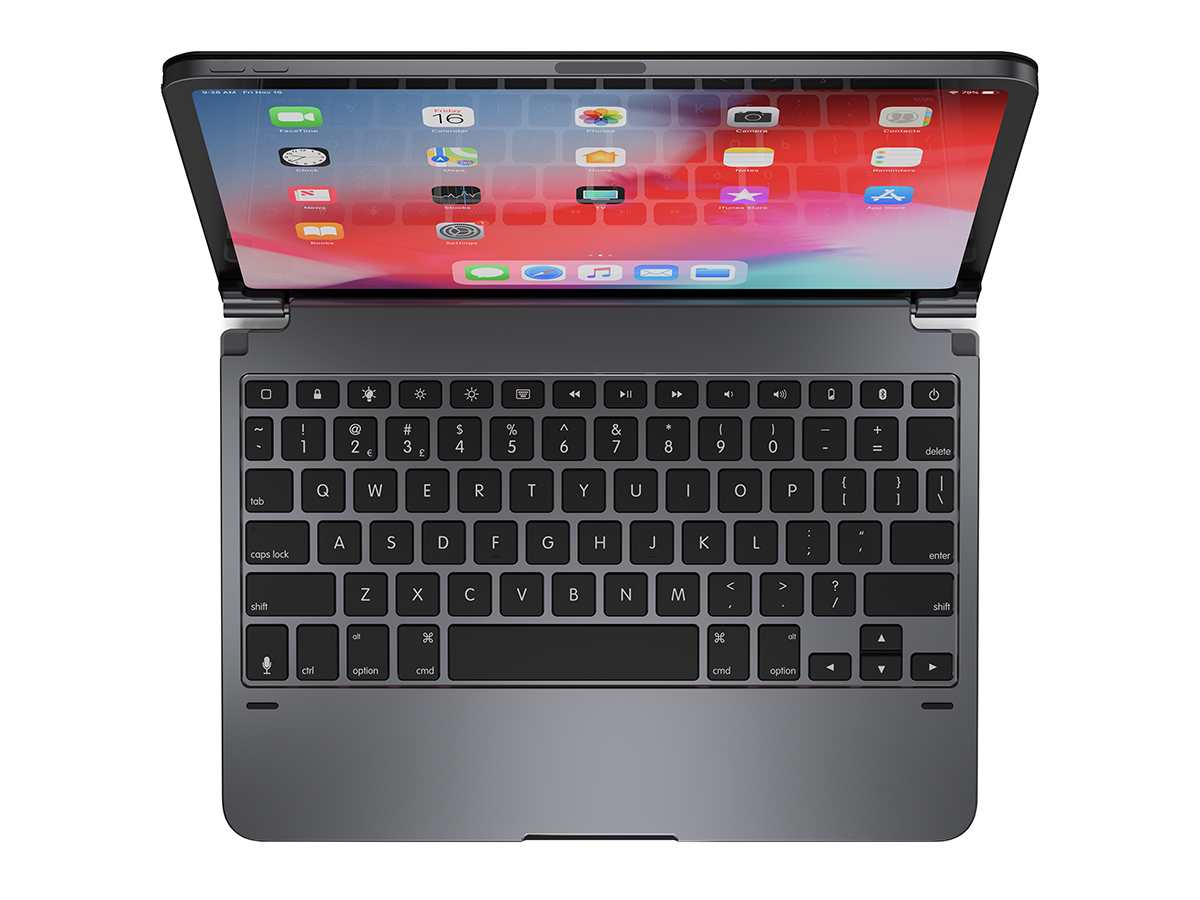 Once set up, the combination of Brydge Pro and iPad looks more like a laptop than anything else in this round-up. The mechanics, though, are very different from this keyboard's contemporaries – in short, you shove your iPad into two rubber-cased hinges.
We have minor concerns about scratches (make sure there's never any grit lurking); also the hinges are stiff, and so you can't snap the 'lid' (essentially comprising your iPad) shut. But you do get infinite viewing angles, and the construction is robust to the point the Brydge Pro could probably survive a nuclear blast.
The keyboard is optionally backlit (three levels) and pleasant to type on. But it's the modular nature of the unit, along with the relative lack of faff, that made it our favourite for when all that's needed is quickly turning an iPad into a laptop, without the keyboard needing to double as a protective case.
Brydge Pro (from £99) – available for iPad Pro; the standard Bridge series is available for almost every recent iPad, starting at £89.99 for the iPad mini
Brydge Pro+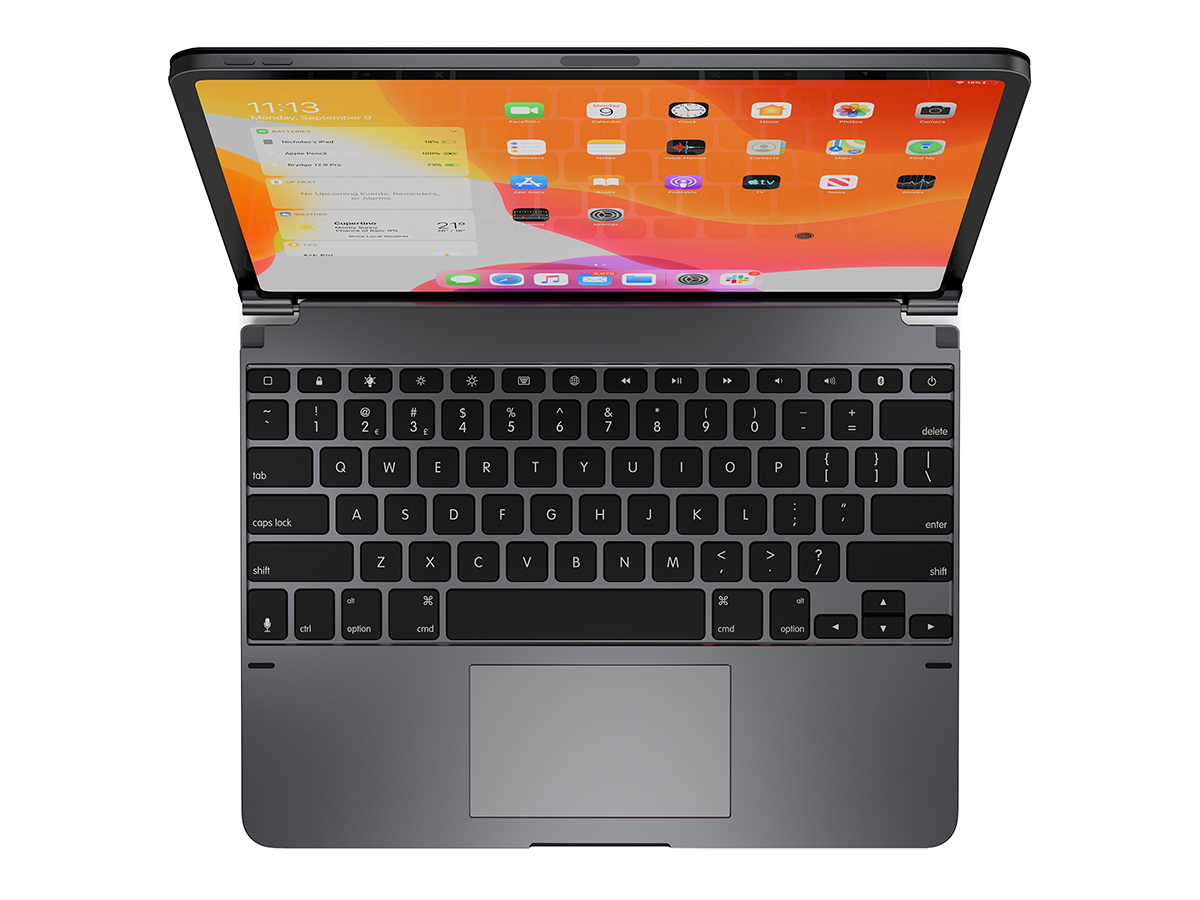 You've probably guessed where this is going. The 'plus' bit of this keyboard is, yes, the addition of a trackpad. And it only costs an extra 40 quid, which seems reasonable. The snag: this trackpad was apparently built to support Apple's older touchscreen tech, and so even after firmware updates doesn't give you the same experience as the Apple and Logitech keyboards.
We'll offer a fuller opinion when Brydge sends one our way. In the meantime, we'd urge a little caution, and suggest perhaps going for a Brydge and Apple Magic Trackpad combo if you like the idea of the Brydge hardware.
Bridge Pro+ (from £189.99) – available for iPad Pro (2020)
Smooth operator: iPad OS Trackpad
If you've already got a Brydge Pro, fancy a trackpad, but don't want Apple's one for some reason, hang on for Brydge's alternative, which we're tantalisingly told is "coming soon".
Zagg Slim Book Go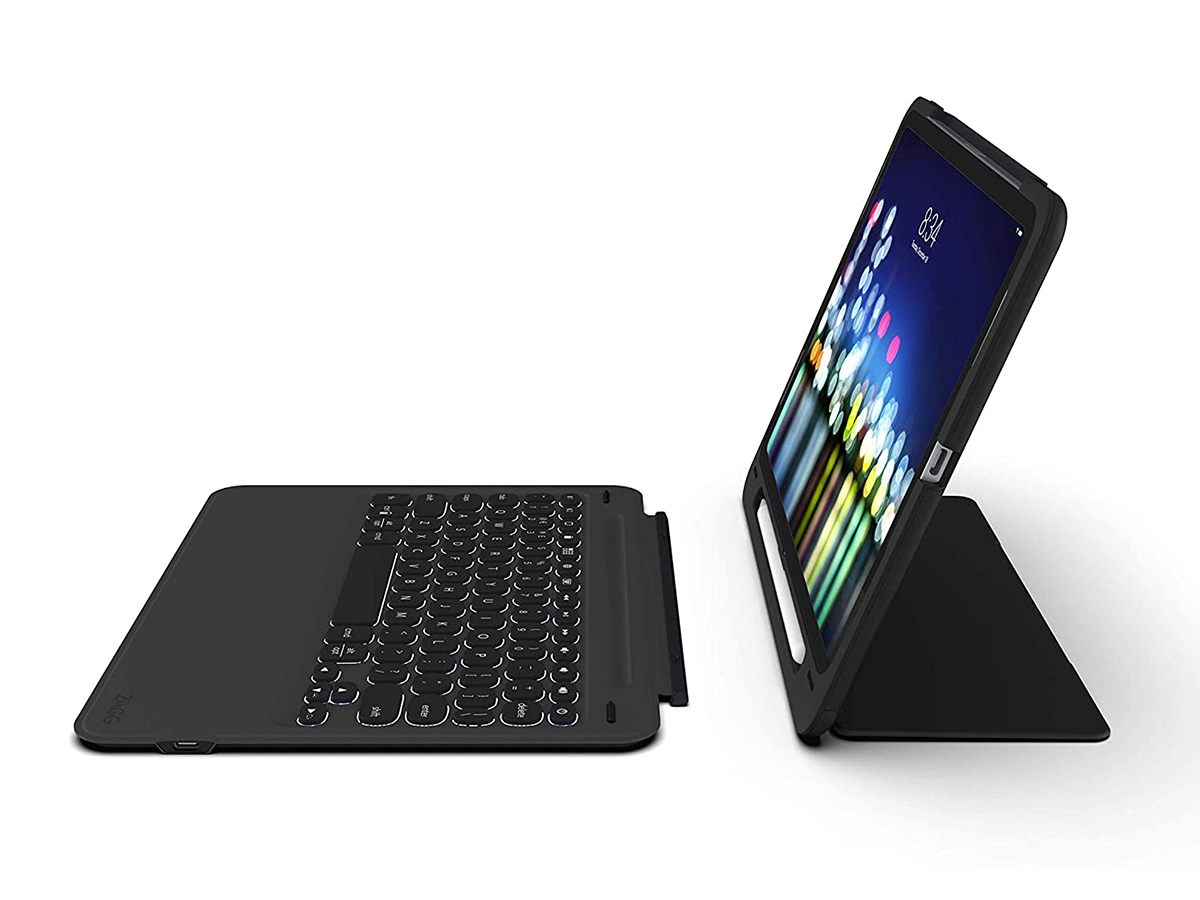 Unlike the Apple and Logitech numbers, Zagg's design echos Microsoft's Surface. So the iPad is shoved into a cover, which has a kickstand. You then attach a removable keyboard.
The concept – as any Surface user will tell you (whether you want them to or not) – is great; but the execution is problematic here. The cover offers the iPad practically bulletproof protection during travel, but is heavy and bulky; also, a hinge snapped on our review unit the first time we used it. That's not great. Still, infinite viewing angles are the prize if that doesn't happen to you.
As for typing, the Zagg is responsive, but the round keys are strange. The case lip also got in the way of upwards swipes. A bit of a missed opportunity, then.
Slim Book Go (from £89.99) – available for 9.7in iPad, 10.2in iPad, 11in iPad Pro
Studio Neat Canopy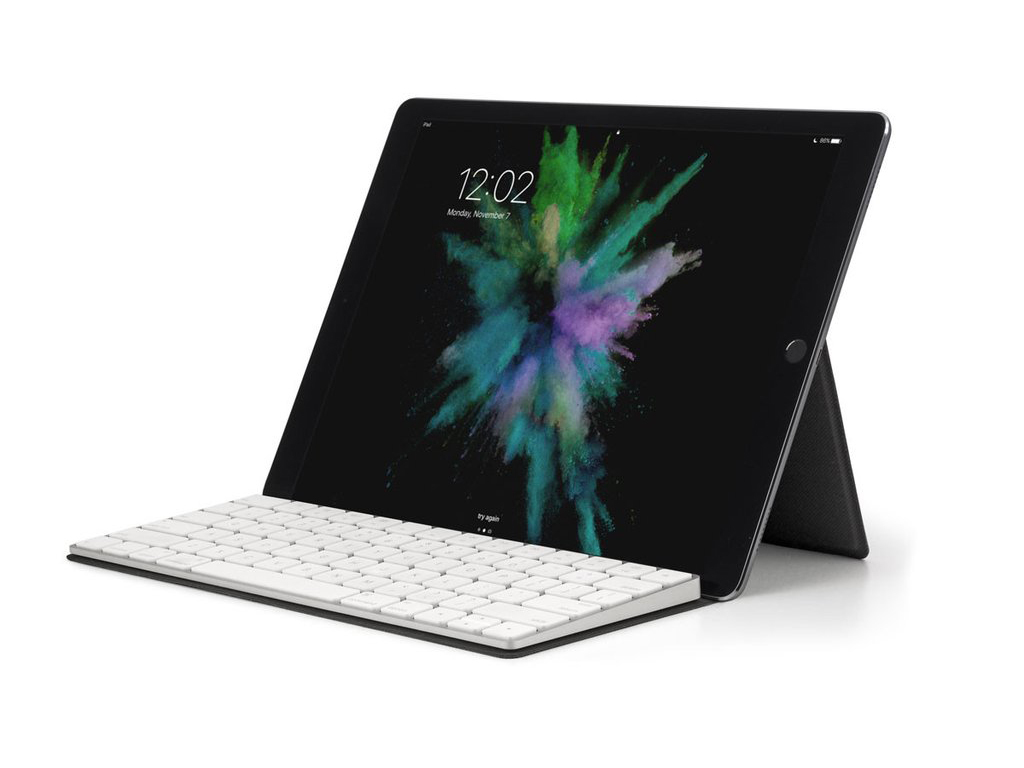 The biggest oddball in this round-up, Canopy is actually a case for an Apple Magic Keyboard. It then folds open to become a stand for an iPad – or any other device you can connect a Bluetooth keyboard to.
When set up, it's stable, with the keyboard latching on to two sticky bars – although there's no telling how sticky they'll remain in the long run. The iPad's held in place by the keyboard.
You only get one viewing angle, but Canopy offers the unique option of the iPad sitting in portrait, so you can pretend you're Hunter S. Thompson, smashing out words on a typewriter. We have reservations about having the iPad right up against a metal keyboard – perhaps add rubber stoppers to avoid scratches. Otherwise, Canopy is an interesting, modular alternative to traditional laptop-style options.
EasyAcc tablet case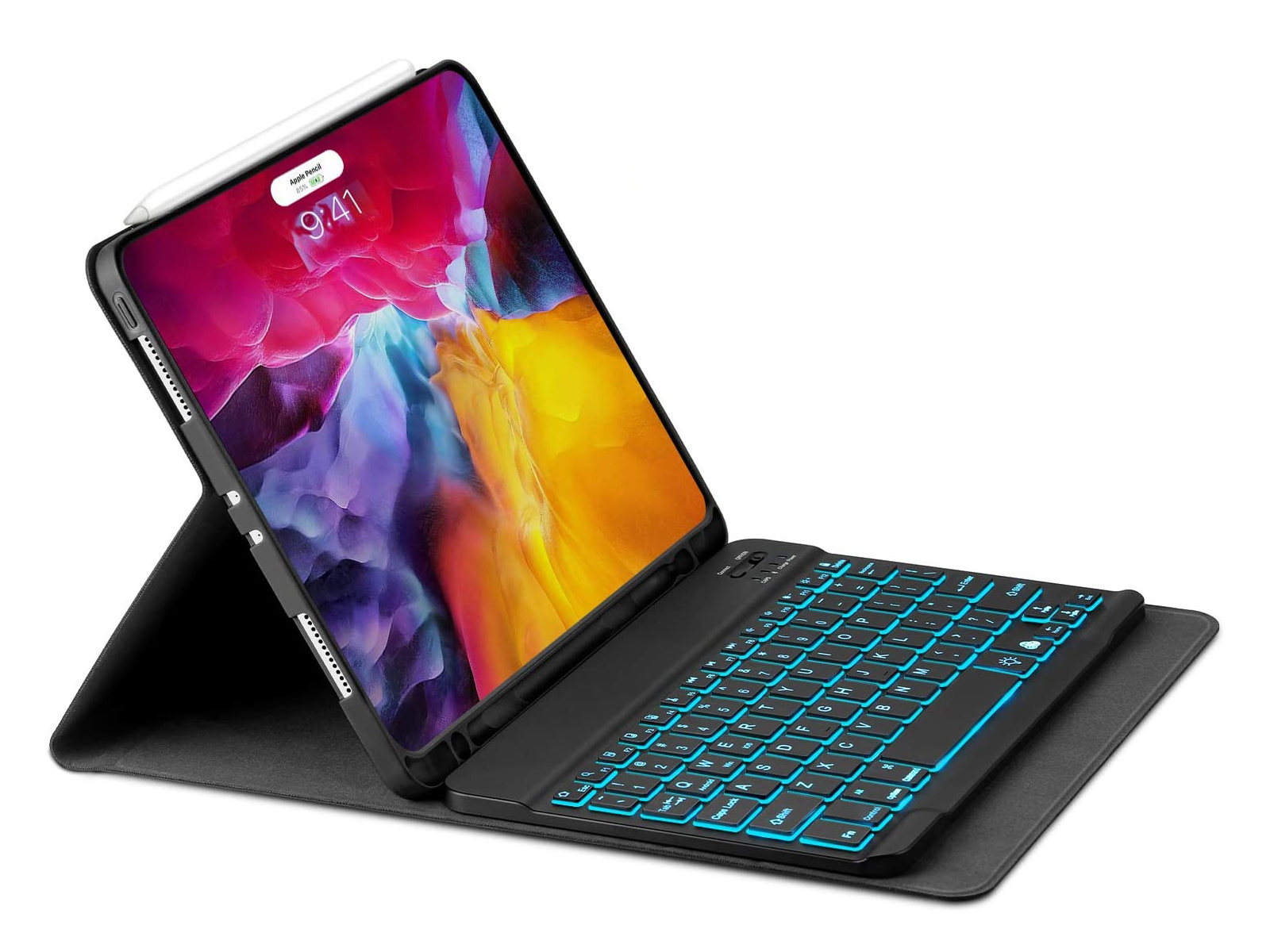 If you've spent almost all your cash on an iPad Pro, or don't fancy splashing out loads on a keyboard case you'll use only rarely, try this EasyAcc cheapo.
Your iPad snaps into the case (and is easily removed), to keep it safe in a bag. The bundled Bluetooth keyboard magnetically attaches to the case when it's set on a table.
The keyboard's backlit and has an impressive row of media keys. The typing experience isn't especially pleasurable – the keys are a bit placcy clacky – but, well, what do you expect for thirty quid? In all, a bit of a bargain for occasional iPad keyboard users.
EasyAcc tablet case (£29.99) – available for 11in iPad Pro
Turn your iPad into a desktop
The laptop form factor isn't appropriate for long-term work, since you hunch over to look down at the display. A superior ergonomic set-up has your screen at eye height – and this means using an external display, keyboard, and mouse/trackpad.
As of iPadOS 13.4, there's no fully optimal way to mimic this set-up with an iPad – but you can get close. We connected our iPad Pro to an external HDMI display through a CHEOTECH USB-C adapter (£27.99), and also connected an Apple Magic Keyboard (£99) and Apple Magic Trackpad 2 (£129).
The iPad's more or less 4:3 display is mirrored to the external one – which means black bars left and right. (We hope full external display support arrives in iPadOS 14.) Even so, using pro-grade iPad apps with a desktop-like form factor was in some cases transformative. Also, in purchasing modular components, they will likely work with any new iPad you buy in the future, and so doing so could prove a better bet in the long run.