10 board game apps for the weekend
Board games make perfect mobile app fodder and are ideal for keeping in your mobile quiver to keep you occupied when you're at a loose end. We've comp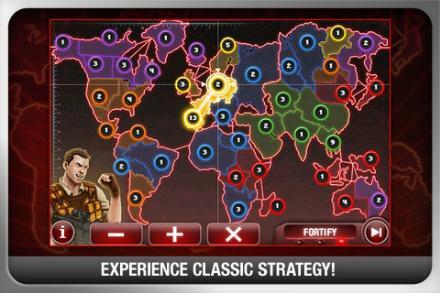 Board games make perfect mobile app fodder and are ideal for keeping in your mobile quiver to keep you occupied when you're at a loose end. We've compiled 10 of the best for you to get stuck into…
Risk
iPhone, £2.99
Are you a megalomaniac, hell-bent on total world domination? If you are, then the mobile version of classic military strategy game Risk is the game for you. Guide your armies across the globe, crushing enemy forces before they crush you. Play against the computer, join up to four friends in local WiFi and Bluetooth mode or up to six in pass and play.
Scrabble
iPhone, iPad, BlackBerry, £1.79
The word game that needs no introduction. Shake to shuffle your tiles for a little inspiration, and then drag them into place for that triple word score. If you're feeling really sociable, then you can connect with friends on Facebook and play up to 25 games at a time, though we like to leave time for things like eating and sleeping in our life. There's even a free app for using your iPhone as a tile rack when playing on an iPad.
MONOPOLY Here & Now: The World Edition
iPhone, £2.99
The game that has caused rifts in families for generations gets a tweak to include worldwide locations instead of just London streets and adds a good-looking 3D playing environment and five player WiFi or turn-based gaming.
Ingenious
iPhone, iPad, from £1.79
The newest game on this list, Reiner Knizia's board game is only five years old, but is easily capable of teasing your brain. Like new age dominoes on a hexagonal board, you have to group together icons of similar colour using the selection of double tile pieces you are given. Easy to start, but difficult to master, you can play against the computer, in solo mode or against the clock.
Shredder Chess
Android, iPad, iPhone, £4.99
This is one serious chess app that could really help you up your game. It can adjust its skill level to match yours so you always have a competitive game, there's an in-game coach, and it will even calculate your Elo rating for you so you can see how you match up to the real life masters.
WordUp!
Android, £free
Similar to Boggle, you're faced with a screen full of random letters on which you have to trace as many words as possible in the allotted time to achieve the highest possible score. The timer counts down, and you can see how many words are possible – though we fell woefully short every time. You'll find out what words you could have got at the end of each round so even if you're not a winner, at least you've learned something, right?
Backgammon
Ovi Store, BlackBerry, £3.00
Why not spend that time on the train getting to grips with a classic? A game of luck and skill, Backgammon can be played against the computer, with a friend, or online.
Uno
Windows Mobile, iPhone, Android, Ovi Store, BlackBerry, from £1.99
Okay, so maybe it's not technically a board game, but it's still good for a rainy afternoon, and it's listed in the board games section on iTunes. This fast and simple card game is easy to get into and can be very addictive. Play solo, or even better in multiplayer over WiFi or 3G and post your trophies on Facebook and Twitter.
Mahjongg Solitaire Pro
Android, £2.60
Got some quality alone time? Spend it playing this classic tile-based game. With twenty different sizes and screen layouts to choose from, you can customise your preferred playing style, and even create your own levels with the included tile editor. Go on, stop playing freecell and give this a go.
Godroid
Android, £free
The ancient Chinese board game "Go" comes to Android. Played with black and white stones, players must surround their opponents stones to capture them. We're still getting our eye in with this one, but with an estimated 27 million Go players around the world, you're in good company. This version is single player against the computer.