10 photo apps to download this weekend
Give your phone camera more purpose with one of these 5 great photo apps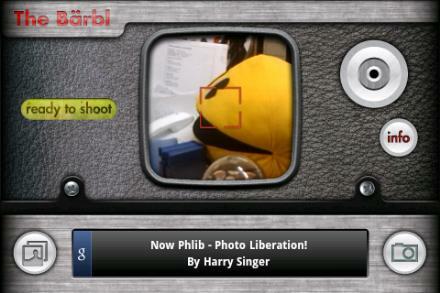 Phone cameras have come a long way from being waved in the air at Glasto. We've picked 10 of the best apps to make the most of your mobile snaps…
LEGO Photo iPhone, free
Yes, it's a massive gimmick. No, it doesn't always produce brilliant results. But if seeing your pics rendered in LEGO brickwork doesn't make you smirk a bit, there's something wrong with your inner child. Give him a slap.
Retro Camera Android, £free
More than a smidge like Hipstamatic for the iPhone, Retro Camera is nevertheless a very slick camera app in its own right. The Leica-like interface is swish and seeing your shots hanging by clothes pegs on a virtual drying line is enough to get film freaks all misty-eyed behind their rose-tinted glasses.
Twitpic Uploader iPhone, £1.19
Sharing thoughts is good, but sometimes you just need to show people what you're talking about. Twitpic Uploader enables you to attach images to your tweets with minimal fuss.
Swankolab iPhone, £1.19
Ah, the darkroom, the smell of hypo, red light on black and wet prints dripping from clothes pegs. From the makers of Hipstamatic comes this ace darkroom sim. Fill the tray with chemicals, pull the lever and watch the developing fluid slowly do its work. Hipstamatic is so over.
Gorillacam iPhone, £free
Things the iPhone's camera won't do out of the box: self-timer, continuous burst shooting, a thirds grid, a spirit level… the list goes on. Luckily, these are all the things Gorillacam fixes in a jiffy. Oh, and smile: it's free.
Photobucket.com iPhone, £free
Upload and store your photos and get access to hundreds of cool images and illustrations to use as wallpapers or send as messages. If a picture's worth a thousand words, this app is worth millions of them. Yet it's free. The App Store works in mysterious ways.
Polaroid PoGo App Android, £free
If you're a fan of polaroid and go out and buy a new PoGo printer, you probably still want a bit of that old Polaroid charm. With the PoGo app you can choose from a handful of old Polaroid cameras and have your photos framed and coloured accordingly, before firing them off to be printed before your very eyes. Yes, it does take a little time to develop, but no, you definitely shouldn't shake it to help it along.
Pano iPhone, £1.19
Driving fast, blowing stuff up and panoramic pictures are best left to the pros. But when has that ever stopped us having a go? It won't deliver any fancy one-press sweep panorama magic, but Pano stitches your snaps together seamlessly with impressive results.
Postcards iPhone, free
Snap a pic on your hols and have it turned into a postcard and sent (with your personal greeting) from the UK the same day. It's like being on holiday in the future. First class is £1.49, second is 99p. In future money, that's only 73.5 credits from the Bank of Milky Way. Bargain.
Adobe Photoshop Express iPad/iPhone, free
Loaded with a variety of quick editing and touch-up tools, Photoshop Express lets you view and play around with all your photos and store them online for safekeeping. You get 2GB free online storage with a Photoshop.com account, so now you won't lose all your photos when you lose your phone.