10 robots that ruled the world
Everybody wants to live in a 1950s vision of a robotic future, with metallic servants making breakfast and tidying the house. Here are our 10 robot to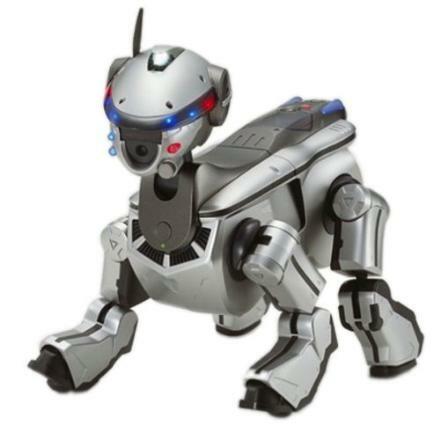 Everybody wants to live in a 1950s vision of a robotic future, with metallic servants making breakfast and tidying the house. Here are our 10 robot toys that have made that vision feel closer to reality…
Sony Aibo 1999
Aibo was Sony's mechanical answer to man's best friend. The loveable mechanical pooch was able to see its surroundings through a built-in camera, respond to over 100 voice commands and learn like a real dog. Actually, it was just as disobedient as most dogs, with the added bonus of doing a comedy dance and not chewing your laptop charging cable. After various incarnations, Aibo was sent to robotic pet cemetery in 2006 when Sony dropped development.
WowWee Robosapien 2004
Since its release, Robosapien has spawned a whole community of hackers bent on making it do even more ridiculous things. As if picking up a cup wasn't good enough. Soon a plastic army appeared with flamethrowers and bb guns, turning Robosapien into more of a RoboCop. How much spare time do people have? Well, too much. The first ever Robosapien football tournament took place in Germany 2005.
Bigtrak 1979
Back by popular demand, this '70s hit was reissued in 2010. With care taken to be an almost exact replica of the original, it has the same panels and uses the same command-based operating system, allowing it to move in a variety of directions and fire its not-so-deadly photon beam.
Lego Mindstorms NXT 2006
Amateur roboteers pumped their servos in the air when Lego released this groundbreaking piece of kit. Mindstorms took the previously complicated hobby of building and programming robots and made it Lego simple. So confident that this product would be user friendly, Lego claimed you could build your first robot in 30 minutes.
Ugobe Pleo 2007
From the same brain that brought us Furby came an infinitely less pointless and annoying toy. Eschewing the usual terminator-esque appearance, it opted for a soft fabric skin and its 38 sensors and eight motors meant it convincingly mimicked the behaviour of a week-old dinosaur. Probably. Jurassic Park fans went weak at the knees – and not because a T-rex had torn their legs in half.
Horikawa Rotate-o-matic 1960
This list wouldn't be complete without mentioning the most iconic toy robot of all time. Replicas of these Japanese tin robots are still being made 50 years on. He may not have motion sensors, voice recognition or the ability to breakdance but he does have a real bad attitude. Walking ominously towards his foes, he stops and spins his torso three times before opening his chest and letting out a barrage of laser noises and flashing lights. Yes, a robotic flasher.
Sony Rolly 2007
After bringing us the incredible canine Aibo, Sony continued to push boundaries by making the world's first dancing egg. The Rolly was an MP3 player that pumped out music from its two speakers while dancing along and creating a proper disco inferno with a flashing light show. Ridiculous, but you couldn't help being impressed.
Robonova-1 2006
Okay, so he wasn't the brightest robot on the street and he may not have had the flashiest gimmicks, but he could do something other droids couldn't. Kung fu! Designed to be a purely performance-based robot, Robonova was capable of executing complex routines and strings of commands. With simplistic remote-controlled operation Robonova would throw shapes that would put MC Hammer to shame.
Nabaztag 2006
Curiously named after the Armenian word for "rabbit", Nabaztag was a desktop robo-bunny. Thanks to Wi-Fi it could pick up RSS feeds and weather reports that it then read aloud, as well as indicating a range of other info using coloured lights and moving ears. It could also be set to randomly do rabbit kung fu… The enhanced Nabaztag/tag added voice recognition and internet radio.
iRobot Roomba 2002
No, it's not really a toy; the Roomba is a robot that actually does something useful – the vacuuming. It looks like something from the Deathstar's broom cupboard and will take twice as long to clean up, bump into everything a few times, miss a few spots and not be able to handle stairs. But that's the price you pay for a glimpse of the future.
[by Tommy Bassom]