18 essential TV shows to watch now
With a new season of new TV shows in the offing, we help you sort the primetime from the daytime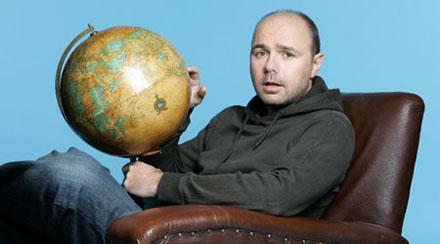 A whole new season of TV shows is beaming from satellites, channelling through your ISP and sitting on discs in shops waiting to find your shopping basket. But there's a lot to choose from. Over the next six pages, you'll find our pick of the best tubular titillation around…
Series link these…
Primetime viewing deserves the HD full-screen treatment. Set your Sky+ box to suck this lot down on a regular basis and you'll never be far from some quality flatscreen fodder
An Idiot Abroad (Sky 1 HD)
"It's like a game of Jenga got out of hand." Ladies and gentlemen, Karl Pilkington on the Pyramids of Giza. There'll be plenty more nuggets of anti-wisdom from the less-than-worldly mate of Ricky Gervais and Stephen Merchant as he travels the other wonders of the world.
Dexter (FXUK)
Who's your favourite serial killer? If you answered, "I think serial killing is outrageous and wrong on every level," congratulations, you're a decent human being. Allow Dexter to change that.
Is It Possible? (Discovery)
Weirdos. The world's full of them. And they're usually fascinating people – you just don't really want to have them round for tea. Luckily, Discovery's invited them round for you.
Download these…
Missed it? There's a store for that. Fire up iTunes and start sucking down the stuff you didn't quite catch first time around.
Sherlock
Things got all modern in the BBC's summer take on the world's most famous detective. And it worked, thanks to ace performances, some canny on-screen captioning for texts and emails and a bunch of sleuthing tricks that never get old.
The Inbetweeners
The third series of E4's much-loved sitcom sees our feckless four friends struggling with the step up to the sixth form. Cue crudity and cringeworthy situations galore.
Nikita
Yet another reboot of Luc Besson's sexy female assassin franchise, this glossy US series features Maggie Q as the eponymous government hitwoman – although this time she's gone rogue. That means Bourne-style action scenes aplenty.
Buy these…
There's life in the old physical media dog yet, despite the rise of digital downloads and on-demand streaming. When your broadband blacks out for the weekend, you'll be glad you've got a backup fix of disc-shaped goodness
House (Seasons 1-6)
You can now bag the entire back catalogue of House for under £100. Hugh Laurie shines as the brilliant but bitter doctor in a show that feels like an inspired mish-mash of CSI, ER and, well, MASH.
The IT crowd (Series 1-4)
After a shaky first series this geeky sitcom quickly found its feet by combining likeable characters with comedy that ranges from broad to winkingly nerdy. Pick up every single episode for under £30.
The Big Bang Theory (Seasons 1-3)
Another geek-friendly show, The Big Bang Theory is about as clever as mainstream US sitcoms get – well, can you imagine Two And A Half Men being packed with gags about theoretical physics?
Stream these…
Gone are the days of shouting at family members in a desperate bid to fix the snowy reception from the indoor aerial in time for Emmerdale. Time waits for all men with an internet connection and the savvy to stream TV on demand
Seven Days (4oD)
The next generation of reality show? Seven Days is filmed over (you've guessed it) the past week, so its stars, all residents of London's Notting Hill, react to the same events that we've all been watching on the news. Oh – and you can interact with them too, advising them via Channel 4's website. Seeking advice from the British public? Poor sods.
Harry and Paul (iPlayer)
Enfield and Whitehouse return for a second series of their sketch show. It might have more creaky moments than we'd like, but anyone that doesn't LOL at Paul Whitehouse's Evan Davis impersonation probably has no soul.
Michael McIntyre's Comedy Roadshow (iPlayer)
Love him or loathe him, McIntyre is probably the most popular stand-up comedian in the UK – and even if you're not a fan, this show has plenty of other comics to provide those "have you ever noticed?" belly laughs.
Put these in your pocket…
Portable TV used to mean something that wouldn't put your back out if you moved it from the bedroom to the study. But laptops, smartphones, tablets and media players mean shows are finally going on the road for real
Archer
Chucklesome, pop-literate animated comedy following the adventures of suave superspy Sterling Archer. The snappy one-liners are as sharp as the Mad Men-esque visual style.
Flight of the Conchords
The funniest Kiwi novelty folk duo of all time? Most likely. Pack your tablet with both seasons of this brilliant musical sitcom and you'll never be far from a comic song that is – shock horror – actually funny and listenable at the same time.
Outnumbered
Widely known as "that sitcom with the kids improvising dialogue", Outnumbered is a winning depiction of the highs and lows of family life. Perfect on-train viewing.
Get these in 3D…?
2D is no longer restricted to the cinema and the odd Blu-ray – now both Sky and Virgin have rolled out TV to make you duck, dodge and marvel at depth and distance. While the selection is still fairly limited, here's what you should watch through those "snazzy" specs.
Ryder Cup (Sky 3D)
The US versus Europe golfing showdown is always dramatic, and now you can see those birdies, bogeys and American trophy wives in no less than three dimensions.
Streetdance (Virgin)
"You got served" a slice of hot-stepping 3D action, courtesy of the only movie currently available through Virgin's on demand 3D service. £5.99 to you, sir.
Flying Monsters 3D (Sky 3D)
Sir David Attenborough narrates this feature about the airborne monsters of the prehistoric world. Expect CGI pterodactyls swooping directly at your face.
More stories from Stuff.tv
– 10 of the best quirky game controllers ever
– 10 of the best steampunk gadgets
– 20 best iPhone apps of all time