The 20 best web apps
Web apps are those handy tools and services you find online. Often, but not always, browser-based, there's a shedload of them out there that make yo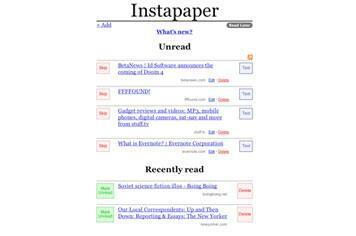 Web apps are those handy tools and services you find online. Often, but not always, browser-based, there's a shedload of them out there that make your life easier. Here are 20 of the best.
1. Dropbox www.dropbox.com
Dropbox is a storage system that whizzes your files up into the cloud, allowing you (or a friend or work colleague) to access them from any computer's web browser. Free users get 2GB of storage, and you can upload files of up to 300MB via a web browser (the desktop client has no limit).
2. Firefox sync www.mozilla.com
Is your preferred web browser Firefox? If so, this new add-on keeps it synced on all your devices: bookmarks, open tabs and search history can be shared acrss several computers, mobile phones and other web-connected kit.
3. Spotify www.spotify.com
If you're a music lover you're probably already acquainted with Spotify, which lets you stream almost any music you can think of, as well as build playlists and share them with friends. The free version is ad-supported, but if you shell out £4.99 a month you can ditch the commercials for pure playlist heaven. 
4. Skype www.skype.com
The best known VoIP service allows you to make free "phone" or video calls via the Internet, as long as the person on the other end is also a Skype user. Also incorporating an IM service, it's the perfect way to keeping in touch with friends and family abroad.
5. TweetDeck www.tweetdeck.com
Twitter users have a huge choice of clients, but TweetDeck is definitely among the elite. The desktop version incorporates a wealth of features (photo/video uploader, URL shortener, location tagger) to make tweeting a breeze and lets you manage multiple Twitter accounts, as well as keep up to date with other social network services like Facebook, LinkedIn and Google Buzz. A Twitter addict's best friend.
6. Google Maps maps.google.com
Once you get a taste of Google Maps it'll become an essential part of your life. Brilliant for providing locations and directions towards them, it's also great for finding bars, restaurants, shops and other services in a particular area. It also incorporates Street View, giving you a fascinating first person view of almost anywhere in any major city – and beyond. 
7. mflow www.mflow.com
Another music service, mflow differs from Spotify in that you listen to tracks recommended – or "flowed" by the users you follow. You can also flow your own tracks to your followers, and if someone chooses to buy a song based on your recommendation, you're handed a cut of the price to spend on your own music downloads.
8. Tumblr www.tumblr.com/
If the idea of keeping a blog sounds good but wrangling html doesn't, Tumblr is the ideal solution. It lets you run a "tumbleblog", a feed of links, text, photos, videos, audio and other content that can be easily shared with other Tumblr-using followers. A huge range of layouts are available, but all are a piece of cake to use.
9. 1Password agilewebsolutions.com
If you've ever forgotten one of your login/password combos for an online service, 1Password is for you. This app remembers all your passwords – all you need to do is give it a master password and train it to log into sites for you. On the Mac it works with Keychain to generate hugely complex, uncrackable passwords.
10. Invisible Hand www.getinvisiblehand.com
Like online shopping? Well, this browser add-on (which works with Chrome, Firefox, Safari and Internet Explorer) will automatically inform you when the product you're considering buying is available for a lower price elsewhere online – and hand you a direct link to the store page.
11. Google Reader www.google.com
News addicts should make a beeline for this app, which aggregates RSS and Atom feeds to deliver a constantly updated stream of stories. All you need to do is pick the feeds you want, then make a cuppa, sit back and read the updates as they flood in.
12. BBC iPlayer www.bbc.co.uk
For those of you who have been living under a rock for the past few years: iPlayer is an online catch-up service allowing you to stream a veritable truckload of television and radio shows from the BBC. And it's really, really good.
13. Picasa picasa.google.com
Not only does Picasa let you organise and display your photos in easy-to-browse online albums, it also sports a pretty decent suite of editing features. Sure, it isn't Photoshop, but it's free and it'll get rid of that demonic redeye look ruining all your portraits in a snap.
14. Google Calendar www.google.com/calendar
Like most Google apps Calendar is simple, a breeze to use and accessible from any web-connected computer or device. As the info is stored in the cloud, you won't lose your appointments and other entries in the event of your PC being broken, stolen or lost.
15. Last.fm www.last.fm
Music geek heaven: Last.fm not only "scrobbles" everything you listen to (keeping an online record of your music taste), it also recommends new music based on your listening habits. There's a radio service too, and a the upcoming gigs/festivals listings makes planning your live music intake a breeze.
16. Bloglines www.bloglines.com
Another web-based news aggregator, Bloglines is a fine alternative to Google Reader. With its fully customisable front page and the ability to drag and drop feeds in the feed tree, Bloglines lets you enjoy the web your way.
17. Remember The Milk www.rememberthemilk.com
Absent minded? Get yourself organised with this task management app. Remember The Milk lets you make to-do lists and link them to locations (via Google Maps integration), access them from your phone and even have reminders sent to you via Twitter's direct message function.
18. Google Docs docs.google.com
Another top notch web app from the big G, Docs is a web-based productivity suite with word processor, spreadsheet, form and presentation software, plus data storage service. Your documents can be accessed from any web connected device, and easily shared and collaborated on with friends. And it's all free!
19. Flickr www.flickr.com
The best photo service on the web? Quite possibly. Flickr lets you organise, edit and share your photos (and now videos), as well as label them with captions, notes, tags and geotags. You can also play slideshows, browse your mates' masterpieces and even license shots to Getty Images.
20. Instapaper www.instapaper.com
Ever come across something you want to read on the web, but don't have time? Well rather than bookmark it the old fashioned way, you can use this simple tool's "Read Later" button to instantly store the location, letting you revisit it later at your leisure.
More like this:
App of the week – Firefox Home