5 apps for Bonfire Night
Got a phone and an urge to see some explosions? Check these out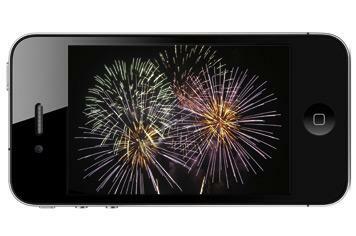 Leave standing round a fire and saying "ooh" a lot to cavemen. The modern gadgeteer gets his pyrotechnical fix on a mobile. Light the touchpaper on these apps…
Spawn Illuminati HD (£1.19, iPhone/iPad)
There are dozens of apps that let you set off fireworks over familiar cityscapes, but imitation is a faded, dull world. Spawn Illuminati lets you play god to the lightshow unfolding on your phone's screen. The resulting visuals are what Hubble would send back if scientists took more acid.
[buy it]
Galactica (59p, iPhone/iPad)
Galactica is like a game, but without competition or scores or violence. Instead, it's like taking a relaxing shower under a rainbow. The perfect warm-down after a barrage of nighttime explosions, barking dogs and screaming infants.
[buy it]
Firework Camera Pro (£1.54, Android)
It's notoriously difficult to take good pictures of fireworks. Even if you are up to the job, your phone's camera isn't. The workaround? Cheat. This admittedly cheesy app superimposes gaudy displays as you take your pics.
Flames Live Wallpaper (61p, Android)
Surely this is what Google had in mind when it introduced animated wallpapers to its mobile platform? If you can't work out what it does from the name and screenshot, you really shouldn't be allowed to operate a smartphone.
Hand Heater (free, iPhone)
Genius? Or stupidity. It's a fine line for this hand-warming app that toasts your phone's innards by ragging its CPU. And it works – your phone becomes a hot stone… with a rapidly depleting battery.
[buy it]
More from Stuff.tv
– Ultimate setup – Bonfire Night
– 5 of the best iPhone alarm apps
– 13 scariest movies of all time
– 5 of the best Halloween apps
– 10 of the best survival horror games
– 10 of the best new game apps
– 10 boardgame apps to download
– 20 best iPhone apps of all time
– 10 best Android apps of all time