5 apps for Easter
Four days off, five apps to make the most of them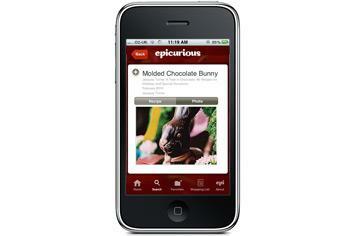 The Easter Bunny died so you could have a four-day weekend. Okay, he's not really dead, but even so, you shouldn't squander the time off – download these apps to make the most of your Easter break.
Epicurious (free, iPhone)
Easter feasters can gorge themselves on some 100,000 recipes in the Epicurious catalogue, searchable by ingredient, occasion, cuisine or type. It'll even help create shopping lists. We searched for Easter dishes and struck gold with this choccie Easter Bunny.
Eaten one too many chocolate rabbits? Reclaim your pre-Easter waistline with Calorie Counter, which monitors your eating habits to help you lose weight. Our tip: go calorie light this week, then enjoy guilt-free gluttony all weekend long. The experts, no doubt, would disagree.
Going places with the famliy in tow? Set your itinerary with Panda Route, then direct all arguments to its omniscient log. The app works independently of a network connection, though when it does find a signal, it'll gather tweets relevant to your journey and destination to keep you up to speed.
Poking around in the garden to find the egg your dad has hidden in the bird feeder is a fun challenge when you're kid. But when you become a man, you have to put away childish things. That's why you should be competing at a global level. Easter Hunt pits your egg-finding skills against the world.
If you eshew chocolate eggs for traditional hand-painted chicken zygotes, you'll at least want to to ensure they're perfectly cooked. Tell this app the size and temperature of your object egg and Egg Boil Chef will give you a cooking time based on your preference and – get this – your altitude (calcluated by GPS).
Found a handy seasonal app? Share away in the comments. Happy Easter!