5 of the best future tablets
A glimpse at Stuff's mucky tea leaves reveals that the future's rectangular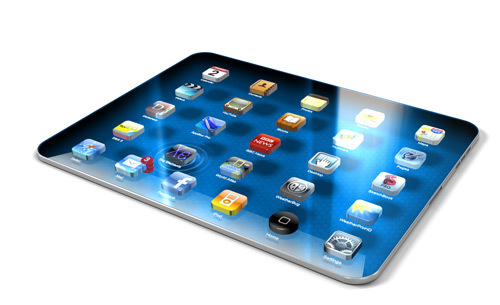 Apple iPad 3 – due March
The people have spoken, and the iPad 3 was voted your most wanted future gadget in the Stuff Gadget Awards 2011, despite not having been officially announced yet.
Straight after the iPad 2 launch there was talk that the real evolution would come with the third iteration. We're expecting a higher-res Retina Display and NFC, for starters, and new rumours suggest a slender body of carbon fibre.
Samsung Galaxy Tab 7.7 – due autumn
Samsung's hoping to make a bigger impact with this than the original 7in Tab managed. Now that Sammy's cast aside Android 2.2, it might just do that. The Galaxy Tab 7.7 packs 3.2 Honeycomb, a 7.7in AMOLED screen and a 1.4Ghz processor – here's what we thought from our hands-on at IFA this year. 
HTC Puccini – due winter
HTC's 'proper' tablet, the HTC Puccini is – according to the rumours, at least – a 10in powerhouse. A 1.5Ghz dual-core processor and 1GB RAM will accelerate a Sense-customised Android 3.2, and there will be an 8MP camera round the back.
Amazon Kindle Fire – due 15 November (US only)
Ditching e-ink for a 7in colour LCD display, Amazon's recently-unveiled first tablet runs Android 2.1 (get over it) on a dual-core processor and for now it's Wi-Fi only. The Kindle Fire's Silk browser processes web pages in the cloud to speed everything up (and spy on your browsing habits, as some are complaining). In place of Android Market you've got Amazon Prime, Cloud Player and Cloud Drive.
Asus Transformer Prime – due winter
The sexy ultrabook-style Transformer Prime hybrid from Gadget of the Year winners Asus will come packing a Nvidia Tegra 3 quad-core processor and a skinny 8.3mm build – and we're hoping it'll be running Ice Cream Sandwich on launch. Check out all the details here.
You may also like: 25 best fantasy games ever