5 gadgets for the London Marathon
Running the London Marathon this weekend? Make sure you're kitted out with all the right stuff to make those 26 miles fly by...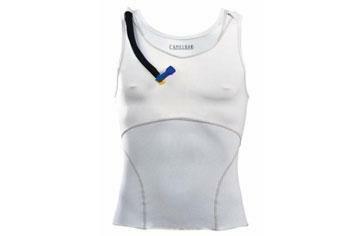 ]This Sunday, thousands of people will be hitting the streets of our capital for the London Marathon.
If you're one of those crazy, sorry we mean "dedicated", runners, we've pulled together some of the best sports tech that will make those 26.2 miles fly by. Honest…
Camelbak RaceBak vest – £54.99, Millets
The sun is going to be shining this weekend, and you're going to need to keep hydrated if you want to keep clocking up those miles. Sure there'll be water stops every couple of miles, but wearing the Camelbak vest ensures you've got a refreshing 72oz of water at your dispense whenever you want it. Much easier than running while trying to drink from a water bottle, the water is held in a pouch on your back, with a spout hanging within grabable distance for a drink whenever you need it.
A perfect marathon companion, both beforehand and during, the RS100 will track your heart rate to ensure you're running at the right intensity for the distance. You'll also be able to collect details on calories burned and also record your running time. For more advanced features, take a look at the Polar RS400 which can be paired with the S1 foot pod for more details on your running performance.
If you're going to be running for hours in the sunshine, you're going to want some comfortable sports sunglasses to protect your eyes from harmful UV rays. The frames to these RayZor sungoggles are made from lightweight material with rubber grips to ensure they stay put, while the lenses promise 100% protection from UV400 rays.
Cardio Trainer Android app – free, Android Marketplace
Just like having a training partner in your pocket, this app uses GPS to show your real-time position on a map and saves your training routes so you can review them later. Cardio Trainer also features Facebook integration so you can share your routes on your profile and let your mates know how well you're doing at every stage.
Adidas WAP marathon tracker service – free
But if you're one of the 500,000 people who'll be opting for a few beers on the sidelines rather than putting on your running shoes, Adidas will be offering a WAP tracker system so you can keep an eye on where your mates are as they make their way through the capital. All you need is your friend's race number and the app will be able to track them to the nearest 5k, as well as tell you their average speed and estimated finish time so you can cheer them past the line. The service will go live 24 hours before the race – you'll just need to text "RUN" to 83040 to receive a link to the service.