5 geek chic T-shirts for London Fashion Week
London Fashion Week may have been dominating the headlines this week, but rather than pay through the nose for our clothes, we prefer a nice bit of ge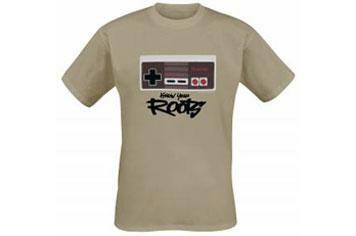 London Fashion Week may have been dominating the headlines this week, but rather than pay through the nose for our clothes, we prefer a nice bit of geek chic around the Stuff offices. Check out our five picks below for some great ways to show off your geek credentials loud and proud.
Nintendo Know Your Roots T-Shirt – £13.99
A smart reminder for any gamer out there never to forget the console which taught you everything you know. Well, perhaps not everything – but certainly how to hunt ducks and save pixellated princesses. Nintendo's NES, we salute you.
Buy it – Emp Online
Supreme Being iGeek Tee – £25
You've got nothing to hide. You're a geek, and what? If you fancy giving yourself the Ronseal treatment and slapping exactly what you are across your chest, then Supreme Being's boldly placed "Geek" logo should do the job just fine. They can't say you didn't warn them.
Buy it – Topman  
Famous Forever Transformer 84 Tee – £24.99
Arguably the best kids cartoon from the 80s, Transformers even charmed its way on to the big screen in more recent years with the rather lovely Megan Fox in tow. But even without the Fox, the original cartoon was a hit that had us begging our parents for the action figures and carefully spying on neighbours' cars for any sign of movement. They never did. Hmph.
Buy it – TruffleShuffle
Atari Console T-Shirt – £9.99
Looking back even further than the NES, and there was of course the time of the Atari – the joystick-favourite from the late 70s/early 80s that left our thumbs red raw from too much button bashing. Why not show your old skool love for one of the original video game systems with this t-shirt from Joystick Junkies, then dig it up out of the attic and relive the memories.
Buy it – Joystick Junkies
Yoda DJ Tee – £28
Ever wondered what Yoda might look like as a DJ? You have, you say? Well here he is in all his glory, looking quite the part with some Top Gun-esque aviators and headphones. On the back, there's a list of tour dates when you can catch him on the decks, but you better be quick – Forest Moon of Endor has already sold out.
Buy it – Urban Outfitters