Acer announces beTouch E120 and E130 Android phones
Acer has announced two new Android phones in its beTouch range: the E120 – a 2.8in touchscreen model, and the E130 – a Blackberry-a-like with 2.6in to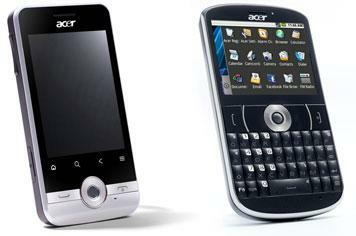 Acer has announced two new Android phones in its beTouch range: the E120 – a 2.8in touchscreen model, and the E130 – a Blackberry-a-like with 2.6in touchscreen and full QWERTY keyboard underneath.
The E120 (pictured, left) has a "5-way navi key" to supplement the touchscreen, while the E130's QWERTY keyboard is aimed squarely at the business set.
Both run Android 1.6, have a 416MHz processor, 3.2MP camera, WiFi, Bluetooth, GPS, up to 32GB Micro SD, 512MB onboard storage, are available in black or white and will be on sale this summer (E120 in July, E130 in August).
Check out the competition – read Smartphones – all the stories