Acer launches Android-powered Stream
Acer has just revealed its new Stream smartphone, which runs on Android and looks like one of the most media focussed handsets we've seen in a while.I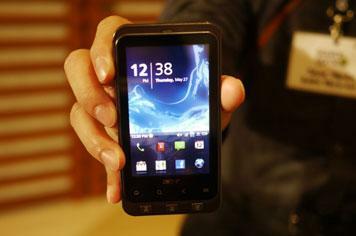 Acer has just revealed its new Stream smartphone, which runs on Android and looks like one of the most media focussed handsets we've seen in a while.
It sports a 3.7-inch AMOLED touchscreen with a 2,000:1 contrast ratio and 2GB of built-in memory, with an additional 8GB microSD card included in the box. If that's not enough for all your movies, tunes and photos, it'll happily take cards up to 32GB in capacity.
The 5-megapixel camera can record 720p HD movies, and play them (and anything stored on the Stream) back through your telly via an HDMI output.
The Stream is also designed to stream content (see what they did there?) via Wi-Fi, so we assume that means it's got DLNA compliance. Any Wi-Fi toting DLNA device you have in your home should be able to suck media files from the phone and play them.
On the tech front there's 1GHz Snapdragon processor, GPS and Android 2.1, although by launch this will be have been replaced with Android 2.2 Froyo [http://stuff.tv/News/Need-to-know-Android-Froyo/14510/].
All in all, not a bad little lot for a handset just 11.2mm thin. We don't know pricing or release date deets for the Acer Stream yet, but we'll let you know when we do.
Via: Stuff Middle East (thanks, Tom!)