Amazon debuts new Kindle DX
The new Kindle DX sports an updated e-ink display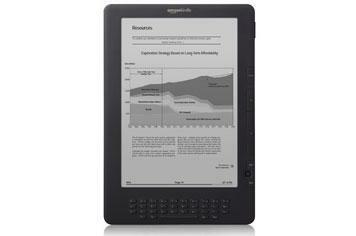 Amazon's Kindle DX ereader has been given an upgrade. Perhaps as a response to the launch of the iPad, a second generation model of the 9.7-inch e-ink-toting DX has been unveiled, to go on sale next Wednesday, July 7 in the US.
The new Kindle DX sports an updated e-ink display, which Amazon claims offers 50 percent better contrast for clearer text and sharper image quality. Amazon also gets a dig in on the iPad by highlighting the fact that e-ink screens don't get washed out by glare in direct sunlight.
It also retains the "free" Whispernet 3G wireless connection for browsing and downloading books, newspapers and magazines – another distinct advantage it has over the iPad.
On the looks front the old DX's whiteness overload has been replaced by a graphite finish (much nicer, in our opinion), but otherwise looks similar.
The price has been trimmed however: at $379 (£255 at the current exchange rate), it's quite a bit cheaper than the iPad. However, the Kindle DX is limited to displaying ebooks (no video, no apps) and its web browser isn't a patch on the iPads – so we're not sure it'll tempt away potential iPad customers, unless of course the main thing they're after is an ereader.
Via: CNET
– See our Kindle DX video review