Amazon launches super-cheap Fire tablet for £50
Bargain basement tablet launches alongside new Fire HD 8 and 10 models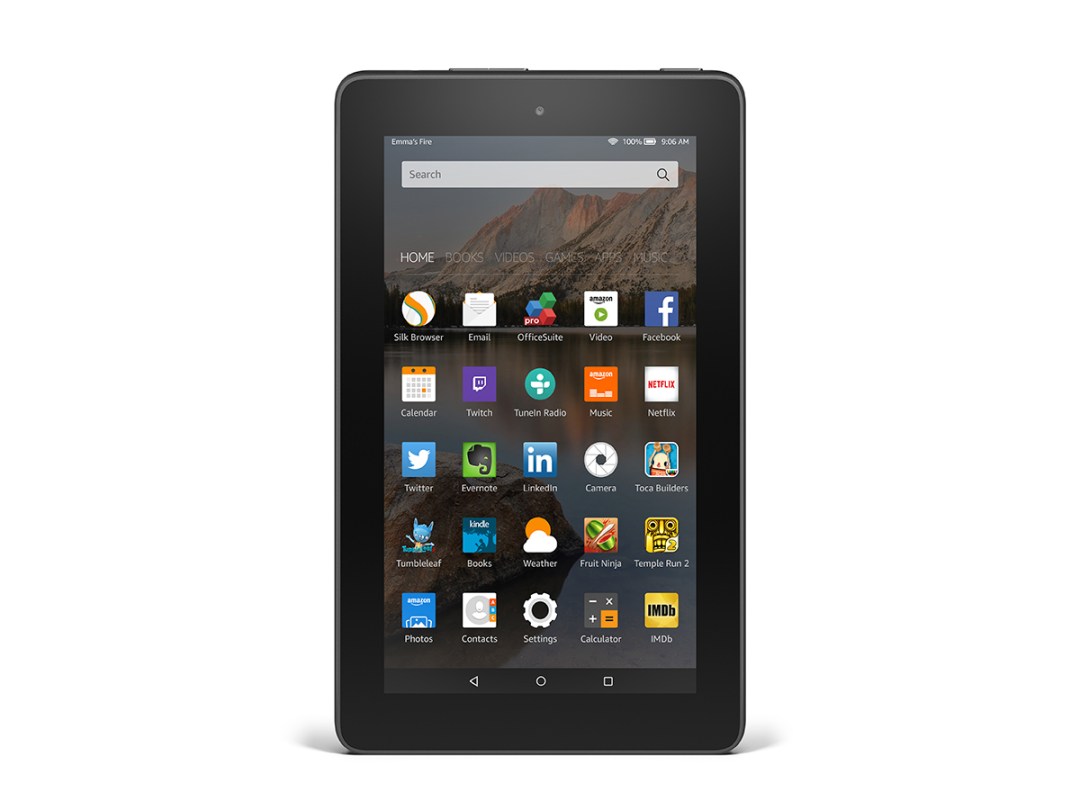 No, you didn't read headline that wrong: Amazon has launched a new 7-inch Fire tablet for the cut-throat price of £50. And it might even be pretty good. 
The all-new Fire tablet was unveiled today alongside two new Fire HD 8 and Fire HD 10 tablets and is designed to take on super-cheap competition from the likes of Tesco's Hudl 2 (£100) and the Asus MeMO Pad 7 (£60). 
Granted, these might not be the most sexy tablets going, but they sell like canned food after a nuclear war. 
The Fire lays claim to the same bargain-friendly audience with a 7-inch IPS display, 1.3GHz quad-core processor and seven hours of battery life. It's meant to be tough too, with a sturdy plastic casing that won't come apart after a few accidental encounters with gravity. 
It also comes with up to 128GB of expandable MicroSD storage and Amazon's updated Fire OS 5. All in all, you'd say that's a pretty good deal on paper. 
If you want to pick up a Fire tablet as soon as possible, you can lay down your £49.99 for the device today and it will ship on 30 September.
A word of warning: the Fire definitely isn't a replacement for your iPad Air 2 or Samsung Galaxy Tab S2 9.7. But with that in mind, Amazon has bolstered the top of its tablet range too.
The Fire HD 8 and 10 are Amazon's thinnest tablets yet at 7.7mm each. As you'd expect the HD 8 has an 8-inch screen, while the HD 10 has a 10.1-inch screen – just to confuse you.
The tablets are designed to take advantage of Amazon's library of Prime video content, which now offers 15,000 movies and TV shows, with both having 16:10 widescreen displays with a 1280×800 resolution. They're each powered by a 1.5GHz quad-core processor and also offer eight hours of battery life.
Like the Fire tablet, both devices come with up to 128GB MicroSD storage and Fire OS 5. While these specs may not raise your pulse much, they do keep Amazon's top tablets on par with the competition in a year where Apple's iPad Air 3 went missing.
Of course, we all saw the iPad Pro instead and Amazon is releasing a Fire HD 10 Keyboard Case (£99.99) for the Fire HD 10 so that it can operate in that Surface-shaped arena.
As for prices? The Fire HD 8 is available from £129.99 with 8GB storage, while the Fire HD 10 costs from £169.99 for 16GB storage.
Also launched today was a new Fire Kids Edition, which is essentially the Fire tablet with a bump-proof case, 2-year guarantee and 1-year subscription to Amazon's Fire for Kids Unlimited service for £99.99.