Amazon updates Kindle range
Two new Kindle Fires and Paperwhite e-reader unveiled by the retailer's founder Jeff Bezos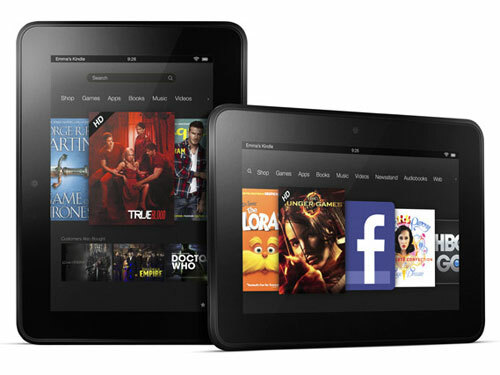 Amazon has unveiled a trio of new Kindle devices, including two new Kindle Fire tablets.
The Kindle Fire HD is the new flagship device, available in two different sizes: there's an 8.9inch 1920 x 1200 or a 7-inch 1280 x 800 screen with a polarising filter to reduce glare (the idea being to make it more suitable for reading than the average tablet). You also get Dolby Digital Plus audio, a 1.2GHz dual-core CPU, an 11-hour battery life (on the 7-inch one), Wi-Fi, Bluetooth, an HDMI out and a choice of either 16GB or 32GB (or 64GB on the 8.9-incher) of storage. Oh, and it's coming to the UK, unlike the previous Fire: prices start at £159, and you can pre-order it today at Amazon.
Amazon boss Jeff Bezos also unveiled an updated edition of the old Kindle Fire with a better processor, more memory and longer battery life. Again, it's UK-bound and priced at £129.
E-readers haven't been forgotten: the new Kindle Paperwhite features a sharper display, thinner body and a light for nighttime reading. The light comes from above rather than behind the screen, which Bezos said made the Paperwhite more easily visible in direct sunlight (we suppose because the screen can remain matt rather than glossy). There's no UK release details yet, but in the US (where it launches October 1st) a 3G version will cost you $179, while the Wi-Fi edition is $119.
You may also like
iPad Mini casing spotted in the wild?
5 things the iPhone 5 could learn from the Nokia Lumia 920
New video! Lenovo ThinkPad Tablet 2 delivers Windows 8 for the business user