App of the Week – Cut the Rope
Cut the Rope's publisher Chillingo has managed to shift over a million downloads of its pick-up-and-play title in less than two weeks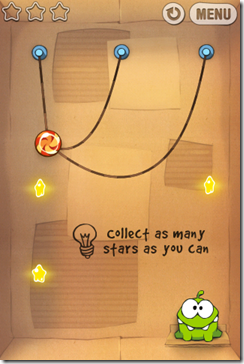 Platform: Apple iPhone, iPod touch
Price: £0.59
They call it casual gaming, but there's nothing frivolous or spontaneous about making half a million quid in just ten days. That's what Cut the Rope's publisher Chillingo has managed by shifting over a million downloads of its latest pick-up-and-play title in less than two weeks.
So what's their secret sauce? Cute cartoon characters? Check. Om Nom is an adorable little monster who likes nothing more than eating sweeties. Simple gameplay? Double check. It's hard to get easier than swiping the screen to cut ropes holding said sweets above Om Now's eager gob.
Perfect physics? If you've played Angry Birds (and who hasn't?), you'll know that the brains behind it are better at physics than the cloned offspring of Albert Einstein and Stephen Hawking. Here, ropes swing naturally, tiny puffers blow the sugary treats around and bubbles float majestically around the iPhone's high-res screen.
Above all, though, it's Cut the Rope's perfectly judged learning curve that makes it such a pleasure to play. Just when you're fed up with figuring out strings, along come power-ups, new features, extra challenges and multi-touch motions to keep your fingers on their, er, toes. There are also hundreds of levels to work through, giving it a decent shelf life.
Cut the Rope won't tax too many braincells but if it's not your favourite new game after a matter of minutes, you're thinking too hard. Someone worked very hard to make this charming game feel so, well, casual.