App of the Week – Do It (Tomorrow)
Platform: Apple iPhone, Apple iPod touch Price: £free Sure, your productivity app syncs with your calendar in the cloud, sends push notifications to y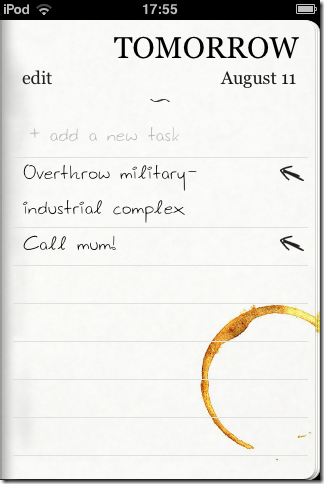 Platform: Apple iPhone, Apple iPod touch
Price: £free
Sure, your productivity app syncs with your calendar in the cloud, sends push notifications to your alarm clock and imports files from WordPerfect circa 1988. But can it help you with the most important time-management activity of them all – putting stuff off?
I mean, I was going to write this review yesterday then something really critical came up (it was either a chocolate digestive shortage or a funny noise outside the window, I can't remember which). Once that had been resolved, it was time for bed.
With only two days visible at any time, Do It (Tomorrow) might sound a bit rubbish but in fact it's incredibly sensible. You've got a clear agenda for today, a wish list for tomorrow and that's the end of it. It's easy to clear items off the list with a satisfying scrawl or add new ones as things come up.
This is the To Do app for people who are too busy doing stuff to keep notes (or, to be perfectly frank, too lazy to ever get round to anything until the last minute). Don't procrastinate: download it today. Or possibly tomorrow.