Apple delivers new unibody MacBook Air
No manila envelopes... just a slither of skinny laptop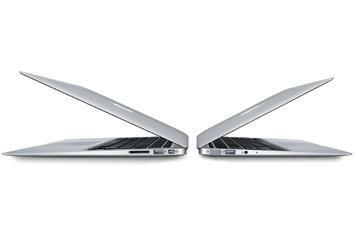 We called it, and Apple delivered. Its new MacBook Air is 0.68in thick at its widest point and tapers down to a knife edge at 0.11in.
The wedge-shaped blade weighs in under three pounds, despite unibody construction and an LED backlit 13.3in (1440×900) or 11.6in (1366×768) screen.
It's nicked a couple of tricks off the iPad, like an SSD integrated into the board to save space, and powers its 1.4GHz or 1.86GHz Core 2 Duo processor and Nvidia GEForce 320M graphics for up to seven hours using Wi-Fi. Ports are USB-shaped twice and an SD card slot.
There's also instant on, a multi-touch trackpad (handy for that shiny new Mac OS X Lion) and FaceTime camera (ditto FaceTime for Mac). There is, of course, no option for an integrated optical drive and prices start at £850, available immediately.
We'll have some hands-on stuff up very soon.
Related:
– First look – MacBook Air 11in
– iLife '11 and FaceTime for Mac launch