Apple iPhone 5 tariffs – which is best?
You've got the cash to splurge on a new iPhone 5. The question is: where should you get it from? We do some digging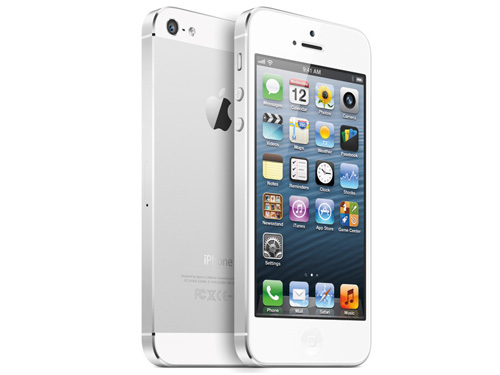 Most of you Apple lovers have been holding off on an upgrade so you could jump at the iPhone 5 with its slender proportions and two-tone paintjob. But now pre-orders are open, where should you get it from? Let's take a look, shall we?
EE (formerly Everything Everywhere)

If you want some of that 4G super speedy mobile broadband, you'll have to get your iPhone 5 from T-Mobile or Orange and then upgrade to its "superfast" network. EE has said upgrading won't void your current contract or cost any extra – all you need to do is ask for the switch when 4G becomes available in your area. But expect the 4G access itself to cost a pretty penny.
O2

At the moment, O2 hasn't revealed how much an iPhone 5 will cost on top of its contracts. We guess it held back to see what the other networks are doing before undercutting them somewhat. Well, that's the hope.
Over 24 months, the least you can pay is £26 a month and for that you get unlimited text messages, unlimited minutes and 1GB of data for downloading pictures of cats. Unless O2 is feeling particularly generous, expect the handset cost on top of that to be fairly sizable.
O2's contracts then bump up with the same text, minutes and data offerings for £31, £36, £41 and £46. The question is where the iPhone 5 becomes free, if at all. If money is no object, you can pay £63 a month and still get the same as above, but also the six-month early upgrade option.
Orange

All Orange contracts are 24 months long, which means you'd better hope the iPhone 6 arrives in two years time. As with O2, you get unlimited text messages and minutes but the data allowance varies.
Ultimately, the more you spend a month, the cheaper the iPhone 5 handset will be. For instance, at £36 a month you get 1GB of data and will need to pay an extra £109.99 for 16GB of storage, £219.99 for 32GB and £269.99 for the daddy 64GB model.
£41 a month gives you 2GB of data and the cost of upgrading to the 16GB, 32GB and 64GB iPhone 5 costs £29.99, £139.99 and £209.99, respectively.
Still with us? Good. For 3GB of storage, you can kiss goodbye to £46 every month. The iPhone 5 handset cost drops to free for the 16GB model, £89.99 for 32GB and £179.99 for 64GB.
Lastly, a whopping £51 a month gets you unlimited everything and the iPhone 5 16GB will be free. To get more storage, 32GB costs £39.99 and 64GB will set you back £129.99.
T-Mobile
T-Mobile customers can enjoy an iPhone 5 on The Full Monty Plan, which last 24 months and include unlimited text messages and data but a set amount of minutes at the lower price points. Once again, you'll need to decide how much storage is important to you and how hard you want to dent your wallet on a monthly basis.
£36-a-month gives you unlimited text messages, unlimited internet access and 2,000 any-network minutes. Phoning other T-Mobile users will give you unlimited minutes. Handset costs for 16GB, 32GB and 64GB is as follows: £109, £219 and £269, respectively.
Spend £41 every month for two years and the 16GB low-end iPhone 5 costs £49. Opt for 32GB and say goodbye to £149. 64GB? You'll need £219 pound coins.
Guess what? Spend even more and the price of the iPhone 5 drops even more. £46 a month puts the 16GB, 32GB and 64GB iPhone 5 at £29, £99 and £189. Or go for the eye-watering £61 top contract and you would only need to pay £19 for the 16GB model, £29 for 32GB and £139 for 64GB. Phew.
Three

Three is also only offering lengthy two year contracts and only data seems to be all-you-can-eat. But the tariff prices are a few quid cheaper than its competitors, which they should be when you can't get the iPhone 5 handset free on any tariff.
To the numbers: Three's The One Plan is £36 a month and this gives you 2000 any-network minutes, 5000 text messages and 5000 Three-to-Three minutes. This and £79 gets you 16GB to play with. Spend £39 a month and the 32GB model will cost £89 for 16GB. At £42 per month, the 64GB model costs £109.
Three is also offering the iPhone 5 as part of its Ultimate Internet 500 contracts. Once again (you're getting the hang of this, aren't you), spend more and the handset price comes down. For 16GB: £79 for the handset and £34 a month. 32GB: £89 and £37 a month. 64GB: £109 and £40 a month. For all of the above tariffs you get unlimited data, 500 any-network minutes and 5000 text messages.
Anyone who buys an iPhone 5 from Apple could opt-in for one of Three's rolling month SIM-only deals. The handset might cost more (see Apple below) but you aren't stuck in a contract and £25 gets you 2,000 minutes, 5,000 Three-to-Three minutes, 5,000 text messages and 1GB of internet data. Enough to keep all but the most YouTube-heavy of users happy.
Vodafone

Last of the networks but certainly not least, we come to Vodafone. The 100 plan will hit your bank account to the tune of £25 a month for two years, plus either £249, £349 or £409, depending on the amount of storage you go for. This gives you 100 minutes, unlimited texts, 100MB of data and 2GB of BT Openzone Wi-Fi access.
Go for the slightly pricier Red plans, and the iPhone 5 handset cost comes down dramatically. On top of unlimited minutes and texts plus either 1GB or 2GB of data, depending on whether you go for Vodafone Red or Vodafone Red Data, the handset starts at £49 (16GB) on a £42 a month contract and rises to £149 (32GB) and then £229 (64GB).
Apple

If the idea of a contract offends you, or perhaps you just want an iPhone 5 to frame, it's best to go direct to Apple – even though you might have to wait an extra week to for it to arrive. 16GB, 32GB and 64GB will set you back £529, £599 and £699, respectively.
Summing up

As per usual, shelling out for the handset and getting yourself on a SIM-free deal will save you some hefty cash in the long run, but £500-odd in one go will undoubtedly put some people off. If that route isn't an option, pick the network that covers your area best and gives you unlimited whatever you find yourself using most.
Those of you sold on 4G should note that EE has yet to reveal the price of 4G but we do know there is a minimum contract you need to be on to be able to upgrade. We'll update the story with what that is when EE gets back to us.
Today's main stories: Apple iPhone 5 hands on review