Apple releases iPadOS/iOS 15.4 with mask-friendly Face ID plus Universal Control support
Apple's latest software update has dropped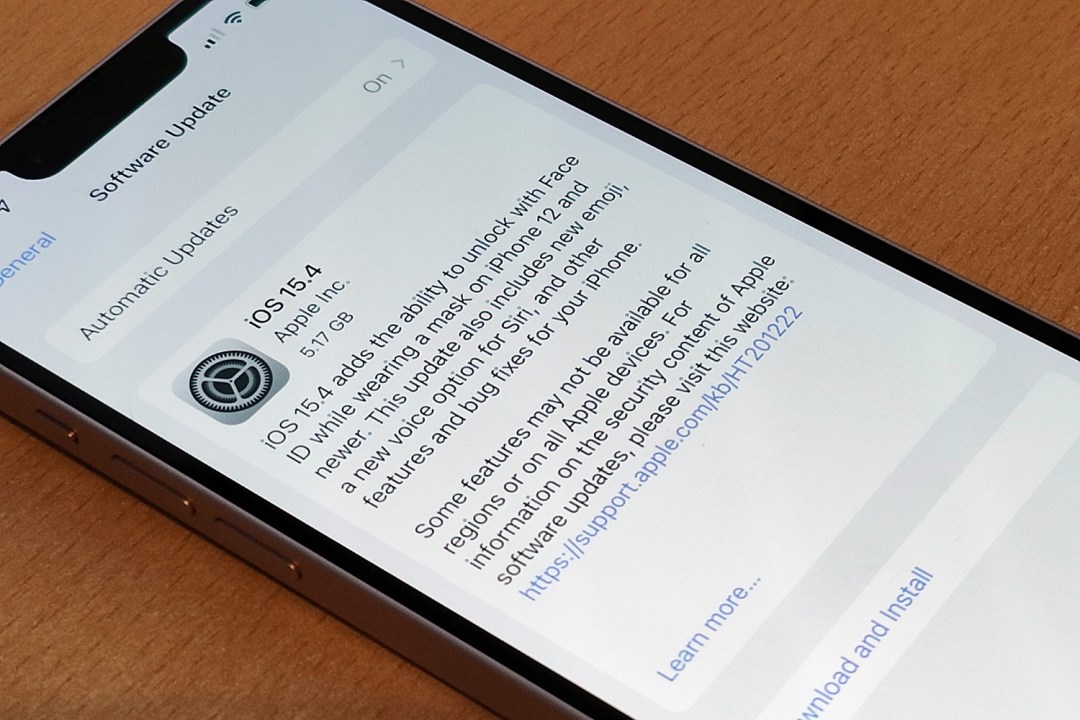 Apple's iOS 15.4 has been released in the wild. The update is significant for one main reason – it enables you to use Face ID with a mask.
It enables you to do pretty much everything that Apple ID does and works alongside the Apple Watch-dependent unlocking feature that Apple previously introduced.
We've been using the developer beta version of the software for a while now (here's how to get involved with future betas) and we're pleased to report that the mask-friendly Face ID works well. It's not foolproof, but it works a decent amount of the time. You will need to be running an iPhone 12 or 13 series phone to take advantage of the new tech – there's no iPad support.
This version of the iPadOS software also includes support for Universal Control, the software that enables you to control an iPad wirelessly from your Mac (running macOS Monterey 12.3 or later), including the ability to drag and drop files and other elements between the operating systems.
The new software includes new emojis too (which it always seems to these days) plus the long-talked-about anti-stalking features for Apple's AirTag trackers.
There's also a new voice for Siri, too plus the intriguing Tap-to-Pay feature that means people will be able to pay you simply by tapping your iPhone. However, this won't just be ready by default since it needs third-party payment providers to enable it for their apps.
iOS 15.4/iPadOS 15.4 full overview of new features
Face ID with a mask
iPhone will now include an option that enables users to unlock Face ID while wearing a mask.
Once enrolled, iPhone can recognize the unique features around the eye area to authenticate.
Face ID while wearing a mask can be used as authentication for unlocking iPhone, completing transactions with Apple Pay, and autofilling passwords in apps and Safari.
The new feature works with iPhone 12 and later.
A New Way Start SharePlay
SharePlay is a powerful set of features for shared experiences while on a FaceTime call.
Today users can start SharePlay from FaceTime, and with the release of iOS 15.4 SharePlay sessions can be initiated directly from supported apps.
Siri voice
Siri now has a new voice for English speakers, giving users more options to choose a voice that speaks to them.
The new Siri voice leverages Neural Text to Speech technology for an incredibly natural sound.
Apple Wallet and Health support for EU Digital COVID Certificate
Now users in the European Union can securely download and store verifiable COVID-19 vaccination, lab results, and recovery records in the Health app.
In addition, COVID-19 vaccination cards in Apple Wallet now support the EU Digital COVID Certificate format. Once added in the Wallet app, users can view and present their vaccination card at any time.
New emoji
iOS 15.4 features more than 37 new emoji, including faces, hand gestures, and household objects.
Users can now choose separate skin tones for each hand in the handshake emoji.
Additional Features
Safari webpage translation adds support for Italian and Traditional Chinese.
Visual Look Up recognizes art, landmarks around the world, plants and flowers, books, and dog and cat breeds in a user's photos so they can learn more about them, and now with expanded language and geography availability, more users around the world will be able to experience Visual Look Up. With iOS 15.4, Visual Look Up is available in English (Australia, Canada, India, Singapore, UK, US), French (France), German (Germany), Italian (Italy), and Spanish (Mexico, Spain, US).
Podcasts app adds episode filters for seasons, played, unplayed, saved, or downloaded episodes.
News offers enhanced discovery of audio content in the Today feed and Audio tab.
Live Text can be added to Notes and Reminders apps using the camera.
Camera in keyboard can be used while in the Notes and Reminders apps to copy and paste text.
Shortcuts now supports adding, removing, or querying tags with Reminders.
Emergency SOS settings have changed to use Call with Hold for all users.
Audio hints in Fitness+ provide audio cues of visually demonstrated moves during workouts to better support users who are Blind or low-vision.