Apple releases all-time top iPhone and iPad apps list
Apple's just hit the 25 billion app download mark – we reckon at least 24 billion of these were Angry Birds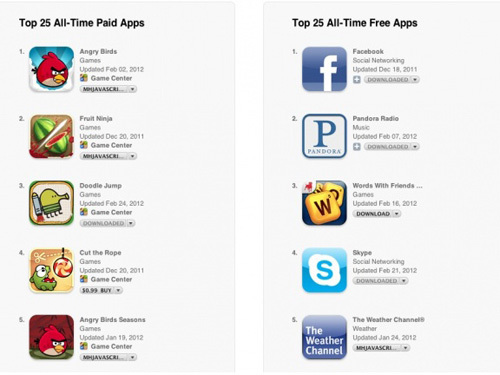 Want to know the best ever iPhone and iPad apps? Well, if you trust the hordes of other Apple fans, then the most downloaded paid for and free apps in the App Store's history should give you a clue.
All of the four all-time top 25s (free iPhone apps, paid for iPhone apps, free iPad apps and paid for iPad apps) are pretty game-heavy, proving that making a killer game could see developers raking in plenty of cash. In fact iPhone gaming seems to be top of our priorities – Angry Birds is sitting pretty at the top spot for paid for iPhone apps, followed by Fruit Ninja, Doodle Jump, Cut the Rope and Angry Birds Seasons.
The free iPhone apps are a little more practical with Facebook unsurprisingly claiming the number one spot. Pandora Radio, Shazam, Skype, Google Earth and The Weather Channel also turn up in the top ten.
The best iPad apps are fairly easy to guess, too: iPad owners have been forking out for Pages, Angry Birds HD, GarageBand and Scrabble for iPad and enjoying freebies like the free version of Angry Birds HD, Skype for iPad, Kindle and Netflix.
So if you're not sure what iPhone or iPad app to download next, and you want a modern App Store classic, take a look at the full list here.
Samsung announces Galaxy Pocket
Futulele turns your iPad and iPhone into a ukulele
Ten One Design creates pressure-sensitive iPad stylus