BlackBerry 10 OS images leaked
What do we have here, then? Leaked snapshots of the BlackBerry 10 OS…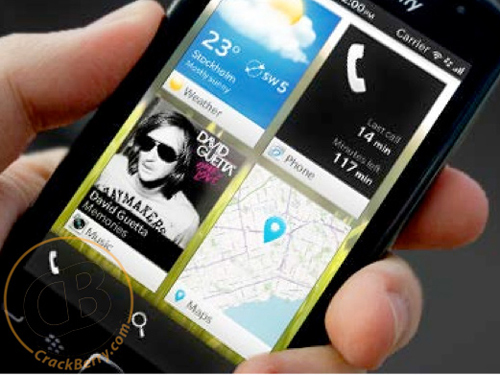 Those BlackBerry addicts over at CrackBerry have managed to get their hands on an internal email from RIM containing snapshots of its next-gen BB 10 OS. The hardware belongs to the Torch 9860, but the OS is all-new territory.
Having given the images the once over, one thing is clear – the BB 10 OS has undergone a radical transformation and is a far cry from what we're used to when it comes to the king of QWERTY.
The most obvious cosmetic change lies on the homescreen, which see BB 10 taking design cues from Windows Phone 7 with a selection of large live widgets. As you can see, live information like weather, call information, location and album art are all represented in standalone widgets for quick and easy access.
The application drawer has been given a makeover, too, complete with a selection of new icons, putting BB 10 on a par with its smartphone rivals. It's hard to glean from a static image what direction it scrolls in, but it looks like RIM has scrapped the tabs from OS 7, so it's possible that the apps are presented in a single, long list.
We spy a folder as well, which we suspect will allow you organise and collate multiple apps à la iOS.
At the bottom sits what looks like a customisable task bar.
Finally, the in-call screen has been subjected to a style change, with a large picture of the caller sitting atop a selection of large touch buttons.
While clearly tailored for touchscreen use, it is not yet known how RIM will tweak its conventional QWERTY handsets to play nice with its new OS.
RIM dropped a few hints at DevCon last week for a peek into what we can expect from its next-gen OS – including the universal inbox (above) for a seamless "BlackBerry Flow" experience. If these are screenshots of BB10 are indeed real, drastic changes are in the offing for RIM's next-gen OS.
So while the BlackBerry faithful will have wait until late 2012 for the new-fangled BlackBerry 10 OS handsets, we've got a lot to look forward to – and we can't wait to get finger-friendly with the all-new BB 10 OS.
Huawei to bring quad-core Ascend D1 Q to MWC
Motorola Medfield smartphone images surface