BlackBerry announces PlayBook tablet
RIM's long-rumoured tablet goes official, but there's no mention of BlackPad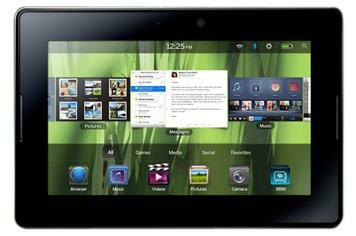 Admittedly, BlackPad sounded a bit too much like the name of a children's book pirate for us. But PlayBook just sounds like a children's book. And that's the name BlackBerry has bestowed on its new 7in tablet, due to launch early in 2011.
BlackBerrys have always had quite good names – Curve, Pearl, Bold, Storm, Torch – so we're not sure where the kindergarten-themed PlayBook fits into that lot. Luckily, that's where our complaints end. RIM's new tablet looks ace in every other way.
Designed as a sibling device to a BB smartphone, it runs a new tablet-specific version of BlackBerry OS, and hardware includes a 1GHz dual-core chip, 1GB RAM and a stunning 7in HD multi-touch screen.
There are also a pair of cameras (5MP on the back, 3MP on the front) that will support video calling  and – more excitingly – full HD (1080p) video capture. There's also HDMI out for piping those vids (or other video stored locally) to a bigger screen.
It's Wi-Fi only, but can also connect via Bluetooth 2.1 and RIM says it will have a 3G version in future. BlackBerry says the PlayBook is designed to always sync with your (BlackBerry) smartphone, so you can choose which one to take with you at any time without worrying about where your contacts, emails and ebooks are.
Best of all, it looks stunning at just 10mm thin and weighs only 400g. Plus the new OS looks pretty cool. We'll be banging on RIM's door for a sample asap and bringing you more news as we get it.