B&O and Samsung's Serenata revealed
What's that, sir? After something different are we? Tired of plain old Nokias and Sony Erics? Then step this way, B&O and Samsung has something fo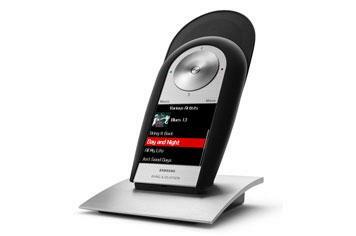 What's that, sir? After something different are we? Tired of plain old Nokias and Sony Erics? Then step this way, B&O and Samsung has something for you called the Serenata.
Turning design convention on its head (again) B&O's placed the controller on its latest designer creation above the screen, to lie surprisingly comfortably for the thumb to do its music-spinning worst.
Like your iPod Nano's Click Wheel, it's touch sensitive and will scroll through tracks and artists. HSDPA is on-board for web browsing on the 2.4in screen but it's definitely a music player first; there's a healthy 4GB of storage and the bundled EarSet 3 earbuds should keep everything sounding sweet.
For communal listening, the built-in B&O speaker promises to trick the ear into believing it's a bass fiend without the need for a sub or you can hook it up to a stereo via the silver designer dock (pictured) that also charges and syncs.
No word on how much you'll have to pay for this mobile music confection, but if you find this one offered as a free upgrade on your contract, snap it up quick.
Essentials
B&O Samsung Serenata
Price: £TBA
On sale: TBA
Contact: Bang & Olufsen
Related stories:
B&O and Samsung show off Serene sequel