Call that a controller? This is a controller
The Delta Six game video game controller puts the real in realism. Plus it'll really scare your cat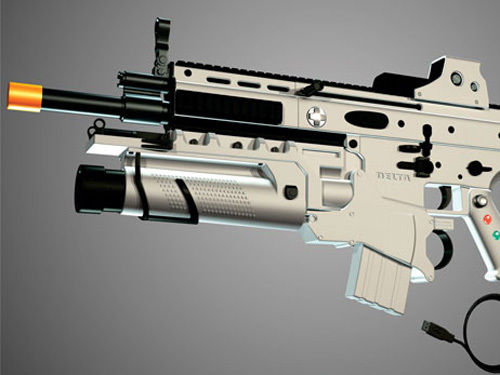 Even though the designer of the Delta Six video game peripheral had to tone down the realism, it's still leagues cooler than your average light gun.
Now it features an orange tip, a new white paintjob and a few less authentic looking components instead of the scarily realistic first prototype, which was black and – minus the brightly coloured buttons – very hard to tell apart from the real firearm.
Creator David Kotkin has put the project on website Kickstarter, which means you can help fund the project by donating some of your hard-earned. In exchange, you'll be shooting noobs like a pro when the Delta Six becomes available in July and August 2013 – if he can make the required $500,000.
The Delta Six is compatible with the Xbox 360, PS3, PC, Wii U and OUYA and will cost US$90 for the basic submachine gun body, which can be expanded on with a number of other attachments.
[Kickstarter via Engadget]
A New Zero – the FPS that creates its world on-the-fly
Toshiba opens pre-orders for its Windows 8 PCs