Canon EOS 60D replaces the 50D DSLR
The new EOS 60D adds 3 Megapixels and a flip-out screen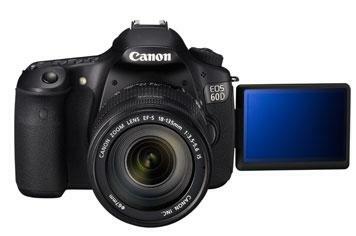 Canon's latest addition to its lineup of EOS DSLR cameras is the EOS 60D. Replacing the two-year-old 50D, it's the first EOS to feature a flip-out LCD screen.
Behind the lens is an 18MP APS-C size CMOS sensor attached to a DIGIC 4 processor that supports in-camera RAW image processing, letting you tweak your hi-res images and resave them as jpegs.
That new display is a 3in LCD affair and should make tricky angles and video much more manageable. On the subject of video, the 60D will shoot Full 1080p HD between 24 and 30fps, as well as 720p at up to 60fps for capturing fast movement. An HDMI port makes quick work of showing off your work on a big TV.
Taking tech from its EOS 7D big brother, the 60D also incorporates Canon's iFCL metering which should help you achieve more accurate exposures. For the shutter-happy and movie maniac, it also supports SDXC memory cards up to a mind-blowing 2TB, though at the time of writing the biggest we can find on sale is a 64GB one…
There are a number of nice little touches which include the ability to customise the functions of some of the buttons, and an on-screen and in-viewfinder electronic level that promises to spell an end to wonky landscape shots.
More on Stuff.tv:
Sony's A55 and A33 pop up with fast-focus tricks
Video preview – Nikon Coolpix S1100pj
Nikon D3100 hands-on photos
Fujifilm's big zoom Finepix HS10 arrives